I've honestly had writer's block regarding my birthday for the last week.
I keep staring at a blank screen. I have ideas of what to write, but none of them feel right.
My mixed feelings about my birthday blog post stem from my mixed feelings about my birthday.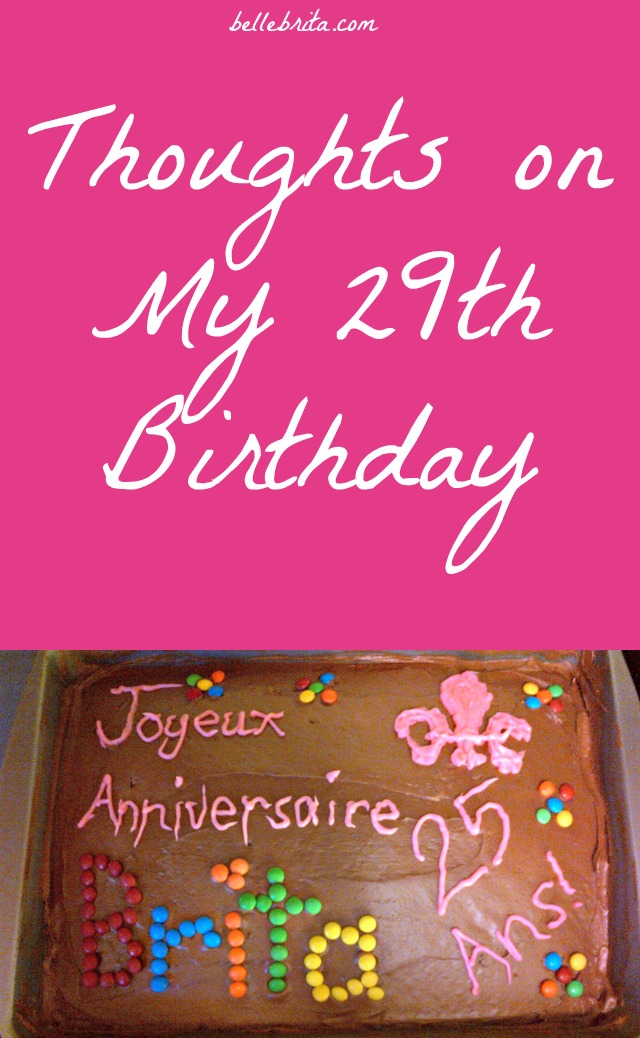 I've always loved my birthday. For the last few years, I've even tried to celebrate my entire birthday month! In South Carolina and Georgia, June is finally warm enough to go swimming regularly. In Ohio, June is finally warm enough to stop wearing jeans and hoodies. (Seriously, Ohio is so cold). And with my birthday, my twin brother's birthday, and my dad's birthday, June is just a good month to celebrate.
For my 25th birthday, I was working in Toronto as a live-in au pair. My kids surprised me with homemade cards, plus a bookstore gift card from their parents. My youngest also sang me a song, and my oldest gave me some cute pink accessories. Dan visited me two weekends in a row, and we did all the tourist attractions on the CityPass. He even tried to surprise me with a cake, but I ruined by trying to insist on baking my own cake, so he had to tell me the surprise.
For my 26th birthday, I hosted a wine and cheese party with just a few of my closest friends in Columbus. We did double-blind wine tastings of both Pinot Grigio and Cabernet Sauvignon at three different price points. Then Dan and I spent a long weekend in Cincinnati!
For my 27th birthday, I earned my title of Best Wife Ever by spending my birthday weekend at Mid-Ohio so Dan could do high-performance driving. We stayed at a cute little bed & breakfast, and I enjoyed a spa day. We also hosted a last-minute wine party with my new friends in Findlay.
But my 28th birthday sucked. My mom had just entered hospice care. I had canceled my birthday dinner with my friends. I spent my birthday in Greenwood, without my husband. I will never forget the bittersweet moment of my mom calling Harry on the phone and then singing "Happy Birthday" to us, with her usual dramatic spin.
I was lonely. I was sad. I was scared.
But at least my mom was still alive then. Today I have to celebrate my birthday without her. While I'm going out to lunch with my dad and out to dinner with my husband, I won't get to hear my mom's voice wishing me a happy birthday.
I hope my party-planning will distract me from my grief. I'm hosting a small birthday party on Saturday, and I've already bought so many fun party supplies. I wish more of my friends could come, but low party attendance has always been a hazard of a summer birthday.
I am still trying to celebrate my whole birthday month, and even my dad has gotten in the spirit. His office staff has already been surprising him with treats like a fancy fruit platter and a chocolate cake. I'll be here June 17-26 to celebrate Father's Day and his birthday. Plus more of my birthday. Because I think I need a week of lazing by the pool with a glass of wine and Harry Potter.
---
I don't have 29 things to stop doing at 29, or 29 lessons I learned in the last year, or anything witty or profound to say. I'm just happy because it's my birthday, and sad because I'm not celebrating it with my mom. And honestly that's how I feel about everything in my life.