Today is the second-to-last day of #LoveBlog, with the topic Date Night Attire. You can still link-up for yesterday's topic, Epic Romance. Tomorrow's topic is Lessons Learned.
For Christmas this year, I surprised Dan with two tickets to Star Trek: the Ultimate Voyage, 50th Anniversary Concert Tour, which came to Atlanta's historic Fox Theatre at the end of January.
Dan and I don't go out for Date Night that often. We'd rather stay home and save money for vacations or retirement. When we do go out, we tend to dress casually. Dan is a jeans and t-shirt kind of guy, and I don't want to change him! But the Fox is pretty fancy, so it was a good excuse to dress up just a little! Granted, plenty of people dress casually for a night at the Fox, but I like wearing at least church-level attire to any evening theatre show.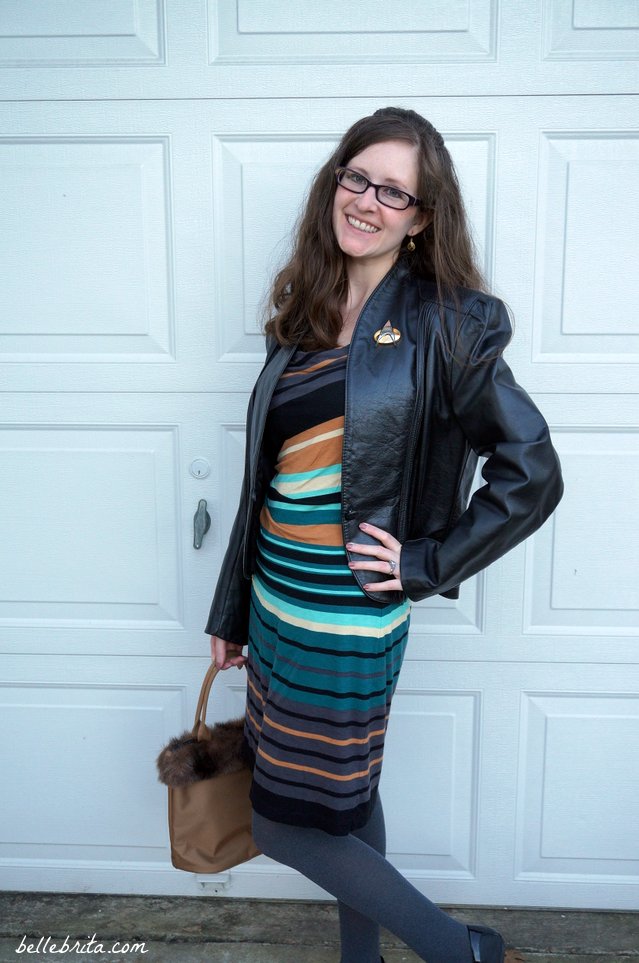 We weren't just going out for any Date Night, though. This was a nerdy spectacular for two Trekkies. Clearly we both needed to wear a little something special for our nerdy Date Night. Luckily, we both have communicator badges from Star Trek: the Next Generation! It's the perfect accessory for a nerdy Date Night to see Star Trek: the Ultimate Voyage.
I wore one of my favorite dresses from The LOFT. If it looks familiar, that's because I wore it for our engagement photos!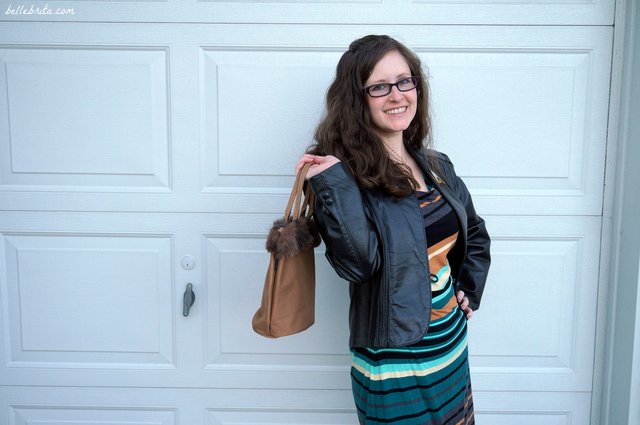 I also wore a vintage black leather jacket that I bought for a song years ago at a secondhand clothing store.
I stuck with simple black ballet flats since Dan and I would be walking around Atlanta. Heels are definitely not practical in the city!
This brown purse is one I stole from my mom years ago. It's a great neutral for fall and winter.
I kept with simple gold jewelry to match my communicator. My best friend Libbi gave me these earrings as a bridesmaid gift. My mom gave me the gold, diamond, and sapphire necklace at my twin brother's wedding.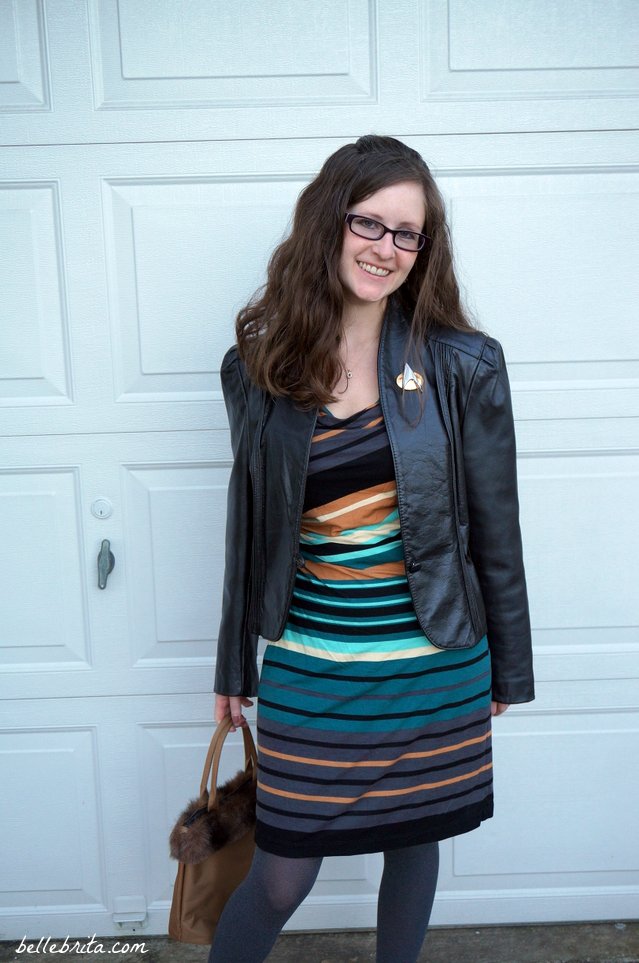 My sweet husband Dan took these pictures for me. We were running late to get into Atlanta from Duluth, so I didn't review them. I apologize that my feet are cut off in these photos! I also didn't worry about getting close-ups of any of my accessories.
This wasn't my first time wearing nerdy accessories for a Date Night. Check out how I styled my Mockingjay pin!
---
Meet Your #LoveBlog Hosts!
Meet Brita Long: Christian feminist blissfully married to Dan Fleck for almost two years. Lover of Paris, pink sparkles, sensible shoes, manicures, and books. Fueled by hot tea and mimosas.
Twitter // Instagram // Facebook // Pinterest // Tumblr // Google+
Meet Charlene Maugeri: Christian, wife, fur-mom, nerd, blogger and much more! She uses her blog, Enduring All Things, to inspire young wives to keep God first and their husbands second in everything they do.
Bloglovin // Instagram // Twitter // Facebook // Pinterest // Snapchat
Welcome to #LoveBlog!
---
How do you share your fandoms in a fashionable way? What's your favorite outfit for a nerdy Date Night? If you like my outfit, I would love for you to share it to Pinterest. Just hover over the photo until the "Pin it" buttons appears and click on that.