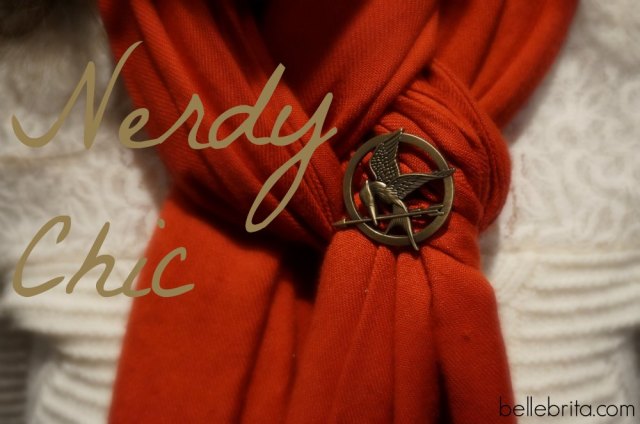 Way back before Thanksgiving, The Hunger Games: Mockingjay – Part One premiered. Dan and I bought tickets online for the first screening in Findlay, which was actually at 8pm the Thursday before the official release date. Has anyone else noticed this change? Release dates will still be Friday, but instead of the first showing at midnight, the first showing is at 8pm. It's weird, but Dan and I were just happy to see a movie at a decent hour.
Last year for Christmas, both Dan and his older brother bought me my very own Mockingjay pin. So yes, I own two of them, although I'm not sure where I placed my second one! While it's a beautiful piece of jewelry that I like to wear as part of my normal nerdy chic wardrobe, I clearly had to accessorize with it for the movie premiere.
In the winter, Thursday night is also Game Night, when we get together with our friends to share a potluck dinner and then to play board games. We still joined up with them for dinner, but we skipped out early to make our movie on time.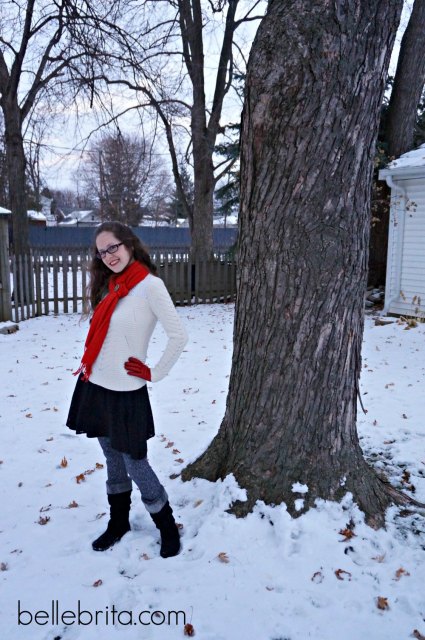 Game Night is the one day each week when I definitely try to wear clothes like a normal person. I work from home, so some days I just never change out of lounge wear. Seeing friends at Game Night inspires me to put a little thought into my outfit and wear something blog-worthy, one of my goals from my Autumn Bucket List!
While I haven't taken fashion pictures in awhile, Ohio's first snow of the season inspired me to do a very fun and very fast photo shoot before joining our friends for dinner.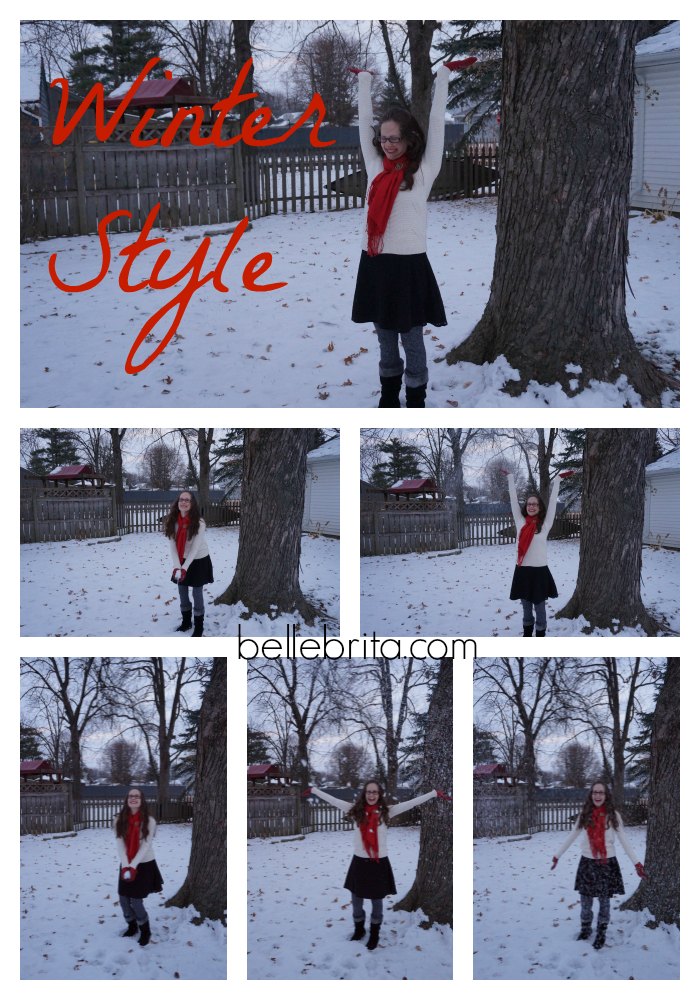 I had a lot of fun taking these pictures, even with how cold it was. Dan captured six pictures in quick succession, so I made an animated gif! I couldn't get the sixth photo to load, but the first five flip together pretty well.
If this outfit looks at all familiar, it's basically the winter version of my black and white outfit from this summer. Plus the skirt is exactly the same!
How do you stay cute and cozy in the winter? Do you add your own nerdy chic touches to your wardrobe? Share your thoughts in the comments! Linking up with Walking in Memphis for Boots & Booties. Edit 01/06/2015: Apparently I forgot I already linked up with Walking in Memphis once, since I did it again for Scarves. Oops.