Welcome to Day 7 of #LoveBlog! Today's prompt is Faith. Want to join the daily challenge? Find all the other prompts for this month!
As a Christian, I've always been interested in the Bible to learn more about God and early Jewish/Christian history. As a reader, I've always enjoyed some of the beautiful poetry and imagery in the Bible. As a historian, I love learning more about the context in which the Bible was written and later translated.
Regardless of your religious beliefs, I feel like you can appreciate the Bible for its literary qualities. That said, I definitely agree that not all biblical readings popular for Christian weddings would work as readings for interfaith weddings!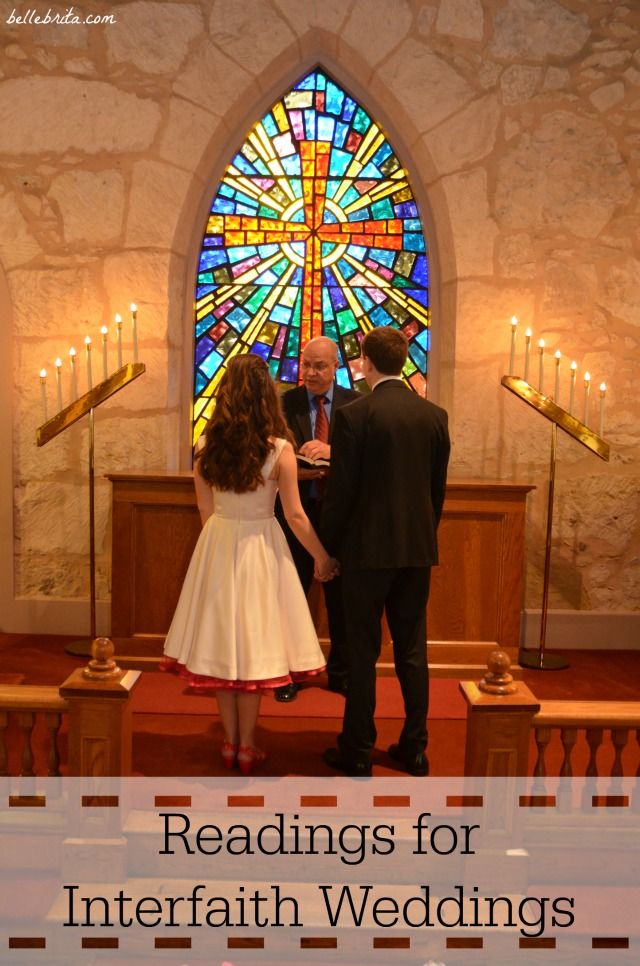 Close friends and family know that I identify as a Christian feminist, nondenominational at the moment. They also know that Dan, while raised Catholic, currently identifies as an atheist.
When Dan and I were planning our wedding (yes, he was very involved with it!), we both enjoyed picking out just the right readings for our big day. Being the stickler that I am, I had to cross-reference popular readings to confirm I had the correct quotation with the proper attribution!
I did want to include some Bible verses among the readings, but I was very careful to choose Biblical passages appropriate for an interfaith wedding. Y'all know this Christian feminist does not put up with hierarchical marriage bullshit!
I've compiled below most of the readings from our Christian-atheist wedding. I personally didn't choose 1 Corinthians 13, but our minister chose to read it. He read a few additional Bible verses, but I've forgotten them.
Biblical Readings for Interfaith Weddings
Ecclesiastes 4:9-12
9 Two are better than one, because they have a good reward for their toil. 10 For if they fall, one will lift up the other; but woe to one who is alone and falls and does not have another to help. 11 Again, if two lie together, they keep warm; but how can one keep warm alone? 12 And though one might prevail against another, two will withstand one. A threefold cord is not quickly broken.
Song of Solomon 8:7
Many waters cannot quench love,
neither can floods drown it.
If one offered for love
all the wealth of one's house,
it would be utterly scorned.
1 Corinthians 13
If I speak in the tongues of mortals and of angels, but do not have love, I am a noisy gong or a clanging cymbal. 2 And if I have prophetic powers, and understand all mysteries and all knowledge, and if I have all faith, so as to remove mountains, but do not have love, I am nothing. 3 If I give away all my possessions, and if I hand over my body so that I may boast, but do not have love, I gain nothing.
4 Love is patient; love is kind; love is not envious or boastful or arrogant 5 or rude. It does not insist on its own way; it is not irritable or resentful; 6 it does not rejoice in wrongdoing, but rejoices in the truth. 7 It bears all things, believes all things, hopes all things, endures all things.
8 Love never ends. But as for prophecies, they will come to an end; as for tongues, they will cease; as for knowledge, it will come to an end. 9 For we know only in part, and we prophesy only in part; 10 but when the complete comes, the partial will come to an end. 11 When I was a child, I spoke like a child, I thought like a child, I reasoned like a child; when I became an adult, I put an end to childish ways. 12 For now we see in a mirror, dimly, but then we will see face to face. Now I know only in part; then I will know fully, even as I have been fully known. 13 And now faith, hope, and love abide, these three; and the greatest of these is love.
Secular Readings for Interfaith Weddings
Falling in love is not at all the most stupid thing that people do — but gravitation cannot be held responsible for it. -Albert Einstein (Source)
We are all a little weird and life's a little weird, and when we find someone whose weirdness is compatible with ours, we join up with them and fall in mutual weirdness and call it love. -Robert Fulghum (Source)
Being in love is a good thing, but it is not the best thing. There are many things below it, but there are also things above it. You cannot make it the basis of a whole life. It is a noble feeling, but it is still a feeling… Knowledge can last, principles can last, habits can last; but feelings come and go… But, of course, ceasing to be "in love" need not mean ceasing to love. Love in this second sense — love as distinct from "being in love" — is not merely a feeling. It is a deep unity, maintained by the will and deliberately strengthened by habit; reinforced by marriage, the grace which both partners ask, and receive, from God… "Being in love" first moved them to promise fidelity: this quieter love enables them to keep the promise. It is on this love that the engine of marriage is run: being in love was the explosion that started it. -C.S. Lewis, Mere Christianity, Chapter 6
We have common cause against the night… Why love the woman who is your wife? Her nose breathes the air of a world that I know; therefore I love that nose. Her ears hear the music I might sing half the night through; therefore I love her ears. Her eyes delight in seasons of the land; and so I love those eyes. Her tongue knows quince, peach, chokecherry, mint and lime; I love to hear it speaking. Because her flesh knows heat, cold, affliction, I know fire, snow, and pain… We love what we know, we love what we are. Common cause, common cause, common cause of mouth, eye, ear, tongue, hand, nose, flesh, heart, and soul. -Ray Bradbury, Something Wicked This Way Comes (1962), p. 145
Resources of Readings for Interfaith Weddings
Meet Your #LoveBlog Hosts!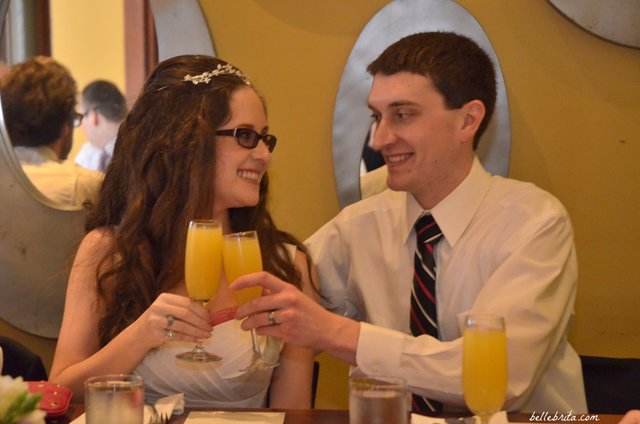 Meet Brita Long: Christian feminist blissfully married to Dan Fleck for almost two years. Lover of Paris, pink sparkles, sensible shoes, manicures, and books. Fueled by hot tea and mimosas.
Twitter // Instagram // Facebook // Pinterest // Tumblr // Google+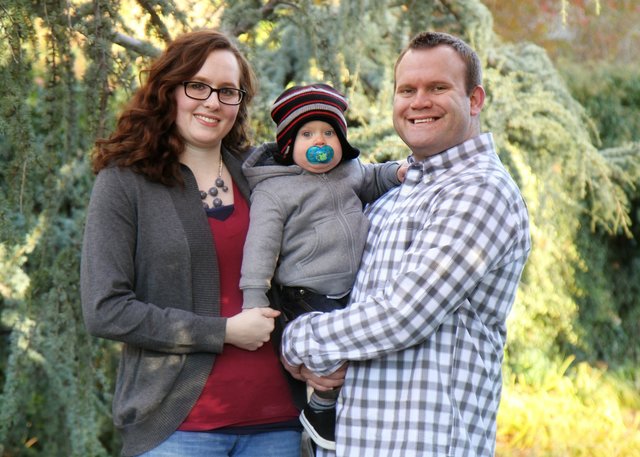 Meet Tayler Morrell: Mormon stay at home mom married to her best friend, Justin, for 3.5 years. Mother to 19 month old Rhys. "Retired" history and English teacher, runner, lover of video games, fantasy, books, and cooking. Consumer of Italian food, chocolate, steak, and strawberries.
Bloglovin // Twitter // Instagram // Facebook // Pinterest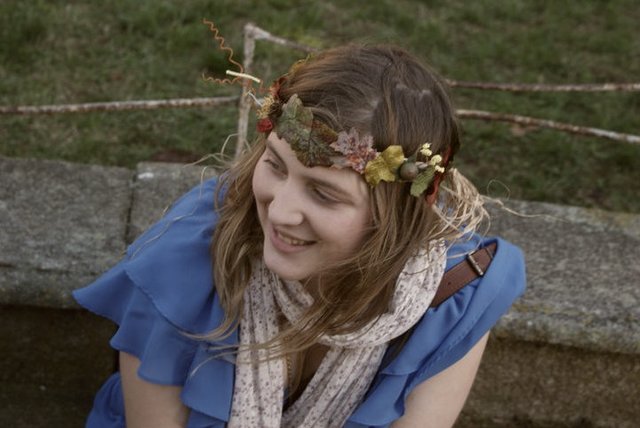 Meet Alessia Cesana: Catholic bachelorette in the big city of London, navigating the world of dating and broken hearts like a Carrie Bradshaw in mantilla veil and ballet flats. Historian, professional geek, and charity co-founder in her spare time. Loves Jane Austen, Pumpkin Spice Lattes, her Ray-ban Wayfarers and Tim Stanley's hair.
Welcome to #LoveBlog!
---
What are your thoughts on readings for interfaith weddings, Christian weddings, atheist weddings, etc.? Dan & I attended an atheist wedding recently between two lawyers that included a beautiful reading from a court decision!