December and even early January involved a step back from the daily grind of the blog world. I needed space to grieve, but I also needed time to reflect on the direction of Belle Brita.
I love writing about relationships and marriage. Y'all love reading about relationships and marriage. But the last time I wrote on this topic was almost two months ago, when I published 7 Reasons Why My Marriage Will Fail.
In February, I will spend the entire month blogging about relationships! While some of my posts will relate to marriage, I will also write about friendship, families, and more.
By "entire month," I mean every single day. Yup! I plan to blog every single day in February. I am so excited about this challenge!
In fact, I'm so excited about this challenge that I want YOU to join me!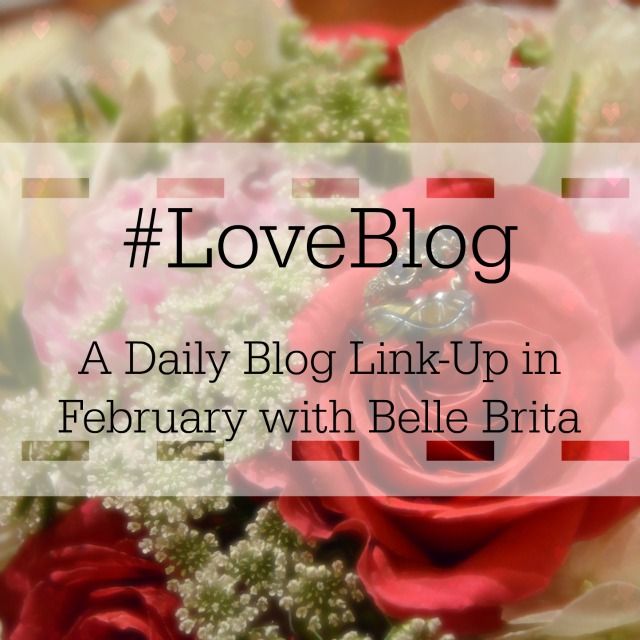 #LoveBlog will be a daily blog link-up every day in February with daily prompts. Your linked-up blog post doesn't have to be from that day, but it does need to follow the prompt, albeit I accept loose interpretations.
Note: The bolded section is the main prompt for each day. The additional text is to help inspire you!
#LoveBlog Prompts for February 2016
1) The 5 Love Languages. Have you heard of Gary Chapman's book The 5 Love Languages? While I highly recommend everyone read it (check out the version for singles), you can also take the quiz online for free. Blog about your love language. How has it helped any of your relationships, romantic or platonic? And yes, each love language will be its own topic this month, indicated by*
2) Best friends. What are the qualities you look for in a best friend? Do you have one best friend, or many? How has your idea of best friendship changed over the years?
3) Fictional love. Have you ever had a crush on a fictional character? What TV couple is most like you and your significant other?
4) Valentine's Day. How are you celebrating Valentine's Day? What's the best V-Day you've ever had?
*5) Receiving Gifts. What kind of gift do you prefer to give or to receive? Do gifts represent love to you?
6) Blogger love. Who are your favorite bloggers? Which blogs inspire you? How did you get into blogging? What do you appreciate most about your blog readers?
7) Faith. What are your religious beliefs? What does your faith teach about love? How does your faith influence your relationships?
8) National Marriage Week. This is really open-ended, since you can write anything about marriage. Having a spouse is optional!
*9) Quality Time. How do you make time for your loved ones? What do you enjoy doing together?
10) Deal-breakers. What are your deal-breakers before starting a relationship, romantic or otherwise?
11) Perfect date. Don't answer with a Miss Congeniality response! This can be a first date, anniversary date, or even a best friend date. Where would you go? What would you do?
12) Role models. Do you have a mentor, either personally or in your career? Do you and your spouse look to an older married couple for guidance?
*13) Words of Affirmation. Side note: this is my primary love language! Do you write love letters? How often do you tell your friends, family, and significant other that you love them?
14) Marital roles. Is your marriage complementarian, egalitarian, or something else? Do you and your significant other fall into certain roles out of convenience, genuine talents/skills, religious duty, or another reason?
15) Counseling. Have you ever attended couple's counseling? What are your thoughts on premarital counseling?
16) Social media. Does social media help or hinder your relationships? Do you follow any accounts that offer helpful love advice?
*17) Acts of Service. What helpful things do you do for the people you love? How do your loved ones assist you?
18) Boundaries. What boundaries do you set with your friends and family? Does your marriage have any boundaries?
19) Family heirlooms. What is your most cherished possession? What do you own that reminds you of loved ones? What objects do you hope to pass down one day to kids, nieces/nephews, or grandchildren?
20) Self-care. How do you show yourself love? Why is self-care important to you?
*21) Physical Touch. Are you a hugger or a non-hugger? When was the first time you and your significant other held hands, or kissed?
22) Little things. Sometimes love isn't about grand gestures. What little things make a difference to you?
23) Family. Who is your family? How did your parents model marriage to you? Does your family have its own way of expressing love?
24) Respect. How important is respect in your relationships? Is it more important than love?
25) Advice. What's your favorite relationship book? What's the best or worst love advice you've ever heard? Who do you ask for relationship advice?
26) Firsts. First crush? First kiss? First date? First love?
27) Epic romance. What is the most epic love story of all time? What is the most epic adventure you and your loved ones have shared? What defines an epic romance?
28) Date attire. Share your favorite date night outfit! Do you have a uniform for first dates?
29) Lessons learned. What did you learn from this blog challenge? Did any other bloggers inspire you this month? Did you discover anything new about yourself or someone else you love?
---
#LoveBlog on Instagram
Who else is excited for a whole month of #LoveBlog?! Even if you aren't a blogger, you can participate! I'm also teaming up with Charlene from Enduring All Things to run an Instagram challenge for February. The prompts are almost identical, with a few minor changes for space consideration. Just tag your photos #LoveBlog to connect with fellow participants.
Charlene & I will both periodically highlight our favorite posts during the month. To be included in a highlight post, you must follow both of us on Instagram and tag your photo #LoveBlog. Pretty easy! My handle is @belle_brita. Charlene's handle is @charlenemaugeri.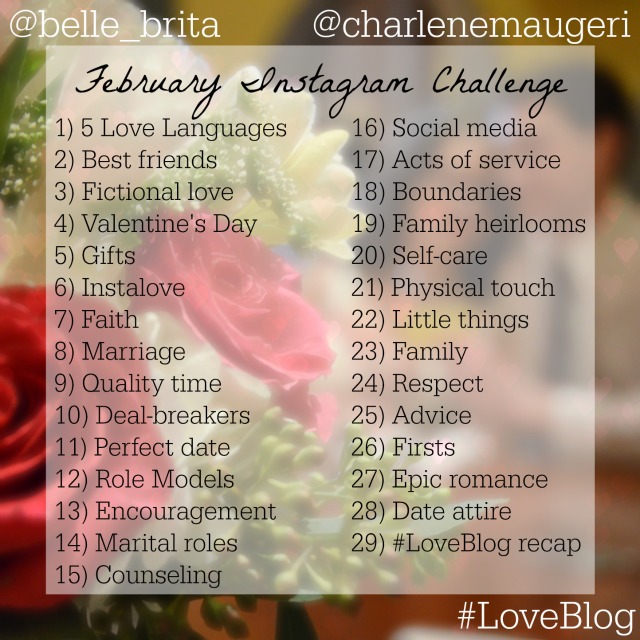 #LoveBlog Rules
I'm pretty easygoing about rules for blog link-ups. Tons of mandatory rules on other blog link-ups drive me crazy. I'd rather encourage blog community than forced blog follows. Thus only the first two rules are mandatory! All the rest are optional.
Follow the prompt. The prompts are open-ended, so you can go anywhere with them. But if your blog post doesn't relate to the prompt, I will delete it from the blog link-up.
Comment on the link before yours and at least one other link. Get to know your fellow bloggers!
Follow your host (that's me!) and the co-host on your preferred form of social media.
Use the #LoveBlog button and/or link back to the blog link-up. The more bloggers who link-up, the better!
Share your posts on social media using the hashtag #LoveBlog. I will retweet as many as I can! Plus I will try to like/comment on all the Instagram posts and choose my favorites once a week to share with my followers.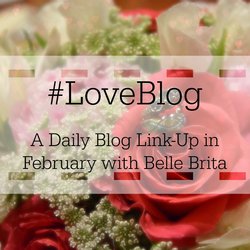 ---
I also have some awesome co-hosts lined up for this link-up. Not only will your blog posts be live on Belle Brita, but they'll be across the blogosphere.
Please share this post to social media to spread the word. The more participants, the more fun!