Dan and I might live in Georgia now, but regular readers know we previously lived in Ohio, where most of Dan's extended family still lives. It's such a treat to celebrate the holidays in Ohio with my in-laws.
In fact, Dan and I just returned yesterday from a wonderful Thanksgiving in Ohio with his family. We loved spending quality time with Paul and Mary Kay (Dan's parents), Nick and Patrick (Dan's brothers), Emily (Patrick's wife), and Nathan, the cutest baby I've ever seen (aka our nephew).
While Dan and I plan to celebrate Christmas in South Carolina with my family this year, we spent the last two Christmases in Ohio. I loved celebrating the holidays in Ohio! Plus even if you're not in Ohio for Christmas itself, you can still celebrate the holidays in Ohio!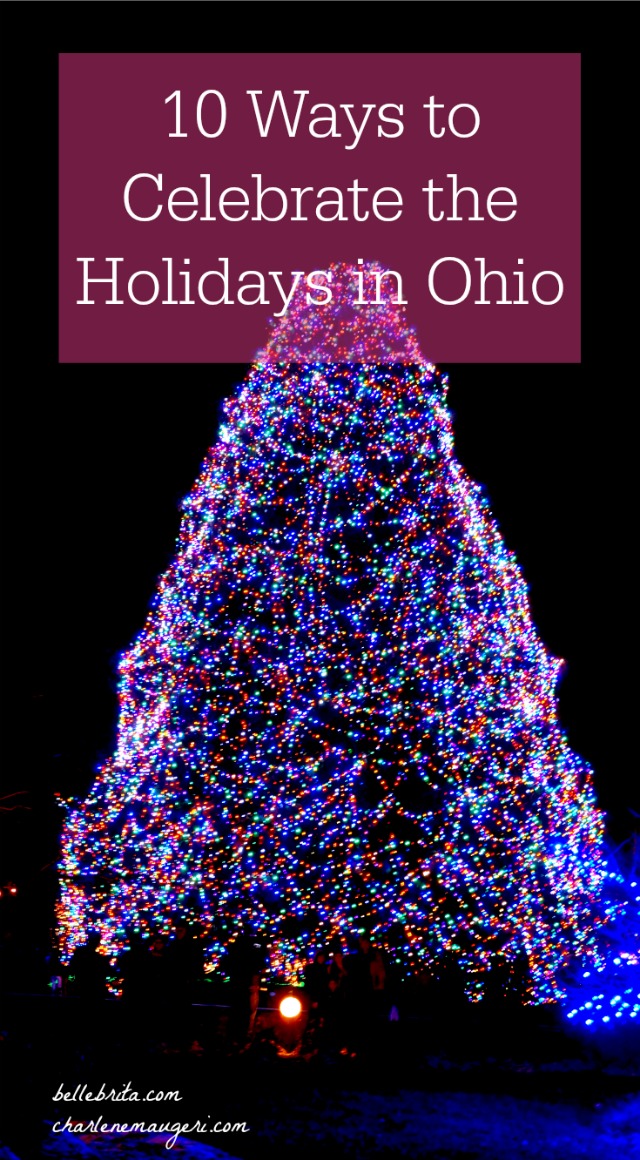 What are some fun ways to celebrate the holidays in Ohio? My blogging friend Charlene, who still lives in Columbus, and I teamed up to give you some holiday inspiration!
Brita's Ideas to Celebrate the Holidays in Ohio
Visit Holiday Nights in Greenfield Village. Okay, technically the Henry Ford Museum and Greenfield Village are in Michigan, but they're right by the state border. If you've never been to Greenfield Village, it's a recreated historic town featuring 19th-century America. Right now, all the houses and shops are decorated for Christmas. Plus Holiday Nights feature carolers, ice skating, fireworks, and more. As the Long-Fleck-Martinis discovered last year, tickets sell out fast, so buy them early. If you don't get tickets, you should still visit the Henry Ford Museum. We did that last year and loved the Christmas decorations!
Ride the North Pole Express. I cannot believe that I spent three Decembers in Ohio without ever riding the North Pole Express in Findlay. Every year, the Northwest Ohio Railroad Preservation hosts the festive North Pole Express. Grab your family and take a ride on a quarter-scale locomotive!
Admire Holiday Lights at an Ohio Zoo. Charlene and I both put zoo lights on our lists of ways to celebrate the holidays in Ohio! Ohio actually offers several spectacular light displays at its many zoos. Last year, Dan and I admired The Lights Before Christmas at the Toledo Zoo. Charlene and I both love Wildlights at the Columbus Zoo. The Cincinnati Zoo hosts The Festival of Lights each year.
Discover the Historic Kirtland Nativity Exhibit. Every year the Historic Kirtland Visitors' Center features over 600 nativity scenes loaned by area residents. The display features nativities from over 30 countries! The nativity exhibit also includes vintage Christmas cards, holiday lights, and an international nativity stamp collection.
Tour the Snowden-Gray House. I'm a little biased on this one, since the Snowden-Gray House is another name for Kappa Kappa Gamma's Heritage Museum… Aka where I once interned and where Dan proposed. While you can schedule a tour of the Victorian house museum anytime in December, the best time to visit is during the Discovery District Trolley Hop. The trolley ride is complimentary, with stops at Topiary Park, Columbus Museum of Art, and more. Most importantly, you can enjoy a tour of the beautiful museum where I once interned, all decked out for the holidays.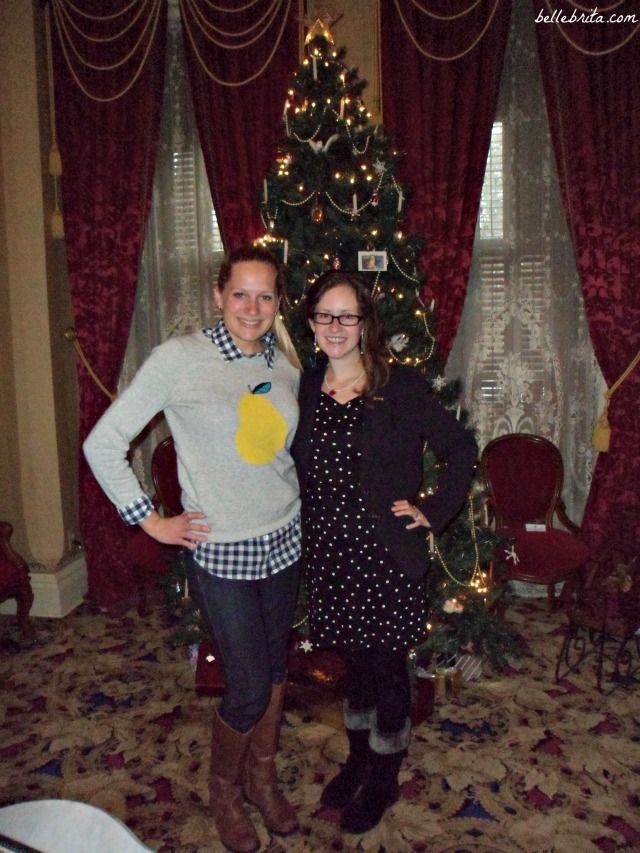 Charlene's Ideas to Celebrate the Holidays in Ohio
Find out what Charlene has to say about enjoying the holidays in Ohio!
See the lights at Easton Town Center. The outdoor mall decorates everything so beautifully and you can, of course, shop and visit Santa. They even have carolers walking around singing in old-time costumes. And they always have some kind of event going on.
Go see a show. The Trans-Siberian Orchestra comes to Cincinnati on December 4th, Dayton on December 5th, and Columbus on December 26th.  BalletMet Columbus will put on The Nutcracker at The Ohio Theatre from December 11th through the 27th. The Palace Theatre hosts A Christmas Carol December 5th through the 21st.
Visit the Christmas Story House in Cleveland. And the museum across the street. I've never been there, but I love the movie. And I hear it's a fun trip.
See Worthington Community Theatre's Life & Adventures of Santa. Of course, any community theatre's Christmas show would be fun and not very expensive, but I had to put in a plug for my own, didn't I? (I was in WCT's production of The Music Man this summer).
Celebrate Christmas in Historic Dublin. On December 3rd, they light the tree and have all sorts of festivities. I think most little towns around Columbus do this sort of thing, and it's a lot of affordable fun.
---
In case you need some inspiration all winter long, check out Charlene's blog! Today we're sharing winter date activities.
If you or someone you love will be in Ohio for the holidays this year, share this post with them on Facebook!
What will you do for Christmas this year?