Technically, today is the monthly link-up for The Guys Behind the Blog. I wrote my post yesterday.
It's also the monthly link-up for Thankful Thursday!
(Find more of my favorite monthly blog link-ups).
This month, I'm thankful for my man behind the blog. In other words, I'm not just grateful for my husband in general, but I'm thankful for how supportive Dan is of my writing career.
What are the many ways Dan supports me?
Even when I was working full-time and treating my writing like a hobby, Dan took it seriously. He didn't mind if I chose to write instead of do housework. While I tried not to let my writing affect my sleep, sometimes I stayed up late writing. Dan understood.
Dan's encouragement several months ago helped me decide to quit my day job to write full-time and start my own business.
It's really hard for me to depend financially on someone else, even my husband. I've worked so hard, for so long, to be completely independent. But marriage is a partnership. Any relationship will require occasional sacrifices and compromises.
I sacrificed both living in France and working with my degrees to live in Ohio, to be close to Dan. I discovered I was good at social media marketing and copywriting. I then gave up new opportunities in my new field so I could marry Dan. (Seriously, three different companies headhunted me in the six months prior to our wedding. Unsurprisingly, none of them were based in Findlay).
I did all of this willingly, because I love Dan more than anything.
He's shown me that it's okay for him to make sacrifices too.
This is something my mom and I talked about this summer before she died. She and I were reading Daring Greatly together (affiliate link). One of the points in the book is the fear of admitting vulnerability or asking for help. We can feel this, even when we feel perfectly fine offering help.
I'm still learning to lean on Dan. I'm learning to let him support me. I'm learning that strength and weakness are not determined by my financial earnings.
Dan is happy to support us financially while I start a writing career. (You can totally hire me over at Brita Media, just FYI).
Dan believes in me. Dan believes in my future success. Dan supports my current writing, marketing, and learning endeavors.
Dan is my biggest cheerleader. I'm so thankful to have him by my side.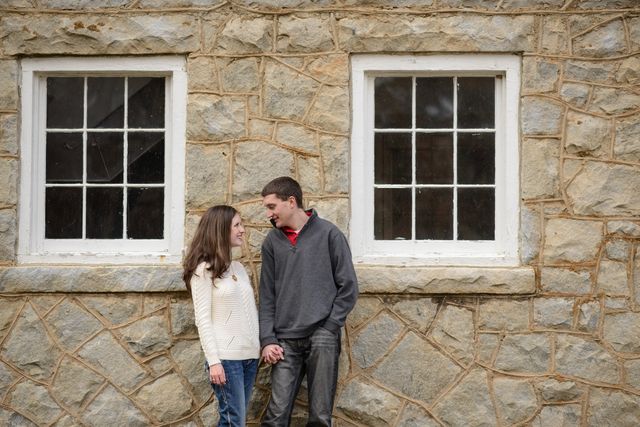 ---
Exciting Announcement for Thankful Thursdays
I've been linking up almost every month with Charlene for Thankful Thursday since February. I even co-hosted it once!
Last year, I attempted to celebrate Thanksgiving by blogging every day during the week of Thanksgiving. My goal was to focus on my gratitude for many different blessings in my life. Of course, I ended up getting sick, so my plan didn't exactly succeed.
This year, I'm doing something different. Charlene and I are teaming up to bring you Thankful Thursday every week in the month of November!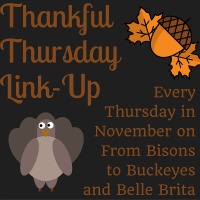 You probably have that Facebook friend (or more) who posts their blessings each day in November. A weekly Thankful Thursday is mine and Charlene's version of that.
You're welcome to link up any recent post on gratitude, even if you didn't write it specifically for Thankful Thursday. For example, any posts you write for Grateful Heart Monday would also work for Thankful Thursday.
My posts will follow a format similar to the "Currently" style of blog posts. Each week, I will write about what I am:
smelling
loving
wanting
missing
If using that format inspires you, feel free to write a similar post for Thankful Thursday. For more inspiration, check out some of mine and Charlene's past posts.
---
As always, today I'm linking up with Charlene for Thankful Thursday! What blessings have been in your life lately?