The Planning Process
When Dan and I started planning our wedding receptions, the only date on the calendar was our wedding in San Antonio. The dates for our South Carolina reception and our Ohio receptions were flexible. We chose them based on venue availability.
My initial idea for the reception in Greenwood was my parents' backyard. My mother quickly eliminated that possibility from the discussion. I looked at several of the wedding venues in Greenwood, but none of them felt special to me personally.
So I decided to think outside-the-box.
The Greenwood Museum (or The Museum, as it's technically called) is not usually a wedding reception venue. The Old Federal Building and current home of the Arts Center is much more popular for weddings.
But in 2008, I spent my summer interning at The Museum during its renovation. I spent anywhere from 8 to 25 hours a week cataloging artifacts, cleaning, setting up exhibits, and moving artifacts from temporary storage to the new warehouse. I also did all of the research for dress shop and millinery section of the Main Street exhibit.
Yes, that is my name in the photo below.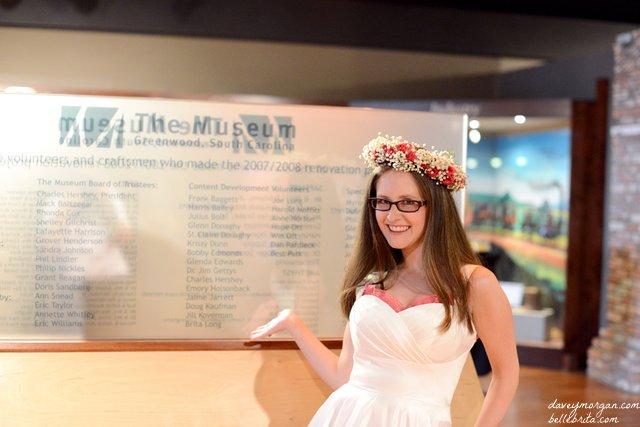 A quick search of the Emerald Triangle website, and I discovered exactly what I needed. Renting the upper gallery of The Greenwood Museum, plus the main floor after hours, is a beautiful, affordable, and meaningful wedding venue!
The venue set the tone for the loose theme of our wedding reception: books and maps. I found a cool vintage map invitation design. We took some of our engagement photos in a secondhand bookstore. I pinned everything I could on bookish weddings!
Follow Belle Brita's board WEDDINGS: Books and Maps on Pinterest.
Everything after that fell into place. Dan and I wanted to serve barbecue for dinner. Mom didn't think that was classy enough for a wedding reception. Daddy reassured her that barbecue is classy enough for a southern wedding reception. I love all the food at our local Corley's Market and Grill, so I suggested we ask the owner, Chris, about catering. Dan and I gave our food suggestions to Mom who met with Chris.
Chris wowed us with an amazing catering proposal. Daddy and I were happy to find out the appetizer menu with bacon-wrapped scallops was only $6/person. The other option was $4.50/person, but we both agreed to the slight price increase for bacon-wrapped scallops, our all-time favorite wedding food.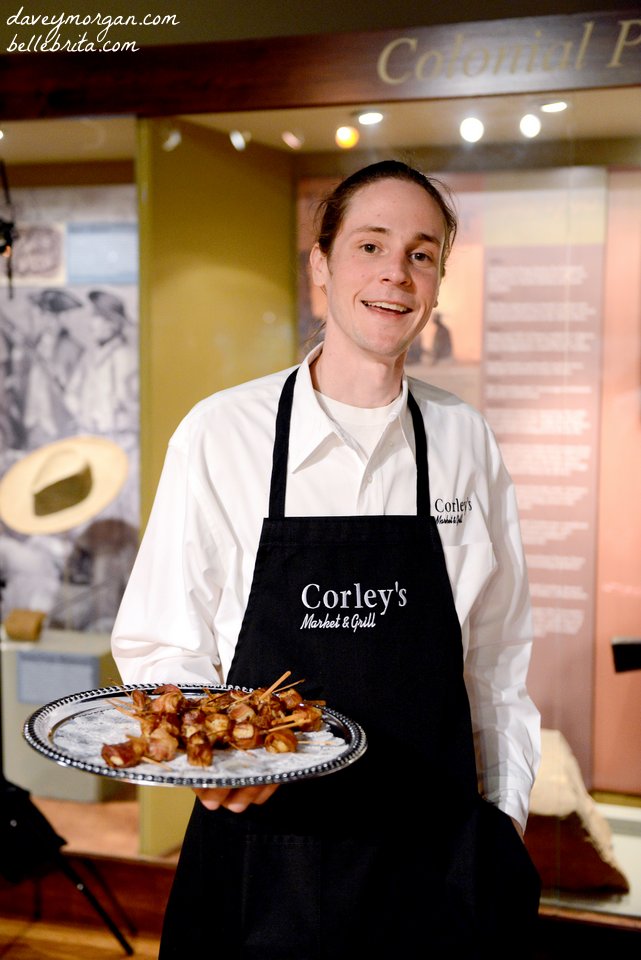 Dan and I only wanted to serve beer and wine both to save costs and to reduce potential drunkenness. Chris's catering proposal offered our preferred Pinot Grigio and Cabernet Sauvignon plus a selection of Yuengling on a consumption basis. That was so much easier than attempting to arrange the alcohol ourselves!
My dad's former secretary, family friend, and mother to my second cousins made Dan's Miata-shaped groom's cake.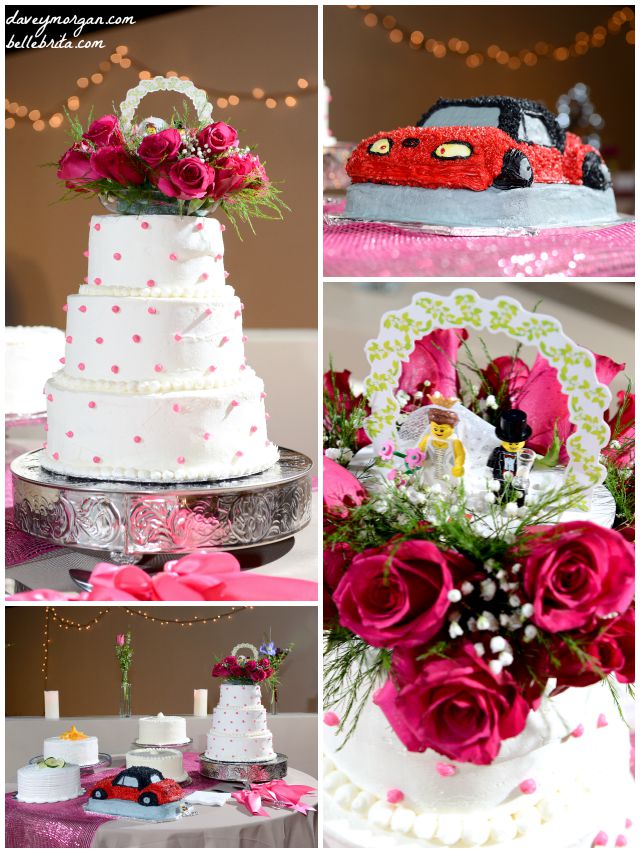 Sweets & Treats made our wedding cakes. Dan and I didn't care about having a traditional wedding cake. Mom insisted on a compromise. Since she and Daddy paid for our Greenwood reception, we didn't see the point in arguing over what dessert we offered our guests. We ended up having a small, traditional wedding cake for the cake-cutting and for our anniversary cake. We then had several other delicious flavors of cake so guests had their choice!
https://instagram.com/p/1TQzbWro_I/
Mom went a little overboard with the decorations, but she had fun with it. I honestly didn't care about professional flowers or sparkling centerpieces or pink table runners. I did care about–and fought for–dainty fleur-de-lis candle holders and bookish centerpieces.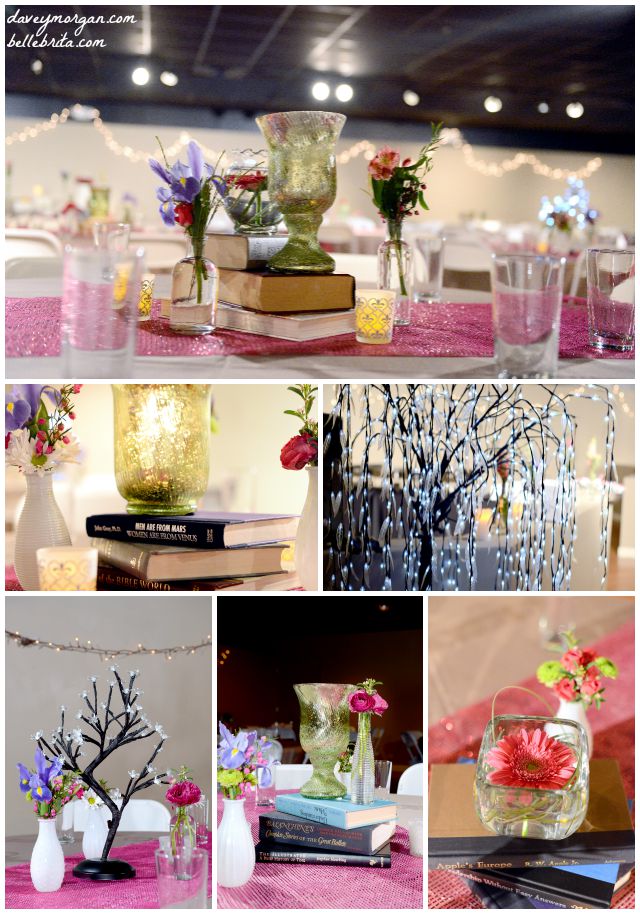 Aghast at my suggestion of DIY flowers from the grocery store, Mom found Jana Witt to do our floral arrangements. Jana took her inspiration from my Pinterest wedding board. (At the time, I had one secret board where I planned my wedding and all three receptions). I loved the idea of small, scattered arrangements that complemented each other with their differences.
I knew Davey Morgan through my twin brother and other mutual friends. Since Trinity Photography (our engagement photographers) couldn't shoot our wedding reception, I reached out to Davey. Since we didn't need a full wedding package, Davey graciously gave us an hourly rate and still let us have the photo booth add-on.
Fun fact: Davey was also the wedding photographer for Harry and Celia!
The highlight of our planning was my mom's idea for a wedding dress "museum exhibit." She coordinated with Mary Kay (my MIL), Grandma and Aunt Kari, and The Museum to display wedding dresses and wedding photos. Mary Kay, my mom, and my grandmother all had their wedding dresses on display alongside their wedding photos. We also displayed the wedding photos of my paternal grandparents and Dan's grandparents.
Before the Reception
After our honeymoon in Puerto Rico, Dan and I went straight to Greenwood, SC. This gave us time to finalize last-minute details for our first wedding reception. Dan's parents also came in early for the reception to help out.
As much as I loved being in Greenwood for so long, spending time with my husband, my parents, and my in-laws, the days leading up to our reception majorly stressed me out.
We still had to make the hot pink table runners, create our welcome sign, and individually unwrap all of my perfect fleur-de-lis candle holders.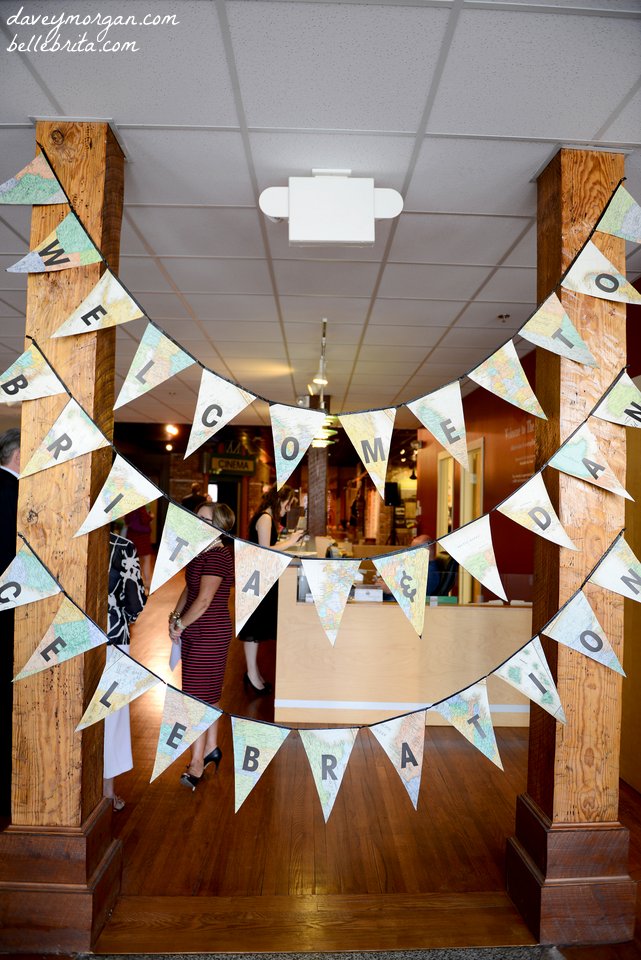 We also had to put together a seating chart and come up with a way to share the seating chart with our guests. Plus we had to make the table signs so people could find where to sit. Finally I needed to create our "programs" that introduced Dan and me plus shared the significance of The Museum.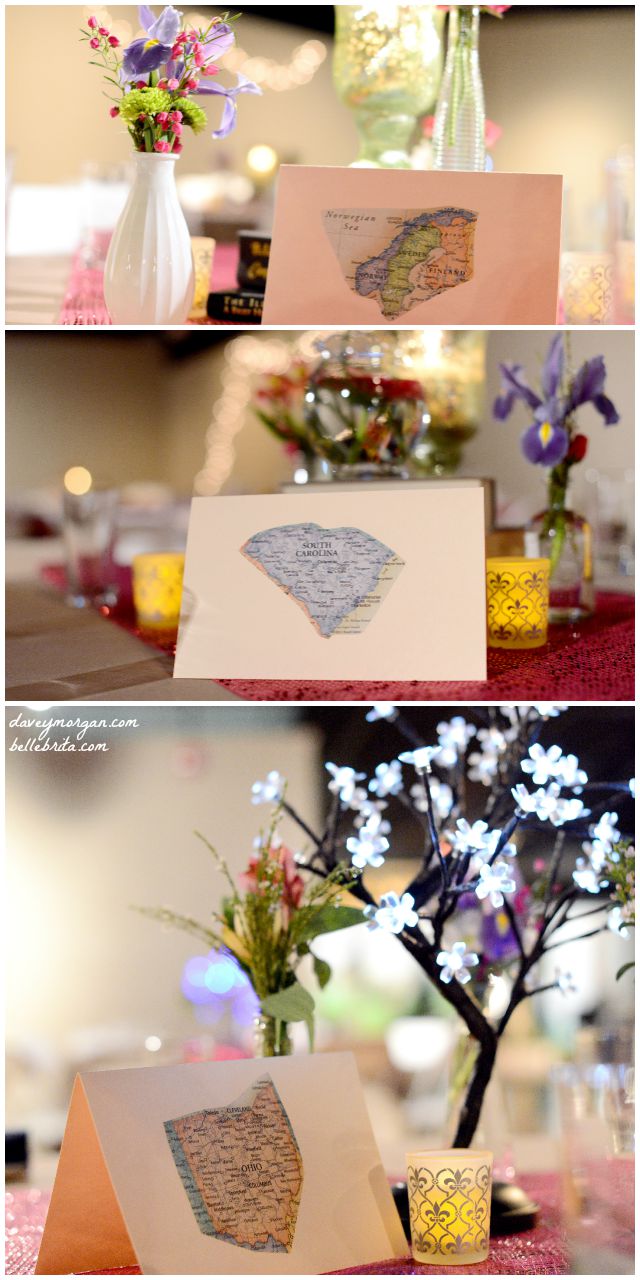 Not to mention all the time both my mom and I wasted spent tracking down absent RSVPs. We put both a phone number and a website on the invitations for people to RSVP. They could also tell my parents or me in person, by email, or via Facebook.
And yet by the day of the event, we still had over a dozen people who just never confirmed whether or not they were coming. My best friends in Australia and in Canada managed to regretfully decline their invitations, but not people who actually live in South Carolina.
I hosted a brunch the day of my reception to honor my friends who would have been bridesmaids. I was practical and held it in our church's social hall. After the brunch, my out-of-town friends came back to my parents' house so we could make corsages and boutonnieres for them and my other best friends.
Our Wedding Reception
Since I didn't have a bridal party, Leah, Bethany, Rachel, and Luke helped out at the reception. Leah and Bethany helped with the guestbook. Rachel and Luke greeted guests plus oversaw the gift table.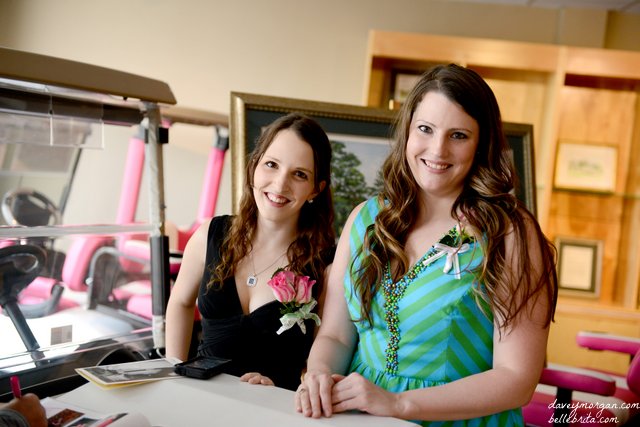 My parents, Dan's parents, and the two of us formed the receiving line. I know receiving lines are have mixed reviews, but since the wedding dress exhibit preceded the receiving line, I'm glad we had one. Guests could entertain themselves while they waited (and enjoy passed appetizers!). We had the opportunity to speak one-on-one with almost every single guest.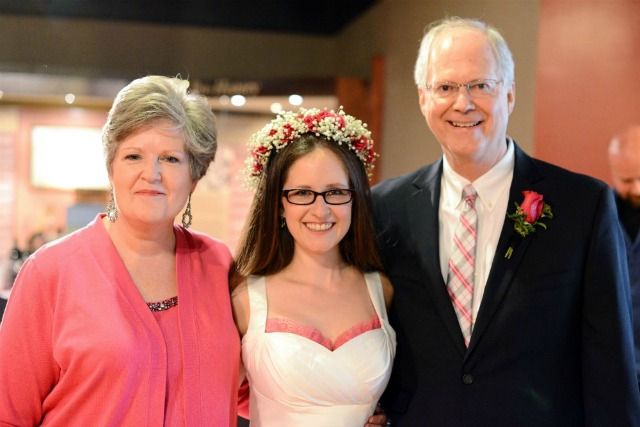 Harry and Jeremy passed out table assignments from the museum's train station. I had designed "train tickets" that designated where people should sit for dinner.
Dan and I broke with tradition in many ways, like getting married in San Antonio and having three wedding receptions.
We also had our first dance before dinner. Dan and I waltzed to "Can I Have This Dance?" from High School Musical 3.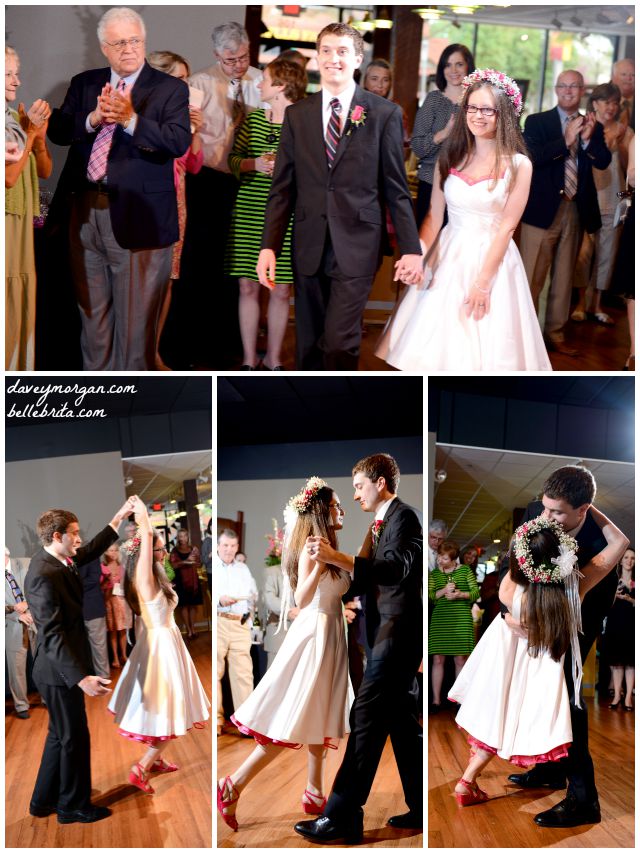 You know you're jealous.
We also skipped the garter toss because we both felt a little awkward about that tradition. Instead, the two of us each made our own candy bouquets. I threw mine to ALL the women–not just the single ladies–and Dan threw his to all the men.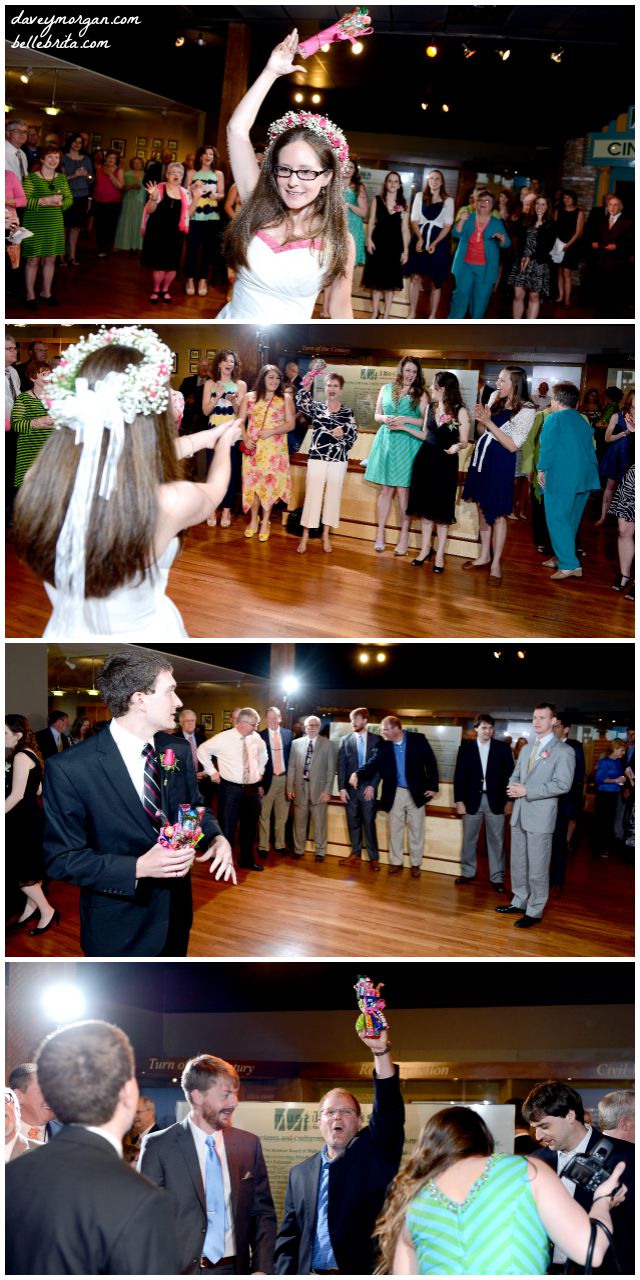 Honestly, very little went according to schedule, but our reception was wonderful. Everything took a little bit longer than I'd planned. The receiving line, getting seated for dinner, and greeting our guests during dessert.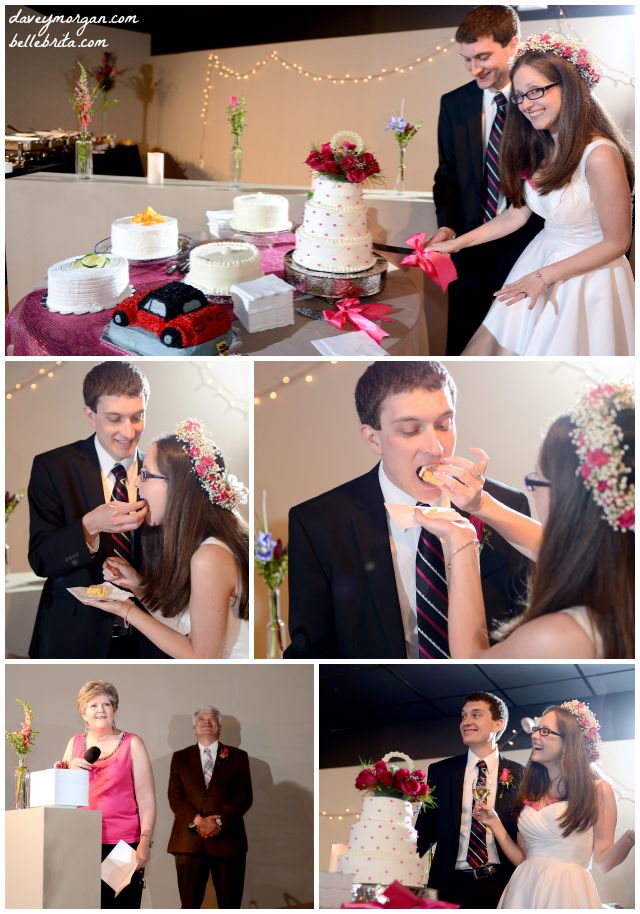 In fact, Dan and I ended up only visiting individually with the tables with my friends. If we had stopped at every single table, we wouldn't have had time to dance or take pictures in the photo booth.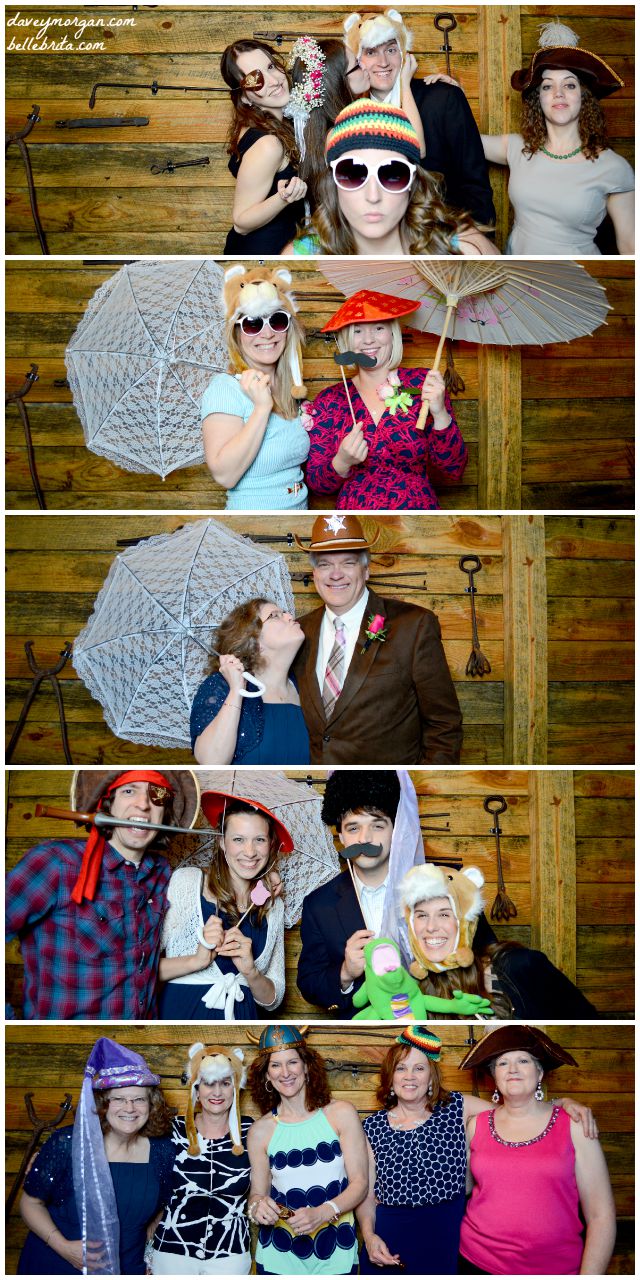 Regardless of the timing, the whole evening was so much fun! The music was good, the food was good, the wine and beer were good, the ambiance was good, the guests were good.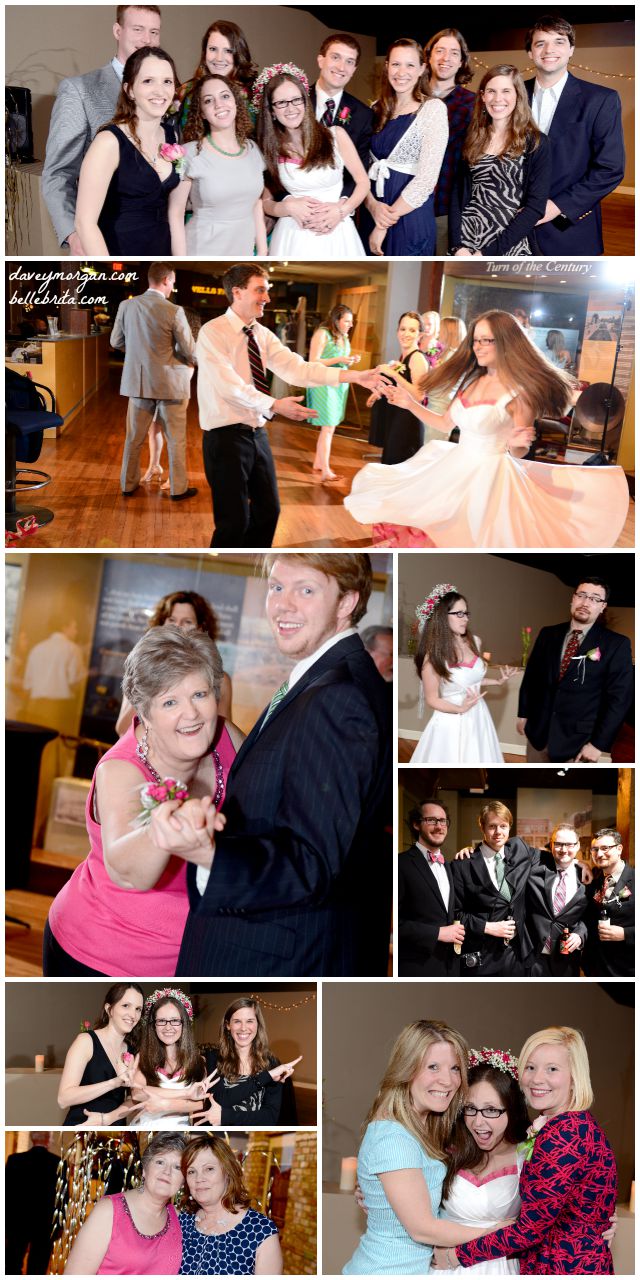 Most importantly, I had time to talk with all my good friends and get all the pictures I wanted. Oh, and I made sure to arrange everything so that I could EAT. I'd read way too many horror stories of starving brides because her guests wouldn't let her eat.
Major shoutout to our day-of coordinators, the Pollatys, who saved me some bacon-wrapped scallops! They helped coordinate more than that, but I was grateful for my wedding food. Oh, and they planned our "send-off" with the rose petals. Much better than my plan of staying and cleaning up!
I absolutely loved our first wedding reception!
What wedding traditions did you follow, modify, or skip entirely? What's the best wedding you've ever attended? Leave a comment below!