Post contains affiliate links, which means I might get a few pennies if you click them and buy something.
A few weeks ago, Dan and I combined errands with a date night because that's how we roll. Alas, we left the good camera at home. My sweet husband still snapped a few shots of my cute-but-comfortable outfit when we got home.
Running errands and going out to dinner required an outfit suitable for both the outdoor summer temperatures and the frigid air conditioning of grocery stores. Comfortable shoes were a must for all the walking around in our plans.
I could lie at this point by adding that I also needed to wear a nice outfit for Dan since it was date night.
Dan doesn't care what I wear.
Like at all.
So to be perfectly honest, I wanted to wear an attractive ensemble for this blog series. White Tee Tuesday is nine weeks long, so I need to be creative on a regular basis!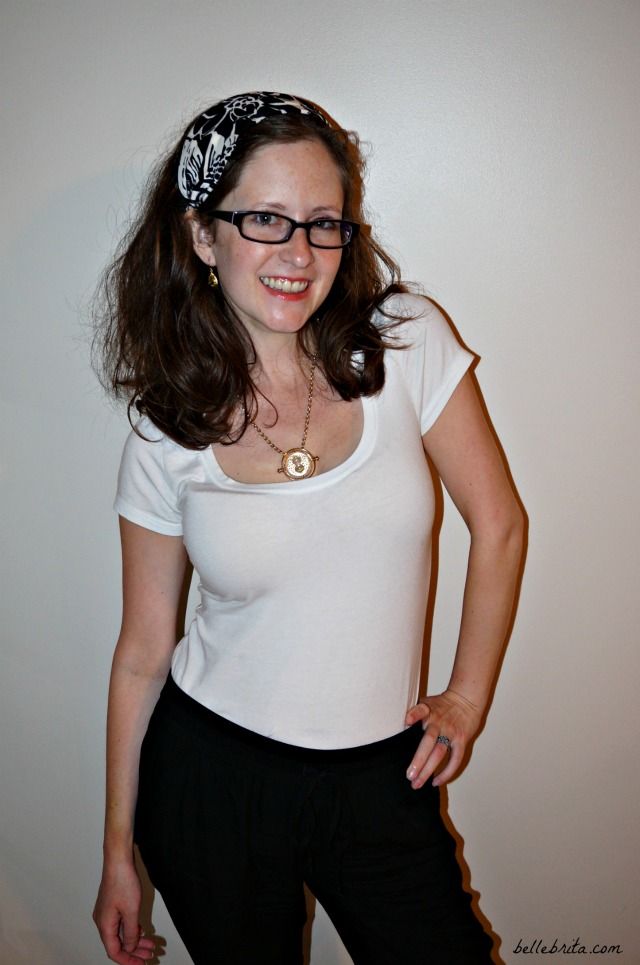 Black, white, and gold is easy to throw together for a timeless look. While I accomplished this with a white t-shirt, black pants, white sandals, a black and white patterned scarf, and gold jewelry, there are a million different ways to throw together this chic color combination. I'll probably model a few other versions this summer!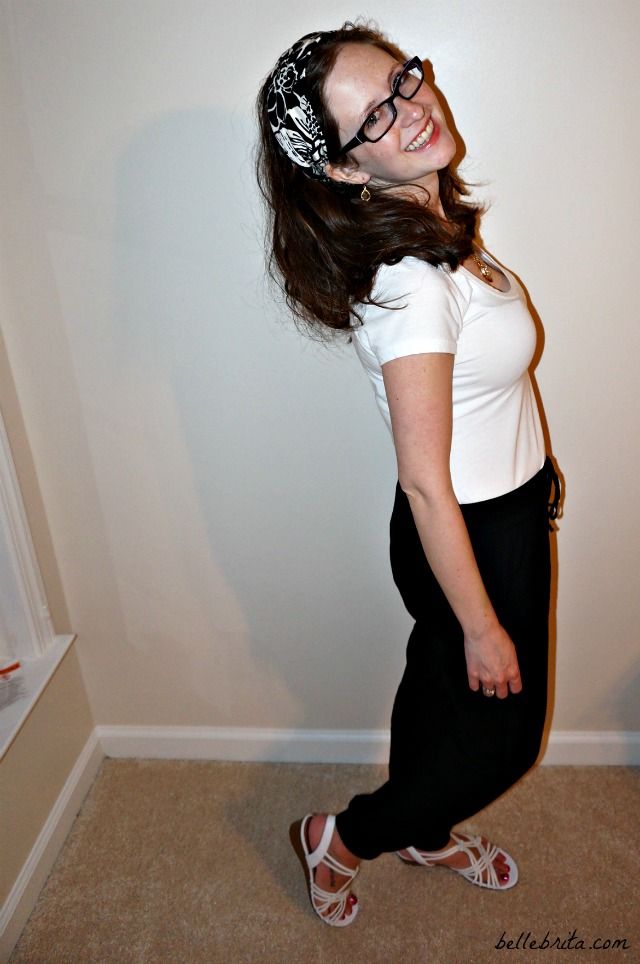 Can we talk about these black pants? They're my new favorite article of clothing. When I was at North Myrtle Beach in April with my family, I went shopping at the outlets with my sister-in-law Celia and my brother Jeremy. Celia introduced me to Lucky Brand. It was all I could do not to buy everything.
When the sales associate realized my obsession with neutrals, he brought me this pair of black pants. They're like a cross between joggers and harem pants. I've never seen anything quite like them before. The waist and ankles are elastic, and the pants billow out just a little. Since I'm still underweight, the elastic will let me wear these pants at my goal weight!
I never would have picked them out myself, but they're ridiculously comfortable, flattering, and include pockets! I hope the dude was working on commission because he earned it. Well-done Lucky Brand on training your employees!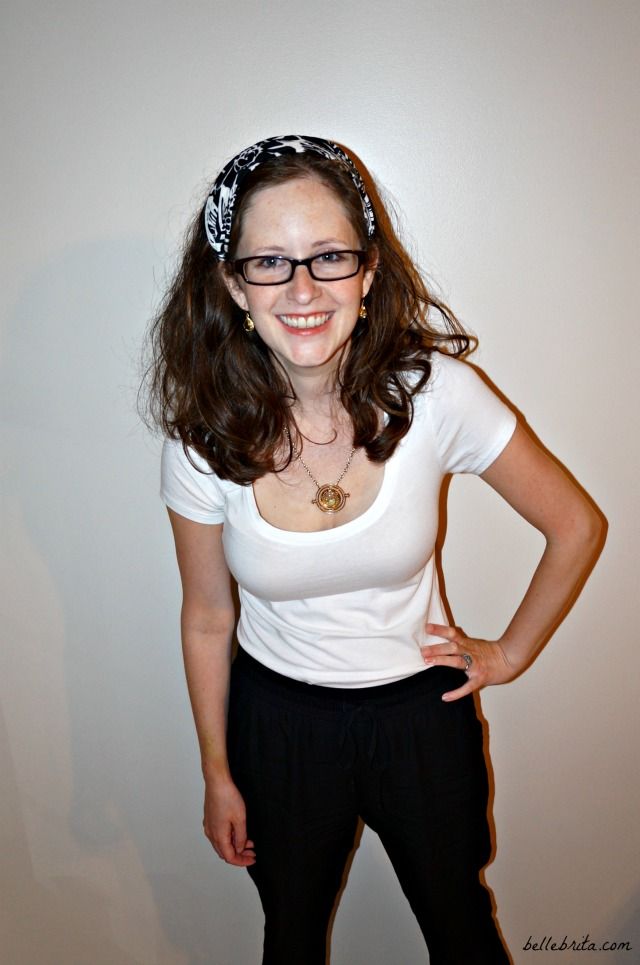 The scoop-neck white t-shirt and the white sandals are the same as what I wore last week. Unless I buy another white tee this summer, I will feature the same top every week! Like I said in my inaugural post, this series should inspire everyday women to mix up their current wardrobe.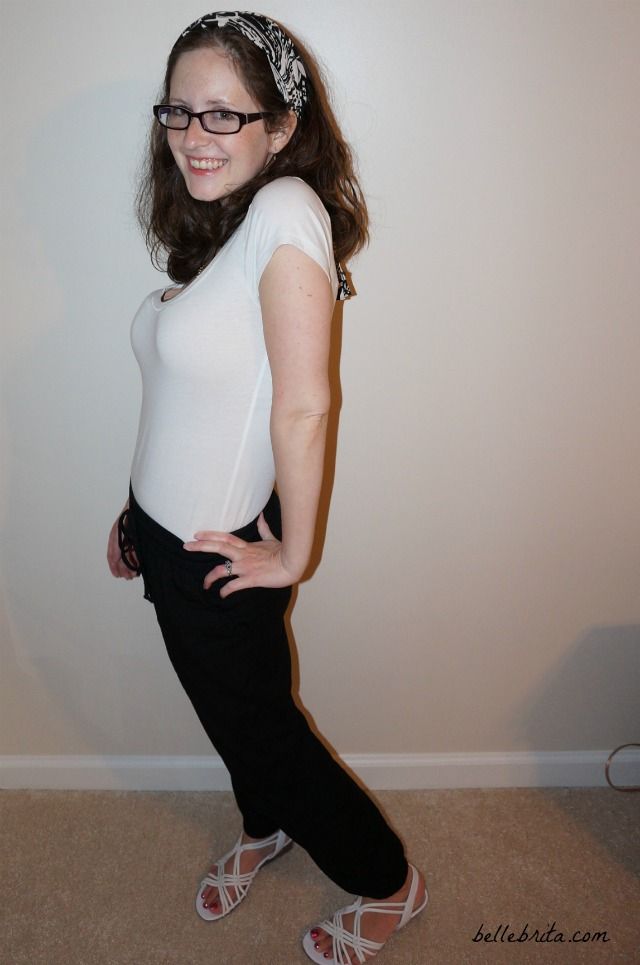 Wearing a scarf as a headband is one way to make messy curls look intentional. Please disregard the frizzy parts of my hair. I've had this scarf for ages, and I'm pretty sure it was a thrifted find.
My necklace is a Time-Turner replica, aka a legit piece of Harry Potter jewelry. Dan gave it to me for our first "boyfriend and girlfriend" anniversary. My gold earrings are a bridesmaid gift from Libbi. I love the pairing of a bold statement necklace with small sparkly earrings.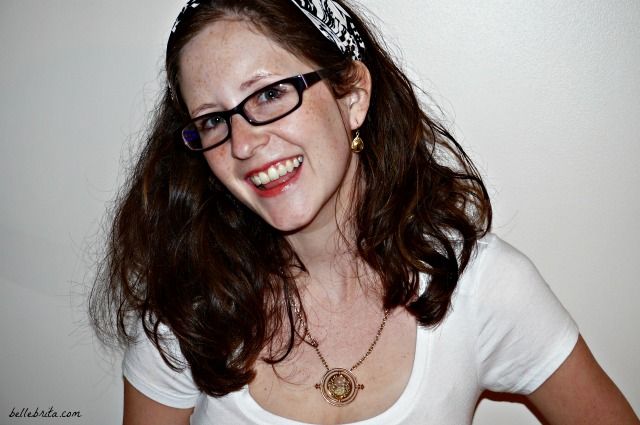 ---
Are you enjoying White Tee Tuesday so far? I know I'm having fun coming up with new outfits with old clothes! Plus I like pretending I'm a model while Dan snaps a million pictures of me. I only choose a few of the best ones for these posts, but he usually takes at least 10, if not 20 or more.
Don't forget about the collaboration opportunity at the end of the summer! When I finish this series, I will do a massive post for The Huffington Post featuring other bloggers in their white tees. So if you've done a fashion post before in a white t-shirt, share your links! Or feel free to come up with a fun outfit this summer and send me the link when it goes live.