Zpizza sent me vouchers for free pizza, but did not compensate me for this post. Opinions are my own.
Marriage is so much better than I ever could have imagined. Yeah, it always looked pretty nice, but I didn't realize how much fun it would be living with the person I love most.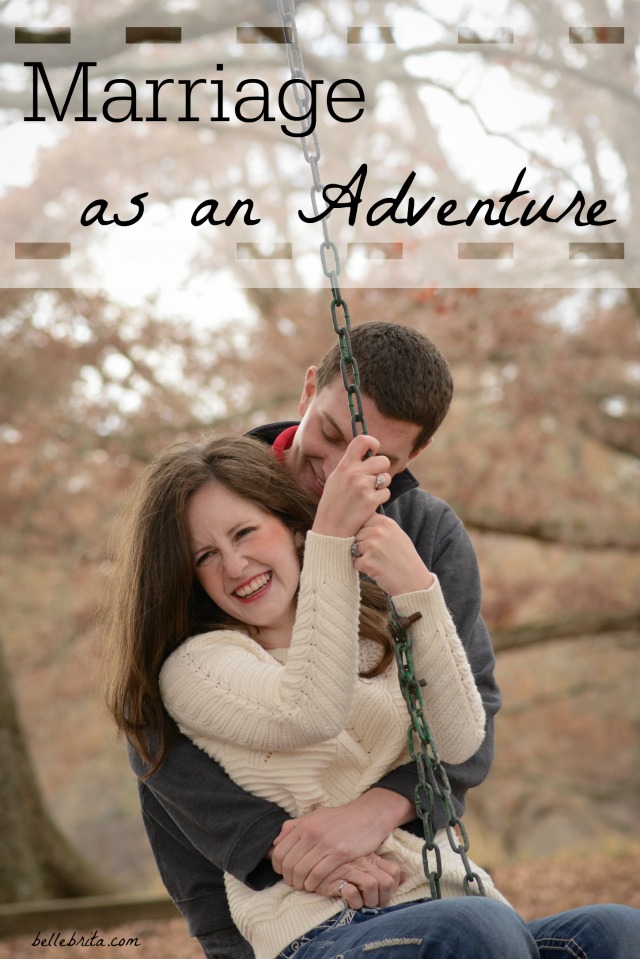 Considering how much Dan and I love having a routine, life with my husband is still full of surprises. We're comfortable at home, and we love our Netflix nights, but we encourage each other to leave our comfort zones. I don't think I would have spent a morning at the gun range without Dan's loving encouragement!
Even the mundane becomes exciting and romantic when I have Dan by my side. This past Saturday, we went to Target, Walgreens, Home Depot, The Dollar Tree, and Publix together. An afternoon of chores felt like a date as Dan and I picked out plants together, and as he indulged my need for a sugar cookie from the grocery bakery.
Yesterday Dan made me breakfast while we listened to music. When one of my favorite songs played (Brown-Eyed Girl), we stopped eating and danced. While I enjoy dressing up and going out for a fancy meal, Dan and I don't need to spend a lot of money–or even leave our townhouse–to enjoy a romantic date.
Last week, our date night adventure involved exploring more of Duluth. My good friend Leah had told me about Nam Dae Mun Farmers Market. Dan and I didn't need fresh groceries, but I wanted to scout it out and plan for future budget-friendly shopping trips. We probably spent a good 30-45 minutes wandering up and down the aisles, admiring the international selections and the low prices.
The location isn't convenient enough for daily grocery shopping (we walk to our local Kroger), but we will definitely hit up Nam Dae Mun before our next party!
While we were out, I also wanted to check out Aldi. I haven't been to an Aldi location in probably a decade. Dan and I have a generous grocery budget, but that also means groceries are the easiest area for us to save each month if we try.
It turns out I'm a fan of their $3 Winking Owl Pinot Grigio. We bought it and the Winking Owl Cabernet Sauvignon, which I haven't tried yet, just for the cute labels. Those bottles will be added to our wine bottle decor! The great price on the raspberries alone will be worth another trip to Aldi, especially now that I'm on a high-fiber diet for my Crohn's. Raspberries are like the champion berry of fiber, but they are not cheap.
Tonight's #datenight adventure started by exploring a local farmers market and then Aldi. Now on to #ZPizza for dinner!

— Brita Long (@belle_brita) May 20, 2015
Our exploration of Duluth and its grocery options ended with dinner from zpizza. Dan and I tried the new Carnitas and Roasted Tomatillo pizza. We're both picky eaters, so we ordered it without onions. It was a nice evening, so we ate outside. The pizza was DELICIOUS. So flavorful, but not something either of us would have ordered on our own. I'm grateful zpizza encouraged us to try their new pizza!
https://instagram.com/p/27CrCiLo9m/
The only downside was that whoever cooked our pizza apparently thought cilantro was a type of onion, since they didn't put red onions OR cilantro on our pizza. Dan and I both love cilantro, and we think the pizza would have been better with it. I'm sure we could have asked for them to add the cilantro to the pizza, but neither of us is very confrontational… especially over a free pizza.
Completely stuffed after trying the new Carnitas pizza from @zpizza! Trying new food is more fun when it's free. pic.twitter.com/EXpSoMuV9k

— Brita Long (@belle_brita) May 21, 2015
---
Dan and I might not have had any exciting dates in May, but I love that we still found time to focus on each other.
To my coupled readers, how did you and your significant other find romance this month? To my single readers, how to you find adventure in your daily life? I love hearing from all of you, so please comment with your thoughts below!