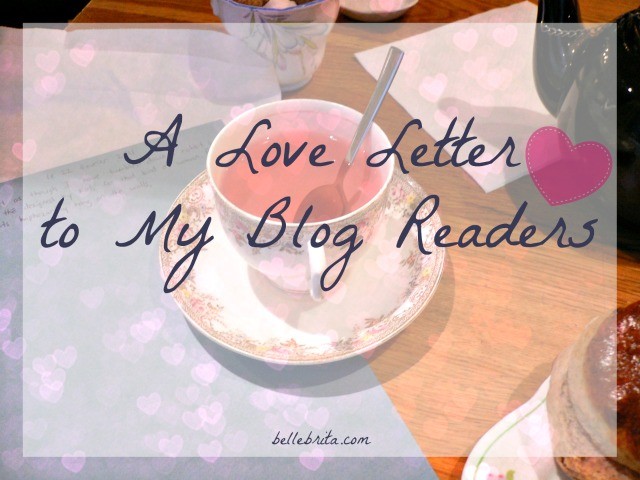 Dear Blog Readers,
We've been together for almost eight months. Our relationship isn't perfect, but I think it's pretty darn good.
I wear my heart on my sleeve–or on the Internet, as it is–and you accept me with all my ups and downs.
I love that you don't mind my erratic schedule, since you never really know if I'll blog one day a week or five days a week.
I love that my blog readers come from all over. Some of you are my friends from high school and college. Some of you are my mom's friends! Some of you are fellow bloggers. And you live all over the world! Mostly America and Canada, but I also have readers in the UK, France, Australia, and even India (I love the Cynexis team in India!).
Seriously, my readers are the BEST.
Thank you for every comment you leave.
Thank you for every retweet you give me. Thank you for any and all social media shares.
An extra-special thank-you to my first Blog Big, Stephanie at My Freckled Life, and my current Blog Big, Susannah at Simple Moments Stick. Thank you for all the blogging advice and support!
I love that I've become part of this blogging community.
I love that I'm part of #FIREWORKPEOPLE.
I love that I'm part of Prayerful Bloggers.
Blogging isn't always easy. It involves a lot of time and effort, not to mention the occasional late night.
But my dear blog readers make it all worth it! You keep me going, even when I'm tired of writing, editing photos, and networking.
THANK YOU, all of you. I love every single one of you (even if I sometimes don't reply to all of your comments).
Happy Valentine's Day!