The votes are in! Last month I asked y'all to vote on your favorite past topics from previous Love Blog Challenge blog link-ups. I've gone through all the feedback to put together this month's prompts. And don't worry, there are still several new prompts for the fifth Love Blog Challenge!
Similar to last year, I will have up to 2 co-hosts for each day. If you're interested in co-hosting, please fill out this form no later than January 20th! 9 bloggers have already signed up to co-host, but there are plenty of available spots left. (If you're one of those bloggers, you do not need to sign up at this new form).
This will be a weekday blogging challenge, meaning there are prompts Monday to Friday each week. The very first Love Blog Challenge was every single day, but that completely burned me out!
Blogging 20 days in a month is still an admirable achievement, and I'm excited to see who will rise up to the challenge this year!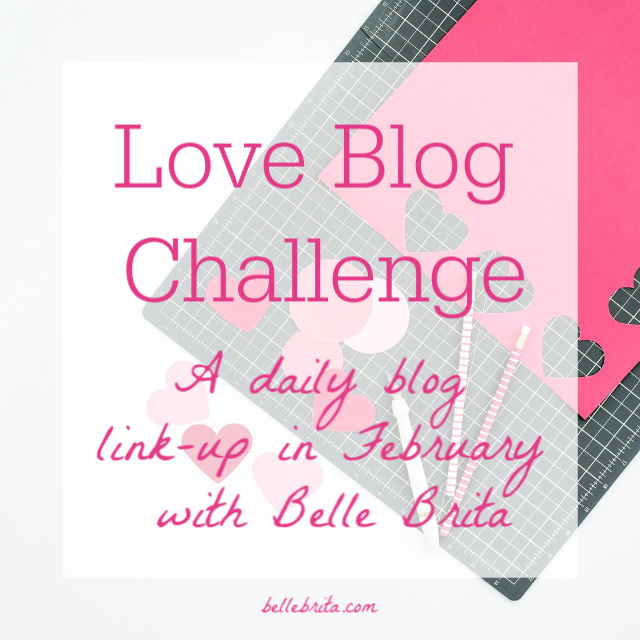 Love Blog Challenge 2020 Prompts
The fifth Love Blog Challenge will be a daily blog link-up every weekday in February with daily prompts. Your linked-up blog post doesn't have to be from that day, but it does need to follow the prompt, albeit I accept loose interpretations.
You can share up to 3 blog posts per daily blog link-up. Old blog posts are acceptable, as long as they follow the prompt. For example, if you've participated in the blog link-up before, then you already have some posts for multiple prompts. Please do not share more than 3 blog posts per daily blog link-up.
If you've never participated in a blog link-up before, it's quite simple! My blog will have an inlinkz code. When each new day begins, that code will show up on my blog (and my co-hosts' blogs). You'll see a blue button that reads, "Add your link." Just click on that and follow the onscreen instructions.
Note: The bolded section is the main prompt for each day. The additional text is to help inspire you! The prompts are definitely up to interpretation. I've loved reading all the creative responses to my prompts over the years.
Love Blog Challenge Week 1
3) Valentine's Day. This is one of my favorite prompts, so I've brought it back! Do you have any Valentine's Day traditions? Is it a holiday for a significant other, for family, for friends, or for everyone? Have you ever celebrated Galentine's Day?
4) Self-care. This prompt received the most votes from bloggers to bring back! Why is self-care important to you? How do you practice self-care? What does self-care look like beyond pampering?
5) Creativity. How do you express yourself creatively? Where do you find creative inspiration?
6) Growth. 2020 is the start of a new decade, and many people have used this time to reflect on how much they've changed. How have you grown in the last decade? Have you ever outgrown a relationship? What's the best way for a couple to grow together?
7) Money. Is money ever a source of conflict in your relationships? How do you deal with disparate income levels between loved ones?
Love Blog Challenge Week 2
10) Fictional love. What lessons have you learned from couples in books, TV shows, or films? Have you ever had a crush on a fictional character?
11) Social media. Is social media a positive or negative presence in your life. Does social media affect your relationships? Do you follow any accounts that offer helpful love advice?
12) Little things. Love isn't just the big moments. Love is being there, day after day. What are the little things you love most about your spouse or your children? What are little ways you let your loved ones know you care? How can small, thoughtful gestures improve a relationship?
13) Acceptance. What does acceptance mean to you? How do you learn to accept the things you cannot change? Why is acceptance important in relationships?
14) Family. Who is your family? What does family mean beyond blood relatives? What lessons have you learned from your family? Does your family have their own way of expressing love?
Love Blog Challenge Week 3
17) Respect. How important is respect in your relationships? How are love and respect connected? What does a respectful relationship look like?
18) Challenges. What challenges have most impacted you in life? How do you challenge yourself to become a better person? Do the people in your life challenge you? In what way? What challenges have you faced in your relationships? How did you overcome any relationship challenges?
19) Healing. Have you ever experienced a long period of healing, whether from physical, mental, or emotional pain/trauma? What is your approach to healing? How can loved ones support you in healing?
20) Travel. How had traveling changed your life? What vacations did you take growing up? What is your family's approach to travel? How do you and your significant other choose when, where, and how to travel?
21) Vulnerability. Why is vulnerability important in relationships? What does vulnerability look like in your life? Have you ever struggled with vulnerability?
Love Blog Challenge Week 4
24) Forgiveness. Why is forgiveness important? What role does forgiveness play in your life? How does forgiving someone else benefit you? What is forgiveness NOT?
25) Strength. How do you find inner strength? What does a strong relationship look like? What are your strengths and weaknesses?
26) Spirituality. What does spirituality mean to you? Is there a difference between being religious and being spiritual? What does your faith teach about love? How do your beliefs influence your relationships?
27) Heartache. Have you ever experienced a hard breakup? Did you initiate it, or did the other person? Do you mourn any lost friendships? How does emotional pain connect to love? What are your experiences with grief?
28) Inspiration. Who inspires you? What inspires? What do you do when you feel uninspired?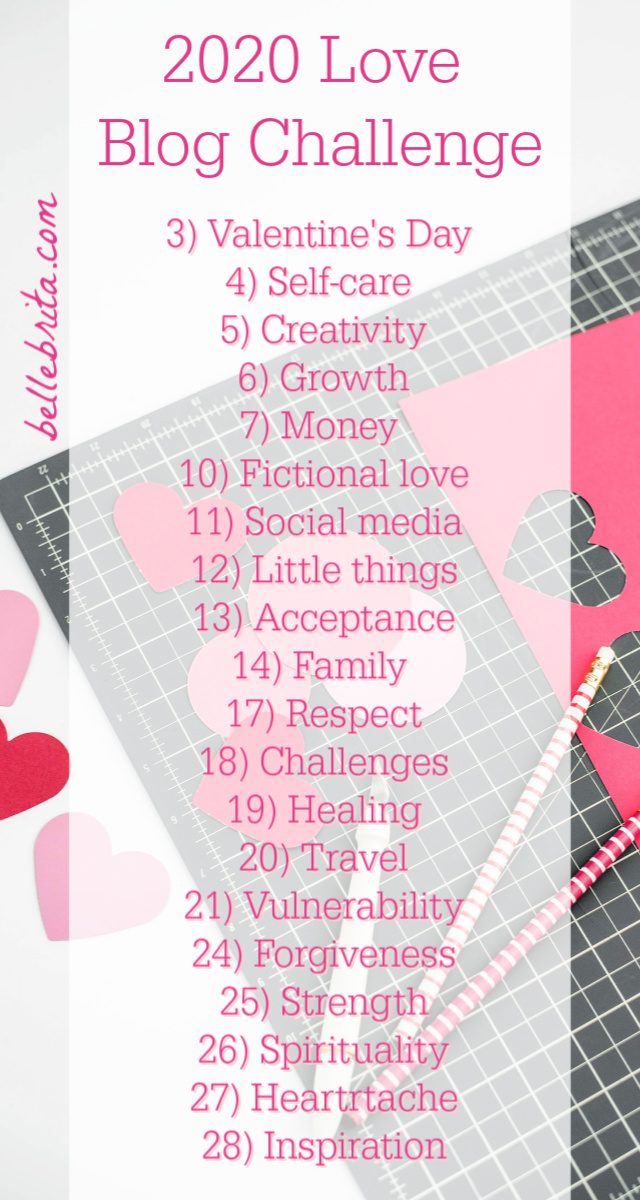 Love Blog Challenge Rules
Rules are the same as always. Nothing too strict–only 2 mandatory rules! (The 3rd rule is mandatory if you want to submit more than a single link). All the other rules are optional. Each link-up will remain open for 4 days to give you time to catch up. So if you don't write Monday's prompt until Wednesday, that's okay. You can still go back to Monday's link-up and submit your link. These are the Love Blog Challenge rules!
Follow the prompt. The prompts are open-ended to give you creative freedom. But if your blog post doesn't relate to the prompt at all, I will delete it from the blog link-up.
Comment on the link before yours and at least one other link. Get to know your fellow bloggers!
Yes, you can link-up an old post (like from previous challenges!), or even multiple posts, as long as they all follow the prompt. Please limit yourself to 3 links per prompt.
Follow your host (Belle Brita) and the co-hosts on your preferred form of social media.
Use the Love Blog Challenge button and/or link back to the blog link-up to spread the word!
Share your posts on social media using the hashtag #LoveBlog2020. I will retweet as many as I can! Plus I will give you lots of love on Instagram if you feel like using the challenge hashtag.
---
Are you excited for the Love Blog Challenge? Leave me a comment!