Have you ridden every single Cedar Point roller coaster? I've ridden most of them, but I haven't ridden quite all the coasters the Ohio theme park has to offer. Out of the Cedar Point roller coasters I have tried, most of them I've experienced multiple times in the past seven years.
To rank all of Cedar Point's roller coasters, I turned to Facebook. Many of my friends and in-laws lived (or still live) in Ohio, where visiting Cedar Point is an absolute must. Their opinions on the roller coasters at Cedar Point helped shape this list. Of course, I'm also drawing upon my own experiences and preferences, as well as my husband's opinions.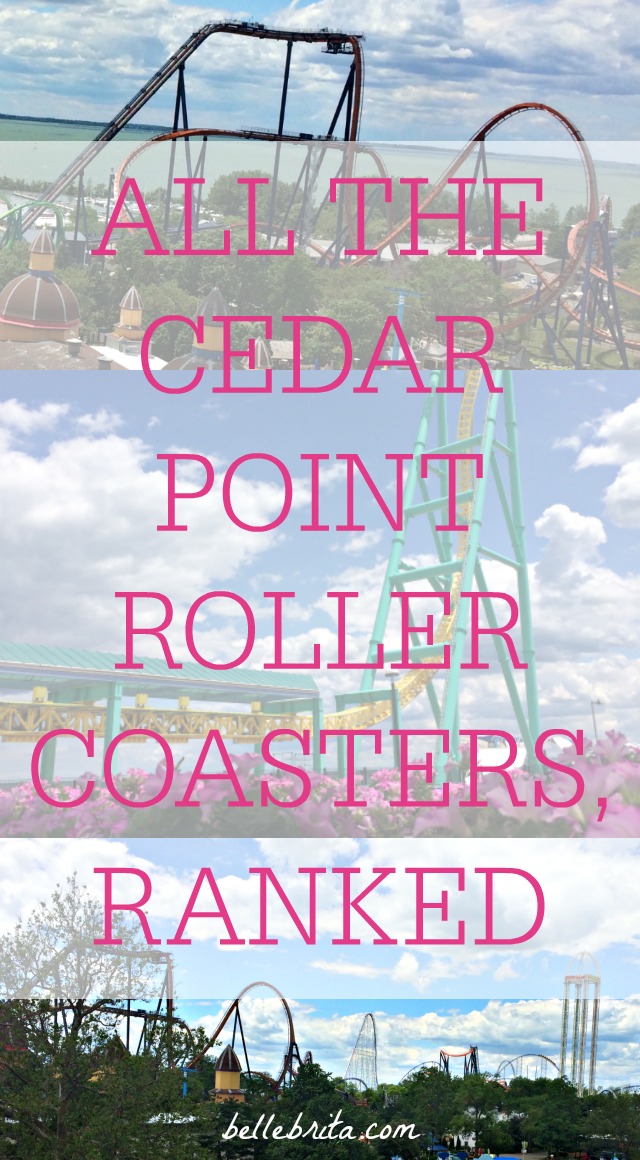 For each of Cedar Point's roller coasters, I've shared the following information:
The description according to Cedar Point
My thoughts alongside crowdsourced opinions
Basic ride stats
Basic ride requirements
However, each ride lists detailed requirements for riders on the Cedar Point website. I've linked to each ride page under each roller coaster listing. If you navigate to the bottom of that page, there's a section on Ride Safety Information. Expand that to see all the specific rider requirements for each Cedar Point roller coaster.
A final note. It's not really fair to compare the Cedar Point's roller coasters for kids to the rest of the park's thrill rides. However, I still want to list the kiddie coasters for anyone planning a Cedar Point vacation.
Related: 13 Tips to Have the BEST TRIP EVER at Cedar Point
17) Wilderness Run
From Cedar Point's website:
Before you can walk, you need to crawl. Before you drop from unheard of heights at blistering speeds, you need to ride Wilderness Run. With kid-friendly hills and speeds up to 6 mph, this is like riding with roller coaster training wheels for those young thrill seekers out there. As riders are taken for an exciting adventure through the backwoods of Camp Snoopy, they'll earn their stripes for when they're ready to move onto the bigger coasters.
As a childless adult, I've never ridden Wilderness Run. I'm sure it's great for little kids.
Max Height: 19 feet
Top Speed: 6 mph
Duration: 50 seconds
Requirements: 36″ tall to ride alone. Guests over 54″ tall must be accompanied by a child. Each car only accommodates one guest over 54″ tall.
16) Woodstock Express
From Cedar Point's website:
All aboard! This coaster may seem pint-sized, but it has all the heart and the fun of the big guys. It's located in the heart of Camp Snoopy and is the perfect ride for parents and kids alike. The hills and thrills are only the beginning. Climb aboard and hold on tight. Though, don't say we didn't warn you. Even little coasters can make a big impression. One trip aboard the Woodstock Express will be enough to convince your kids that the coaster life is the best life.
The Woodstock Express is another kiddie coaster that sounds slightly more exciting than Wilderness Run.
Max Height: 38 feet
Top Speed: 25 mph
Duration: 1 minute, 10 seconds
Requirements: Maximum weight is 300 lbs per car.
Related: Is Cedar Point Worth a Visit if I Don't Like Roller Coasters?
15) Pipe Scream
From Cedar Point's website:
Pipe Scream is the coaster that provides all the feels. The one that dreams are made of. It has something for everyone, so no surprise that it has cemented itself as a Cedar Point family favorite. Over 300 feet of track brings thrills for those who dares to take it on, big or small. And you can't beat its location as it's right in the middle of the Gemini Midway. This coaster takes you up and won't slow down (or bring you down) until after you've witnessed the dazzling midway views while spinning and coasting.
Is this really even a roller coaster? The ride just goes back and forth on 302 feet of track. I haven't ridden this ride myself mainly because I have a feeling I would get motion sick.
Max Height: 43 feet
Top Speed: 43 mph
Duration: Depends
Requirements: 48″ tall to ride alone OR 42″ tall and accompanied by a supervising companion.
14) Cedar Creek Mine Ride
From Cedar Point's website:
Cedar Creek Mine Ride doesn't just send riders soaring up hills, through tunnels and over water. No sir. It transports people back in time, all the way to the Wild West. Strap into this runaway mining cart straight out of the boomtowns of the 1800's and make sure to hold onto your hat as we give new meaning to the term Gold Rush. You may not find the riches you seek here, but you just might find your new favorite coaster.
I have a soft spot for mine rides because they were the first coasters I was comfortable riding. This roller coaster isn't particularly fast, nor does it feature any steep drops, but it's still worth a spin if you have time.
Max Height: 48 feet
Top Speed: 40 mph
Duration: 2 minutes, 50 seconds
Requirements: 48″ minimum
13) Blue Streak
From Cedar Point's website:
Don't call it a throwback. Blue Streak may be Cedar Point's oldest and most classic coaster, but it still competes with some of the park's heavy hitters. It's one for the ages and has been a family favorite since it opened in 1964. Some roller coaster aficionados may even call it a bucket list coaster. So don't count this wooden coaster out, Blue Streak is packed with hills, thrills and history.
To be honest, I'm not sure if I've ever ridden this or not. Wooden coasters tend to give me headaches. However, if you don't mind being jostled a bit while getting your thrills, try out Blue Streak, Cedar Point's oldest roller coaster. My husband considers it a classic and well worth a try.
Max Height: 78 feet
Top Speed: 40 mph
Duration: 2 minutes
Requirements: 48″ minimum
12) Corkscrew
From Cedar Point's website:
This record-breaker's a heartbreaker. Corkscrew was the first coaster in the world that featured three inversions and it hasn't looked back since. Strap in and brace yourself, because these steel tracks show no mercy. They'll turn you up, down, around, inside out and back again. After that first loop, it'll take your nerves of steel and push them to the limit. Gravity has no bounds as you flip upside down and make eye contact with the park goers below. Once you're in, you'll never look at Cedar Point's midway the same again.
The last time I enjoyed riding this was in 2011, when I first visited Cedar Point. Subsequent rides have not been great. One of my friends called it underwhelming. Another friend listed it as her least-favorite Cedar Point roller coaster because, "it jerks my head side to side so hard I have lost earrings on it."
Max Height: 85 feet
Top Speed: 48 mph
Duration: 2 minutes
Requirements: 48" minimum
11) Valravn
From Cedar Point's website:
He who dares to try and conquer Valravn better come prepared to have their plans squandered. This coaster elevates riders 223 feet up into the skies and then dangles them over the edge for what feels like an eternity before dropping them at a 90-degree angle. If that doesn't show a rider who's in charge around here, then the multiple inversions, including a 270-degree roll and a legendary Immelmann maneuver will make it obvious that it's Valravn who rules the throne. And the airtime at the end of the flight? Well, that simply proves that it's Valravn's kingdom and you're just riding in it.
I know this low ranking is a controversial choice. Valravn is the world's tallest, longest, and fastest dive coaster. Other reviews are generally positive.
But… I found it to be surprisingly forgettable. I rode Valravn in 2017 for the first time, but I barely remember what it was like. However, I do remember waiting in the longest line of the day and commenting afterward that the ride wasn't worth the wait.
My husband has a similar opinion. He thinks the ride itself is fine, but it doesn't live up to the hype of being a new and exciting roller coaster.
Max Height: 223 feet
Top Speed: 75 mph
Duration: 2 minute, 23 seconds
Requirements: Between 52″ and 78″
10) Iron Dragon
From Cedar Point's website:
This fiery beast leaves nothing to the imagination. It gives you everything you love in a coaster and still has you begging for more. Better yet, the Iron Dragon will literally leave you hanging over the Cedar Point Lagoon. Will you swing across or will you dive in? This coaster leaves you second-guessing as it swings side to side over the park and across the water at adrenaline-inducing speeds. And when you're traveling that fast, with nothing but water and forests beneath you, there's nothing you can do but scream and hold on tight.
The Iron Dragon is a leisurely roller coaster. It's not particularly thrilling, but it's still a lot of fun in its own way. The swinging motion is different from any other roller coaster at Cedar Point. One friend reviewed, "I love the Iron Dragon, because it has the best scenery and is peaceful for a roller coaster. "
Max Height: 76 feet
Top Speed: 40 mph
Duration: 2 minutes, 30 seconds
Requirements: 48″ minimum
9) Wicked Twister
From Cedar Point's website:
Hold on to your hats. Actually, scratch that. Don't even wear one. Because to say you launch out of the station is an injustice. This coaster catapults you forward so quickly, you're not even sure if there's track in front of you. 72 mph feels more like a hundred. But with a name like Wicked Twister, are you really that surprised? Short as it may seem, one trip on the Wicked Twister is enough to make you come back for seconds, thirds, and tenths. Strap in, and get ready to stop, drop and roar.
I'm not usually a fan of rides that go straight up or straight down, but I love Wicked Twister. It's pure fast fun. You keep going faster and higher with each subsequent run. While the duration is among the shortest of Cedar Point's roller coasters, Wicked Twister is a great thrill. Plus lines are usually not too long.
Max Height: 215 feet
Top Speed: 72 mph
Duration: 40 seconds
Requirements: Between 52″ and 78″
8) Gemini
From Cedar Point's website:
It's fast vs. faster in this game of dueling coasters. Gemini riders will choose between team red or team blue before racing side-by-side through all kinds of drops, twists and turns. Riders get so close that you can hear the smack talk coming from the other train car. It's a good thing that victory isn't determined by who finished first, but who has more fun.
If you're looking for a great roller coaster with short waits, Gemini is it. With two coasters running the whole time, riders are loaded quickly, so the line moves fast. Plus the contest part of the ride is just fun. At some points, the cars are so close to each other that riders can reach out and touch. Technically you shouldn't do that, but I've never seen Cedar Point employees actually enforce the "keep your hands in the carts" rule on Gemini. Even without the side-by-side contest, Gemini is a smooth coaster with plenty of thrills.
Max Height: 125 feet
Top Speed: 60 mph
Duration: 2 minutes, 40 seconds
Requirements: 48″ minimum
7) Rougarou
From Cedar Point's website:
Don't get comfortable. As soon as you're strapped in, the floor drops out. Completely. After the initial shock, this coaster roars to life as your feet dangle in mid-air. Rougarou climbs a staggering first hill, but this is definitely not the time to catch your breath because this coaster's nowhere near done yet. The hairpin turns and loops are only surpassed by its remarkable speed. It's no wonder that between the daring drops and dives, riders are left wondering if they'll ever make it out of this swamp coaster alive.
I never rode the previous version of this roller coaster (Mantis), but I did try out Rougarou in 2017. It's a smooth ride with thrilling inversions, but it's not as memorable as the Cedar Point roller coasters that I've ranked higher.
Max Height: 145 feet
Top Speed: 60 mph
Duration: 2 minutes, 30 seconds
Requirements: Between 54″ and 78″
6) Top Thrill Dragster
From Cedar Point's website:
Take the pedal to the metal attitude of funny car racing, then turn it up a few notches and you've got the insane Top Thrill Dragster. Riders are launched from zero to white knuckles in the blink of an eye on a race track climbing 420 feet in the air. So we aren't kidding when we say that this high-octane sprint to the checkered flag knows a thing or twenty about horsepower. Vroom vroom.
To be honest, this is the one roller coaster that really scares me. So I haven't ridden it, but most of my friends and in-laws have all done Top Thrill Dragster multiple times. One friend said, "Top thrill is one of my favorites, for no other reason than it being terrifying. But it is so touchy that it seems like the slightest breeze shuts it down."
Max Height: 420 feet
Top Speed: 120 mph
Duration: 17 seconds
Requirements: Between 52″ and 78″
5) Magnum XL-200
From Cedar Point's website:
Roller coasters are all about making a grand statement with even grander views. As the first hypercoaster and first ever coaster to top 200 feet, Magnum XL-200 does exactly that. While accelerating over hills, through tunnels and its signature "pretzel turnaround," riders will be dazzled by some unbelievable views of the Lake Erie shoreline and the Cedar Point skyline. And if it's a clear day, you might be able to see the coast of Canada. Make no mistake, this isn't a roller coaster ride, it's a roller coaster spectacle.
Considering its age (built in 1989), Magnum still delivers great thrills with plenty of airtime. While not as smooth as some of the other steel coasters on this list, Magnum is still well worth a ride (or two or three). Plus it's a significant ride in roller coaster history, being the first one to top 200 feet.
Max Height: 205 feet
Top Speed: 72 mph
Duration: 2 minutes, 45 seconds
Requirements: 48″ minimum
4) Raptor
From Cedar Point's website:
Picture this: You're walking through a field when a bird of prey dives from the heavens, snatches you up and then proceeds to take you on a terrifying journey to wherever it pleases. That's how riders will feel while on Raptor, as their feet dangle through 3,790 feet of track filled with a 100-foot vertical loop, two inverted corkscrews, a zero gravity roll and the world's first ever cobra roll. We're out of breath just listing it all off. This is one unforgiving apex predator, so be ready to catch some serious air when Raptor catches you.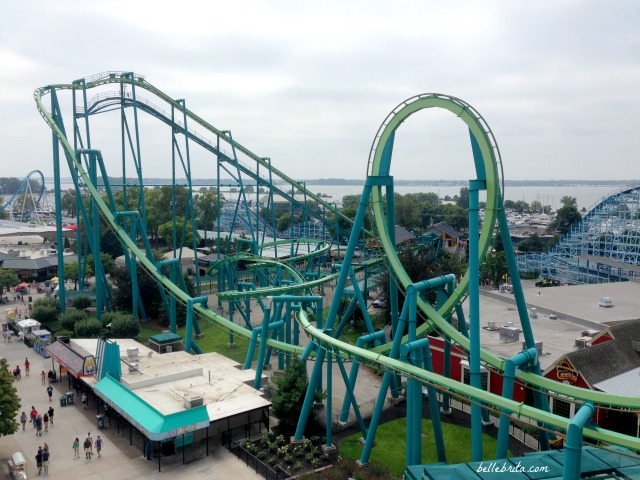 I have to be completely honest… If I had ranked these roller coasters by my own opinions alone, Raptor would not be this high. The shoulder harness whacks my head the entire ride because it's not designed for short people.
But not only does my husband love Raptor, several of my friends listed it as among their favorites. Here are a few of their thoughts.
"In a break with my wife, I'm going to stick Raptor at number 3." (My husband).

"The Raptor gives me a headache if I go along with Dan and ride it 5 times in a row. It's not my favorite." (My husband's best friend).

"Have not been there in years, but my favorite was always the Raptor." (My sorority sister).

"I love the Raptor, but can see how if you aren't the right height, it would knock your head around. In fact, I think I push my head forward a bit to avoid hitting the sides of the harness." (A good friend).
So if you are average height, then you will love Raptor. My brother-in-law is 6'2 and loves Raptor, so tall people seem to appreciate it too. Just don't ride it multiple times in a row with my husband, or you'll get a headache regardless of your height.
Max Height: 137 feet
Top Speed: 57 mph
Duration: 2 minutes, 15 seconds
Requirements: 54″ minimum
3) Gatekeeper
From Cedar Point's website:
Talk about first impressions. That's why we put a coaster that breaks seven world records at the very front of the park. Riders will take flight on the wings of a powerful golden griffon, dive-bombing and threading their way through impossibly narrow obstacles like our keyhole towers. It won't take long to figure out why GateKeeper is inspired by the power of flight.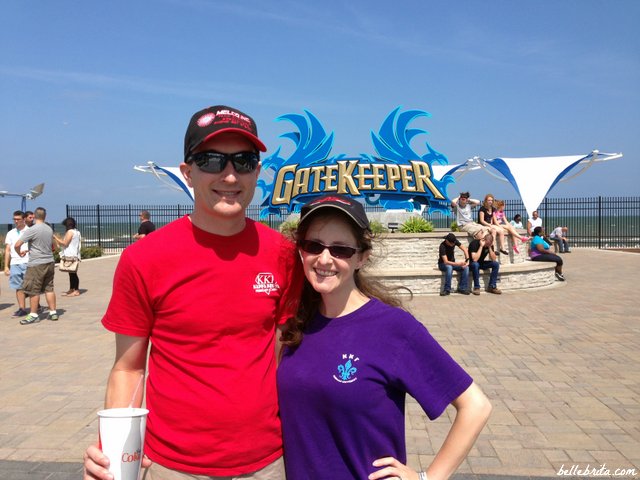 Back in 2014, my husband and I spent a weekend at Cedar Point. On Sunday, we were there for a special work thing, so I got in early just to ride Gatekeeper. (Dan was sick that morning, so he slept in). I think I rode Gatekeeper five times in a row. It was just that good. So smooth. So fast. Multiple inversions.
If you can, ride it at least twice, trying both sides. The experience is a little different depending on where you sit.
Max Height: 170 feet
Top Speed: 67 mph
Duration: 2 minutes
Requirements: Between 52″ and 78″
2) Millennium Force
From Cedar Point's website:
A looming giant amongst a park full of them, Millennium Force was designed for the purpose of proving bigger is better. In fact, Millennium Force's creation demanded an all-new category just to classify its one of a kind nature – thus was born the giga-coaster. Ranking as one of the world's best steel coasters, this behemoth shoots riders over hills, past lagoons and through tunnels, all at unthinkable speeds.
Multiple friends listed Millennium Force as either their favorite or in their top three Cedar Point roller coasters. Dan and I both agree it's the second-best roller coaster at Cedar Point.
It is possibly the smoothest ride in the park–which is saying something, considering its height and speed. I have waited two hours to ride Millennium Force, on multiple occasions, and the ride is always worth the wait.
The G-forces are incredible–but don't trigger my motion sickness. I do briefly blackout (just a few seconds) during the ride, but that's not unusual for a ride this intense.
Max Height: 310 feet
Top Speed: 93 mph
Duration: 2 minutes
Requirements: Between 48″ and 78″
1) Maverick
From Cedar Point's website:
Maverick acts more like a bucking bronco than a coaster. This terra coaster is packed with twists, corkscrews, launches, tunnels, plenty of airtime and still manages to catch riders by surprise at every bank and turn. There's nothing wilder in the West than Maverick.
Maverick beat out Millennium Force as the best Cedar Point roller coaster–but barely. My friends shared these thoughts.
"Maverick was definitely my favorite." (A good friend).

"Maverick is, hands down, the best!" (My blogging bestie, Charlene–check out her blog!)

"I haven't been there in a while, but I think Raptor and Maverick were two of my favorites!" (Another good friend).

"Tough call, but I think Maverick wins overall." (My husband).
This has been my favorite roller coaster since my very first visit to Cedar Point back in 2011. The first drop is at 95 degrees… yeah, past vertical. It's amazing, and I've never experienced that on another roller coaster. Add in some inversions and plenty of airtime, and Maverick is simply the best Cedar Point roller coaster.
Max Height: 105 feet
Top Speed: 70 mph
Duration: 2 minutes 30 seconds
Requirements: Between 52″ and 78″
---
There's one Cedar Point roller coaster missing from this list… Steel Vengeance.
Steel Vengeance is Cedar Point's newest roller coaster, just debuting this year. As such, I haven't ridden it yet, and neither have any of my friends or family! If you've ridden Steel Vengeance already, where should it rank on my list?
Cedar Point fans, what are your thoughts? Do you agree with my ranking of Cedar Point roller coasters, or am I totally off base? Share your opinions in the comments!