Contains Amazon affiliate links. Post originally written August 2014 and updated annually. 
Note: I've updated this post with 2020 ticket prices, but I'm waiting to hear back on perks for hotel guests.
Dan and I spent the entire weekend riding roller coasters at Cedar Point in Sandusky, Ohio. This was my fifth time going, and it was hands-down my best trip EVER at Cedar Point. I just love taking a Cedar Point vacation!
Don't like roller coasters? Find out what to do at Cedar Point instead!
Dan and I spent Saturday with my best friends (and Kappas!) Libbi and Angela. We spent Sunday with his brother and SIL, Pat and Emily, and our friend Chris for Marathon's day at Cedar Point.
All of the Flecks are Cedar Point experts. Spending the day in the park with one of them is easily the best way to have an amazing Cedar Point trip.
But if you aren't lucky enough to hit up the theme park with a Fleck, Dan and I are happy to share our Cedar Point tips. We've put together 13 tips to have the best trip ever at Cedar Point, even if Dan isn't by your side to guide you through the park. Follow our advice to plan your trip to Cedar Point.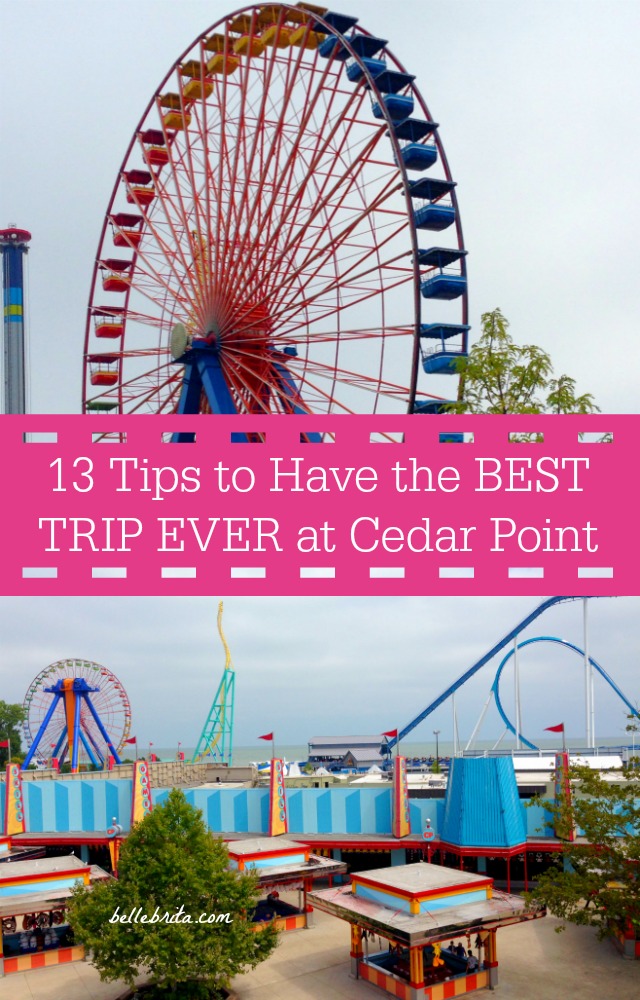 But before I jump into Cedar Point tips, let's talk about Cedar Point tickets!
How much do Cedar Point tickets cost in 2020?
Cedar Point in 2020 is different than in years past as the park works to accommodate guests during the pandemic. Even if you have a season pass, you need to make a reservation online for the date AND time of your park arrival. This is to limit guests in the park overall and to limit guests at the front gate.
Prices below do not include taxes or fees.
Regular 2020 admission costs only $47.
The Funday Bundle costs only $57. This includes admission to Cedar Point, Parking, and a Single Meal Deal. With the Single Meal Deal, enjoy an entree, side and regular size fountain drink at one participating location. Since Parking usually costs at least $20, this is a great deal!
If you purchase a 2020 season pass, this will be good through the 2021 season.
How is Cedar Point keeping guests safe during the pandemic?
There's so much to cover that I might write a separate blog post on this. Here are a few points:
requiring all visitors to buy tickets in advance and to make entry reservations
requiring all visitors to wear masks
doing temperature checks on all visitors before park entry
increasing sanitation of high-contact surfaces
setting up the park to encourage social-distancing
Read more about Cedar Point's COVID-19 response.
1) Spend two days at Cedar Point.
When your Cedar Point trip lasts two whole days, you don't have to rush. You can take longer meal breaks. You can even save money–and make healthier food choices–by exiting the park for meals. You can ride everything in Cedar Point without waiting more than an hour for the popular rides by hitting half of them first thing on Saturday and the other half first thing on Sunday. By spending two days in the park, you can really make the most of your Cedar Point vacation.
When you stay at a Cedar Point hotel, you get early admission BOTH days to the park. Getting into the park an hour earlier than most guests is a huge advantage to riding Millennium Force and Maverick without a long wait. On Saturday, Dan and I rode Millennium Force twice and Maverick once by 10am, when the gates opened for everyone else. And a whole 15 minutes of the wait to ride Millennium Force a second time was "mechanical failure," aka a kid panicking and unbuckling his seat belt.
Updated for 2019: Early entry lets you ride the following rides for an hour before the park opens to the general public.
Ocean Motion
Midway Carousel
Cadillac Cars
Cedar Downs Racing Derby
Camp Snoopy (including the Tilt-a-Whirl)
GateKeeper
Valravn
Millennium Force
Maverick
Steel Vengeance
Skyhawk
Cedar Point also offers an Easy Pay program to let you pay for your Cedar Point vacation in six installments.
Cedar Point hotel deals will vary during the season, but with our stay, we received: free parking for up to three cars for both days; two free "Ride and Refresh" tickets; and the option to buy regular tickets and "Ride and Refresh" tickets at a discounted rate ($39 and $45, respectively).
Current Cedar Point resort perks include (updated 05/11/2019):
Resort guests receive complimentary parking for the length of their stay.
Resort guests can buy discounted Cedar Point tickets online or when they check into their hotel.
If you reserve an overnight ticket package for stays between 05/25/2019 and 09/02/2019, you receive FREE admission to Cedar Point Shores Water Park! You also get to enter Cedar Point Shores Water Park half an hour early.
Current Cedar Point vacation packages:
Forbidden Family Fun Package: Stay just a short drive from Cedar Point and The Forbidden Frontier for your 2 night stay at Cedar Point's Express Hotel. This vacation package includes unlimited admission to Cedar Point and Cedar Point Shores for 3 days, access to the Cedar Point mile-long beach along Lake Erie, Early Entry to Cedar Point and Early Access to Cedar Point Shores, and length of stay parking. Starts at $65 per person, per night.
Splash20 Package: Castaway Bay is a tropical indoor waterpark resort close to the coasters of Cedar Point. Book this popular vacation package to add a full breakfast buffet to your stay in this Caribbean oasis. Choose to include admission to Cedar Point for 1, 2, or 3 days, plus admission to the indoor waterpark for your entire stay and length of stay parking. Starts at $101 per person, per night. Valid May 25 – September 2, 2019.
Cedar Point offers other vacation packages, but they're not as valuable, in my opinion.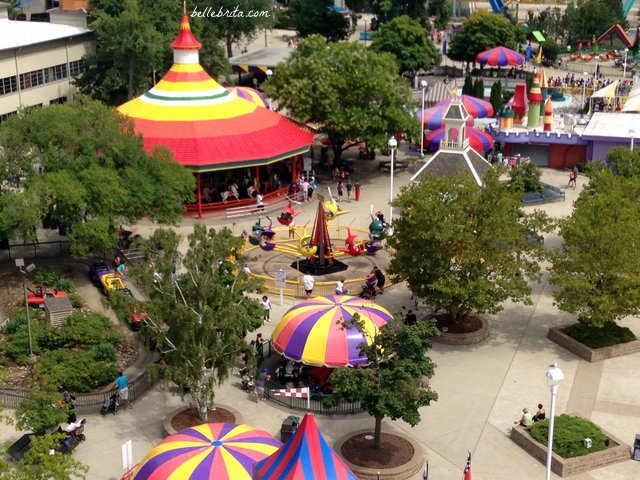 3) Don't stand in line before Cedar Point opens.
The Cedar Point employees are very efficient about scanning tickets and letting people in the park once it opens. I have no idea why everyone queues up for half an hour or even longer. Last summer, when we didn't have early admission to the park, Dan and I arrived before Cedar Point opened. We sat down outside the main entrance and waited for it to open. We didn't join the line until they actually let people in, and it took us less than five minutes to enter the park. You spend the entire day on your feet, waiting in line for rides. Don't stand in line for your Cedar Point vacation more than necessary!
4) Start at the back of the park.
When Cedar Point opens, most visitors enter through the main entrance, and they head for the closest rides. If you don't have early entry, go straight to the back and ride Maverick, Gemini, and Magnum. If you do have early entry, enter at the resort entrance near the back and ride Maverick first.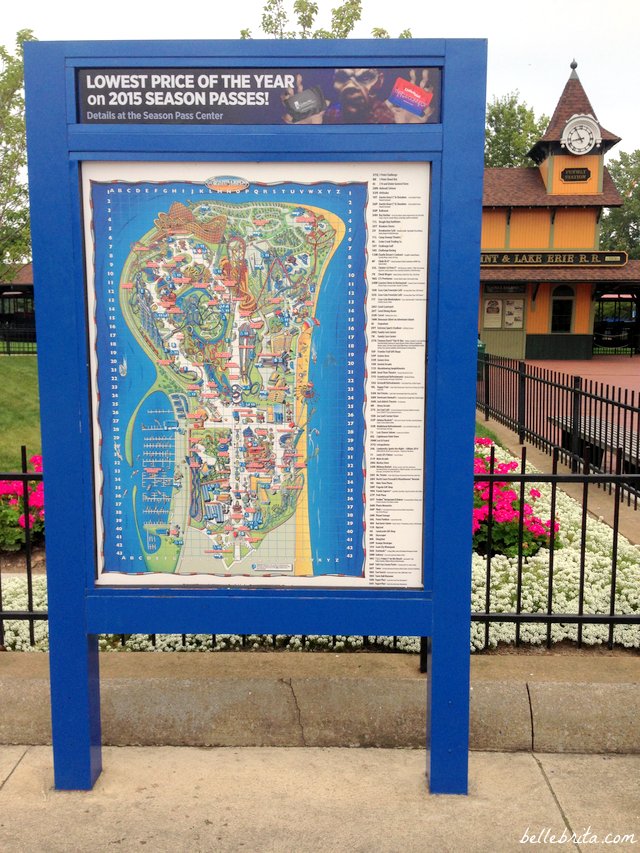 5) Be willing to try new things, but know your limits. Encourage your friends to be adventurous, but respect their limits.
I will ride anything in Cedar Point except for Top Thrill Dragster, which goes straight up and straight down. I am firm on that. Everyone is pretty cool about that and doesn't pressure me to ride it. Angela doesn't go on rides that go backwards. No big deal. I might have needed a pep talk from Dan last summer when I rode Millennium Force for the first time, but if I had been dead-set against it, he would have understood. You won't have the best trip ever at Cedar Point if you're forced to go on rides that make you sick or uncomfortable, and neither will your friends.
6) Play games while waiting in line for Cedar Point attractions!
Dan and his family always bring a waterproof deck of euchre cards so we can play euchre in line. (Euchre cards are just regular playing cards, but only face cards, nines, and tens). Libbi also had the Heads Up! app on her phone, which made for hilarious charades and general shenanigans. Spending an hour and a half in line for Gatekeeper was a lot easier after a game of euchre and several rounds of Heads Up! Playing games will add a new level of amusement to your Cedar Point trip.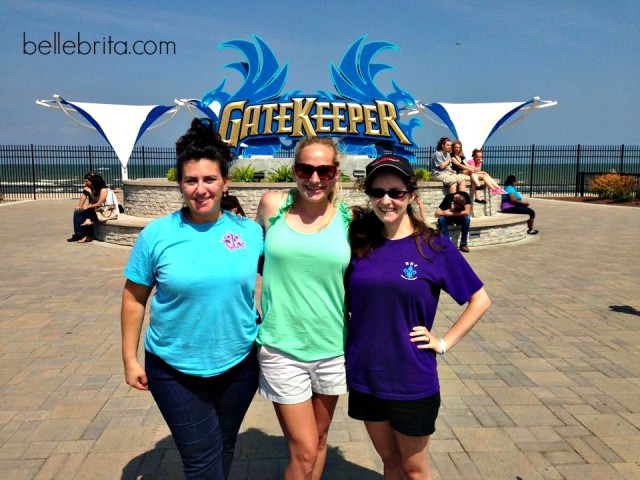 7) Wear shorts with pockets. Travel light. Don't carry a bag.
Even Libbi, the one-woman army set on destroying all cargo shorts, reluctantly admits they're a great idea during your Cedar Point trip. Dan carried our phones, his wallet, and a deck of cards in his pockets all day. Cedar Point is also slowly phasing out the bins by the rides to push locker rentals. If you carry a bag, you won't be allowed in line for rides like Magnum and Gatekeeper.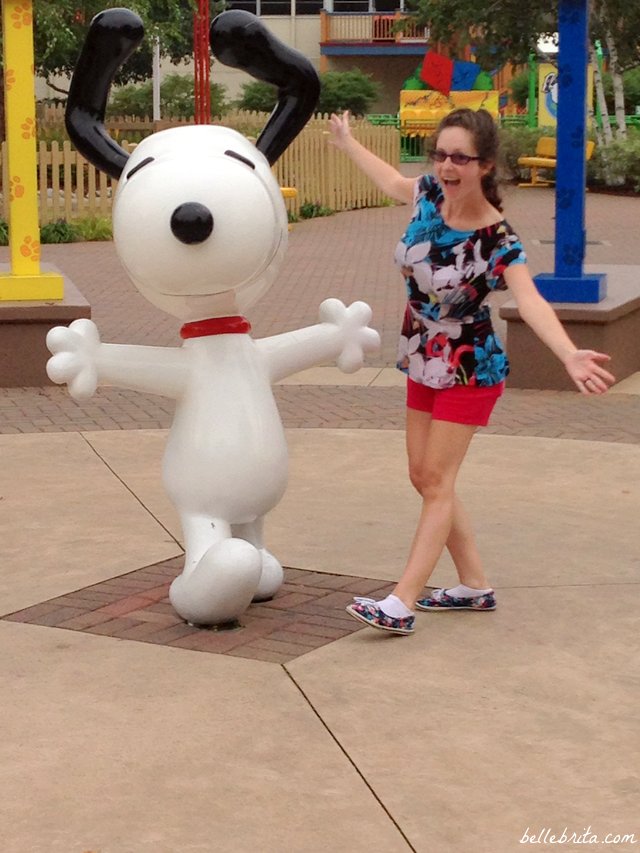 8) Eat an elephant ear.
It's big enough for at least four people to share. And it's delicious.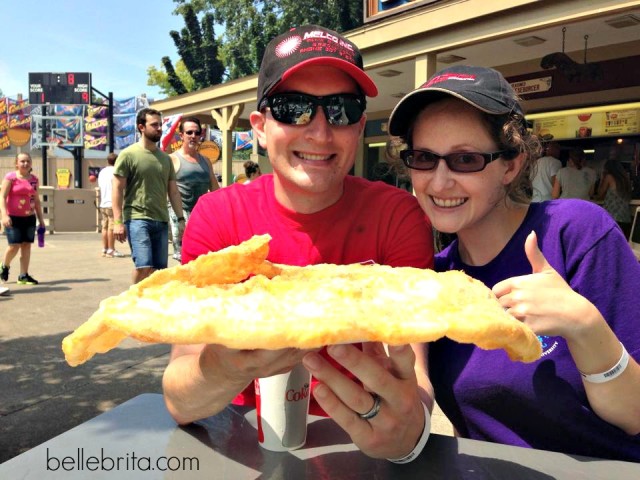 9) Need to sit down and rest your feet? Catch one of Cedar Point's famous shows!
Cedar Point puts on amazing shows, especially during their peak season. We missed the full show schedule, which was only valid through August 17th, but Dan and I enjoyed the Rockin' Country performance in the Red Garter Saloon.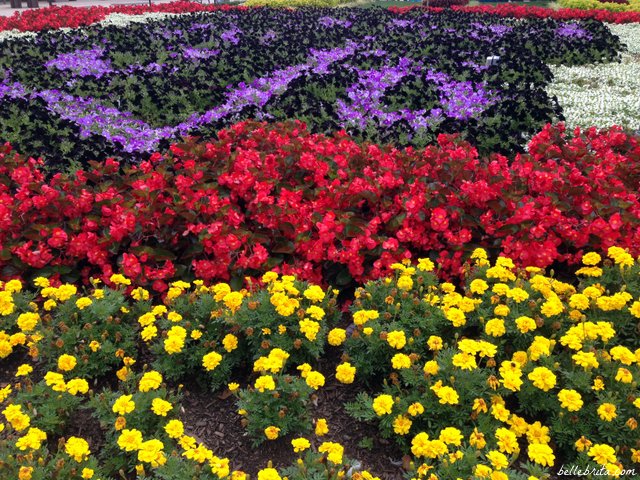 10) If you want to buy souvenirs, get them in one of the cool shops in Frontiertown.
Dan and I bought a lavender-scented candle (which we've already enjoyed while soaking in the tub with lavender bath salts!) from the candle shop and a dozen wooden roses (a steal at only $6!) from the woodworker. If you are creative and have time, the candle shop sells plain white candles that you can dip in colorful melted wax to make your own candle. Cedar Point also hires glass blowers who have their own little theatre to demonstrate how they make beautiful glass objects. You can buy all kinds of cool glass figurines and artwork, some imported, some labeled as made in Cedar Point. Frontiertown offers so many mementos to remember your trip to Cedar Point!
11) When going on rides near dusk, skip the front of the train and keep your mouth closed during rides.
The bugs can get pretty bad when the sun goes down. Riders at the very front will definitely end up with bugs in their eyes, and everyone is at risk for swallowing bugs if you open your mouth to scream.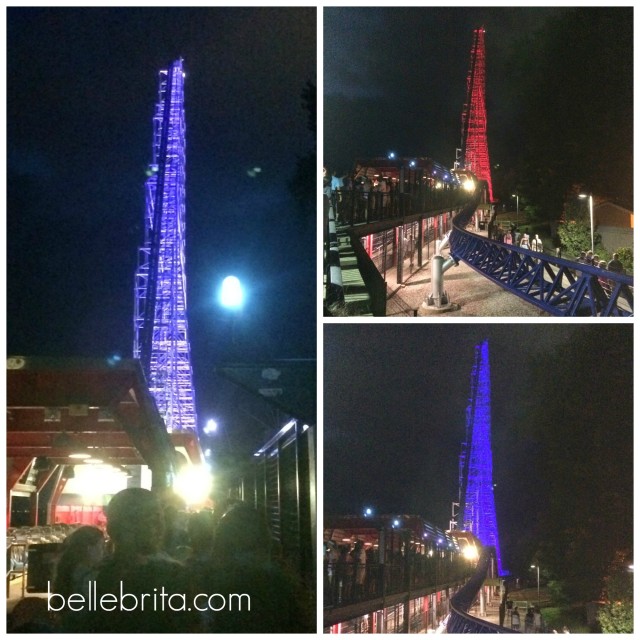 12) Unwind in a hot tub at the end of the day.
Cedar Point resort guests also get access to the hotel pool and hot tub. Dan, Libbi, Angela, and I were very happy to soak our sore muscles Saturday night, as were the other 20 people or so who had the same idea. Luckily the hot tub was one of the biggest I've ever seen, with plenty of room for everyone. Sunday night, Dan and I replicated this effect by soaking in our jacuzzi bath tub with soothing lavender bath salts.
13) Go with the flow.
Even the best-laid plans can go awry. Like your husband getting violently ill Saturday night. Shortly after we went to bed Saturday night, Dan started feeling sick. He spent most of the night retching and feeling nauseated. Sunday morning, I volunteered to do whatever he wanted, and he sent me into the park with Pat, Emily, and Chris to enjoy the 8am early admission for Marathon employees. I came back to the hotel at 10am, when he said he was feeling well enough to go to the park, but asked if we could just ride the classic, tamer rides. We still ended up having a great day, and even with Dan's illness, our weekend was still the best trip ever at Cedar Point.
General Tips for Theme Parks:
Beat long lines for food by eating early meals, then ride the big coasters during lunch and dinner.
Wear a baseball cap with velcro. It's extra SPF protection for your face, and the velcro makes it easy to attach to your belt loop while on the roller coaster.
Remember where you parked! At the end of the day, no one wants to wander aimlessly through the parking lot to find their car.
Don't park under a light–your car will be covered in seagull poop!
Wear straps with your glasses or sunglasses so you can keep them on while riding roller coasters.
If the forecast looks like rain, bring your own poncho so you don't have to buy an expensive one in the park.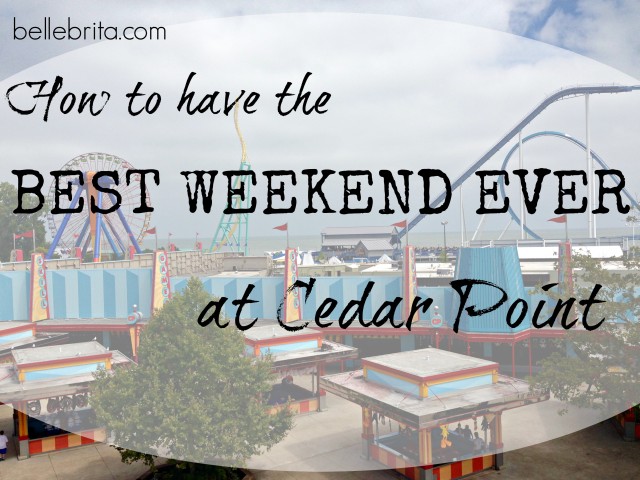 Have you ever been to Cedar Point? What Cedar Point tips would you add to my list? If my Cedar Point advice helped plan your vacation, let me know in the comments!