I love living in Georgia, but I do miss more than just my friends and family in Ohio. I miss the mild summers, the abundance of good zoos, and Cedar Point.
Dan and I were both bummed when we realized we won't have a chance to visit Cedar Point this summer. We didn't get to visit Cedar Point last summer either.
But if you're contemplating a trip to Cedar Point, I can help you out. If you haven't already, check out my 13 tips to have the perfect Cedar Point vacation. That post's popularity inspired me to answer a common Cedar Point question.
Is Cedar Point worth it if I don't like roller coasters?
Cedar Point is known for its thrill rides. My personal favorites are Maverick and Millennium Force. But not everyone likes roller coasters.
Cedar Point is not cheap. Tickets are expensive. Food is expensive. If you're not local to Ohio, or nearby Michigan or Indiana, getting to Cedar Point takes time and money. If you don't like roller coasters, is Cedar Point still a good vacation?
Dan and I might be biased, but we think Cedar Point is a great destination for the whole family, even if you want to skip the thrill rides.
What to do in Cedar Point if you don't like thrill rides
See an award-winning show
You could literally spend the entire day only watching Cedar Point's live entertainment. Summer 2018 is bringing back old favorites while introducing new shows! A few highlights include:
Bluegrass Jamboree: Giddy up to Gossip Gulch for a mix of traditional bluegrass music, and some homegrown fun as the Bluegrass Jamboree puts a new spin on your pop & rock favorites!
Fire & Ice: Enjoy a concert by the beach! Cedar Point's world-class, 12-piece production band and singers crank out great tunes to put some fire into your night!
Lights, Camera, Action! An updated version of a show I saw in 2017. From "Singin' in the Rain" to "Hairspray," enjoy some of your favorite musical moments from the silver screen.
Lusty Lil's French Revue: Lil and the gang are back and this time they are headed to France! Music, comedy, cancan dancers and general hijinks await in this impromptu European Tour that promises to be a whirlwind of fun!
Totally Live – This Country Rocks: An updated version of what Dan and I saw during our 2014 Cedar Point trip.
Snoopy's Sing-A-Long: One of two different Peanuts-themed shows during the day. Great for kids!
Not all shows play during the entire Cedar Point season. Check out the Cedar Point website for an updated calendar.
Find adventure along the Frontier Trail
The Frontier Trail is something special, even to thrill-seekers like my husband.
(Also, I spent an inordinate amount of time reading up on the Frontier Trail and Frontiertown to give the most accurate information below. Basically, most of the shops are along the Frontier Trail while rides are in Frontiertown).
Make your own candle
The Frontier Trail has SO much to do! At the Candle Shoppe, you can watch candle-makers create intricate candles. You can also buy a variety of plain white candles to dip yourself in hot wax of many bright colors. The Candle Shoppe sells basic white tapers, but also candles in fun shapes.
Blow your own glass
Brand-new in 2016, the Glass Academy Glass Blowing Experience allows Cedar Point guests to create a stamped glass coin or try out the Big Bubble Blow. If a hands-on experience isn't your thing, you can still watch the experts make beautiful works of art. If you decide to buy any glass, check the label if you want a piece blown in Cedar Point. Some glass souvenirs are actually made elsewhere.
Watch a woodcarver or a blacksmith
At Paul's Woodcarver Shop, you can find handcrafted wooden souvenirs. The wooden flowers are a bargain! Even if you're not interested in buying, spend a few minutes watching a woodcarver create new objects to sell. At E.J. Hammer's Blacksmith Shop, you might catch an actual blacksmith pumping the bellows and working with red-hot iron. In the connecting shop, you can also buy interesting iron souvenirs, many of which were forged in Cedar Point.
Visit the Sign Maker
Want a sign that says "FLONG FAMILY – Est. 2014"? No? If you want your own personalized wooden sign, the artisans at the Sign Maker will carve a beautiful sign for you.
Pan for gems
At the Fort Sandusky Mining Company, you can buy a bag of dirt and sift through it. Who knows what shiny rocks you might find!
Pet some animals
Adjacent to the Cedar Point Early Farm Museum, Cedar Point has a small petting zoo! While I'm personally allergic to pretty much everything with fur and thus avoid animals whenever possible, the Barnyard is popular with kids.
Enjoy classic rides
As much as I love roller coasters, the classics hold a special place in my heart. Nothing makes me feel like a little kid again quite like pretending to be a princess while riding the carousel. That joy is only rivaled by the views and the romance of a few spins on the Ferris wheel.
While Cedar Point's website has a long list of Family Rides, these are a few of my favorites. I always try to ride these when I visit Cedar Point.
In Frontiertown, take a ride back to yesteryear on the Antique Cars. Bonus: if your in-laws feel like driving, you and your husband can canoodle like teenagers in the backseat.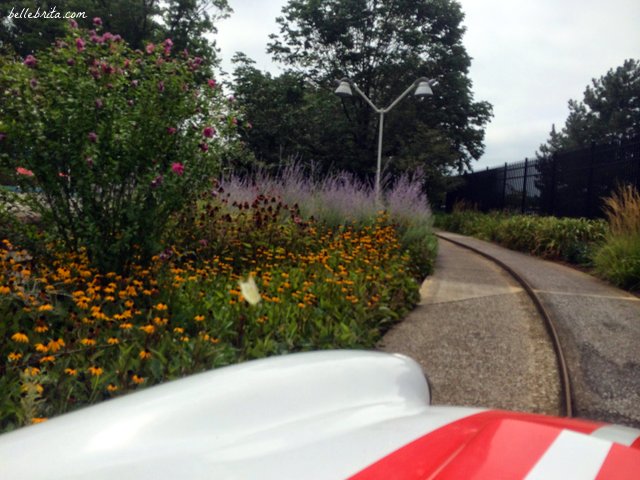 Need a break off your feet? Take a relaxing ride on the C.P. & L.E. Railroad. I love the haunted scenery along this two-mile track. Get on and off the train at either of two stations, at the Iron Dragon Midway and in Frontiertown.
If you have time, ride the Giant Wheel twice: once during the day and once at night. The views from one of the largest Ferris wheels in North America are spectacular.
Feel like a little kid again on the Midway Carousel, a Cedar Point feature since the 1940s.
Need to take photos for your blog? Do what Dan and I did during our last trip and go on the Sky Ride. It's a leisurely ride that gives you ample time to snap photos of the park.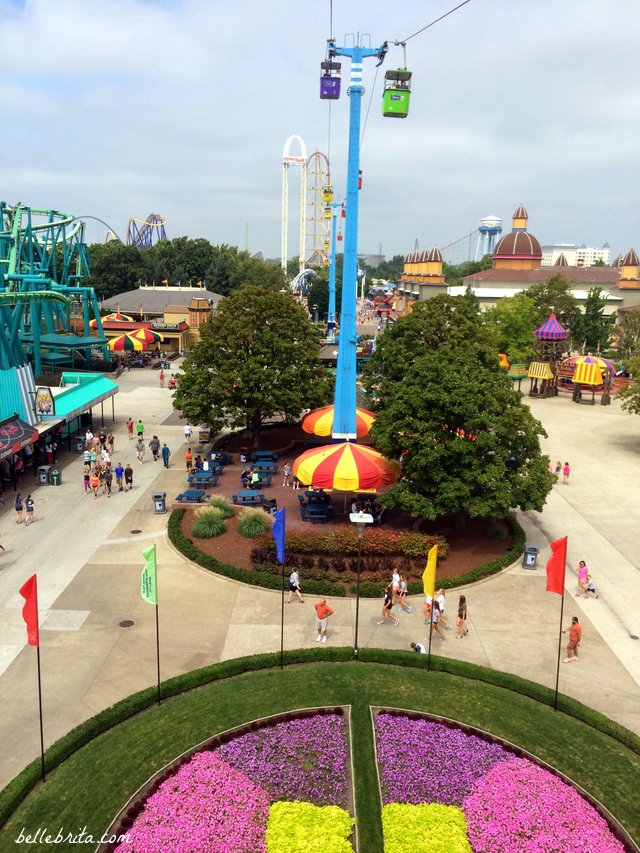 Seek moderate thrills
Years before I was comfortable riding roller coasters, I still enjoyed some thrill rides. If you enjoy that swoosh in your stomach, but you're not interested in roller coasters, Cedar Point is still the perfect destination. Cedar Point rates their rides on a scale of 1 to 5 for the thrill level. These are mostly 3.
Scrambler: Every theme park has something like this, I swear. You go in medium circles while going in a big circle.
Matterhorn: Every theme park also has something like this. Get cozy with your bestie or your spouse while going around fast in a circle.
Troika: Like the Scrambler, but more scrambly.
Monster: Also like the Scrambler, but better than both the Scrambler and Troika. Your individual cart goes in circles while you go in medium circles while going in a big circle.
Windseeker: This one is rated a 4, but honestly, that's just because of how high it is. Windseeker is a really tall swing ride, but it doesn't go fast, and unlike a regular swing ride, your movements don't affect the movement of the swing.
---
Honestly, these are just the highlights of what I like to do in Cedar Point besides roller coasters. I didn't mention all the carnival games, or the different food options, or the kiddie rides, or the water rides, or the extras that cost more money.
You could spend an entire weekend at Cedar Point and still not do every single thing in the park. Cedar Point truly offers a little something for everyone!
What are your favorite theme park rides? Do you chase thrills, or do you prefer the classics? Share your Cedar Point opinions in the comments!