Welcome to the sixth day of the 2018 Love Blog Challenge! Today's prompt is Dating. Check out the announcement post for all the prompts and rules this month. You can still join the link-up for yesterday's topic, Legacy. Callie Richards sent me a LuLaRoe outfit consisting of one Irma, one pair of leggings, and one necklace for inclusion in this blog post. I've purchased or won all other LuLaRoe clothing featured in this blog post about winter date night outfits. 
I live in Georgia now, with delightfully mild winters. But I've spent winters in France, New York, Canada, and Ohio. Those were some cold winters.
No matter where you live, you want to look cute for date night. I've put together a few ideas for winter date night outfits in any winter climate!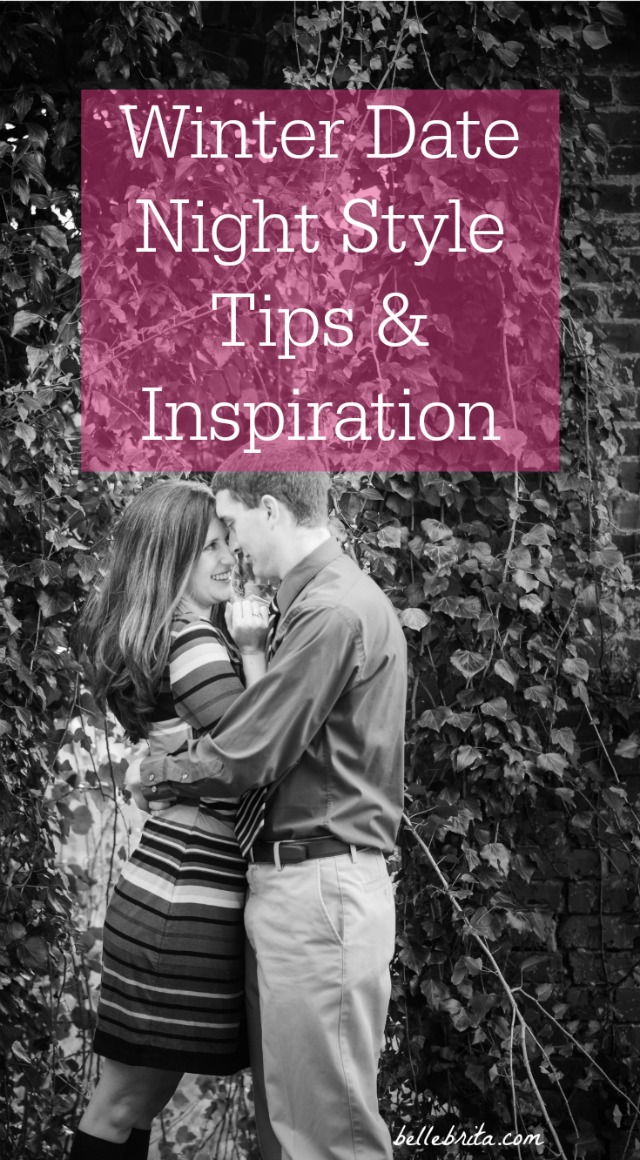 4 Tips for Cute Winter Date Night Outfits
Winter date night outfits need to be more practical than summer sundresses and sandals. You can't just dress to look nice in pictures. You have to keep the weather in mind!
Outerwear
When it's really cold outside, it's hard to look your best when bundled up in a warm coat, hat, gloves, and snow boots. That doesn't mean you shouldn't try!
My secret to cute winter date night attire? Colorful accessories! Bright scarves and sparkly hats are an easy way to look your best for date night.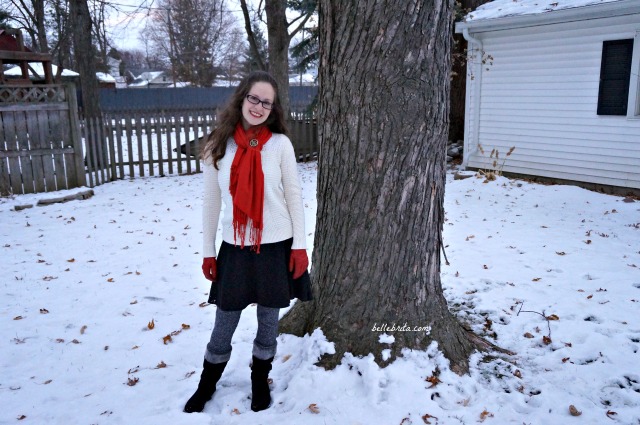 I usually stick with my warmest mittens when it's freezing outside, but I enjoy wearing a variety of gloves on cold days with above-freezing temperatures. I have red leather gloves, black leather gloves with a bow detail, and flamingo fingerless mittens, all of which match different scarves and hats in my collection.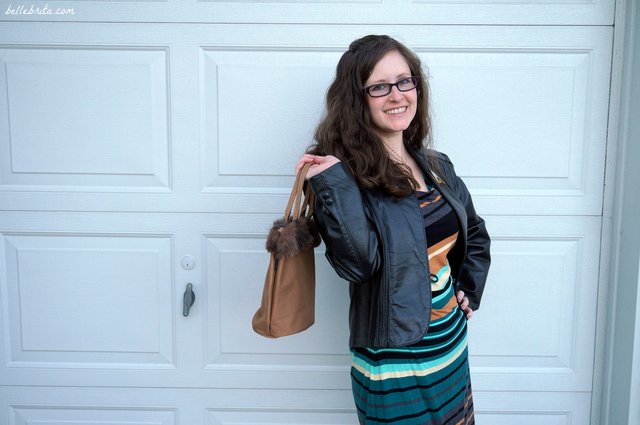 If you own multiple winter coats, wear your nicest one for date night. I like to wear one of my leather coats when Dan and I go out for a winter date night.
Layers
What is it about winter that makes stores and restaurants turn up the heat to 80 degrees? When it's 80 degrees outside, I turn on the air conditioning, so why spend the money to make it that hot inside?! Of course, the same establishments do the opposite during the summer, cranking the AC so it's a frigid 60 degrees indoors…
When it's freezing outside and a sauna inside, layers are your friend. By wearing a camisole or tank top underneath your sweater, you can strip down inside while still wearing an appropriate top. My go-to winter layering is a tank top, 3/4-sleeved top, and cardigan. Then you're prepared for any temperature variation!
Boots
Good boots are a worthy investment if you can afford them. My boot collection includes one pair of rain boots (black with pink owls), one pair of waterproof winter boots (the most expensive shoes I own), pink leather ankle boots, black leather heeled ankle boots, and brown leather booties. I've slowly purchased these since 2011.
When the ground is wet from rain, snow, or a wintery mix, heels can be treacherous, not to mention cold. Good boots cover your feet and keep you mostly dry. Even my boots that aren't officially waterproof keep my feet dry unless it's pouring rain or I step in a big puddle.
Owning boots in a variety of colors and styles helps you add a little flair to your winter date night outfits!
Leggings
I love to wear leggings with skirts and dresses. They're warmer and softer than tights, but the right pair is still tight enough to look nice under a skirt or dress. My favorite leggings are from LuLaRoe. I currently own eight pairs, and I wear them almost daily all winter long. As I write this blog post, it's the third day in a row I've worn LuLaRoe leggings.
Winter Date Night Outfit Inspiration
These are all actual outfits I have worn in the winter! Some of them might not have technically been for date night, especially since Dan and I own a house now, which means date nights tend to be at home. The snowy photo above is what I wore when Dan and I saw one of the Hunger Games movies in 2014. Dan took the picture of me in front of our garage in Duluth two years ago before we went into Atlanta to see the Star Trek symphony.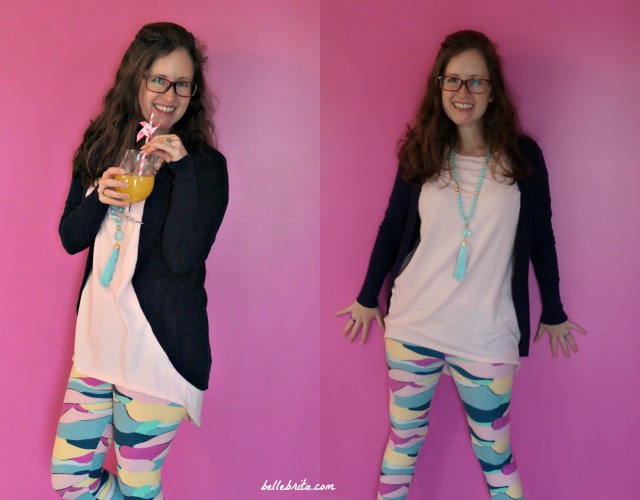 Leggings, a tunic, and a cardigan might be my favorite winter outfit period. These are LuLaRoe leggings with an Irma, a tunic with fitted elbow-length sleeves. I bought the navy cardigan from Target sometime ago.
While some people are comfortable wearing leggings as pants (which I totally support), I prefer to wear a long shirt with LuLaRoe leggings. Aside from my two Irmas, I own two "slouchies" from the Mint Julep Boutique and a long sweater from Kroger, all of which pair well with my colorful legging collection.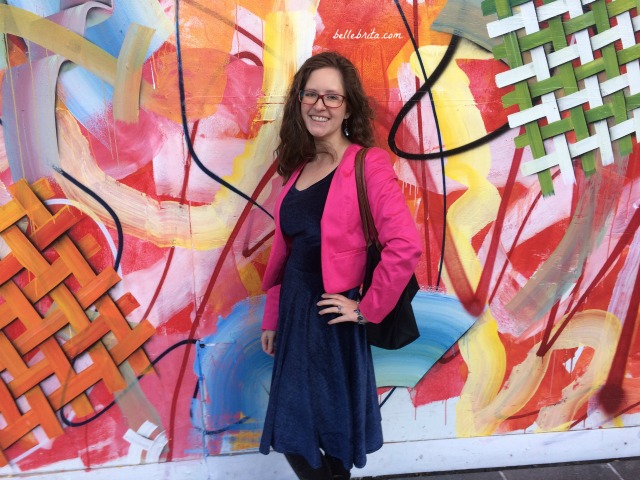 I wore this velvet dress (LuLaRoe Elegant Nicole) with a pink blazer and black sparkly tights when Dan and I won a nice dinner for two at a French restaurant. I felt effortlessly classy!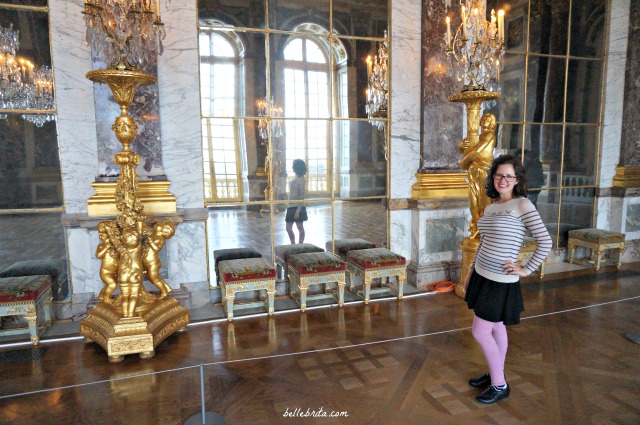 When Dan and I went to Versailles, I wore one of the few nice outfits I had packed. Pink LuLaRoe leggings, black skirt, and jeweled sweater over a white camisole. Not pictured is Dan holding my hat, scarf, jacket, and purse while taking my picture. Because is it really a date if your Instagram husband doesn't photograph you?
I hope these tips and outfits will help you look fabulous for your next winter date night!
---
Meet Your 2018 Love Blog Challenge Sponsor!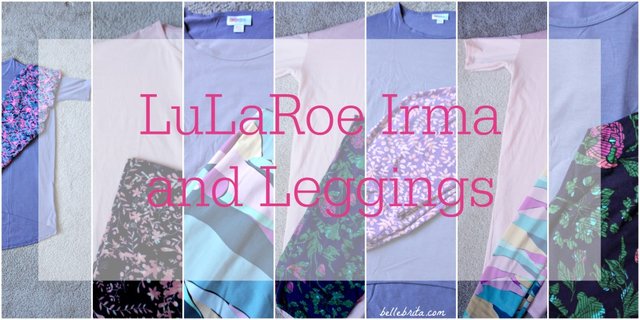 Facebook Page // Facebook Group // Instagram
Every day is a good day when you're wearing colorful clothing! LuLaRoe thinks that all women deserve to look and feel their best, no matter their size or age. Callie Richards embodies the LuLaRoe spirit with her stylish ensembles, larger-than-life personality, and nonstop support of all the women in her life. Join her VIP shopping group, and let Callie be your personal shopper! LuLaRoe Fashion Retailer Callie Richards is a sponsor of the 2018 Love Blog Challenge.
Meet Your 2018 Love Blog Challenge Hosts!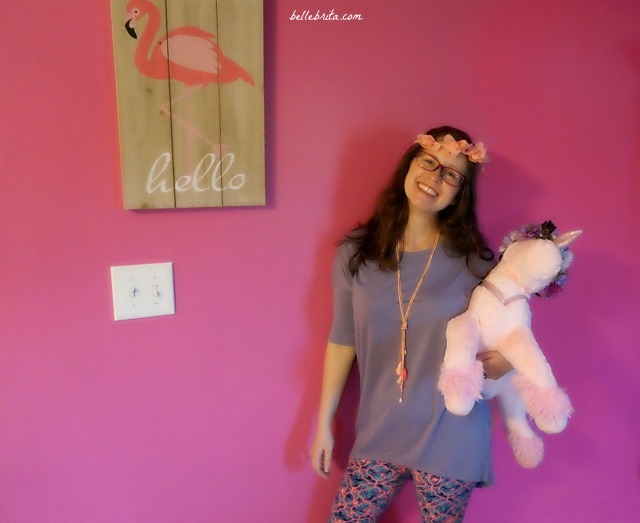 Twitter // Instagram // Facebook // Pinterest // Tumblr // Google+ // Bloglovin
Brita Long is the pink and sparkly personality behind the Christian feminist lifestyle blog, Belle Brita. While her first love will always be Paris, she lives happily with her husband Daniel Fleck in the Atlanta area. Pictured wearing a LuLaRoe XXS Irma with OS leggings and a pink beaded necklace, courtesy of Callie Richards. Flower crowns and unicorn not included!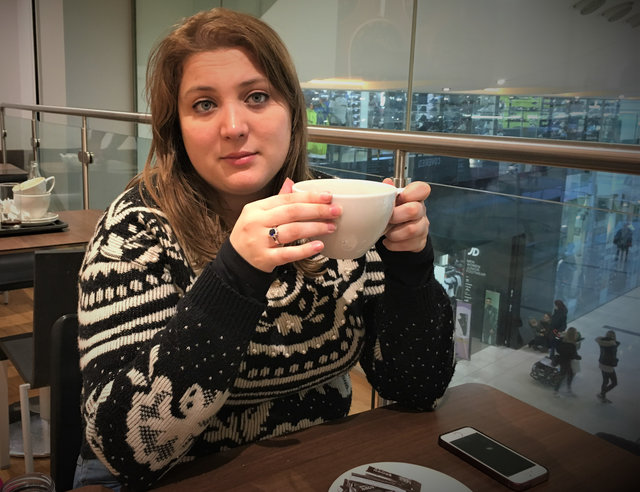 Twitter // Instagram // Pinterest // Bloglovin
Alessia is a lifestyle blogger, entrepreneur and post-graduate student in History from the best borough in London, up and coming Croydon. She's a bit like Emma Woodhouse (Pemberley Digital version) and just about no longer the most eligible Catholic bachelorette, as she has found her Mr Knightley in sunny Derbyshire.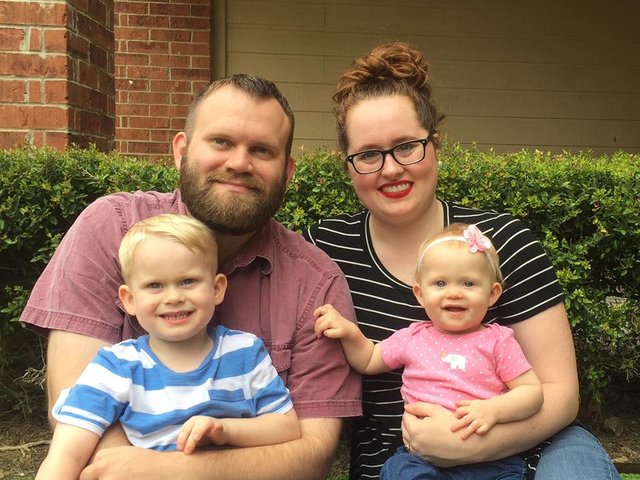 Bloglovin // Twitter // Instagram // Facebook // Pinterest
Tayler Morrell is a WAHM who loves to talk. She is obsessed with reading, writing, history, Wales. She is a Utahn transplant in Texas. The Morrell Tale aspires to show the real day to day of being a mommy blogger.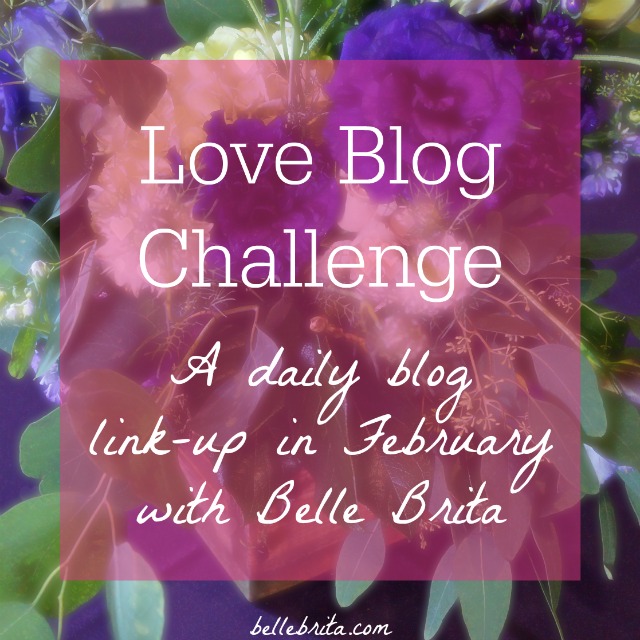 Enter the Love Blog Challenge Giveaway with LuLaRoe Fashion Retailer Callie Richards!
GIVEAWAY! One lucky winner will receive a fabulous LuLaRoe outfit (Irma and leggings) in the size(s) of your choice from Callie Richards, LuLaRoe Fashion Retailer . The giveaway starts today, February 8th, and ends on February 14th. US residents only. While Callie will consider your style preferences, she cannot guarantee any patterns or colors in your outfit.
Brita Long of Belle Brita will verify the winning entry before emailing the winner during the third week of February. If the winner doesn't respond, she will start the process over again. Good luck!
---
What's your date night style? How do you compensate for the weather?