I'm so excited to announce the third annual Love Blog Challenge! This daily blog link-up has been quite the success the last two years, and I'm thrilled to continue it.
Many bloggers from the inaugural link-up returned for the second one. Plus new bloggers got involved! More bloggers co-hosted, and multiple brands sponsored an epic giveaway.
Looking at my inlinkz analytics, most link-ups received at least 600 page views between my blog and the co-hosts' blogs. Several topics broke 1,000 page views, a few broke 2,000 page views, and one topic received over 7,000 page views!
I only hope that this year's Love Blog Challenge is as popular.
Changes for Love Blog Challenge
Each year I make improvements for the better.
I've changed the name of the blog link-up from #LoveBlog to Love Blog Challenge. No hashtag involved in the regular name. That said, still use the hashtag #LoveBlog2018 for your posts on social media! I will be retweeting on Twitter and liking/commenting on Instagram.
Instead of having one big giveaway, I'm holding multiple small giveaways.
Each daily link-up will be open for 4 days instead of 3.
Finally, I'm restricting the number of co-hosts per prompt. Having 3 co-hosts for multiple prompts last year was too much. Each prompt will have a maximum of 2 co-hosts.
Sign up to co-host the Love Blog Challenge
Oh, and obviously I'm announcing everything much earlier! Hopefully this will make January's prep and the challenge itself less stressful.
Once again, the challenge is just for weekdays, not daily. The inaugural challenge burned me out, but last year's was more manageable.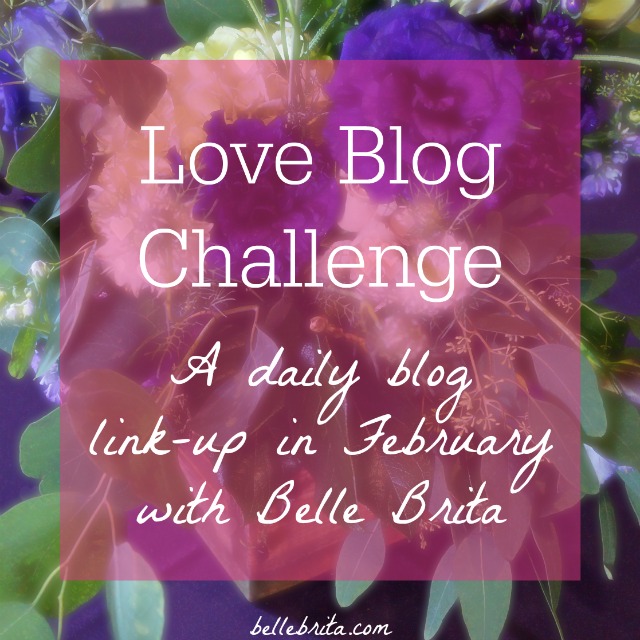 Love Blog Challenge 2018 Prompts
Love Blog Challenge will be a daily blog link-up every weekday in February with daily prompts. Your linked-up blog post doesn't have to be from that day, but it does need to follow the prompt, albeit I accept loose interpretations. You can share up to 3 blog posts per daily blog link-up. Old blog posts are acceptable, as long as they follow the prompt.
Note: The bolded section is the main prompt for each day. The additional text is to help inspire you!
Love Blog Challenge Week 1
1) Love Languages. Have you heard of Gary Chapman's book The 5 Love Languages? While I highly recommend everyone read it (check out the version for singles), you can also take the quiz online for free. This is one of the few topics I plan on including every single year. It was highly popular the last two years! What's your love language, and how does that affect your relationships? How can you intentionally practice someone else's love language, even if it's not your own? Does knowing someone else's love language help you understand them better?
2) Valentine's Day. This is the other topic I plan on including every single year! How are you celebrating Valentine's Day? What's the best V-Day you've ever had? Do you love or hate the commercialism of the holiday? Who is your valentine this year?
Love Blog Challenge Week 2
5) Guilty Pleasures. How do you indulge? What silly or decadent things do you find especially enticing? Have your guilty pleasures changed over the years?
6) Friendship. Who was your first best friend? Do you have just one best friend or many? How do you maintain long-distance friendships? How do you make new friends? Have you ever dated a friend?
7) Legacy. How will people remember you? What are you doing to change the world? How has someone else's actions influenced your own?
8) Dating. When did you start dating? What was your first date with your partner/spouse? Describe your ideal first date.
9) Wellness. How do you maintain wellness? What do you do to balance all areas of well-being: physical, emotional, mental, spiritual, relational?
Love Blog Challenge Week 3
12) Celebration. This was one of the most-viewed topics last year, so I figured I should bring it back. What special occasions do you celebrate with your loved ones, and why? How did you celebrate your marriage, or what does your dream wedding look like? What little things do you celebrate in your day-to-day life?
13) Balance. How do you find balance in your life? What's the benefit of balancing your time and energy? Do you seek out friends who balance your strengths and weaknesses?
14) Boundaries. This has been one of the most popular topics in the last two years, so I'm continuing with it. Boundaries are more than just rules in a marriage. What boundaries do you set in your own life? How do boundaries protect yourself and the people you love?
15) Tradition. Does your family follow any traditions? Have you started any traditions for yourself? When do you realize it's time to let go of a tradition? How do you and your spouse combine family traditions?
16) Challenges. What's the biggest challenge you've ever faced in any of your relationships? How do you and your significant other handle challenges? How can you support a friend during a challenging time? Do the people in your life challenge you to be a better person?
Love Blog Challenge Week 4
19) Beliefs. What are your religious beliefs, if any, and why? How do you navigate relationships with people who hold differing political or religious beliefs? Do any of your beliefs stem from your value system, or do your beliefs influence your values? Do you differentiate between beliefs that rely on faith, beliefs that are opinions, and beliefs based on facts?
20) Passion. What makes you excited to wake up in the morning? Has your passion created new relationships for you? How do you demonstrate passion? Did your parents introduce you to your passion?
21) Solitude. Do you enjoy spending time alone, or do you prefer to be in the company of others? How do you balance quality time with loved ones with quiet time for yourself? What's the difference between loneliness and solitude?
22) Reflection. When you look in the mirror, what do you see? Are you happy with who you are as a person? Who are the people who surround you the most often, and do they reflect your values? How often do you take time to reflect on what matters most to you?
23) Promises. If you've ever broken a promise, what were the circumstances? How often do you make promises? When should a promise not be made (and when is it unfair to ask someone to make a promise)?
Love Blog Challenge Week 5
26) Mistakes. What's the difference between an unintentional mistake, a preventable accident, and a deliberate action that hurts someone? When you make a mistake, how do you remedy the situation? Has someone ever refused to apologize for their mistake, even though it hurt you? How do you learn from mistakes, your own and those of others?
27) Enchantment. Does love ever feel so wonderful that it feels like magic? What's the most romantic thing that anyone has ever done for you? Which fantasy novel or series best intertwines magic with relationships?
28) Favorites. What is your favorite book, TV show, or movie? Who is your favorite artist, author, or singer? How do you you balance your time between your favorite things and new things? What was your favorite prompt this month? Which post from this challenge was your favorite?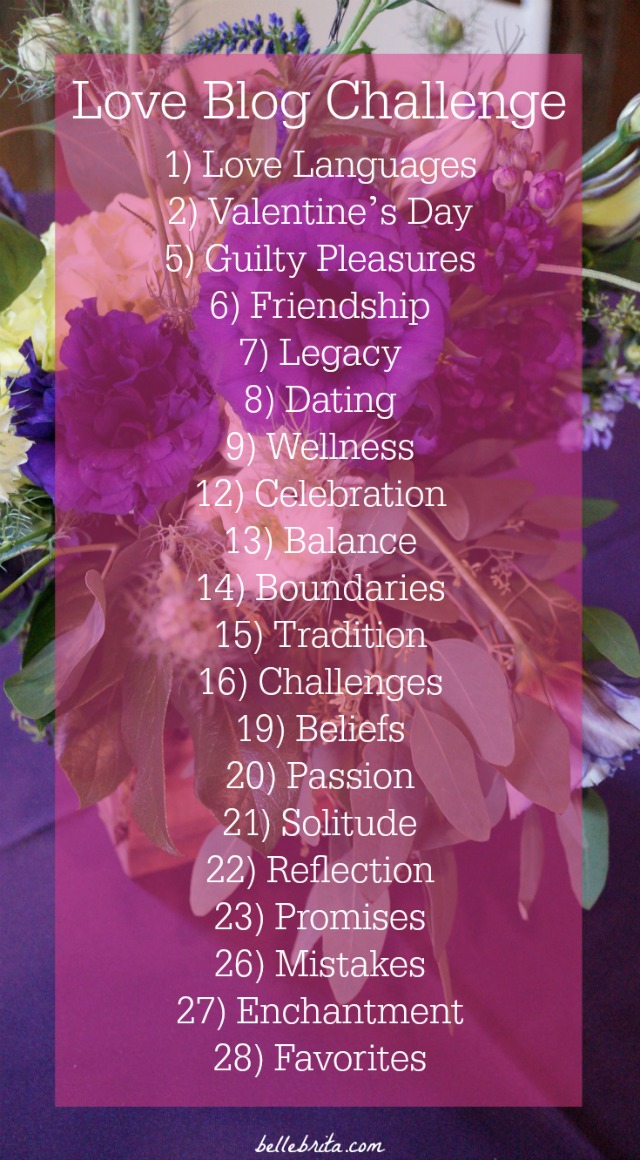 Love Blog Challenge Rules
I'm pretty laid-back about rules for blog link-ups. I'd rather encourage blog community than forced blog follows. Thus only the first 2 rules are mandatory! (The 3rd rule is mandatory if you want to submit more than a single link). All the other rules are optional. Each link-up will remain open for 4 days to give you time to catch up.
Follow the prompt. The prompts are open-ended to give you creative freedom. But if your blog post doesn't relate to the prompt at all, I will delete it from the blog link-up.
Comment on the link before yours and at least one other link. Get to know your fellow bloggers!
Yes, you can link-up an old post (like from last year's challenge!), or even multiple posts, as long as they all follow the prompt. Please limit yourself to 3 links per prompt.
Follow your host (Belle Brita) and the co-hosts on your preferred form of social media.
Use the Love Blog Challenge button and/or link back to the blog link-up to spread the word!
Share your posts on social media using the hashtag #LoveBlog2018. I will retweet as many as I can! Plus I will give you lots of love on Instagram if you feel like using the challenge hashtag.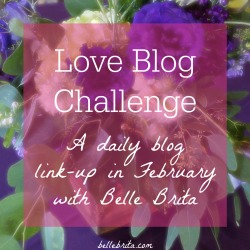 ---
I am so excited to bring back the Love Blog Challenge for the third year in a row! Last year was a great success, and this year will be even better.
Please share this post to social media!
Also, if you'd like to co-host, please fill out this form. I already have several women lined up, but I can definitely use more bloggers.
GET EXCITED!