Well.
July didn't exactly go as planned. Or rather, the hopes for productivity didn't totally happen.
As anticipated, I was depressed. (Still am). Add in a slew of Crohn's problems, and you have me not doing much for a month.
But I accomplished my biggest goal–I launched a new website to promote my mom's book!
Other than that, let's see how I did with my monthly goals.
Take the Belle Brita Reader Survey
Note: This post contains affiliate links. If you click on them, and buy something, I might earn a small commission at no cost to you. I would never promote something I don't genuinely like. All products in my Blogger Mail section are PR samples, sent to me to review.
July Recap
For my career:
Yes, I launched the new website for Muddling Through Again!

I set up all the plugins–a lot more work than most people realize.
While I wrote most of the permanent content, I didn't quite finish writing all of it.
Instead of blogging 4x, I blogged 2x myself, and I published a guest post.
While I reached out to guest bloggers, I've only heard back from 3 women.
I invited more people to the Facebook group.
I've started to build the Instagram account.

I've done my best to follow Instagram Decoded step-by-step to do it right, but I'm still working on 2 other Instagram accounts, so my time is divided.
I didn't create 15 days worth of content in advance.
I didn't create a form on the website for Instagram takeover sign-ups.

While I did some SEO client work, I haven't finished it. For the record, this is a "test" client who's not paying me, and she's been very understanding!
Yes, I stayed on track with my new Kappa volunteer position.
I fell short of reaching 33,000 Instagram followers, only getting to about 32,250.
Twitter was a total fail. I only gained about 100 new followers, putting me at 9,200, way short of my goal for 9,600
I only blogged 2x on Belle Brita this month, not 4x.
Bonus: I publicly announced my second secret Instagram account! Follow @ihavethisthingwithpinkflowers for all the pink flowers your heart desires.
July 2017 Blog Posts:
July 2017 Blogger Mail
Y'all, the PR samples are just piling up at my house. Don't get me wrong–I'm not complaining! I just need to figure out where everything goes, which is already a struggle since we just moved a few months ago…
Also, I updated my June 2017 Blogger Mail section with my thoughts on the products I tried.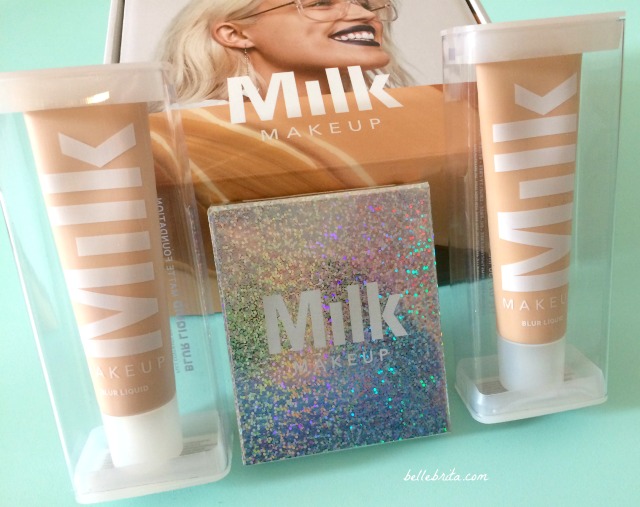 Influenster
Influenster sent me 2 of Milk Makeup's Blur Liquid Matte Foundation, plus a Dab + Blend Applicator. I'm pretty excited to try these even though I don't wear foundation very often. Even with my relatively youthful skin, I have fine lines on my forehead, and I would love to find a product that actually minimizes their appearance. While the advertising for Milk Makeup's new foundation is "pore blurring," I hope it will also blur fine lines!
Also, I love their marketing. This foundation comes in 16 shades, and their website shows all 16 shades on models.

Purlisse
Purlisse sent me a whole selection of summer staples to try out.
So far I've tried everything except for the mud mask. My initial thoughts?
The sheet mask is incredibly luxurious. After leaving the mask on my skin for 25 minutes (15-20 minutes recommended, but I got distracted), I removed the mask and rubbed in the remaining product. My skin felt so incredibly soft! The sheet mask was still damp, so I then rubbed the mask over my neck, shoulders, decolletage, arms, and even underarms. This was Saturday morning. I spent the rest of the weekend bugging my husband to feel my skin because it was so soft.
The daily moisturizer still smells like sunscreen and feels like sunscreen coming out of the bottle. However, when applying it to my face, it feels like a regular moisturizer. It completely blends in without leaving any white coloring on my face.
My skin looks freaking amazing when I wear the BB cream. The first time I applied it, I didn't use a separate moisturizer first, and I had some flaking. The second time I used it, I applied a lightweight DERMA E moisturizer first. My skin looked fabulous. The sunscreen definitely works since I wore it outside for a few hours without burning.
The lip nourisher is similar to Mary Kay's Satin Lips lip balm, but the product is thinner, more liquid-y.
The cleansing milk feels incredible on my skin. The only time I used it to remove makeup, though, I was in the shower, so I couldn't see that I still had some BB cream on my face. I need to test it further to see if it actually removes makeup by itself. I ended up applying my DERMA E cleansing oil after my shower to finish removing my makeup.
Kim Miatke Aart
Kim sent me a gorgeous floral print and collaborated with me for a giveaway on my secondary Instagram account. She is so talented, and I'm so grateful that she wanted to work with me.
Edit 08/07/2017: So I totally thought Kim's website and handle was a play on the words "at heart." Like Kimmi At Keart. Nope, that's not it at all, although that would be cool! Thanks, Kim, for correcting me and not getting upset that I kept calling you Kimmi!
For my health:
I ate a lot of salads this month, but I didn't really track to see if I ate 3 salads every week.
Ha, I definitely didn't go 5 days in a row without alcohol or soda.
I started to learn more about the Specific Carbohydrate Diet and the Low-FODMAP diet, but I need to do more.
Dan found us a dentist. I didn't not find us any new medical professionals.
Bonus: My MRE was this month. I also scheduled my follow-up appointment with my gastroenterologist, but he can't see me until August 8th.
Bonus: I scheduled my dentist appointment, which is today.
For my marriage:
I probably didn't video chat with Dan as often as I had intended while in Greenwood. We did text and IM a lot, though.
Dan received many foot rubs and back rubs all month!
For our household:
With Dan's help, I planned what should go where in my office.
I more or less meal-planned every week. Plans go awry when you get sick!
Dan planted my new butterfly bush for me.
I really struggled with my new cleaning checklists this month. However, I did dust our bedroom and polish all the wood furniture. Polishing wood is a lot less fun when it's not a euphemism.
I did not send out overdue wedding cards/gifts. Oops.
August Goals
Long-term:
Self-publish my mom's book of prayers.
Market this book:

Blog posts about prayer
Opt-in freebies
An email series on prayer

Earn affiliate commissions on Breakthru Branding
Market this course:

At least two blog posts
An opt-in freebie
Instagram

Teach SEO for lifestyle bloggers

Create a course?
Write an ebook?

Earn affiliate commissions on Blog Boss Babe
Market this group:

At least two blog posts
An opt-in freebie
Instagram
For my career:
Self-publish Muddling Through Again!
Market this book:

Create a Freebies page for email subscribers.
Create at least 1 new opt-in freebie.
Reach 25 email subscribers (currently at 6, including my dad).
Line up more guest bloggers.
Create Muddling Through Writer Guidelines.
Blog at least 2x.
Reach 50 Facebook likes (currently at 30).
Reach 200 Instagram followers (currently at ~115).
Contact 10+ bloggers.

Stay on track with my new Kappa volunteer position.
Reach 33,500 Instagram followers.
Reach 9,600 Twitter followers.
Blog at least 4x on Belle Brita.
For my health:
Go 5 days in a row without alcohol or soda.
Learn more about the Specific Carbohydrate Diet and the Low-FODMAP diet to discuss them with my gastroenterologist.
Find new medical professionals for Dan and me.
Use Wii Fit 2x per week.
For my marriage:
Get a couple's massage!
Spend time with our friends (a married couple) who we haven't seen in a few months.
Plan trip to New England!
Start planning trip to Japan!
For our household:
Spend at least 1 hour per week decluttering/putting stuff away/unpacking boxes.
Meal-plan every week.
Spend at least 1 hour per week in the garden. I need to do a lot more than this, but my energy levels have been super-low (thanks Crohn's!).
Follow my new cleaning checklists to the best of my ability.
Send out overdue wedding cards/gifts. A list which has now doubled in size.
Renew my passport.
Phew!
Okay, I just looked over my list, and it might be a little ambitious.
But I might as well give everything a shot!
My priorities are obviously publishing my mom's book and figuring out all my Crohn's stuff. Anything else I do this month is just a bonus!
BTW, have you filled out my reader survey yet? Takes just 2 minutes!
What did you do in July? What goals have you set for August?