Disney World provided me with two one-day park hopper passes in exchange for blog and social media promotion. All opinions are my own. 
A few weeks ago, my husband and I attended the wedding of my Kappa Big, Dani, in Celebration, Florida. Before receiving our wedding invitation, I hadn't even heard of Celebration. It's this adorable planned community that feels like Disney World come to life.
Dan is saving most of his vacation days for our trip to France in November, but he had just one vacation day to spare. We used that day to spend a three-day weekend in Orlando for the Celebration wedding.
Disney World in August is already pretty crowded.
Doing two parks in one day is already intense.
But Dan and I didn't let that stop us!
Dan and I did two parks in one day in August. We started our morning in EPCOT and finished out the day in Magic Kingdom. Fourteen long hours of fun!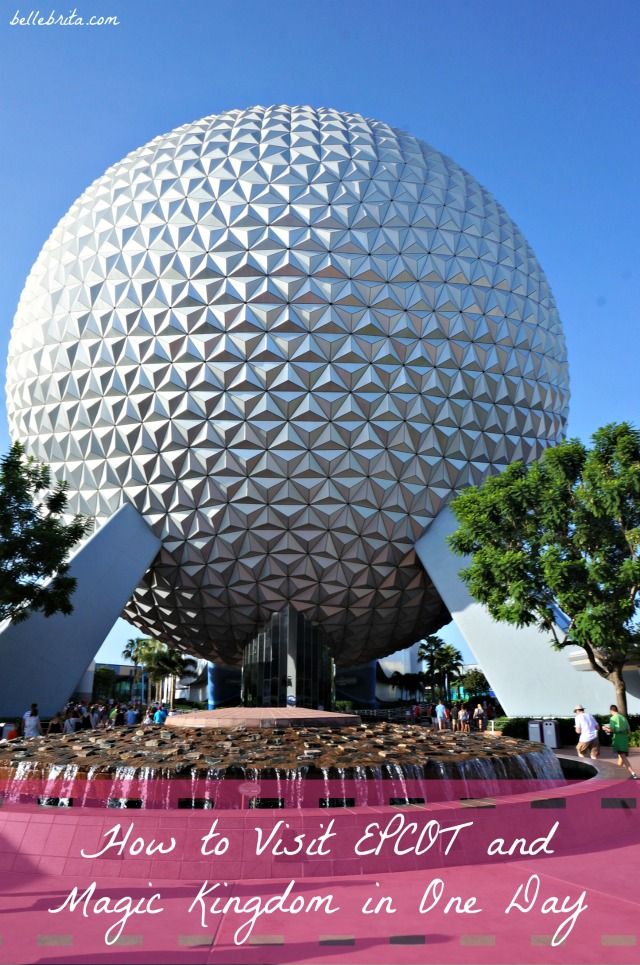 EPCOT and Magic Kingdom in One Day
It's impossible to do absolutely everything in two major theme parks in one day. However, with sheer willpower and detailed pre-planning, you can enjoy your favorite attractions.
Have a general schedule in mind for the day, with room for flexibility.
Choose your FastPasses for the afternoon, for the more crowded park. Select these as soon as possible when planning your trip.
Arrive at least half an hour before opening for the less crowded park.
Hit the major attractions at the less crowded park. Visit your favorite minor attractions. Take Disney transportation to the other park.
Use the Disney app to track wait times in the park. Fit other rides around your FastPasses.
Tip: During any parades or fireworks is a great time to do more rides!
What Dan and I Did in One Day at Disney World
Dan and I seriously had the best day in Disney World. EPCOT is my favorite Disney park, but I correctly guessed that Magic Kingdom would be more crowded. I made our FastPass selections for Peter Pan's Flight (my favorite ride), Seven Dwarfs Mine Train (the new roller coaster!), and Space Mountain.
Also, we played a bit of Pokémon Go in the parks. Disney World is full of PokéStops and gyms!
Related: 8 Reasons to Visit Disney World Without Kids
5 Hours in EPCOT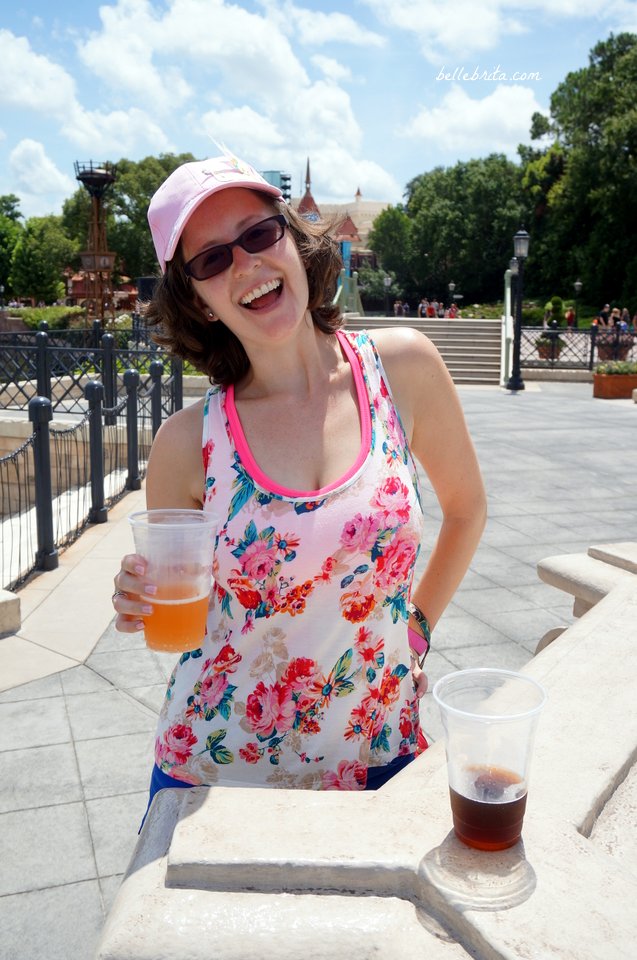 We started our morning at EPCOT. Last year, they let us in the park early, and I hoped they would again. They did! Dan and I headed straight to Soarin,' which we skipped last year. The EPCOT cast members still held us behind a rope until about 8:50am. But finally, we were in! We rushed straight to Soarin' and made it on the second ride. I may or may not have freaked out when we flew through Paris. And again when we flew through Disney World!
After Soarin,' Dan and I quickly darted over to Test Track and went through the Single Rider line. We maybe waited 10 minutes. Unfortunately, the ride kept having technical difficulties, which really sucked during the ride. It's not a lot of fun to sit in the middle of a ride for several minutes at a time.
Naturally we went on Spaceship Earth! Last year we were the very first people on Spaceship Earth, which was  so cool. This time Dan convinced me to choose the French audio recording, which only reminded me of how rusty my French is. But we still had fun!
Soarin,' Test Track, and Spaceship Earth were our priorities for Future World. We both really love the World Showcase, and we didn't want to rush it too much. So about 10:30am, we started in the World Showcase.
Dan and I enjoyed a leisurely walk to Norway. I thought the line for Frozen Ever After would be ridiculously long, but we only waited about 20 minutes. But first, I obviously bought lefse, my favorite Norwegian treat!
Dan and I then ate and drank our way around the world. So many delicious carbs!
Around 2pm, we took the Monorail to Magic Kingdom.
7 Hours in Magic Kingdom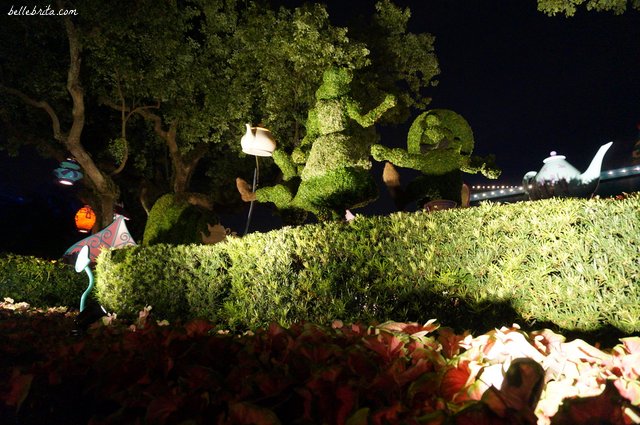 Getting our bags checked to enter Magic Kingdom took forever. But hey, this is what happens when you do two Disney parks in one day!
Dan and I managed to fit in tons of rides between our FastPass reservations. We started our adventure with Pirates of the Caribbean!
In Fantasyland, we rode the carousel, Mad Tea Party, and Peter Pan. While waiting for our next FastPass, Dan and I walked over to Tomorrowland for the classic Carousel of Progress. "It's a great big beautiful tomorrow…"
Then it was back to Fantasyland for the new roller coaster which we missed last year.
At this point, we needed a snack. After lots of walking around and not liking our options, we just ended up at Cosmic Ray's Starlight Café where we split a soda and an order of fries. While the food wasn't the best, we definitely needed a break until our FastPass for Space Mountain! After Space Mountain, we took a quick ride on the People Mover.
Since we had used all three of our FastPasses at this point, I was able to make a fourth FastPass reservation for the day. All of the popular rides were out of FastPasses, but The Many Adventures of Winnie the Pooh still had reservations available. The lines had been at least 30 minutes all day for that, so I figured it was still a good choice.
Our feet were pretty sore at this point. Neither of us wanted to wait out any long lines. We hopped aboard the Walt Disney World Railroad, during which I charged my phone with Dan's battery pack and played Pokémon Go.
I treated myself to a churro as we walked back to Fantasyland for Winnie the Pooh. We then basically collapsed in exhaustion at Pinocchio Village Haus where we ate crappy pepperoni flat bread.
Our very last ride of the evening was Under the Sea – Journey of the Little Mermaid. Somehow we had missed this last year! I love storybook rides, so it was nice to finish our day with this one.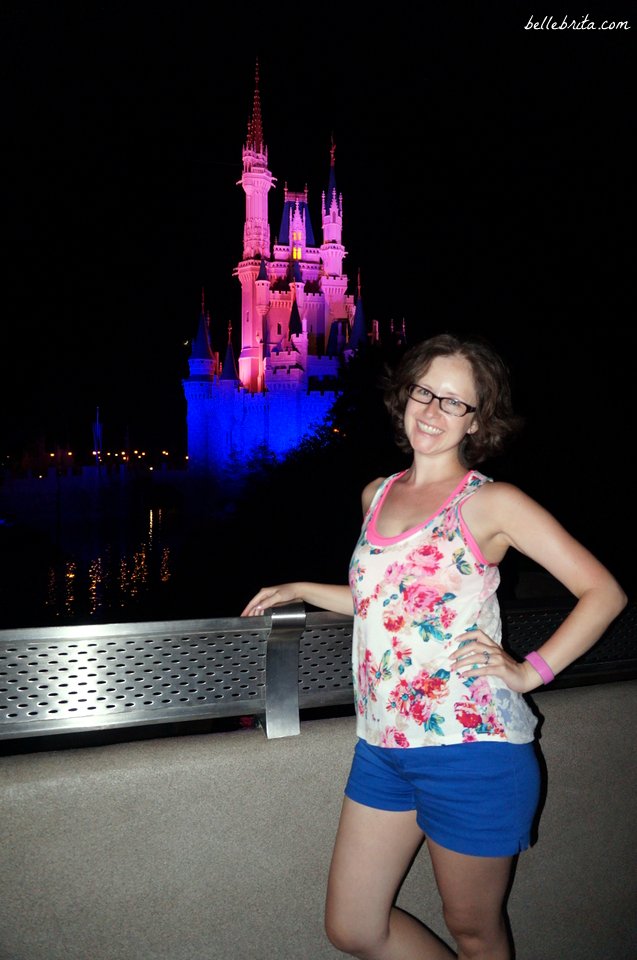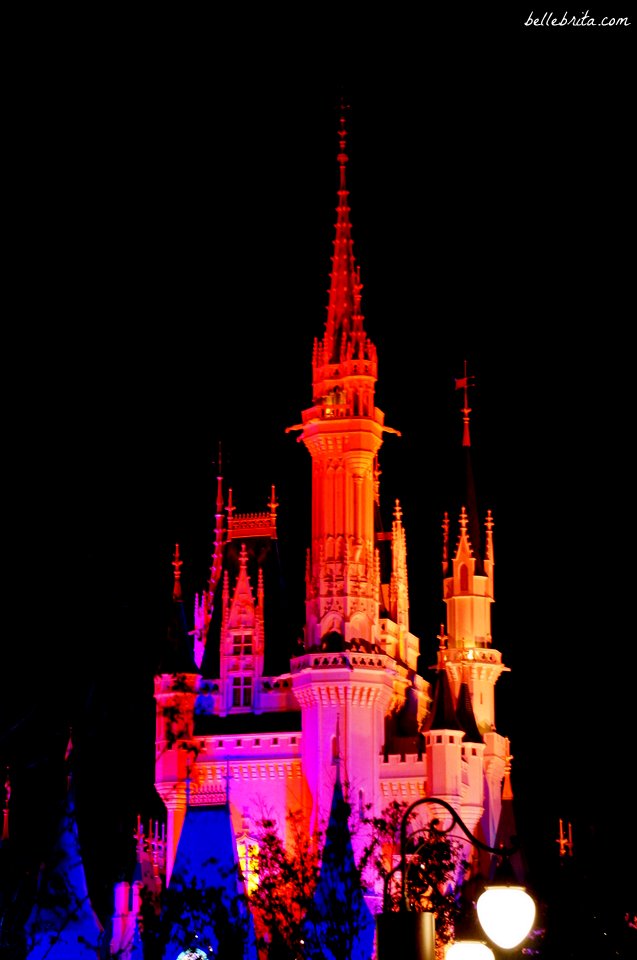 Finally we headed towards the front of the park to find a decent spot to sit and watch the fireworks. Dan took about a million pictures while I oohed and ahhed.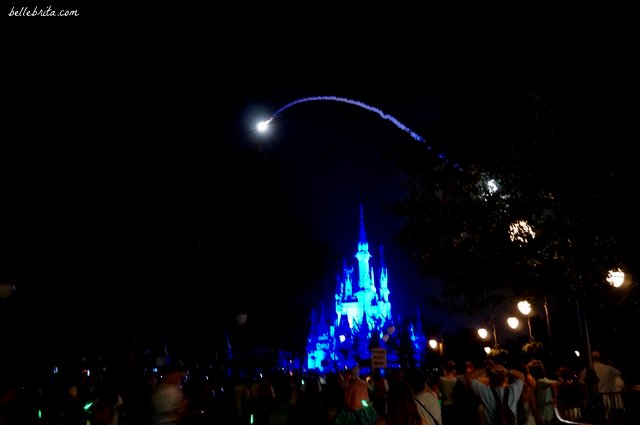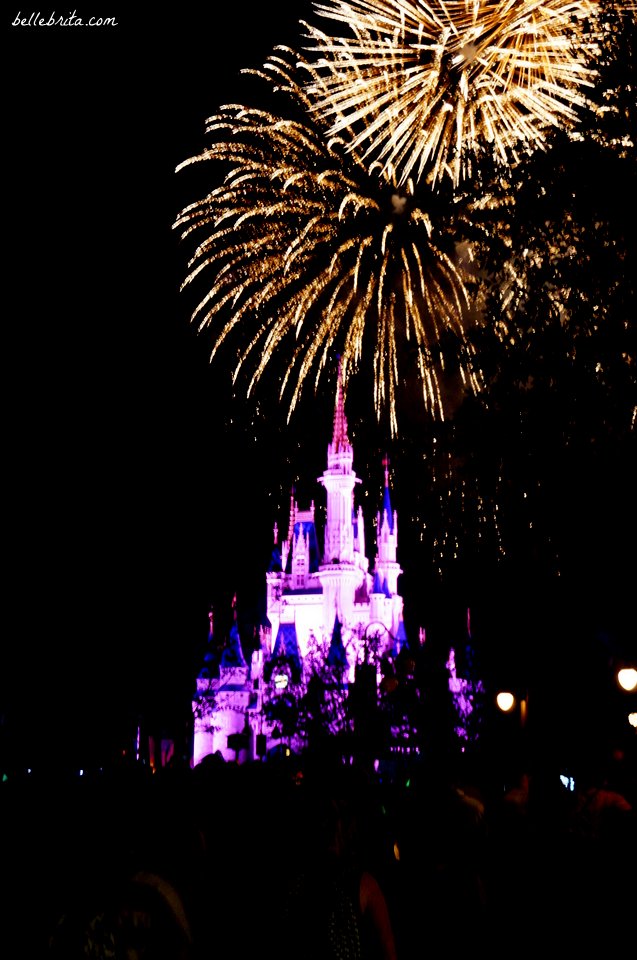 I asked Dan if he wanted to go on any last-minute rides after the fireworks. We both agreed that we were ready to return to our hotel at that point.
The Rest of the Disney Wedding Weekend
Dan and I took it easy the rest of the weekend. Then again, our idea of "taking it easy" might differ from other couples! Regardless, we greatly enjoyed our entire long weekend in Orlando and in Celebration.
Celebrating a Wedding in Celebration
Dan and I slept late on Saturday. Dan rarely sleeps in, but our basement cave of a hotel room stayed nice and dark. Our resort scheduled activities for every single day, so Dan played a bit of beach volleyball while I read a book on a lounge chair nearby.
I might have gotten the time of the wedding wrong, but at least my mistake resulted in us being early, not late!
Dani and Cosmin's wedding was a beautiful, intimate affair. I'm so glad we were able to attend!
Playing Pokémon Go in Celebration
After a late night celebrating our friends' new marriage, Dan and I again slept late on Sunday. After lunch, we headed back to Celebration to admire the adorable city and hang out with our friends.
We seriously had the best time walking around the picturesque little town. Eventually our friends joined us! Four of us introduced the other four to Pokémon Go. I'm not sure if we convinced them to start playing or not, but even sharing our enthusiasm for the game was fun.
Dan and I were bummed to say good-bye to our friends when we left to catch our flight. Regardless, we had a great weekend!
If you're invited to a wedding in Celebration, take an extra vacation day for Disney World. Yes, visiting the parks during the same weekend as a wedding is a bit busy, but the extra fun is totally worth it. If you're already splurging on plane tickets and a hotel stay, you might as well make the most of the weekend with a day at the Disney parks.
Now if only I can convince Dani and Cosmin to renew their vows for their first anniversary… I wouldn't mind another excuse to enjoy Disney World and walk around Celebration!
Have you ever spent just one day in your favorite theme park? How did you prioritize your time? Share your Disney tips below!