Welcome to the first day of #LoveBlog! Today's prompt is Valentine's Day. Check out the announcement post for all the prompts and rules this month. Zazzle sent me a gift card to use on their website, and I use affiliate links in this post. Read my disclosure for details. All opinions are my own. 
I am not a big Valentine's Day person. Don't get me wrong, I love an excuse to wear pink for a month… Wait, I do that every month.
But stores jump on board, and I totally eat up the terrible commercialization. Let me buy all the pretty pink things! Or at least photograph them for Instagram.
So yeah, I do love the pink explosion of Valentine's Day.
However, when it comes to celebrating Valentine's Day itself, I just can't bring myself to care about a cutesy romantic day with my husband. We love romantic date nights at home. We treat ourselves to long weekends away.
But our idea of celebrating Valentine's Day looks more like an excuse to hang out with friends and eat pink baked goods.
If you're a Galentine's Day kind of person, or a laid-back V-Day partier, I have some ideas for you.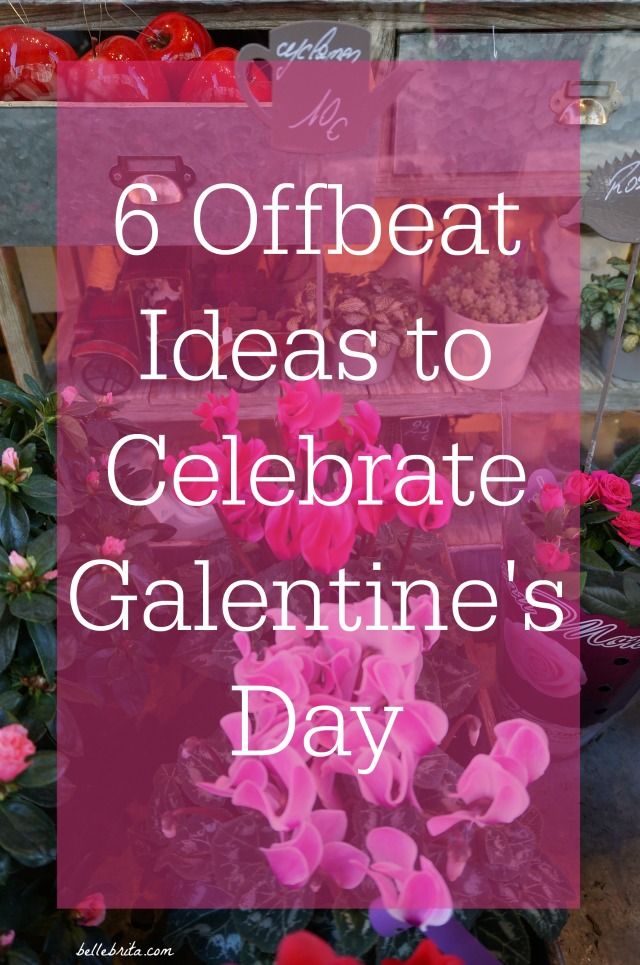 3 Galentine's Day Gift Ideas
Regardless of your own relationship status, or your friends' relationship statuses, you can still celebrate your best gal pals! They will love a little thoughtful gift at this time of year, especially if their primary love language is gifts.
A Magazine Subscription
Do you ever feel like you just don't have enough time to read? I spend a lot of time reading, and I still feel like I don't have enough time to enjoy many books. My best friend Rachel gifted me a magazine subscription for two Christmases now. It's one that we used to share during our Furman days.
Not only do I enjoy reading the stories, I think of her each time I read one! While I do let these pile up a bit, I take all unread issues with me to the hospital during my Remicade infusions. I try to let myself relax when I'm stuck at the hospital for hours, and reading magazines feels ever so leisurely.
Gourmet Treats
For my birthday last year, my aunt sent me a gourmet gift basket. Y'all, I love gourmet gift baskets. They're full of decadent goodies I would never buy for myself.
For Christmas this year, my dad received a tin of gourmet popcorn. I had spent all of December badgering Dan by wondering aloud if any of his business associates would send us gourmet popcorn. I can't eat very much popcorn at once because of my Crohn's, so it's not a treat I buy for myself. But I love it so so much!!!
Bestie Gifts
Remember those heart necklaces that you shared with your best friend? Why not give a grown-up bestie gift?
Like how cute are these matching iPhone cases?!
Would my besties notice if I bought all of them the same one, and then bought myself the opposite? I want to match all of my best friends!
Or maybe you prefer a more subtle gift of friendship. Like a framed photo of you and your bestie. Or a compact mirror decorated with an inside joke.
Of course, the gift of time is always welcome. Why not throw a Galentine's Day party?
3 Galentine's Day Party Ideas
Last year, Dan and I hosted a day-long Valentine's Day party for a handful of our closest friends. Three of our Atlanta-area friends joined us for the day, plus two of my best friends from South Carolina visited for the whole weekend. While most of our guests were ladies, one other gent showed up so Dan wasn't alone.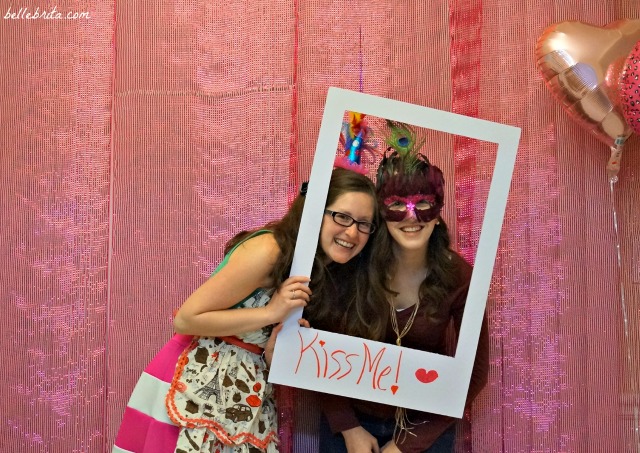 You don't need a theme to have a great Galentine's Day party… But if you like themes, check out some of my favorites!
Madam Puddifoot's Tea Shop
I once hosted a Yule Ball with my roommate. It was a Christmas-themed Harry Potter party.
Harry Potter fans know where I'm going with this.
In case you've been living under a rock for the last decade or two, Madam Puddifoot's Tea Shop is the setting of a disastrous teenage date. But if you love frilly details and fancy tea, then recreating the pinktastic shop is perfect for a Galentine's Day-themed Harry Potter party!
Decorate with as many obnoxious Valentine's Day decorations as you can find. The more pink, doilies, and cherubs you can find, the better!
Dress up like your favorite Harry Potter characters. Or just wear your favorite Harry Potter tee.
If you have fancy tea cups, use them! If not, just put out all your mugs.
Set up a selection of tea, sugar, and cream. Keep hot water on the stove. Serve sandwiches with the crusts cut off and your favorite baked goods.
Watch any of the Harry Potter films, or play the soundtrack in the background.
Young at Heart
Remember when Valentine's Day was about making a paper "mailbox" for your desk and delivering valentines to all your classmates? When class was cut short to eat sweets and watch Reading Rainbow or The Magic School Bus?
Why not embrace those innocent days for Galentine's Day? You really only need a few things.
Candy
Craft supplies
Any kids' movie or TV show
Before your guests arrive, buy enough plain paper bags or large envelopes so each person has their own. You can either decorate these in advance, or gather stickers, markers, glitter, glue, construction paper, etc. for your friends to decorate their own. These will be the mailboxes!
Browse crafting supplies for valentines
Either ask everyone to bring valentines to share, or provide enough supplies at the party for your friends to make valentines. These can be simple or elaborate! Have fun with it!
Eat too much candy. Watch a classic family-friendly film like The Princess Diaries or Mary Poppins.
Spa Day DIYs
Why not pamper yourselves while also creating more spa products for future self-care?
While you probably don't want to mix ingredients right after getting a manicure, you can still alternate between doing easy skincare treatments and making easy skincare products.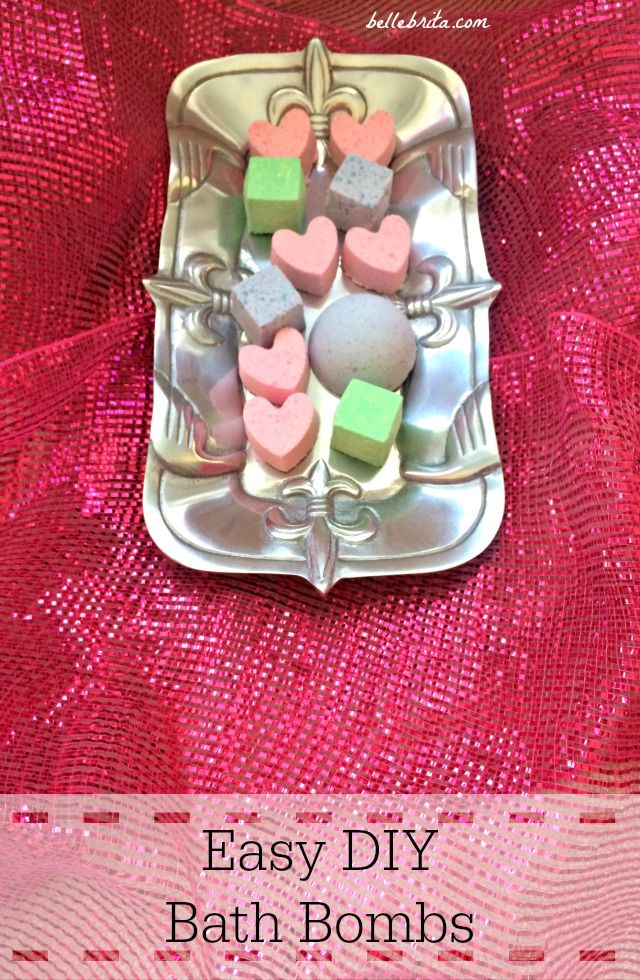 Set the right mood with a pampering environment. Move any furniture at risk of damage out of the way. Cover seating with extra sheets or towels. Play relaxing music. When Dan and I take a hot bath, we ask Alexa to play "spa music." She always comes up with the perfect relaxation playlist.
Put together a spread of spa-worthy treats. Sparkling wine, infused water, fresh fruit, chocolate, baked goods.
Light some candles. Or use an oil diffuser with a calming blend of essential oils, like lavender and sweet orange.
Set out beauty supplies. Some ideas are:
Nails: polish, emory boards, polish remover, cotton pads, toe separators
Massages: unscented lotion, massage oil
Face: masks, cold cream
While your face masks set, you and your guests can make a beauty DIY to take home! Bath salts are really easy to make.
Related: Homemade Lavender Bath Salts
Or try your hand at bath bombs! Dan and I just started making our own a few weeks ago, and now we basically have a winter's supply of them. We consulted the bath bomb recipes on Elle Sees, but we slightly changed the recipe based on our experience blending.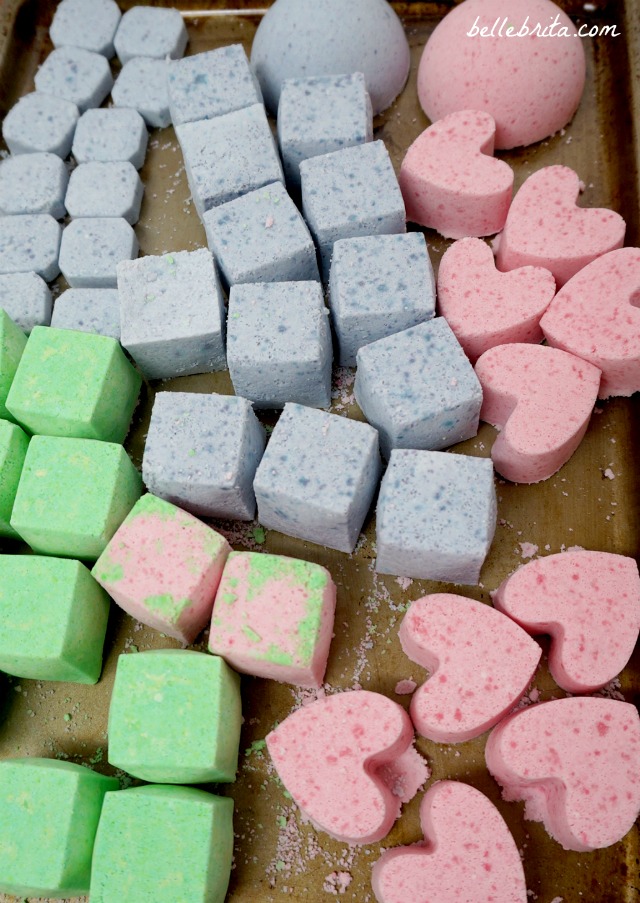 Bath bomb ingredients:
1 cup baking soda
1/2 cup citric acid
1/2 cup cornstarch
2 tablespoons water
4 teaspoons coconut oil (or another oil; we've also tried mineral oil)
essential oil
50+ drops soap colorants (optional)
Bath bomb molds (plastic Christmas ornaments, ice cube trays, silicone molds)
How much essential oil you use depends on which oils you combine, and how strong you like them. Dan and I just have a small starter set of essential oils without a proper dropper, so we couldn't keep track of how many drops of essential oil(s) we put in each batch.
Your mixture should be very smelly, though, if you want your bath to be scented. The bath bombs from our first batch released almost no scent once diluted into the bathtub.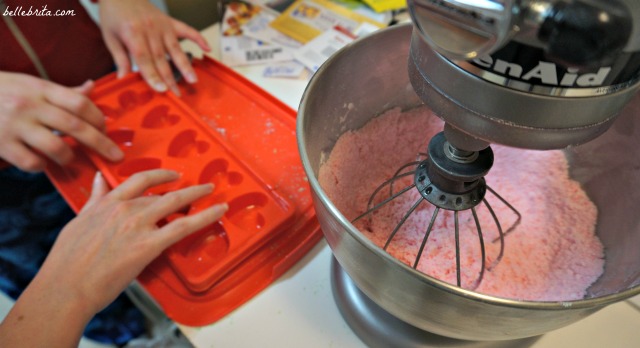 Bath bomb recipe:
Combine all dry ingredients in a large bowl.
Combine all wet ingredients in a small bowl or measuring cup.
Slowly pour the wet ingredients into the dry ingredients, stirring quickly. If you pour too quickly, or you don't stir immediately, the ingredients start to react. It's okay if this happens just a little.
If using ice cube trays, lightly oil them. Christmas ornaments don't need to be oiled.
Pack the mixture into the molds.
If you're using plastic Christmas ornaments, let each half dry separately for about half an hour. Then carefully connect them. Dan and I usually let them dry overnight, but that's not much of an option with party guests. Allow to set for at least an hour before removing the bath bombs from the molds.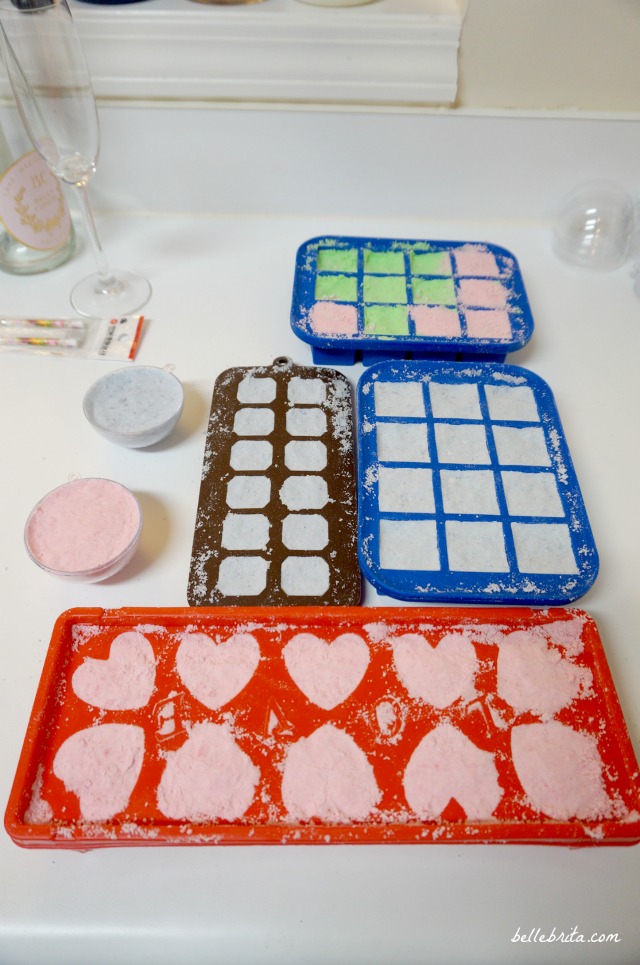 You can hand-mix the ingredients, but it's a lot easier using a stand mixer on low. Dan hand-mixed the bath bomb ingredients as I slowly poured in the liquids for the first two batches. Not only did it take forever, his arm hurt from the effort! Pouring the liquids into our Kitchen-Aid worked a lot better. We did pause it periodically to scrape down the sides and hand-mix it a bit.
After you finish your beauty DIYs, give each other hand massages and manicures!
Related: How to Survive Valentine's Day When You're Single and/or Broke
---
Meet Your #LoveBlog Sponsor!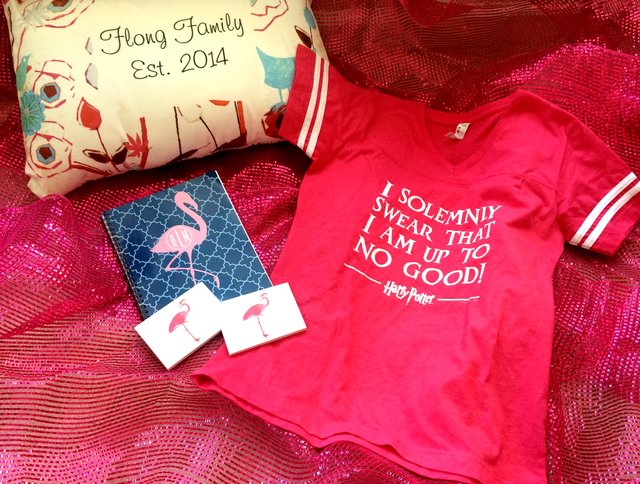 Twitter // Instagram // Pinterest // Facebook // YouTube
Looking through the Zazzle marketplace, you'll find designers selling their art, makers showcasing their customizable products, and opportunities for you to create the perfect unique Valentine's Day gift. Are you a Harry Potter nerd who loves pink? A blogger in need of new office supplies? The Zazzle possibilities are endless!
Meet Your #LoveBlog Hosts!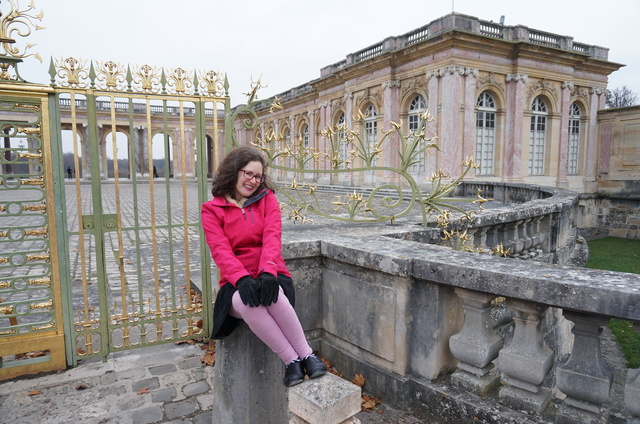 Twitter // Instagram // Facebook // Pinterest // Tumblr // Google+ // Bloglovin
Brita Long is the pink and sparkly personality behind the Christian feminist lifestyle blog, Belle Brita. While her first love will always be Paris, she lives happily with her husband Daniel Fleck in the Atlanta area.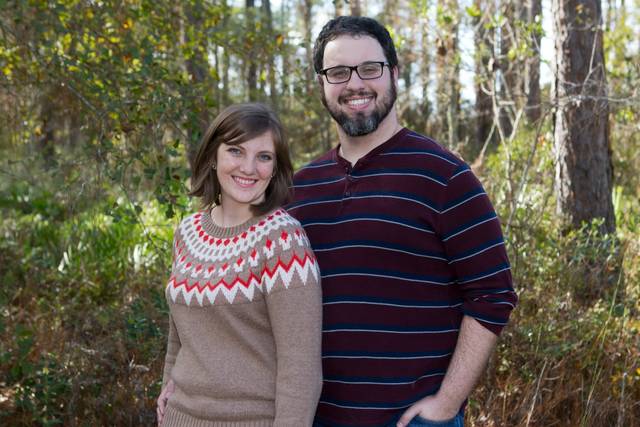 Bloglovin // Instagram // Twitter // Facebook // Pinterest
Charlene is a 20-something wife and fur mamma living in Ohio. She uses her blog, Enduring All Things, to inspire young wives to keep God first and their husbands second in everything they do.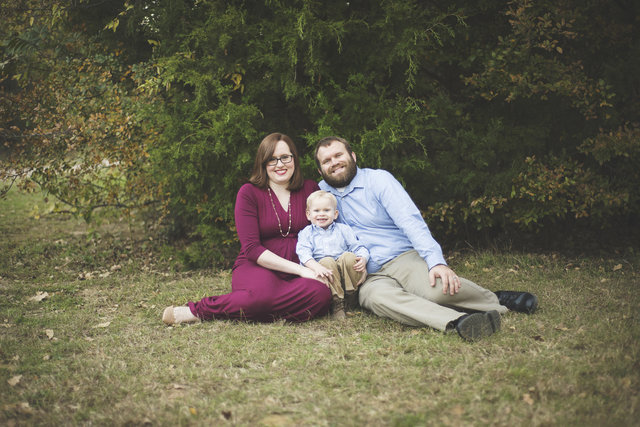 Bloglovin // Twitter // Instagram // Facebook // Pinterest
Tayler is a motherhood and lifestyle blogger at The Morrell Tale. She loves raising her kids, Rhys (2.5 years old) and Evelyn (1 month old). She also writes about her time as a teacher, her Mormon religion, books she's read, and recipes she and her husband have created.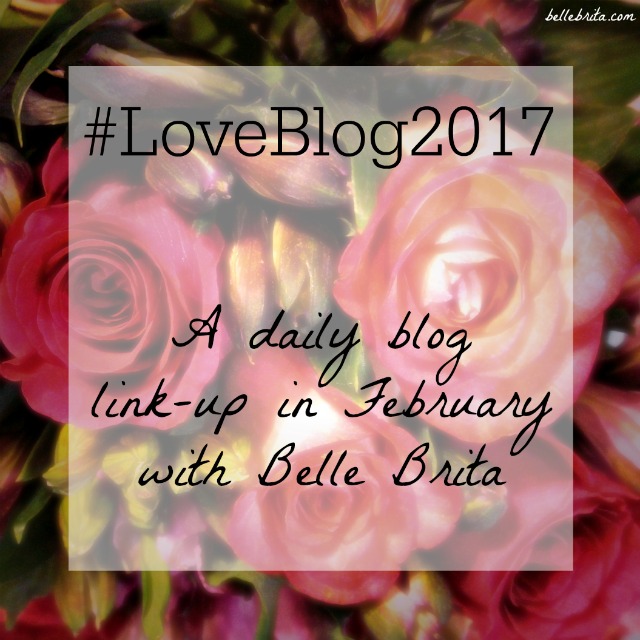 Loading InLinkz ...
Enter the #LoveBlog2017 Giveaway!
I am so excited to include a giveaway for this year's #LoveBlog! It starts today (February 1, 2017) and runs through the end of the month. US residents only. I love my international readers, but international giveaways are more difficult to manage legally.
I will verify the winning entry myself before emailing the winner during the first week of March. If the winner doesn't respond, I'll start the process over again. Today's sponsor, Zazzle, is giving away a $35 gift card to their website! That's $25 plus a little extra to cover shipping costs.
---
Do you celebrate Valentine's Day, Galentine's Day, neither, or something else entirely? I'd love to hear your holiday ideas!