2016 has been a long and challenging year.
From David Bowie and Alan Rickman, to Carrie Fisher and Debbie Reynolds, beloved celebrities have died all year long, leaving many of us feeling unexpectedly bereft.
Donald Trump somehow won the presidential election.
Brock Turner raped a woman and served a measly few months in a local jail.
But for everything that went wrong in 2016, women worldwide proved that feminism is here to stay. We're still fighting for a better tomorrow.
Grouped by topic, I give you just 16 moments of women kicking ass in 2016.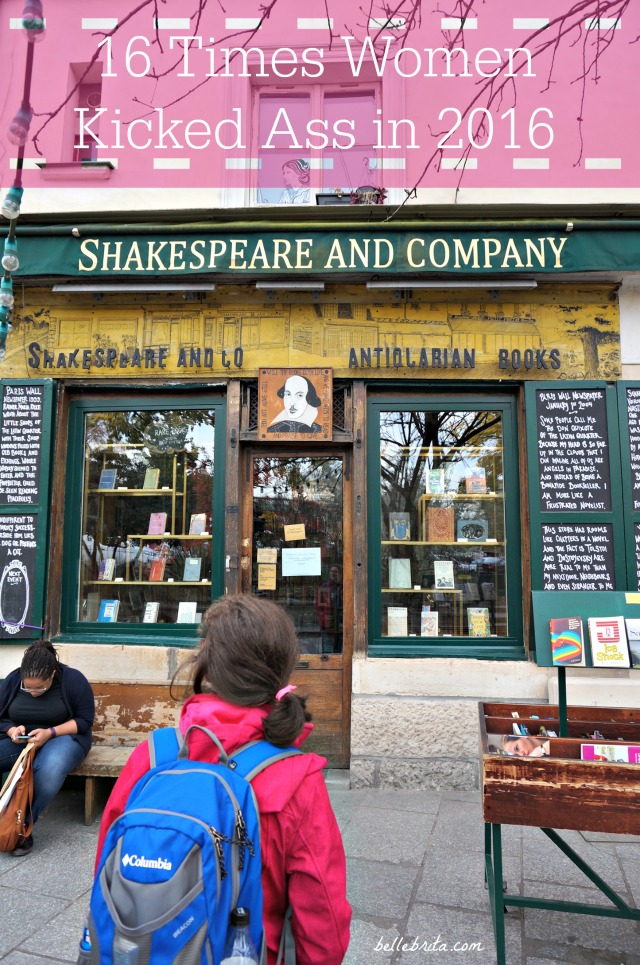 Women in Politics
Donald Trump may have won the presidential election, but women still won political victories across the globe.
Unless otherwise noted, these are American politicians.
1) Hillary Clinton, first female presidential nominee of a major party
Look, I obviously have some serious problems with Hillary Clinton, but that doesn't discount what she has achieved in her career. I cried when Jerry Emmett, born before the passage of the 19th Amendment, appeared at the Democratic National Convention. Don't forget: American women have had the right to vote for less than 100 years.
Love her or hate her, Hillary Clinton's career paves the way for other women to enter politics.
Like me…
2) Ilhan Omar, first Somali-American legislator
This November, Illhan Omar was elected to the Minnesota House. In her victory speech, she said:
"My neighbors, everyone here in this room, represent what we as a nation want to be: united in our diversity."
Illhan Omar reminds me of our nation's immigrant roots. At the beginning, we were all immigrants. Now Minnesota counts a former refugee and Muslim among their legislators. I hope to see this story repeated across the country.
3) Tammy Duckworth, first Thai-born U.S. senator
Tammy Duckworth beat incumbent Mark Kirk to win the Illinois senate seat. Reading through her About page on her website, I want to just quote the whole thing.
Between speaking three languages, losing her legs and partial use of her right arm in Iraq, and taking a voluntary pay reduction while in Congress, Tammy Duckworth's career and personal sacrifice absolutely humble me.
This is the kind of person we need in politics.
4) Catherine Cortez Masto, first Latina U.S. senator
Senator Henry Reid retired this year, opening up a Senate seat in Nevada. In a closely-contested race, Catherine Cortez Masto eventually prevailed. The granddaughter of a Mexican immigrant, Catherine Cortez Masto is the first Latina elected to Senate.
5) Tsai Ing-wen, first female president of Taiwan
In Taiwan's January election, Tsai Ing-wen became the first female president. She took office in May. Her victory is especially profound since she doesn't come from a political family.
Tsai Ing-wen's support for LGBT rights could lead to Taiwan becoming the first Asian state to legalize same-sex unions.
Women at the Rio Olympics
Let's talk about how many times I cried during the Rio Olympics. (Too many times to count). Although the journalists made several unfortunate sexist comments, overall, women kicked ass at this year's Olympics.
But female Olympians did more than just win medals. They also promoted body positivity and proved that age is just a number.
Related: 7 Role Models from the 2016 Rio Olympic Games
6) Simone Biles, Olympic gold medalist
Simone Biles became the first U.S. gymnast to win 4 gold medals. Plus she has a silver medal for a little variety! More than that, Simone Biles stood up to the sexist commentary of the Olympics.
"I'm not the next Usain Bolt or Michael Phelps. I'm the first Simone Biles."
More recently, she's taken to social media to promote body positivity and ignore the haters.
You keep doing you, Simone!
you all can judge my body all you want, but at the end of the day it's MY body. I love it & I'm comfortable in my skin 🖤

— Simone Biles (@Simone_Biles) December 28, 2016
7) Oksana Chusovitina, oldest female Olympic gymnast
At age 41, Oksana Chusovitina competed in the Rio Olympic Games, her 7th appearance at the Olympics. While she didn't medal this year, she showed the world that willpower, talent, and training can overcome age.
8) Michelle Carter, Olympic gold medalist
Michelle Carter became the first American woman to win a gold medal in shot put. Another body-positive athlete, Michelle Carter reminds women that it's okay to be strong and feminine.
"I'm in a sport where people don't look at us like women, they don't look at us like being girls, or feminine. But I've been girly all my life and so I couldn't separate… between the sport and being a woman."
Women Against Rape Culture
America just elected someone who bragged about sexually assaulting women. An alleged rapist will be president in a few short weeks. As frustrating as this feels, I'm still proud of the following moments against rape culture.
9) Michelle Obama
While campaigning for Hillary Clinton, Michelle Obama gave a powerful speech in Manchester, New Hampshire. I highly recommend you either watch the speech below or read the full transcript. Here are just a few parts that resonated with me.
This is not something that we can ignore. It's not something we can just sweep under the rug as just another disturbing footnote in a sad election season. Because this was not just a "lewd conversation." This wasn't just locker-room banter. This was a powerful individual speaking freely and openly about sexually predatory behavior, and actually bragging about kissing and groping women, using language so obscene that many of us were worried about our children hearing it when we turn on the TV…

It is cruel. It's frightening. And the truth is, it hurts. It hurts. It's like that sick, sinking feeling you get when you're walking down the street minding your own business and some guy yells out vulgar words about your body. Or when you see that guy at work that stands just a little too close, stares a little too long, and makes you feel uncomfortable in your own skin.

It's that feeling of terror and violation that too many women have felt when someone has grabbed them, or forced himself on them and they've said no but he didn't listen — something that we know happens on college campuses and countless other places every single day. It reminds us of stories we heard from our mothers and grandmothers about how, back in their day, the boss could say and do whatever he pleased to the women in the office, and even though they worked so hard, jumped over every hurdle to prove themselves, it was never enough.
10) Lady Gaga
At the Academy Awards, Lady Gaga performed a moving rendition of "Til It Happens to You," a song about rape and sexual assault on college campuses. She co-wrote the song with Diane Warren for the documentary on campus rape, The Hunting Ground.
At the end of her performance, a group of survivors of sexual assault joined Lady Gaga on stage. Lady Gaga and Diane Warren are also survivors of sexual assault.
Unfortunately, I cannot find a good video of her performance at the Oscars. The music video below is incredibly powerful, but also graphic and disturbing. Watch with caution.
11) Analyn Megison
Unlike most of the other women on this list, you probably haven't heard of Analyn Megison. She is a rape survivor and mother to a daughter conceived by rape. In 2010, her rapist filed for joint custody. Only after 2 years of legal battles did her rapist drop the case.
Analyn Megison didn't want other women to face what she faced. She initiated legislation in Florida to keep parental rights away from rapists. This legislation passed in 2014.
However, she still made the 2016 list for her continuing work to support survivors of sexual assault. She's a board member and co-founder of Hope After Rape Conception, an organization that helps women who become mothers through rape.
Young Women
Young feminists give me so much hope for the future. They are so much more visible and outspoken than I was as a teenage feminist.
12) Rowan Blanchard
Rowan Blanchard is so much more than a Disney Channel star. Her writing and speaking indicates wisdom beyond her years. She regularly posts feminist thoughts to social media. Earlier this year, she gave an incredible speech for the UN Women and US National Committee's annual conference as a member of #TeamHeForShe.
How does Rowan Blanchard define feminism?
"Undoing patriarchal structures against marginalized people — structures that fight against people of color, that fight against women, that fight against disabled people, that fight against LGBTQ."
Damn. And she's only 14.
13) Zendaya
Another woman who is so much more than a Disney Channel star. Like Rowan Blanchard, Zendaya doesn't shy away from sharing feminism to social media.
And her return to Disney Channel for K.C. Undercover came under one condition: more diversity.
"The only way I was going to come back to the Disney Channel was if I was in a position of more power. One thing that is really important to me is diversity on the channel. It's hard as a young person of a different ethnicity or background to look at the TV and not see anyone who looks like you. Representation is very important."
14) Marley Dias
Marley Dias may not be a celebrity, but she's another young woman doing amazing things. An avid reader, Marley Dias noticed how many children's books focused on white boys and dogs. She decided to collect 1,000 books about black girls by February 2016. Thus #1000blackgirlbooks was born.
Having collected over 4,000 books so far, Marley Dias has set her sights on new goals. Not only does she want to set up a black girl book club, she wants to influence school reading assignments.
15) Amandla Stenberg
You might remember Amanda Stenberg as Rue in The Hunger Games. You might remember racist readers everywhere who completely missed the fact that Rue is black and voiced their displeasure with the film's casting choice. Amandla explains how that was a turning point for her.
It was when I was 12 and I got cast in The Hunger Games, and people called me the N-word and said that the death of my character, Rue, would be less sad because I was black. That was the first moment I realized being black was such a crucial part of my identity in terms of the way that I was perceived and how it would affect any line of work that I wanted to pursue.
Amandla jumped into public intersectional feminism last year with her video on cultural appropriation.
She's been an unstoppable feminist force ever since.
Feminist Blogger Brita Long
Yup, I'm giving myself the 16th spot. Why? Two reasons.
I am finishing up this blog post less than 5 hours before I need to wake up for an early-morning flight.
Women shouldn't be bullied into downplaying their own achievements.
While tomorrow I'll recap specific 2016 blogging highlights, today I want to express pride in my political writing and feminist community-building.
This year alone, I wrote 12 political posts. Much of what I wrote was unique to the blogging community, especially among lifestyle bloggers.
I've grown The F-Word group on Facebook. Belle Brita has hosted feminist guest posts from a variety of bloggers. My recent call on Facebook for child-free women has resulted in over a dozen women contacting me to share their stories.
I pissed off a lot of people across the political spectrum, and I'm glad for it.
Posts like this one take 6-8 hours of research. My political posts usually take even longer to research and to write.
If I challenge just one person to think about their political views and to question their sources, then I've made a difference.
---
I must confess, I teared up a little researching this list. Yes, much of 2016 has depressed me, both personally and politically. But women keep proving our resilience. We will never stop fighting for a better tomorrow.
What badass women inspired you in 2016?