I recently wrote about the male Olympic athletes who weren't afraid to cry or hug or otherwise express emotion when winning. I teased about another post featuring more athletes. This is that post!
I cry easily, so it's not surprising how many times I've cried while watching the 2016 Rio Olympic Games. While some of these moments involved Americans winning gold medals, more often I cried watching athletes embody the Olympic spirit.
A few weeks ago I wrote that Ryan Held is the athletic hero America needs. Today I share 7 more role models from the Olympics.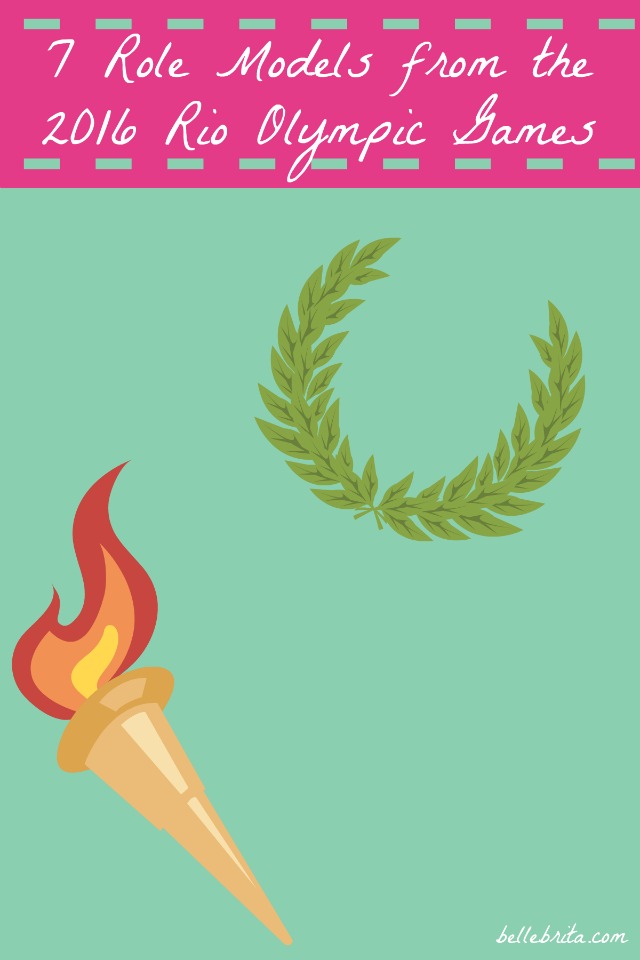 1) The Final Five
I went back and forth on including all five gymnasts as just one entry or listing each of them separately. Since I might write an entire blog post on just the Final Five, I decided to list them as a group.
Why are the Final Five role models?
2) Ibtihaj Muhammad
Muhammad was the first American athlete to compete in the Olympics in hijab. She then became the first American woman to medal at the Olympics while wearing hijab. She is an awesome role model just for Muslim women, but for all women who have ever been told we can't do something for sexist reasons.
3) Nikki Hamblin and Abbey D'Agostino
Not only did I cry when I first heard the story of these two runners, I started crying again while researching this blog post.
During the women's 5,000-meter race, Hamblin and D'Agostino collided. D'Agostino recovered first. Instead of continuing her race, she helped Hamblin stand up. The two continued running. D'Agostino collapsed again. This time, Hamblin helped D'Agostino get up. D'Agostino fought through pain to complete the race in dead last.
At the finish line, Hamblin greeted D'Agostino with a hug.
Both countries filed protests on behalf of the runners, and race officials accepted both women in the 5,000-meter final. However, D'Agostino was unable to compete since she tore her ACL and strained her MCL. Hambin did finish the race final, but came in last, hindered by her injury.
The self-sacrifice of these two women, who chose to support each other while hurting their own times, will last longer in our collective memory than any medal winner in the event. In fact, Hambin even won the prestigious Pierre de Coubertin medal, which has only been awarded 17 times in Olympic history.
4) Kristin Armstrong
Kristin Armstrong won her third consecutive gold medal in the women's individual time trials. With this medal, she became the first cyclist to win three back-to-back golds in the same discipline, and she became the oldest female cycling medalist of all time. That's quite a lot from one race!
Armstrong's encouragement to other women, however, is why she's on this list.
"I think that for so long [women have] been told that we should be finished at a certain age. And I think that there's a lot of athletes out there that are actually showing that that's not true.

"For all the moms out there, I hope that this was a very inspiring day."
5) Refugee Olympic Team
The 2016 Rio Olympic Games were the first ever to feature the Refugee Olympic Team. Ten refugees from Syria, South Sudan, Ethiopia and the Democratic Republic of the Congo came together to represent refugees worldwide at the Olympics.
Two of these refugees, Rose Nathike Lokonyen and Yiech Pur Biel, first started training barefoot.
The other members of the Refugee Olympic Team include:
Rami Anis, swimming, Syria
James Chiengjiek, athletics, Sudan
Paulo Amotun Lokoro, athletics, South Sudan
Anjelina Nadai Lohalith, athletics, South Sudan
Yonas Kinde, marathon, Ethiopia
Yolande Mabika, judo, Democratic Republic of Congo
Popole Misenga, judo, Democratic Republic of Congo
Last, but not least, swimmer Yusra Mardini, who is possibly the best-known of the refugee Olympians.
Mardini had been training in Damascus, Syria to compete on the Syrian Olympic team. Eventually she and her sister Sarah fled the country. They made their way through Lebanon and Turkey and took a boat to Greece.
Shortly after departing Greece, the boat's motor failed. Mardini, Sarah, and two other refugees jumped into the water and swam for 3 hours to get the boat to safety.
Mardini's bravery is not the only way she stands out. I also admire what she had to say on behalf of all refugees.
"I want everyone to think refugees are normal people who had their homelands and lost them not because they wanted to run away and be refugees, but because they have dreams in their lives and they had to go."

"Everything is about trying to get a new and better life and by entering the stadium we are encouraging everyone to pursue their dreams."
While none of these ten athletes may have medaled in their respective sports, they embodied the Olympic spirit of perseverance and international cooperation.
6) Fu Yuanhui
Fu Yuanhui should basically become China's friendly ambassador to the world. Seriously, her reaction when she placed third in the semi-finals of the 100m backstroke was possibly the most adorable thing ever.
Yuanhui is more than just an expressive athlete, however. She also publicly broke a Chinese (and often international) taboo by speaking about her period.
7) Simone Manuel
Simone Manuel tied for a gold medal in the 100-meter freestyle, becoming the first black woman to win an individual medal in swimming. Manuel's win is even more significant considering America's long and ugly history of segregated swimming pools.
Manuel spoke openly about what this medal means for her and for the African-American community.
"Coming into the race I tried to take the weight of the black community off my shoulders. It's something I carry with me. I want to be an inspiration, but I would like there to be a day when it's not 'Simone the black swimmer.'"

"The gold medal wasn't just for me, it was for people who have come before me and inspired me to stay in the sport, and for people who believe they can't do it. I hope I'm an inspiration for others to get out there and try swimming. They might be pretty good at it."
---
Counting them all up, this is actually 21 role models from the 2016 Rio Olympic Games!
It's been a fun two and a half weeks watching all the great moments at the 2016 Rio Olympic Games.
But truly what I've enjoyed most have not been all the gold medal moments, but the human ones. I could have listed so many other athletes as role models from the Olympics.
What was your favorite moment during the Olympics? Are any of these athletes your role models? Share your thoughts in the comments below!