Wild Adventures provided me with four media passes to their park in exchange for blog and social media coverage. All opinions are my own. 
Dan and I are like two little kids who just happen to be responsible. We find potty humor hilarious. (I do have Crohn's Disease after all). Pizza and boxed mac & cheese are staples in our diet. I still love the Disney Channel, and Dan still loves video games and computer games.
So when Dan started talking about his 30th birthday, I was not at all surprised when he suggested we drive to Valdosta, GA to visit Wild Adventures Theme Park.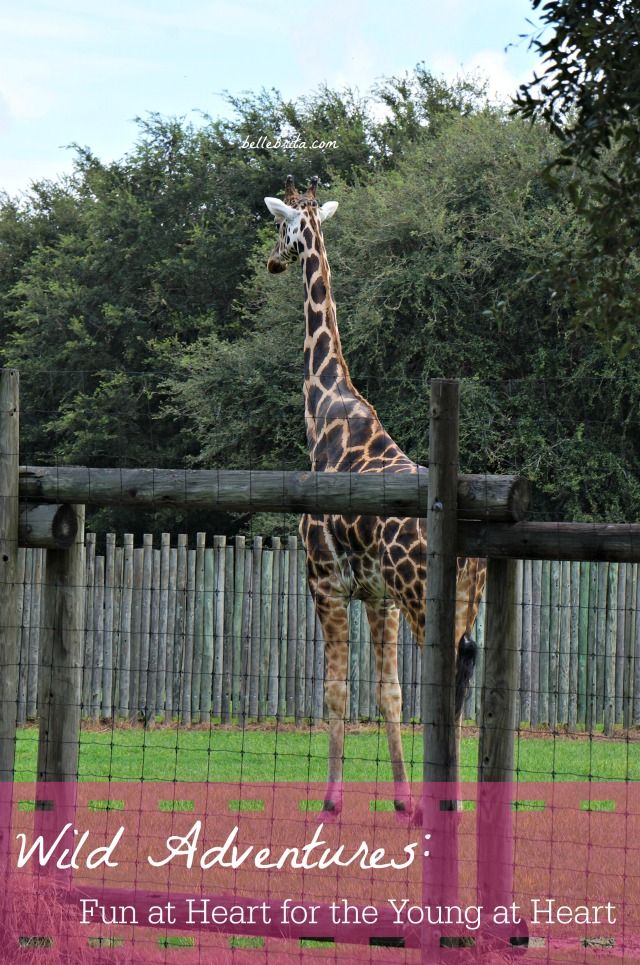 Dan and I coordinated Labor Day weekend with our good friends Lee and Ashleigh who live in Tampa. Dan's birthday is September 4th, and Lee's birthday is September 5th.
Valdosta is roughly halfway between Tampa and Duluth. Clearly a day at Wild Adventures was the perfect way to celebrate two 30th birthdays!
Unfortunately, not everything worked out according to plan…
Hurricane Hermine
Apparently early September is hurricane season for South Georgia. Our plan to spend all of Saturday at Wild Adventures was thwarted by Hurricane Hermine, which hit on Friday. Wild Adventures closed on Saturday to clean up from the debris.
Fortunately my contact at Wild Adventures helped us out and updated my media ticket info for September 4th instead of the 3rd.
We also encountered one silver lining to the hurricane.
We were basically the only people crazy enough or stupid enough to vacation in Valdosta right after a hurricane. None of us waited more than 10 minutes for any ride in Wild Adventures.
What to Do in Wild Adventures as an Adult
Obviously how you enjoy a theme park as a kid becomes at least a little different as an adult. I can't speak for other adults, but my body gets a lot more beat up on thrill rides than it did 10 years ago. And as much as I love a good corn dog, I'm pickier about what junk food I consume.
With the advice of Dan, Lee, and Ashleigh, I've put together our picks for enjoying Wild Adventures as an adult.
Related: 8 Reasons to Visit Disney World Without Kids
Recreate Zombieland
Saturday night, the four of us watched the hilarious zombie movie filmed in Wild Adventures: Zombieland. The three of them had all seen it before, but it was my first time watching the film. The beginning was a little too gory for me, but otherwise I enjoyed the ridiculousness of the whole thing.
On Sunday, our first ride was the iconic yellow roller coaster seen in Zombieland. Go Bananas is a surprisingly slow coaster, but we totally pretended we were killing zombies. Or maybe that was just me…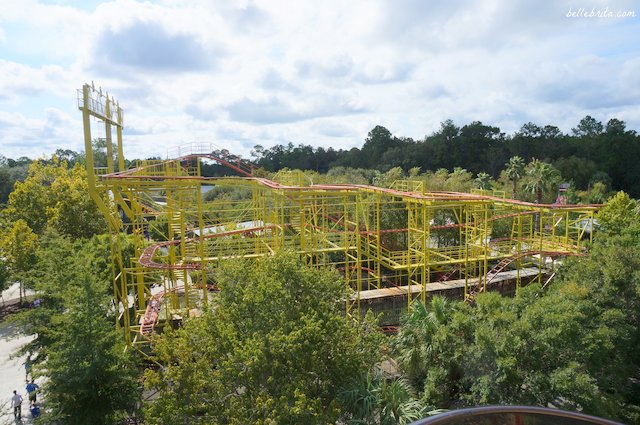 Alas, Firecracker wasn't open during our visit. This is the other ride that plays a large plot point in Zombieland.
Lee and Ashleigh had to leave before Dan and I did. The four of us ended our day together on Pharaoh's Fury.
Select Thrill Rides with Caution
I woke up Sunday morning with a headache. Even with lots of water, painkiller, and caffeine, I spent the entire day with a low-grade headache.
You know what makes headaches worse? Roller coasters that bang your head from side to side.
At 5'2, I do not fit snugly in roller coaster harnesses. Safely, yes. Snugly, no. My head often ends up hitting the shoulder harnesses back and forth during a ride.
The only roller coaster I really enjoyed (other than Go Bananas) at Wild Adventures was Boomerang. Going backwards felt a little disorienting, but that didn't bother me too much. However, Dan, Lee, and Ashleigh all disliked feeling that disoriented after a ride.
Luckily Wild Adventures offers way more entertainment than just roller coasters.
Related: Is Cedar Point Worth a Visit if I Don't Like Roller Coasters?
Enjoy Animal Encounters
Hands down, the highlight of my day happened within 5 minutes of walking into the park.
An animal keeper and a photographer stood near the front of the park with the most adorable animal ever.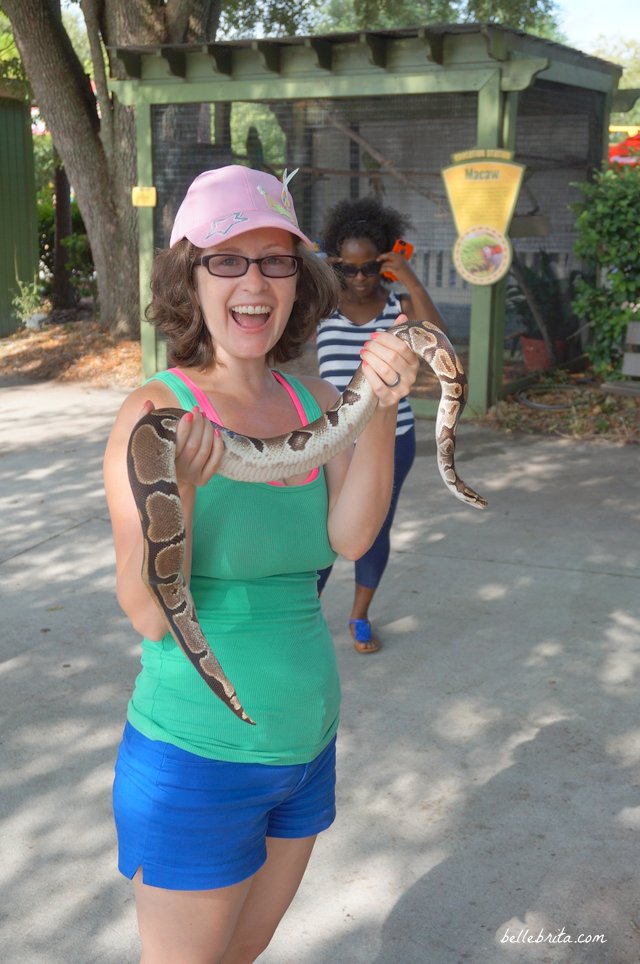 Yes, I think snakes are adorable.
Whenever Dan and I go to the zoo, if I have the chance to touch a snake, I go for it. I love snakes. Reptile houses are often my favorite zoo exhibit. But rarely do animal keepers let me hold a snake.
What you can't get from this photo is the sound of me talking to the snake and making kissy noises.
I could have spent the entire day just holding the snake. Alas, a line formed behind me of other people who wanted a picture with the snake.
That was just the beginning of our animal adventures. The four of us took a Safari Train to see zoo animals.
We walked around the aviary. Apparently the birds really liked us. One bird hung out on my shoulder until I shook it off. Multiple birds landed on Ashleigh's shoulder, back, and head.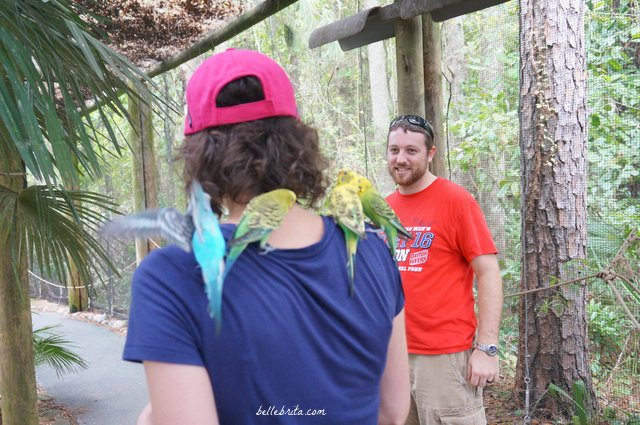 A few birds even got close and personal with Dan! The humor was watching all these birds fawn over us while little girls with cups of bird seed couldn't get the birds to eat anything. I guess our sweat and sunscreen really smelled good?
We also enjoyed our visit in the Butterfly Garden. I thought if I sat really still, one of the butterflies might land on me, but alas.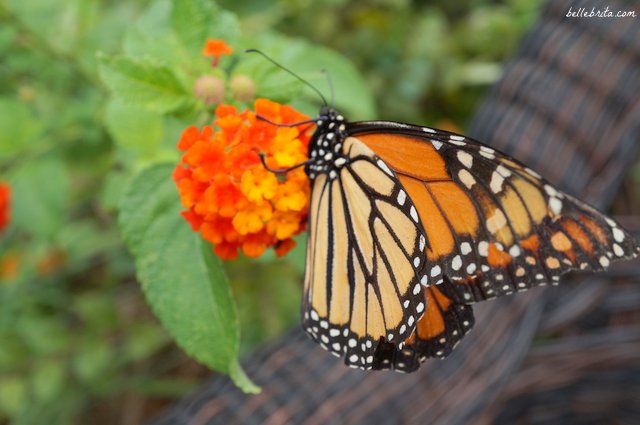 Finally, we watched the most amazing show in the afternoon. Tigers of India absolutely thrilled us. I was so impressed at the genuine affection between Andy Spolyar (the tiger trainer) and the tigers.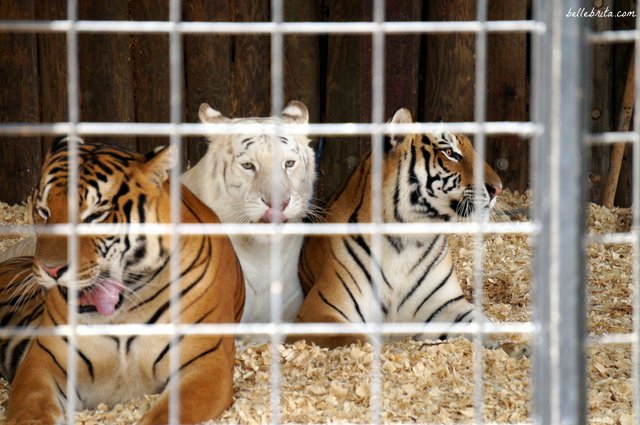 Andy clearly loves the tigers as much as any pet-owner loves their "fur babies." He's been working with "his" tigers since 1997, and with Wild Adventures since 2010! Seven of the tigers at the park are his. I honestly could have spent the rest of the afternoon interviewing Andy. He was just so interesting!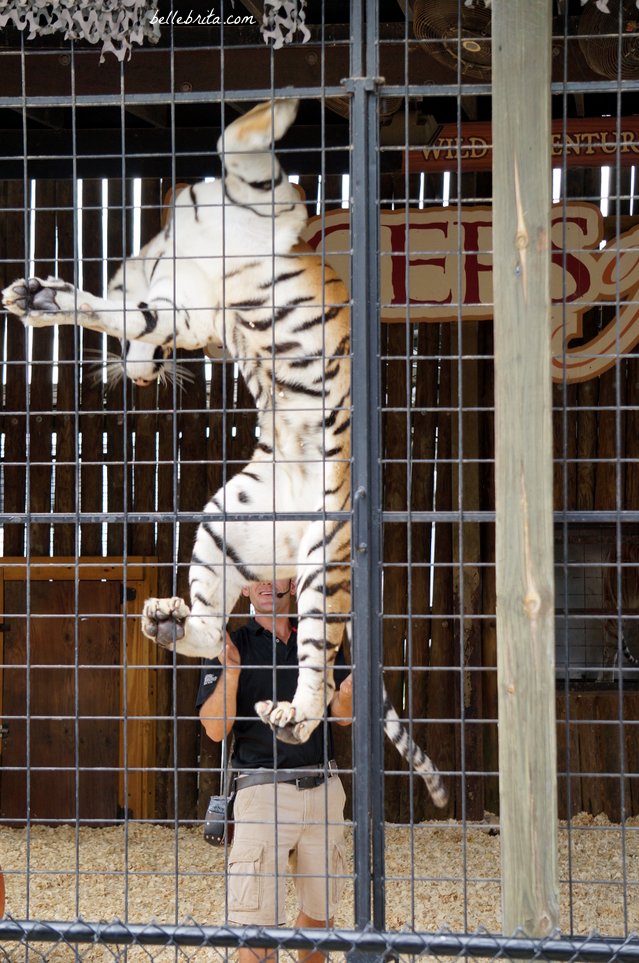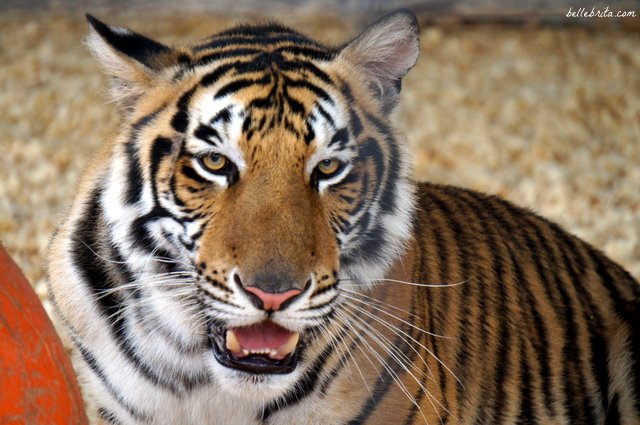 Choose the Best Junk Food
Wild Adventures does not allow any visitors to bring food into the park. Each person can bring in one unopened water bottle or one completely empty water bottle. Apparently they've had issues in the past with people sneaking in alcohol. The water fountains in the park didn't always work well, but we never had any issues asking for a cup of water or a water bottle refill from the food stands.
Out of all of us, Ashleigh had the hardest time finding food to eat. She has several food sensitivities, and theme park food isn't exactly known for its purity. Wild Adventures does offer allergy guides online, but they only address common food allergies, not food sensitivities.
We ate lunch at Lonestar BBQ. Dan and I split the ribs plate which came with ribs and two sides. We opted for double fries. Lee ordered the pulled pork sandwich with slaw and fries. Ashleigh ordered a plain salad without dressing and ate some of Lee's slaw and fries.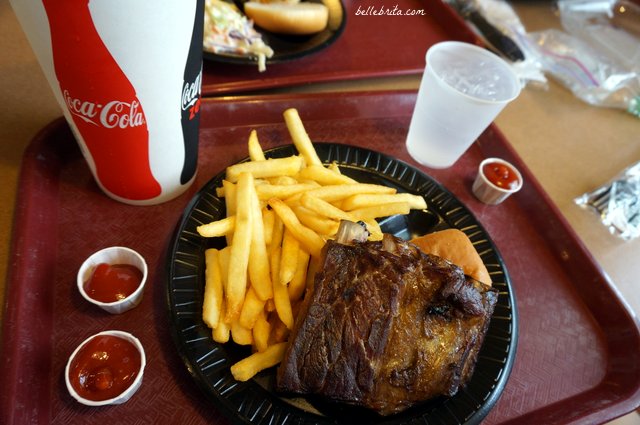 For mass-produced, theme park BBQ, lunch was pretty good.
After Lee and Ashleigh left that afternoon, Dan and I shared an early dinner of a foot-long corn dog and fries. We both love corn dogs, so this was quite the treat! Our last snack of the day, right before we left the park, was a funnel cake topped with powdered sugar. It was absolutely delicious, and so big that the two of us couldn't finish it ourselves.
Will We Return to Wild Adventures?
Yes! I admit, it is not the best theme park or the best zoo that Dan and I have ever visited. However, we loved the classic rides (the Ferris wheel, the swings, the various spinning rides), the Zombieland connection, and the animal encounters enough to go back. Plus we totally skipped all the water rides on this trip, but if we go on a hotter day in the future, we can enjoy those at the beginning of the day!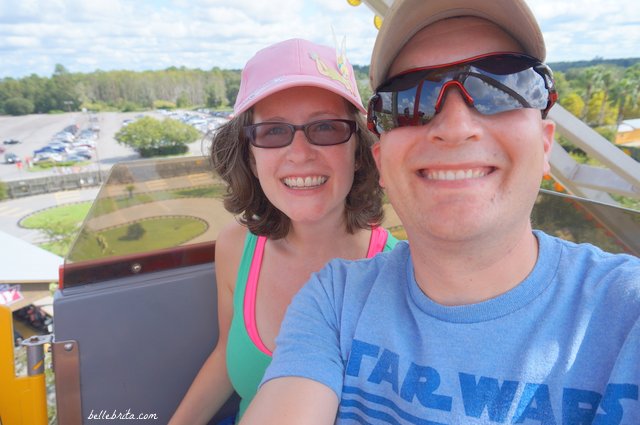 Wild Adventures Ticket Information
Obviously our media passes were complimentary. However, at the time of publishing, the following information is accurate regarding ticket sales. See their website for details.
Advance Online Admission: Buy your one-day park ticket at least a week in advance and pay $38. Buy your one-day park ticket at least two days in advance and pay $40. (Prices do not include sales tax).
General Admission: Tickets are $48 for adults and $43 for children and seniors. General Admission includes a second day at Wild Adventures free. (Prices do not include sales tax).
Based on my analytics, I know that most of my readers are 25-34. So how do YOU stay young at heart? Do you still love theme parks and junk food like we do? (Just FYI, with our slowing metabolism, we do try to limit our treats to the weekends and eat healthily on weekdays). I'd love to hear your thoughts in the comments!