I've been on Twitter since 2009. I love Twitter. I love connecting with friends and strangers worldwide. I love having a platform to share my thoughts. I love having a platform to read the thoughts of others.
Mostly, I love how Twitter helps me keep up with feminist issues globally.
Last year I shared 10 Steps Towards Being a Better Feminist. The second step I suggested is to follow more feminists on social media. If you're ready to make that step, I can help!
Check out the ultimate list of #feminists to follow on Twitter, featuring @schemaly @jimchines @verilymary & more! https://t.co/49QjBirB2q

— Brita Long (@belle_brita) November 17, 2015
How I Chose the Feminists for This List
Many of these feminists I already follow on Twitter. Some are celebrities, like Zendaya. Others are prolific writers, like Soraya Chemaly. Quite a few are fellow bloggers who I've gotten to know through the blogosphere.
While most of these feminists have large followings, I also wanted to highlight some undiscovered feminists. Popularity isn't always indicative of quality!
How I Organized This List
I've divided the feminist Twitter accounts according to their main interests. For example, I've put myself in the Christian feminist section. While I certainly tweet about many topics, I often focus on the intersections of faith and feminism. I hope these groupings will help you find the best feminists to follow according to your own interests!
Also, since the category Feminist Writers ended up being so long, I placed the wittiest of them in the Feminist Humor category.
Finally, I have counted and recounted this list. I'm pretty sure I came up with 75 feminists, but it could be 74 feminists to follow on Twitter, or 77 feminists you definitely should follow on Twitter.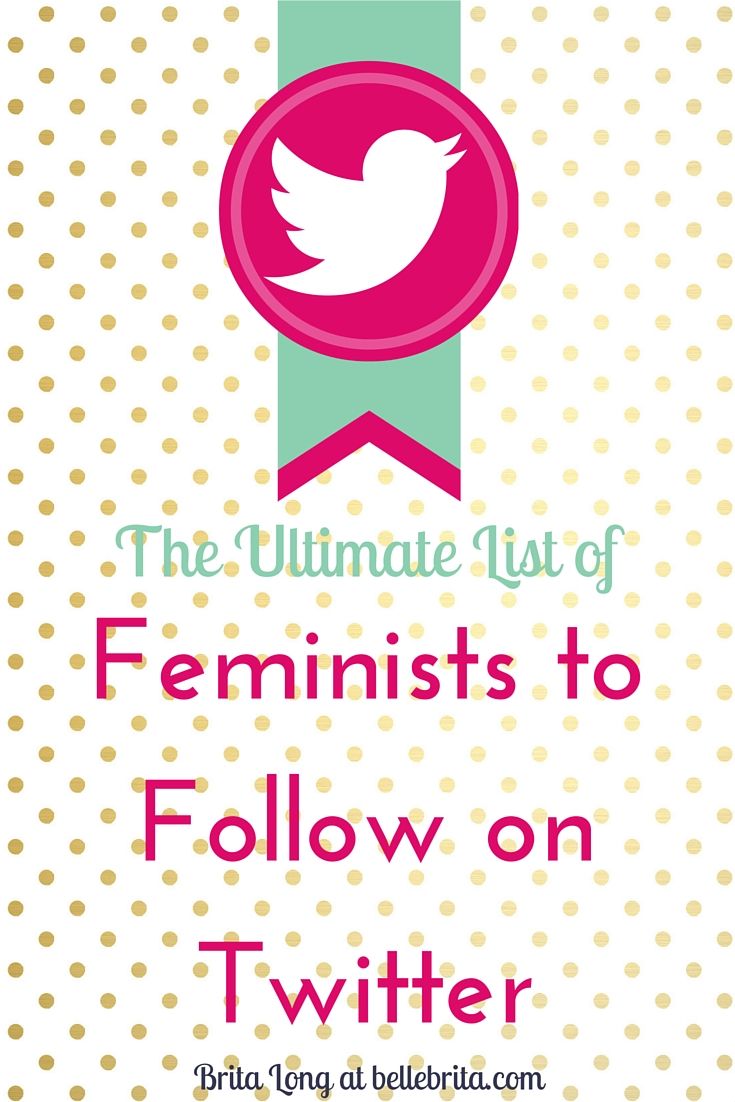 Best Feminist Twitter Accounts
Global Feminism
Dana Wielgus is a blogging friend of mine, which is an excellent reason alone to be on this list. She's currently an American expat in France. Also, one time she was a test sponsor for my blog. Follow @Mlle_Dana.
Mary is another blogging friend of mine who introduced me to the concept of third culture kid. She is a bi-tribal (Efik & Igbo) Nigerian-Canadian-American writer. Follow @verilymary.
A4: Businesses, especially online-based ones, help sustain the nomadic life TCKs tend to prefer. TCKs are often creatives too. #TCKchat

— Mary (@verilymary) November 5, 2015
UN Women is the United Nations entity for gender equality and women's empowerment. Follow @UN_Women.
Member of the European Parliament, Marietje Schaake tweets in both English and in Dutch about politics, sexism, and more. Follow @MarietjeSchaake.
---
Christian Feminism
Follow me! I both write and tweet often about my faith, my feminism, and my beliefs as a Christian feminist. Follow @belle_brita.
I've been following Emily Maynard on Twitter for several years now. I especially love her writing on Modesty Culture. Follow @emelina.
Hannah Mudge writes on multiple issues within Christianity, including the lack of diversity within Christian spaces and church abuse scandals. Follow @boudledidge.
Remember that time I reviewed Damaged Goods? Yeah, Dianna E. Anderson is one of my favorite Christian feminist writers. Follow @diannaeanderson.
Happy to be highlighted in this article on Bustle about what Christian feminists are doing: https://t.co/xmZiq7yLYl

— Dianna E Anderson (@diannaeanderson) October 29, 2015
Rachel Held Evans is another one of my favorite Christian feminist writers. Also, she tweeted a link to one of my articles last month, and I about died. Follow @rachelheldevans.
Nice piece on why consent matters in marital sex – https://t.co/qsUbl0lskp

— Rachel Held Evans (@rachelheldevans) October 21, 2015
Nyasha Junior wrote An Introduction to Womanist Biblical Interpretation, which I have not yet read, but is on my reading list. Follow @NyashaJunior.
I just discovered Jory Micah a few months ago. I'm already obsessed. She has her AA in Practical Theology, a BS in Church Ministries and an MA in Biblical Studies with an emphasis on Christian Doctrine and History. Her writing on women in ministry inspires me so much! Follow @jorymicah.
---
Queer Feminism
Once upon a time, I had the privilege of meeting Dannielle Owens-Reid, co-founder of Everyone Is Gay. She's amazing. Follow @dannielleor.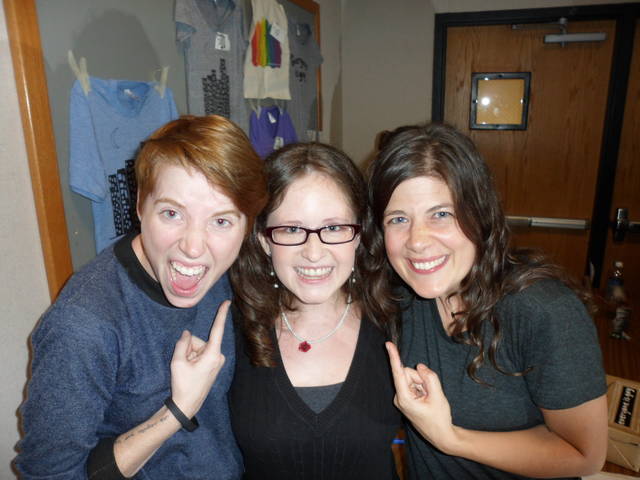 At the same time, I also met Kristin Russo, the other co-founder of Everyone Is Gay. She's also amazing. Follow @kristinnoeline.
Laverne Cox stars in Orange is the New Black. She is also a leader in the transgender rights movement. Follow @Lavernecox.
Jen Richards is a writer, actress, and advocate for gender and racial justice. She's the co-writer, star, AND producer of Her Story, a show about the dating lives of transgender women. Follow @SmartAssJen.
Janet Mock is so freaking successful that I'm a little in awe of her. Author of Redefining Realness, the host of So POPular!, and correspondent for Entertainment Tonight, she also founded #GirlsLikeUs, a social media project to empower transgender women. Follow @janetmock.

Feminist Writers
If you follow no one else, follow @schemaly. Soraya Chemaly is possibly my favorite feminist writer. She's written pieces for so many different websites. I try to read everything she writes.
Jessica Valenti founded Feministing and has written several feminist books, including The Purity Myth. Follow @JessicaValenti.
Therese Shechter isn't just a feminist writer, but also a filmmaker. Her two full-length documentaries are How to Lose Your Virginity and I Was a Teenage Feminist. Follow @TrixieFilms.
The Q&A will be great #coitus #otherlatinterms RT @SaBelleFemme Hanging out with @TrixieFilms Can't wait to watch my favorite documentary

— Therese Shechter (@TrixieFilms) October 17, 2014
Kate Amunrud blogs at Clear the Way. I've joined her a few times for her monthly How Do You Deal Series, part her her Feminist Fridays. Follow @clearthewaykate.
Danielle Henderson created Feminist Ryan Gosling, aka she's a genius. Follow @knottyyarn.
I often cite writer Melissa McEwan's work in my Feminism 101 posts, since she's also tackled Feminism 101. Follow @Shakestweetz.
Melissa Wardy writes at Pigtail Pals and Ballcap Buddies about feminist parenting. She also authored the book Redefining Girly. Follow @pigtailpals.
Jessica W. Luther is a freelance writer and journalist. She tweets about reproductive rights, romance novels, and sports. Follow @scATX.
Jamilah Lemieux is the Senior Editor for Ebony magazine. She's a feisty Black feminist who challenges the status quo. Follow @JamilahLemieux.
Avital Norman Nathman is a freelance writer and author of The Good Mother Myth: Redefining Motherhood To Fit Reality. Follow @TheMamaFesto.
As a post-modern sex-positive, Black feminist woman, Feminista Jones writes (and tweets!) extensively on sexism, racism, politics, and more. Follow @FeministaJones.
Editor-in-chief of RH Reality Check, Jodi Jacobson tweets and rights about a variety of feminist issues. Follow @jljacobson.
Caroline Criado-Perez started the campaign put Jane Austen on U.K. banknotes. She authored Do It Like a Woman… And Change the World. Follow @CCriadoPerez.
A Certified Nurse-Midwife, Stephanie works in the urban United States. She blogs and tweets about reproductive health. Follow @FeministMidwife.
Winner of the Women's Media Center Social Media Award in 2011, Sady Doyle has written for several different publications including The Atlantic and The Guardian. Follow @sadydoyle.
For over a decade, Holly Kearl has worked to end street harassment. Her activism spills over onto Twitter. Follow @hkearl.
Politics writer for Salon, Amanda Marcotte tweets feminist musings and round-ups of feminist articles. Follow @AmandaMarcotte.
Author of Sister Citizen: Shame, Stereotypes, and Black Women in America, Melissa Harris-Perry has too many accomplishments for me to name them all. She hosts her own weekend show on MSNBC, she's a professor at Wake Forest, and she contributes to The Nation. Follow @MHarrisPerry.
Rachel Sklar has written for so many publications that I can't name them all. She also founded Change the Ratio, an advocacy site to promote women in tech. Follow @rachelsklar.
Roxane Gay wrote Bad Feminist, which is on my to-read list. Follow @rgay.
Caitlin Moran is a journalist, author, and broadcaster who's won quite a few awards. Follow @caitlinmoran.
Ijeoma Oluo writes on issues of race, feminism, the arts, and personal essay. Follow @ijeomaoluo.
I feel like bell hooks is such a prominent feminist that she needs no introduction. Follow @bellhooks.
Joanna Schroeder is the Director of Media Relations at The Good Men Project. While The Good Men Project has had its questionable choices in the past, it's overall a decent attempt at addressing how the patriarchy affects men. Follow @iproposethis.
---
Feminist Novelists
Who doesn't love Margaret Atwood, author of The Handmaid's Tale? Follow @MargaretAtwood.
Holly Black has written several awesome novels featuring interesting, diverse characters. (Read my review of her Modern Faerie Tales trilogy). Follow @hollyblack.
Libba Bray is freaking hilarious. She's also the author of many novels featuring a range of badass female characters. Follow @libbabray.
Aisha Saeed, author of Written in the Stars, promotes diversity in books. Follow @aishacs.
Technically, Casey Plett writes short stories. But "Feminist Fiction Writers" seemed like a wordy category, and I wanted to differentiate between creative written works and articles/blogs/etc. Casey Plett is the author of A Safe Girl to Love, a collection of short stories. Her works reflect her experiences as a transgender woman. Follow @caseyplett.
---
Male Feminists
I'm a total fangirl of Jim C. Hines. He even tweeted my book review of his princess books. SWOON! He's an amazing novelist, but also a badass feminist. My favorite is when he attempts to recreate the impossible book covers featuring women in sexualized poses. Follow @jimchines.
Jonathan A. Allan is the Canada Research Chair in Queer Theory at Brandon University. I love his thoughts on masculinity. Follow @DrJAllan.
Micah Murray has written some really awesome stuff on progressive Christianity. Follow @micahjmurray.
What list would be complete without my beloved Sir Patrick Stewart? I mean, he's part of the Star Trek franchise, which has (mostly) been super-progressive for its time. More importantly, he's spoken honestly about growing up with an abusive father and why violence against women is such a problem. Follow @SirPatStew.
No government should be able to force a woman to stay pregnant if she wants or needs not to. It's that simple. #StandWithPP

— Patrick Stewart (@SirPatStew) October 3, 2015
---
Feminist Celebrities
Zendaya is one of my favorite Disney stars ever. She started on Shake It Up and now stars on K.C. Undercover. Her social media accounts are all about feminism, representation, and self-acceptance. Follow @Zendaya.
Rowan Blanchard is another Disney star from Girl Meets World. Intersectional teenage feminists give me hope for our future. Follow @rowblanchard.
You know Emma Watson for her badass portrayal of Hermione in the Harry Potter film franchise. She's also the Goodwill Ambassador for UN Women. Follow @EmWatson.
Lena Dunham is far from perfect, but then again, is anyone perfect? She regularly tweets about feminist issues. Follow @lenadunham.
Shonda Rhimes is a writer and television producer. As the executive producer of hit series like Grey's Anatomy and Scandal, she's famous enough to be under Feminist Celebrities instead of under Feminist Writers. Follow @shondarhimes for feminist commentary.
Maria Shriver is another feminist who's a writer, but also famous enough for this section. A Peabody and Emmy-winning journalist and producer, she champions women's empowerment and social justice. Follow @mariashriver.
You know Sophia Bush for starring in One Tree Hill. She's also an activist for issues like marriage equality and the environment. Follow @SophiaBush.
Former child star, now Mara Wilson is a funny, feminist adult. Follow @MaraWritesStuff.
I'm a little biased, but Taylor Swift is the bestest. Probably her most impressive action is her willingness to acknowledge her past mistakes and to learn from other people. She's admitted she didn't understand feminism when she was younger, but she's definitely working on it now. Follow @taylorswift13.
---
Feminist Humor
I first discovered Lindy West when 1) I read Jezebel more often and 2) she still wrote for Jezebel. She's hilarious. Follow @thelindywest.
Selena Coppock is a stand-up comedian, author, and funny person on Twitter. Follow @SelenaCoppock.
Lane Moore is another stand-up comedian, writer, and Sex & Relationships editor of Cosmopolitan.com. Follow @hellolanemoore.
Naomi Ekperigin is yet another stand-up comedian, plus a writer for Broad City. Follow @Blacktress.
Feminist parody is my favorite. Hence I love this response to #womenagainstfeminism. Follow ‪@NoToFeminism.
Annoyed by White Feminism? This parody is also hilarious. Follow @WhiteFeminist.
I seriously love feminist parody. Lots of famous ones have stopped tweeting, but the fake Paul Ryan is going strong. Follow @PaulRyanGosling.
Hey girl, taking over from Boehner was an easy transition today! I mean, after I wiped 4 years of tears and self-tanner off the gavel LOL!

— Paul Ryan Gosling (@PaulRyanGosling) October 29, 2015
Tired of the dude who thinks he's so deep and profound? Tired of "great literature" somehow only being about straight, white men? Follow @GuyInYourMFA.
Okay, fine, technically Vanessa Ramos is both a writer and famous, but her tweets are freaking hilarious. Maybe not only about feminist stuff, but whatever. She's great. Follow @thatRamosgirl.
Hilarious satire for all the women in your life. Follow @Reductress.
Aparna Nancherla is a comedian with hilarious tweets. Follow @aparnapkin.
---
Feminist Media/Organizations
Everyone Is Gay is an amazing nonprofit that gives advice to LGBTQ+ youth. I started reading the blog when Dannielle and Kristin just ran Everyone Is Gay during their free time while working day jobs. Now it's a full-time, legit nonprofit. Follow @everyoneisgay.
I absolutely love Bitch Magazine and its blogs. I hope to write for them one day! Follow @BitchMedia.
Founded in 1985 as a lesbian gay, bisexual and transgender (LGBT) media advocacy organization , GLAAD tracks and discusses both positive and negative media portrayals of LGBT people. Follow @glaad.
Women's Media Center focuses on the representation of women in the media. Follow @womensmediacntr.
Stop Rape Educate is a feminist organization working to end sexual assault. Follow @StopRapeEducate.
The Planned Parenthood Action Fund is a national non-profit. The Action Fund is the nonpartisan advocacy and political arm of Planned Parenthood Federation of America. Tweets focus on reproductive justice. Follow @PPact.
---
Don't use Twitter? Prefer to get your feminism by email? Sign up for my weekly feminist newsletter, Friday's The F-Word!