After a two-month hiatus, Dan and I are back with Site Prep with Dan. I have missed the chance to interview him each month and find out more about him. This is Dan's favorite series, so he's eager to answer a few questions for me!
Today's questions are all about L-O-V-E! This is quite appropriate with all the wedding posts I've written lately.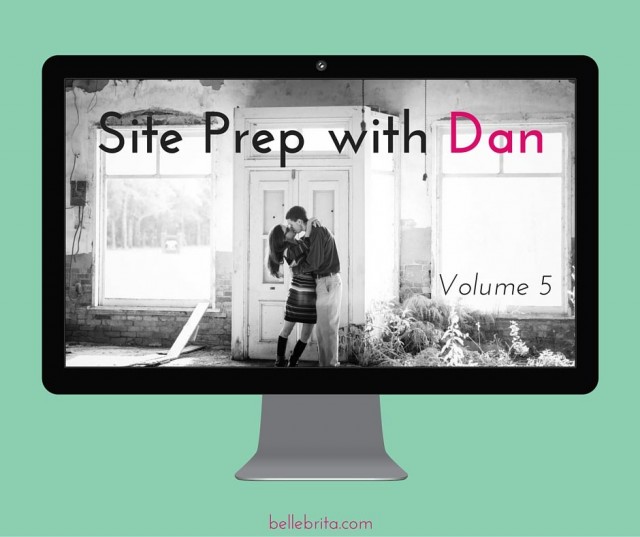 Share a funny wedding story with us – it could be from your own or one you attended.
Two days before our wedding, we were waiting to meet with our minister at the chapel. He suggested we read the newspaper while we waited because it featured an article about the chapel. After we had met with the minister and left to return to the hotel, we bumped into a news crew doing a piece for the local evening news. We ended up being interviewed. As you would expect, Brita's comments were phenomenonal and ended up featured on the local news. I got one line in.
On the topic of love, who was your childhood crush?
Dan: Define childhood.
Brita: Before puberty.
Dan: I can't remember that far back.
Brita: You didn't have a crush on some girl at the playground?
Dan: You mean all of them?
What is your top love language? What is your significant other's love language?
Did we determine my top one is getting my back scratched? Because I'm pretty sure that does it every time. And if we're going by that metric, then Brita's is easily playing with her hair.
In all seriousness, I do love some cuddling, while Brita enjoys some Words of Affirmation.
(Ed note: Yes, we've taken the quiz, and I've read the book. Dan's primary love language is Physical Touch, and mine is Words of Affirmation. We were long-distance when we took the quiz, though, so we should probably do it again at some point).
How did you meet your significant other?
On the Internet.
Brita said this post needs to be 500 words, so she's making me say more.
I was a desperate, lonely young man with a wide search radius. And somehow I managed to find the needle in the haystack and won her over with a punctuation joke.
(Ed note: Read my post about how we met and our first date!)
If you're engaged or married, how did you propose? If you're not, how did you ask your girl out?
In an effort to fill you in (or if Youtube is blocked at work), I connived with one of her best friends to propose at her sorority headquarters in the bellevedere. Despite Brita's best efforts, she managed to find the ring. It was tears and sparkling wine from there. We eventually got dinner too.
(Ed note: Read my post on Dan's proposal!)
---
Thanks to Betsy and to Laura Jean for hosting "Guys behind the Blog." I'm a few days early for the link-up, which takes place on the last Thursday of each month.