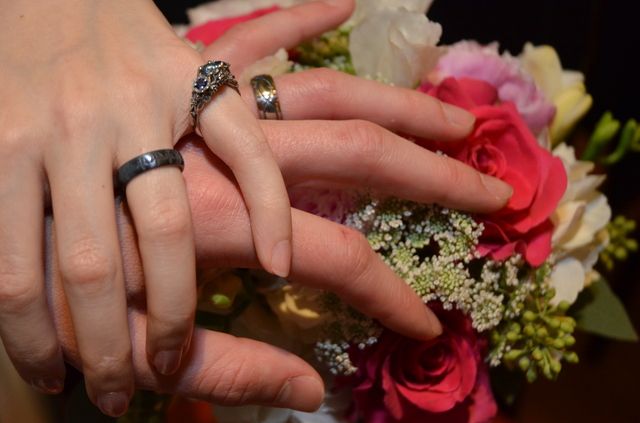 When you fall in love with an engineer, you can't expect a traditional engagement ring.
Luckily for both Dan and me, I never wanted a traditional engagement ring. My mom's engagement ring is an oval sapphire surrounded by diamond chips. I've always dreamed of having my own unusual engagement ring, just like hers.
Like I mentioned a few weeks ago, Dan and I started looking at engagement rings after I pre-proposed to him. I only had three requirements.
I wanted the metal to be silver in color, which still left a variety of options.
I wanted floral inspiration of some sort.
I wanted the materials (metal and stones) to be ethically-sourced.
These requirements still gave Dan a lot of freedom to design the ring he envisioned on my hand. In fact, the real challenge was finding a jeweler willing to work with palladium.
What's palladium, you ask? It's a metal similar to platinum. My darling nerdy husband couldn't propose with a traditional sterling silver, white gold, or platinum ring. We researched metal alternatives together, keeping in mind my skin sensitivity to nickel. Palladium satisfied both Dan's nerdy desires and my hypoallergenic needs.
Dan found the perfect selection of unique floral engagement rings at Krikawa!
Dan felt a little nervous about buying a ring for me to wear and to love for the rest of my life. So when he found Krikawa's rings, he sent me the link above. I gave him detailed feedback on all of the rings. That way the exact ring was still a surprise for me, but Dan felt confident in his choice.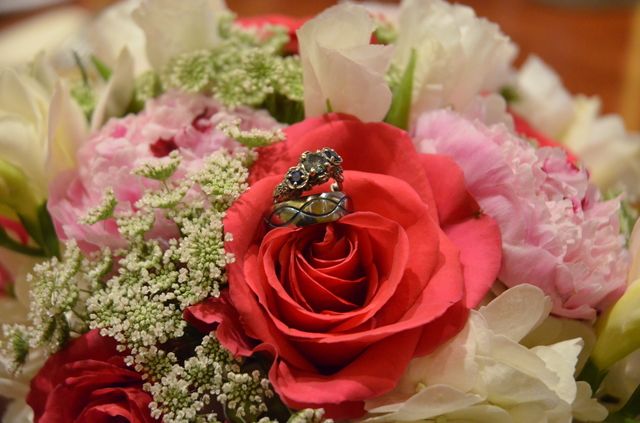 The choice of metal is not the only unusual feature for my engagement ring. The stones also depart from traditional engagement rings.
My engagement ring features a light blue diamond accented by two blue sapphires. All three stones are lab-created. While other options exist for ethical gemstones, Dan and I chose lab-created jewels. Not only are they an ethical alternative, they are also cheaper than their natural counterparts. Blue diamonds are rare in nature, but my lab-created diamond was similar in price to a natural white diamond. My lab-created sapphires were so inexpensive that I predict more custom sapphire jewelry in my future!
Why did Dan choose light blue and dark blue stones for my engagement ring? To honor my love for Kappa Kappa Gamma and to acknowledge the role my sorority played in our relationship. I blogged about my proposal last October, celebrating two years since Dan asked me to marry me. He proposed in Kappa's history museum in Columbus, Ohio.
Our wedding bands are also nerdy. Dan found an artist who laser-engraves titanium to create customized wedding bands.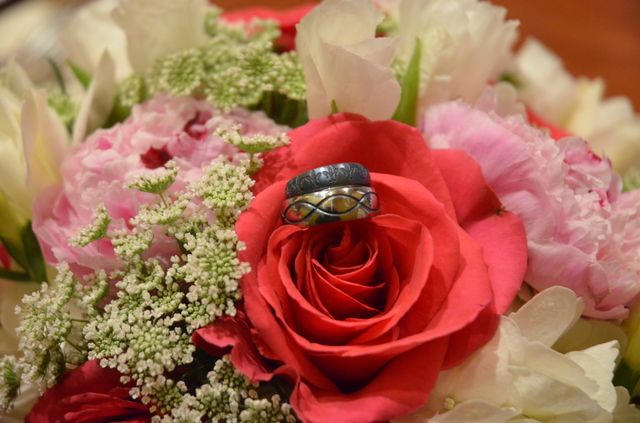 Dan's wedding band has a blue infinity design on the outside. The artist engraved the inside with our wedding date and with my fingerprint from the ring finger of my left hand.
My wedding band was supposed to be light blue with a dark blue design, but it looks all dark blue. I still love it, though! My band has a fleur-de-lis pattern on the outside, modeled after my fleur-de-lis tattoo. Like Dan's ring, the inside features our wedding date, but with Dan's fingerprint.
Unlike many brides, I do not wear my engagement ring and my wedding band together. The flowers on my engagement ring make it impossible to nest with a wedding band. Occasionally I will wear my wedding band on my left hand and my engagement ring on my right. Most of the time, however, I just wear my engagement ring or my wedding band on my left hand and one of several rings on my right hand.
---
Now it's your turn to share! What are your thoughts on engagement ring and wedding band styles?