On July 29, 2011, Dan and I had our first date.
On October 16, Dan asked me to be his girlfriend. I was already in love with him.
On Thanksgiving Day, Dan and I first uttered those three little words to each other. I already knew I wanted to marry him.
On December 17, my sorority sister Lauren married my friend Hudson. Before Dan and I attended the wedding, I gave him the backstory of my friends' relationship and how Hudson proposed. This involved Furman's iconic bell tower. The legend at my alma mater is that couples who kiss under the bell tower will end up married.
Dan and I went to the Furman campus that morning, and I proudly showed him around one of the most beautiful campuses in the country. He suggested we walk out to the bell tower. Once there, he pulled me underneath, kissed me, and said, "Guess we'll see if the legend is true."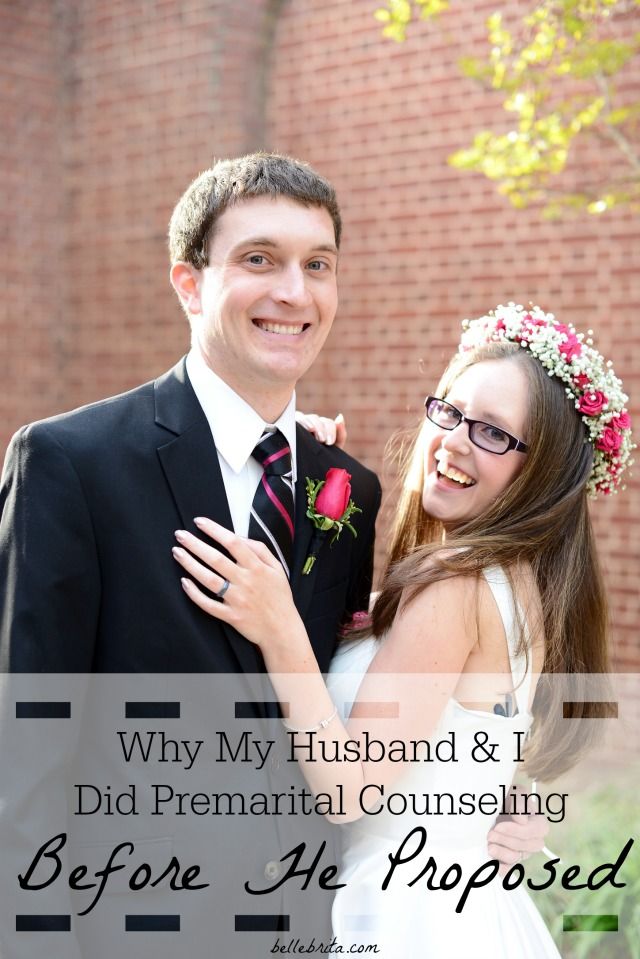 Why I Wanted Pre-Engagement Counseling
Dan and I both figured out early in our relationship that we wanted to get married, but we maintained a pragmatic approach to getting married. I read an article (which I cannot find for the life of me) suggesting couples attend premarital counseling prior to their formal engagement. This writer presented two primary benefits to premarital counseling before a proposal, or rather, pre-engagement counseling.
During the wedding planning process, the couple focuses primarily on the wedding. Even if they have the best of intentions with premarital counseling, they might not give it their full attention.
Sometimes premarital counseling brings up incompatible differences that the couple didn't previously realize. While calling off an engagement is better than a divorce, it is easier for a couple to break up if they are not engaged.
I thought the article articulated these reasons quite well, so I brought this idea up with Dan. He then came up with the perfect "feminist" solution to our eventual engagement. We agreed that when I felt ready, I would ask him to start premarital counseling with me. Then, after we finished, and he felt ready, he would ask me to marry him.
What we did really isn't that different from many couples. While the exact proposal might be a surprise, (usually) both halves of the couple have discussed their future together, and what that might look like, well before one person pops the question. We just agreed upon a framework for those conversations, early in our relationship.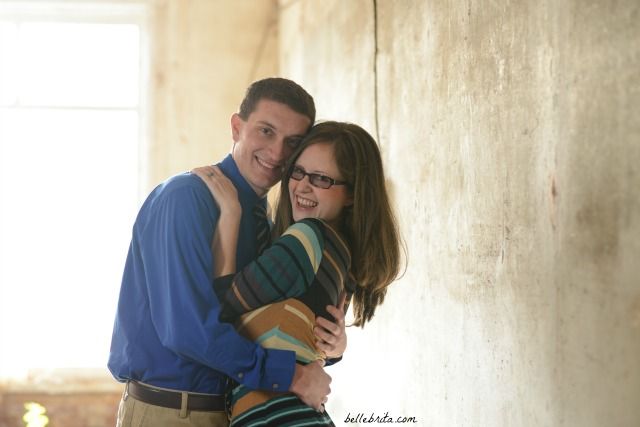 How I Pre-Proposed to My Husband
Dan actually messed up my original pre-proposal plans. In April 2013, he booked a romantic weekend for us. And I definitely mean a romantic weekend for two over-sized kids, since we spent most of Saturday at an indoor water-park before indulging in a couples' spa package on Sunday. We didn't have plans Friday night, so I thought dinner would be perfect to bring up premarital counseling.
Except he was working on his car Friday night, AND he had a bunch of his friends over to help aka watch.
I was still working two jobs then, so it was another few weeks before I had an opportunity. Since we didn't have another romantic weekend planned, I couldn't just bring it up within the context of a romantic moment. I did the next best thing.
I created a PowerPoint presentation.
Yes, a PowerPoint presentation on why I thought we were ready to start premarital counseling, along with my suggestions of how we should get counseling.
This is what happens when two nerds fall in love, just for the record.
Dan agreed he was ready to start premarital counseling… And we immediately started looking at rings. It was his idea, I swear!
Anyway, Dan did independent research on premarital counseling options, and he agreed with my conclusion on what we should do.
Why We Chose Marriage 101
Dan and I did not plan on getting married in Ohio, nor were either of us connected to a church there. That limited our options for religious premarital counselors. I was also unimpressed by the selection of secular counselors and therapists in Columbus. At the time, I couldn't find a single one that specialized in premarital or even marital counseling, although many listed it among the services they offered.
Luckily I discovered a comprehensive online option for premarital counseling called Marriage 101.
To be as clear and upfront as I can be, we paid full-price for Marriage 101, and I couldn't find an affiliate program to monetize that link. I have zero outside motivation to review Marriage 101 other than appreciating it myself.
Marriage 101 essentially offers different tools and kits for partners to use prior to marriage. We opted for the Complete Couples Package, but you can go through the options and buy just individual components. This came with:
8 online sessions
a comprehensive quiz that analyzes strengths and weaknesses in a relationship
multiple relationship books
a family background worksheet
two workbooks
Dan and I spent that summer going through Marriage 101 together. We started by taking the Couple Checkup, which basically asked each of us to describe our relationship experiences and expectations. We answered those questions separately, and then the Checkup paired them up. Our results were discussion questions for us to go through based on any discrepancies between our answers.
During the weekends, we watched the online sessions, filled out the accompanying workbooks, and discussed what we learned. Independently, we both read one of the relationship books plus the finances book. (The other books are really geared for marriage, not before marriage).
We both dropped the ball on the family background worksheets. Oops. But they were very comprehensive.
Marriage 101 is definitely more religiously conservative than a Christian feminist and an atheist would desire. But aside from the bits that earnestly and awkwardly proclaimed Jesus would be the third person in the marital bed, the advice from Marriage 101 was sound.
I was particularly impressed that a conservative Christian perspective on sex would acknowledge that in a (heterosexual) marriage, the man doesn't necessarily have a higher libido than the woman. While talking about the different sex needs of men and women, they also acknowledged that for simplicity, they assigned one set of preferences to men and the other to women, based on their survey results of married men and women, but that each couple needs to asses for themselves who has which sex needs.
If you don't have an option for a counselor where you live, consider investing in Marriage 101 for your premarital counseling.
Bonus: We got married in Texas, which normally requires a 72-hour waiting period to receive a marriage license. With an approved premarital counseling course, that time is waived. At the time of our marriage, Marriage 101 was the only approved online premarital counseling. Since Dan and I are not from Texas, not having to wait 72 hours helped us out so much!
How Premarital Counseling Helped Us (and Why I'm Glad We Did It Prior to Our Engagement)
Dan and I started discussing the "big stuff" pretty quickly in our relationship. He confided his financial situation and philosophy to me after about six months, and I reciprocated. We discussed kids, places to live, travel ideas, family wishes/obligations, and so much more all in our first year together.
Premarital counseling really made us dig into the big topics, though. There's so much more to discuss than whether or not a couple wants kids, for example. If you do, how soon do you want them? How many? Will one parent stay home, and if so, which parent? While many decisions can't be made until a couple actually has a kid, there's a lot to determine before any baby-making happens.
It was also good for us to talk in-depth about how our families raises us, and the way our experiences shaped our expectations for marriage. Dan and I both come from white middle-class Christian families, but we still had very different experiences growing up. Our parents have different philosophies on family vacations, for example. Dan and his brothers all attended private Catholic schools while my brothers and I all attended public school.
Those are just a few examples of the deliberate conversations sparked by the video sessions, books, and other tools provided by Marriage 101.
When we finished our premarital counseling, I felt very confident about getting engaged and then getting married.
Dan and I both agreed a short engagement would work for us, which is one reason pre-engagement counseling made sense for us. We spent several months focusing primarily on building a foundation for our marriage. I loved that we had that time for just the two of us to prepare for marriage, without family members or wedding planning getting in the way.
It was also nice having our marital plans as a secret just for us. Eventually we did tell our parents that we had finished premarital counseling and planned on getting married the following year, even though we weren't formally or publicly engaged. Even after telling our parents (and our siblings, and a few very close friends), it was still mostly a secret to cherish and enjoy together.
What Other Bloggers Say About Premarital Counseling
Still not convinced that premarital counseling is a must? Other bloggers have opened up with their own experiences going through premarital counseling.
Madison from Wetherills Say I Do:
If you've been dating a month or ten years, premarital counseling is extremely helpful for setting your marriage up for success. I'll be honest, Steven and I didn't think we needed counseling. We did it out of feeling like we should, but we are so thankful that we did.
Carolyn from Kitty Ears:
Going through premarital counseling helped B and I prepare for life together, and honestly allowed us to work out many personal kinks before we moved in with each other! We talked about budgeting, chores, communication, sex, God, trust…I don't want to think about how many fights we might have had if we never went though counseling!
Mary from Little Bit of Class Little Bit of Sass:
Each topic was introduced by our instructor with a little talk, followed by a talk on the topic by a married couple who are church members, followed by the engaged couples discussing the topic among ourselves.
---
Now I want to hear from you! What are your thoughts on premarital counseling? Have you ever heard of doing it before getting engaged? Leave me a comment!