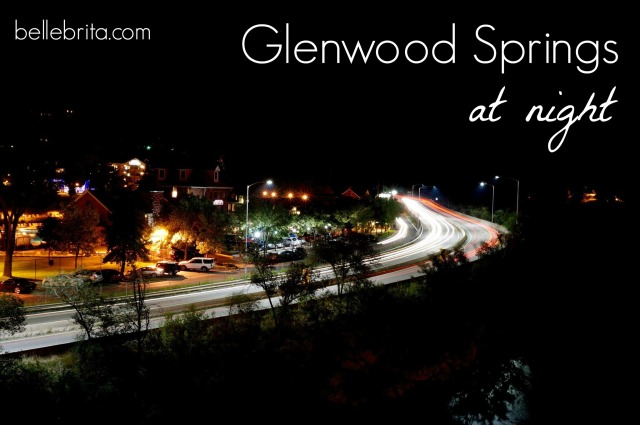 I can't believe Dan and I have already been home a month since our vacation to Colorado and Utah. We managed to do so much in just a week, road-tripping from Denver to Salt Lake City and back. I loved exploring Pearl Street and visiting the Colorado School of Mines Geology Museum. But our most romantic stop was in Glenwood Springs, when we stayed at the historic Hotel Colorado, relaxed in the hot springs, and indulged in a couple's massage.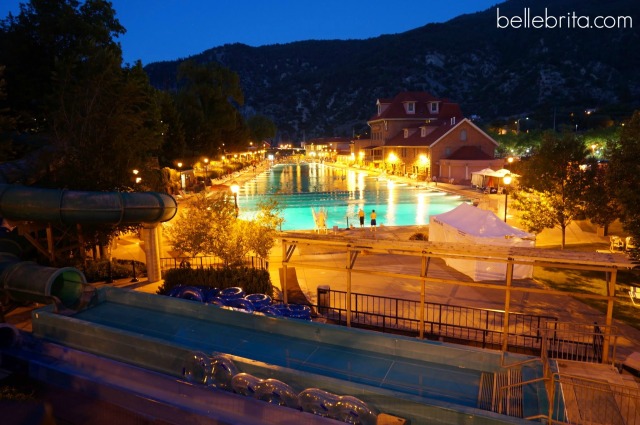 We arrived in Glenwood Springs after driving through the Rocky Mountain National Park all day. After checking into the hotel, we made our way across the street to the hot springs. Dan and I went back and forth between the two pools of different temperatures. Dan also showed off his diving skills to a bunch of preteens. After about an hour, our sore muscles felt nice and loosened up.
Then we found this great burger place where we feasted on buffalo bacon cheeseburgers! Grind's burgers were absolutely delicious. Plus their prices were totally reasonable. After dinner, we headed back to the hotel, grabbed a cold beer each, and sat outside, soaking up the ambiance of the Hotel Colorado courtyard.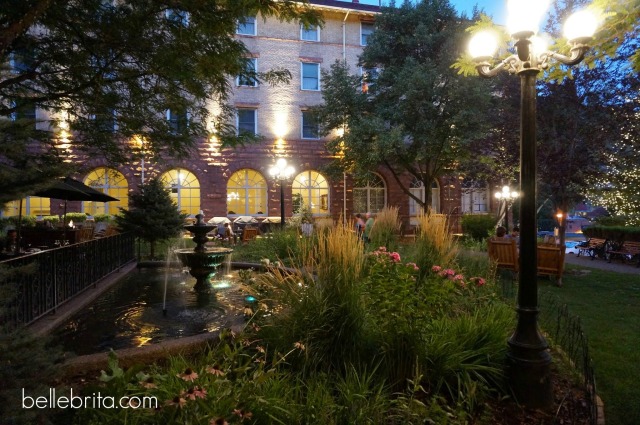 Unfortunately, I don't have pictures other than the tweet below of the interior of the Hotel Colorado. The historic hotel dates back to 1893, and it has played host to both President Taft and President Teddy Roosevelt. Our room was quite charming. The hotel lacks AC, so take note if you visit Glenwood Springs during the warmest months, but we were quite comfortable with the open, screened window and the ceiling fan.
Staying at the historic Colorado Hotel! #BDvaycay pic.twitter.com/DJGXxdgQug

— Brita Long (@belle_brita) September 2, 2014
Tuesday morning was our couple's spa! The Hotel Colorado has its own spa on the premises, La Provence Spa. Dan had made reservations in advance for our couple's spa, and I added on a mini-facial at the last minute. While our time in the private steam room and the services themselves were relaxing, we felt a little cheated on the time. When we pay for a 55-minute massage, and we show up early as expected, then we want a 55-minute massage. While I was mostly satisfied with the amount of time my massage therapist worked on me (massage plus 30-minute facial), Dan did not really get the full service paid for.
And it's an awkward thing to try to dispute because the spa rooms don't have clocks, you don't wear a watch during a massage, and you keep your phone tucked away. So by the time you realize the service is over way too early, you can get dressed, chase down your therapist, get undressed, and resume your massage, or you can just suck it up (and leave a smaller tip).
Other than being short-changed on time, Dan and I felt very relaxed after our massages. Also my skin looked amazing after my facial. Our trip to Glenwood Springs was a wonderfully romantic interlude between all of our other adventures. I was sad to say good-bye to Glenwood Springs, but excited to hit the road for Salt Lake City! I'm taking next Tuesday off from travel updates, but check back on October 21st to read all about Temple Square in Salt Lake City.
How do you and your significant other find time for romance while on vacation? What are your favorite ways to relax after a long drive? Let me know in the comments!