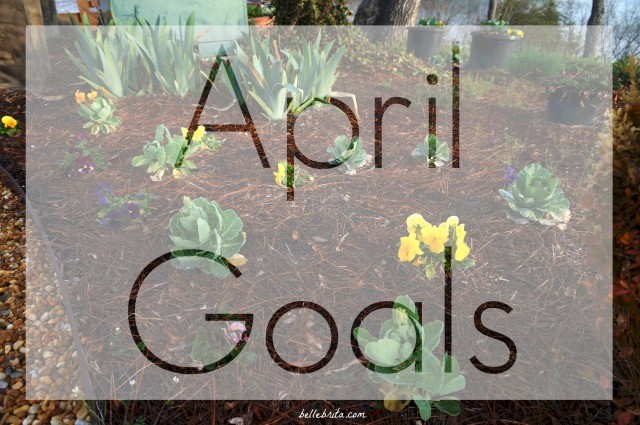 March has flown by! I can't believe I've been living in Georgia for a whole month already!
Before I jump into my March recap + April goals… I killed it this month. And not just with my written goals, but with some unwritten goals. I am seriously so proud of everything I accomplished in March!
March Recap:
For my blog:
I did it! I launched my first newsletter! Check out my sidebar if you want to sign up. April's edition is going out next week.
I have updated some of my old blog post images. It is a long process!
For my health:
Saw a new gastroenterologist! Have lots of tests to take. Waiting until May to schedule a colonoscopy since I won't have new health insurance until then.
Saw an eye doctor! It turns out you shouldn't compare your vision to your husband's eyesight if he had his eyes fixed years ago… My prescription has barely changed, and my eye doctor did not recommend new glasses for em.
I've been in bed by 11pm almost every night! Many nights I was in bed, lights out, between 10pm and 10:30pm. Dan is a wonderful influence on me!
I sometimes forget to take my vitamins, but I'm doing okay.
For my marriage:
I get a little teary-eyed thinking about how much I love Dan. I definitely took a lot of time this month to think about our first year of marriage and our many years to come!
Dan claims I appreciated him. It's been a really busy and stressful month, so I'm not sure how I could have done better.
Our wedding anniversary weekend was perfect! We felt so rejuvenated after a weekend of romance and relaxation.
For our household:
I loved our temporary lodging with our friend Richard, but I'm thrilled to be in our townhouse! I'm so excited we actually found the perfect place to rent less than a month after I moved to Georgia.
April Goals:
For my blog:
Pilot my sponsorship program! Close observers might have noticed the arrival of a few new buttons on my sidebar. These are some of my blogging friends, willing to give me feedback on my first attempt at a sponsorship program in exchange for free ads for April.
Publish two posts to The Huffington Post, at least one of which should be outside the Weddings section.
February was an unusual month for blog views, but March seemed stable. I want to maintain my March stats. Reach goal: gain 10% in page views!
Plan out my editorial calendar through June.
For my health:
Get all of my tests scheduled.
See my gastroenterologist again.
Continue taking my vitamins and prescriptions as recommended.
Go to bed by 10:30pm each night and wake up by 7:15am. I've been doing this for almost two weeks now, and my energy levels are so much better!
For my marriage:
Have patience with Dan. We have an entire house full of boxes, and we are both still a little stressed.
Have at least one Date Night (or Afternoon) a week, where we do something just the two of us, completely unrelated to settling into our house.
For our household:
Unpack everything! I don't expect to organize everything in just a month, but I would love to get all our boxes unpacked by May.
Set up our bedroom and my home office. I do hope these two rooms can be organized and inviting by May.
April will be another busy month, so I'm again not trying to overextend myself. I'm seriously so happy with everything I accomplished in March. Here's hoping April is just as successful!
What are your goals for April? Let me know in the comments!