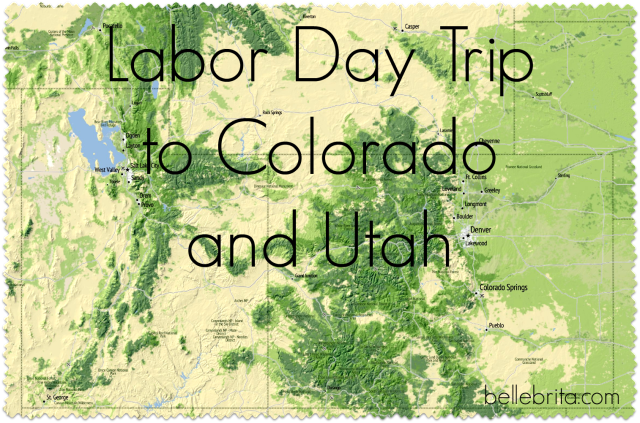 If you follow me on Twitter, then you know that Dan and I were on vacation last week. It's amazing how much we managed to do in just a week! Dan took about a million pictures, many of them specifically for my blog, because he is a wonderful husband. Over the next few weeks, I will go into almost obsessive detail about our Labor Day vacation highlights. Until then, here's a quick recap of everything we did!
Saturday, August 30th // Flight to Denver
Dan and I arrived in Denver ridiculously early in the morning, but our Southwest flight was a steal! After grabbing breakfast with my Aunt Kari and her British friend's visiting son Sam, Dan and I visited my grandmother. She was too infirm to travel to our wedding back in March, so we showed her our wedding pictures. Then we met up with McPhee, one of my best friends from college. After a few great hours hanging out, Dan and I went back to my aunt and uncle's house where we rested until my parents and brother Jeremy arrived. Uncle Steve and Kari prepared us a delicious meal for dinner.
Sunday, August 31st // Denver
Dan, Jeremy, and I ventured out in the morning to a nearby farmers' market. Then we met back up with my parents and all visited Grandma again. The rest of the day was a big Haugen party at Kari and Steve's house! All of Mom's sisters (Kari, Kristen, and Annie) and her brother Jon were there, plus two of Mom's cousins. Add in significant others, kids, and kids' significant others, and we had a full house!
Monday, September 1st // Drove from Denver to Glenwood Springs
Dan and I took the scenic route to Glenwood Springs through Rocky Mountain National Park. If you follow me on Instagram, you've already admired some of the views we enjoyed.
http://instagram.com/p/saYPG-ro_s/?modal=true
Tuesday, September 2nd // Drove from Glenwood Springs to Salt Lake City
Dan and I treated ourselves to a couples' massage, and I added on a mini-facial. Then we took a scenic drive to Salt Lake City.
Wednesday, September 3rd // Salt Lake City
There is so much to do in Salt Lake City, but we spent the entire day in and around Temple Square. I have a new-found appreciation for the Church of Latter-Day Saints.
Thursday, September 4th // Dan's birthday in Salt Lake City
This day was actually the entire point behind our vacation. Last year, Dan bought a Ford Focus ST hatchback, which is the sporty, car enthusiast version of the Ford Focus. A few months later, Ford announced a free day of high performance driving lessons for ST car owners. Dan spent most of the day at the track. I spent the afternoon exploring the main library. That evening, we had the immense privilege of listening to the Mormon Tabernacle Choir rehearse.
Friday, September 5th // Drove from Salt Lake City to Denver
Friday was a very long day, with a very long drive. The only sightseeing we did was a trip to The Tattered Cover Friday night.
http://instagram.com/p/slBz4wro8T/?modal=true
Saturday, September 6th // Flight home
Dan packed up while I got in a last few minutes with my parents, who also went home on Saturday. When Dan and I finally got home to Findlay, we were very glad to have chosen to fly back on Saturday instead of Sunday, giving us time both to relax and to get things back in order.
All in all, we had a wonderful Labor Day vacation. This was our third trip to Denver during the course of our relationship. We're very fortunate to live near two airports with direct flights on Southwest to Denver, which makes visiting the Haugen part of my family slightly easier and more affordable. Being able to visit so often also allows us the luxury of taking in different tourist sites on each visit, instead of trying to cram in everything at once.
Stay tuned over the next several weeks (or months) as I share our Labor Day vacation highlights in much greater detail!
Did you do anything special over Labor Day? If you've been to Colorado or Utah, what was your favorite part?