Another week of quarantine, another week of stressful living, another blog post to inspire you to practice self-care on a regular basis. But what if you're swamped for time? Between meeting work deadlines and cleaning up after the kids, who has time for self-care? You do, by trying one of these quick self-care activities.
All of these quick self-care activities can be done in just 10 minutes or less. And these self-care ideas are different than any of the ones I shared previously, although you can modify some of those suggestions into quick self-care activities. Here are my most recent self-care blog posts.
For example, consider these self-care ideas on a budget. Instead of reading for 30 minutes, you could read for just 10 minutes. Instead of doing a full manicure, you could just trim and shape your nails. Be creative! The important thing is to take time to take care of yourself.
Note: This post contains affiliate links. If you click on one and make a purchase, I might earn a commission at no cost to you. See my full Disclosure policy for details.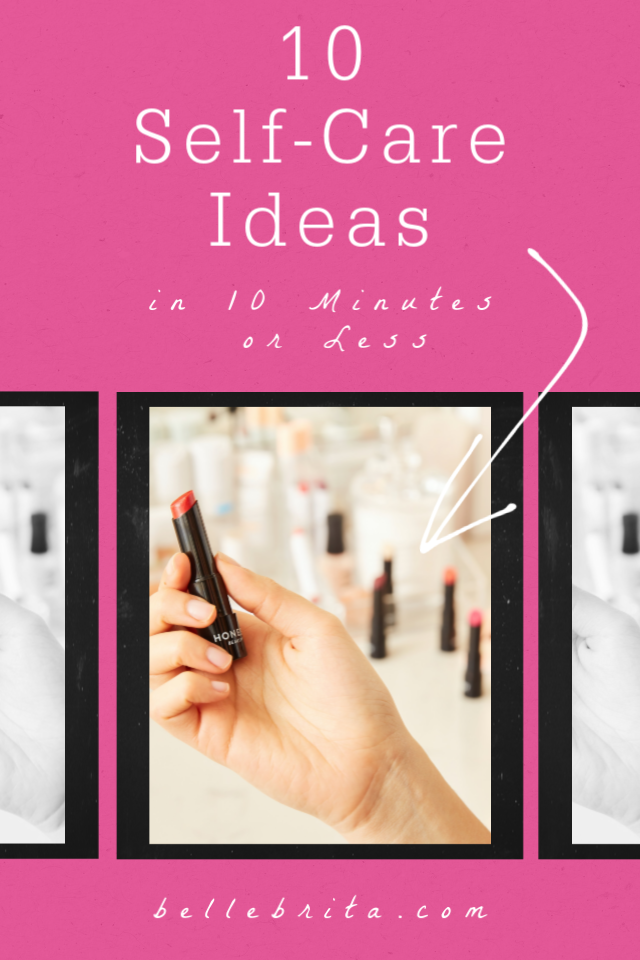 Quick Self-Care Activities for Busy People
Self-care doesn't have to be elaborate or time-consuming. When you think about it, self-care is about making small choices every single day to take care of your body, your mind, and your spirit. It's still important to carve out a few minutes for yourself every day, which is why I'm sharing these quick self-care activities. If you can't find time for a long nap or luxurious bubble bath, that's okay! You can still practice self-care.
Practice Mindfulness
I actually just started this last week using the Lumosity app. I have a paid membership, but there are plenty of free options available. Guided mindfulness activities, or guided meditation, can help you relax. This only takes minutes.
Right now, Headspace is offering multiple free exercises to help everyone with their mental health.
Getting Started with Mindfulness is a great article if you want to learn more. You can also try any of these 9 mindfulness exercises, although some do take longer than 10 minutes.
Stretch
Just because you don't have time for a full yoga routine doesn't mean you can't stretch your body. Sometimes I hold a single yoga pose while reheating my tea. Or I'll do a few stretches between chores. Unload dishwasher. Do neck rolls. Load dishwasher. Do shoulder rolls. Wipe down counters. Stretch arms all the way up.
Taking a few minutes to stretch keeps your body limber. It can also relieve stress.
Take a Dance Break
Blast your favorite song and dance! When I was in high school, I worked long hours as the yearbook editor. My adviser was great about making me take breaks. She would play the song "Smooth" by Santana and Rob Thomas (am I totally dating myself here), and we would dance and sing along.
Even now, I sometimes do this at home to keep my energy up. It's so easy to feel tired sitting at a desk all day. Get up and dance!
Try Amazon Prime Music FREE for 30 Days!
Color
Dust off those adult coloring books. Find your colored pencils or thin markers. Sit down for a few minutes, and express yourself creatively.
If necessary, borrow a page from your kid's coloring books! Use crayons! Spend just a few minutes coloring. You'll feel relaxed when you're done. And while different studies have shown varying results, overall, research does indicate that coloring reduces stress!
Put on Lipstick
Lipstick and lip gloss are my favorite makeup products! It's such a little way to feel good about yourself and your appearance. I don't wear makeup often. I wear full makeup even less often. A little bit of lip color goes a long way, even if you're the only one to enjoy it.
Shop Cruelty-Free Lipstick from TrèStique
Give Yourself a Massage
You don't need a spa appointment or a handy partner to enjoy a relaxing massage. Give yourself a quick massage to relieve tension. This video is a great demo of a self-massage to relieve neck pain.
Reflect on an Inspirational Quote
Sometimes all you need is a little inspiration from someone else. Words of wisdom can inspire you just to get through the day… or even change your entire life!
I have multiple books that offer inspirational quotes, but you can also find thought-provoking words online. Here are multiple lists of inspirational quotes so you can find the right one for your situation.
When I'm reflecting on an inspirational quote or a piece of scripture, I do a few things.
Read it silently at least once. Reread it silently as many times as needed.
Read it out loud once.
Write it down.
Read it silently again.
Read it out loud again.
Journal about it.
Light a Candle
I love good candles. Their scent makes my whole house smell good. Plus there's something soothing about the sight of a small flickering flame.
Shop My Favorite Candles on Grove Collaborative
Snuggle Your Pet
If you have a pet, take 5-10 minutes to give them a good snuggle. Scratch behind their ears. Stroke their soft fur. Your pet will (probably) appreciate the extra attention, and you'll feel better too.
Write an Accomplishments List at the End of the Day
If you're anything like me, you have a never-ending to-do list. But what about a "got done" list? Or a list of your recent accomplishments?
At the end of each day, spend a few minutes writing down what you did. Take extra note if you did something difficult or if you finished something big. Celebrate your wins!
Doing this helps you focus on the progress you're making, even if you still have more work to do.
Final Thoughts on Quick Self-Care Activities
If you don't have much time for self-care, that's not a reason to avoid it entirely. Don't overthink self-care. Shift your mindset to doing whatever helps you relax, even if it only takes a few minutes. Clear your mind. Connect with other people. Tap into your creativity.
Ultimately, self-care is about prioritizing yourself and taking care of your physical, mental, and emotional health, even in just a few minutes each day. You do not need hours of free time to practice self-care. I hope these quick self-care activities inspire you!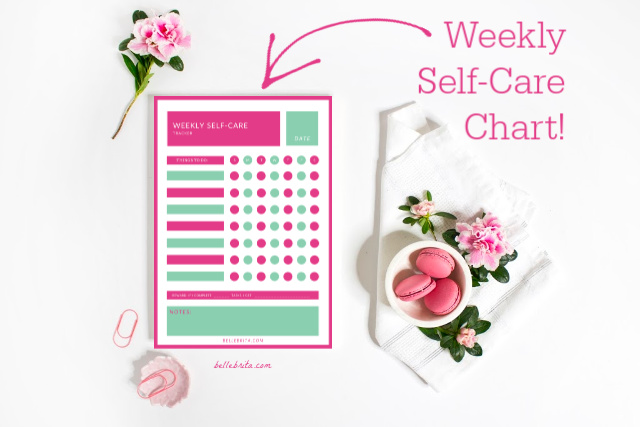 If you're looking to keep track of your self-care efforts, download this FREE self-care weekly tracker!
What are your favorite forms of self-care?