Seeing as it's halfway through December already, and I'm just now getting my monthly goals written… Well. It's been an interesting two weeks.
But let's talk about November first.
November Recap
I started the month with a solo trip to Orlando! Because why not. My friend Kris and I spent two days together at the Universal parks, and then I spent another two days enjoying the parks by myself.
Of course, I couldn't be satisfied with just a single Harry Potter weekend. Dan and I also spent a weekend at CONjuration, a magical convention in Atlanta! I was able to get press passes, which is always nice.
Unfortunately I caught a cold, probably from all the people at the convention. This really delayed my plans for the month. Dan and I were supposed to decorate for Christmas the weekend before Thanksgiving, but I was still recovering from my cold. I also fell behind in my writing and video-editing. I didn't get all of my goals done because of my cold.
We spent Thanksgiving in South Carolina with my dad and his wife, Vickie. The day itself we actually spent in Greenville with Vickie's family, but we spent the rest of the weekend  in Greenwood. It was a relaxing trip with good food and quality time.
November Blog Posts:
Once again, I wrote very little here, but I am really proud of my extensive piece about bias in healthcare. Plus I updated 2 of my gift guides for this year. I'm still hoping to update my other gift guides. I also wrote 7 articles on Wizards Unite Hub. I actually get paid (a little) for that writing, plus the audience is large enough to make a real difference in my affiliate marketing.
For my health:
Aside from one Monday when Dan and I finished the bottle of wine we opened Sunday, I otherwise limited my alcohol to weekends and Thanksgiving.
I scheduled my MRE!
For my marriage:
Dan and I didn't really have an intentional date night. However, we spent 3 days together at CONjuration, and over Thanksgiving, we went to see Frozen II together. The intention of this goal is to spend quality time together, so I'm counting this as a win.
For my faith:
I didn't read a single chapter of Inspired by Rachel Held Evans.
For our household:
I didn't deep-clean the kitchen.
I somewhat tidied our bedroom, but not completely, which was my goal.
For my career:
While I did contact all of my officers with my volunteer work, I haven't progressed on the "good ideas" document to share.
November was a really good month for my YouTube channel! I published 6 videos, including an overdue video from the Wizards Unite Fan Festival.
I kept all of my deadlines for client work.
I've been thinking about the Love Blog Challenge in my head, but I haven't written anything down yet.
December Goals
Of course, it's already December 12th. I've already been sick twice. A painful sore throat for several days, and then a Crohn's flare with a great deal of pain and vomiting. Once again, I was thwarted in my holiday decorating plans. Dan and I finally decorated the tree last night, and we mostly tidied the living room. I still need to clean the living room properly, and that will have to suffice for making our home merry and bright.
Dan and I are spending this weekend in Asheville, primarily at Biltmore. While we missed our chance to bake Christmas cookies together, I'm glad we'll still have our romantic weekend getaway! We bought season passes earlier this year, and we want to get our money's worth. We're not splurging on the Candlelight Christmas tour, but we'll still tour the house during the day to see all the holiday decor.
Next weekend we fly to Ohio to spend a week with friends and family for Christmas!
With all of this in mind, my goals for the next two weeks are very simple.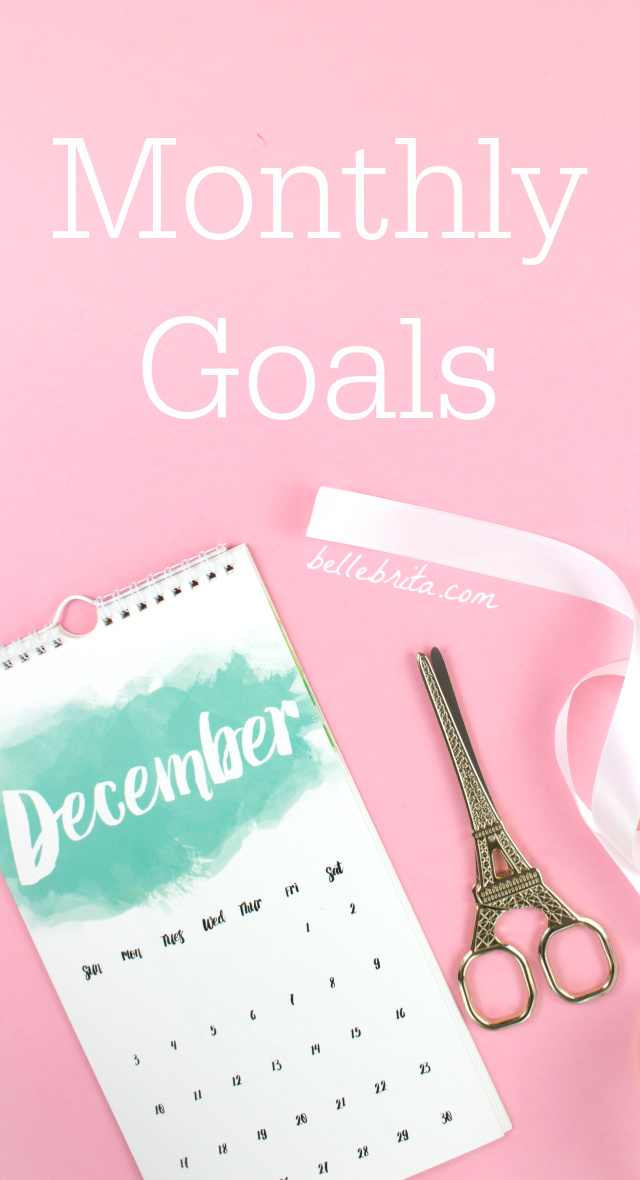 For my health:
I already had my MRE! Now I need to attend my follow-up appointment with my gastroenterologist and get more lab work done.
I also already saw my dermatologist.
Schedule appointment with psychiatrist.
Find a new therapist.
For my marriage:
Enjoy Biltmore with Dan!
Be patient with Dan and my in-laws while in Ohio.
For my faith:
Blog once on Muddling Through Together.
For our household:
Deep-clean the kitchen.
Tidy our bedroom.
Deep-clean our bathroom.
For my career:
I finished all of my chapter reports only a day late, which is one of my biggest responsibilities as a volunteer!
Create 2 YouTube videos.
Secret project that I've already started!!!
Keep all deadlines for client work.
Start planning my annual Love Blog Challenge!
Most of these goals I have to accomplish in the next week, so we'll see how they go.
What was your November like? What are your plans for December?