When I was still a university student, one of my sorority sisters started a Facebook group: Half-Assed Hippies.
This was back when Facebook was still relatively new, back when Facebook groups were limited to students at your own school.
Furman certainly had an interesting mix of students. A private liberal arts school in South Carolina, Furman attracted plenty of wealthy, preppy kids… But also plenty of passionate activists who participated in marches and volunteered overseas.
Then there were kids like me. And my sorority sister. Wearing our collared shirts with our flowing tiered skirts, participating in both Greek life and feminist student organizations.
We were half-assed hippies, students who didn't fit precisely into one clique or niche.
Today I might call that well-rounded. Back then, it just meant I had a lot of friends who didn't know each other.
I graduated from Furman almost a decade ago. My 10-year reunion will be this fall. This passage of time has me reflecting a lot on my college years. How I've changed. How I haven't.
I wouldn't call myself a half-assed hippie today.
But a depressed flower child on a budget?
Yeah, that sounds like me.
Note: This post contains affiliate links for sustainable solutions. If you make a purchase, I might earn a commission at no cost to you. Thank you for supporting Belle Brita.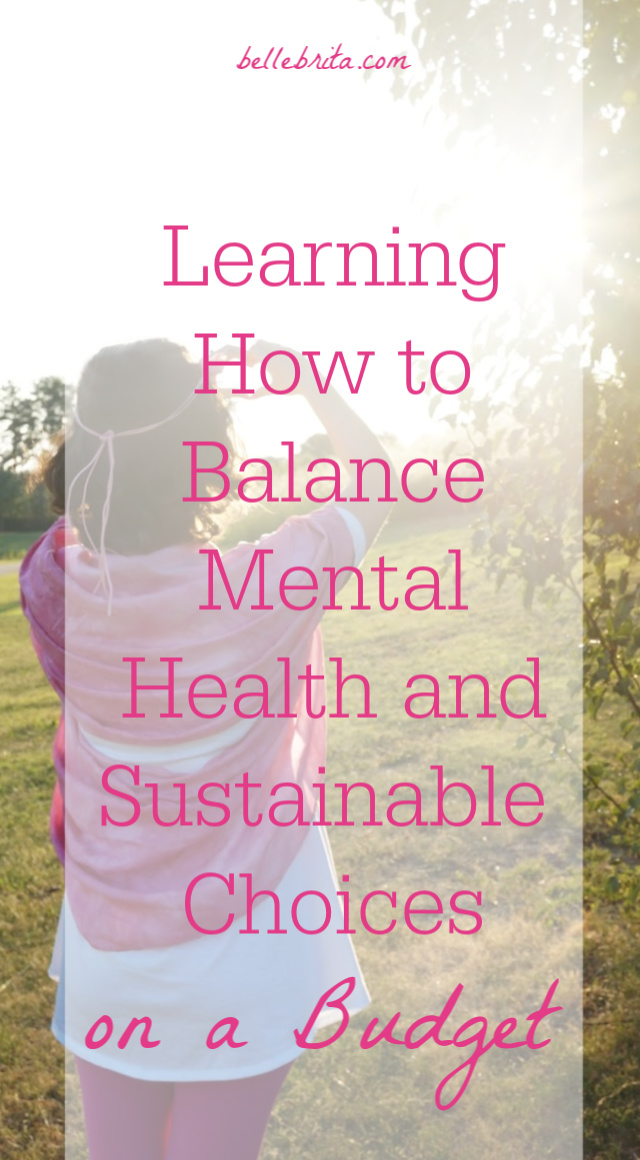 If vinegar and peppermint oil and borax and cinnamon all kept bugs out of my house, I would be thrilled to use all-natural solutions in my home.
But they don't, so I happily allow an exterminator to spray poison around my house quarterly. Because I freaking hate bugs, especially the you-know-whats who will survive a nuclear war.
I've also tried every solution on the Internet to get rid of fire ants… Nothing works except for my husband pre-treating the yard each winter.
I love using natural cleaning products in my home. I've slowly replaced most of my conventional cleaners with alternatives from Method, Mrs. Meyer, and Seventh Generation.
But when my husband and I portion out raw meat to freeze, we clean up using Clorox wipes. Until you show me a bunch of peer-reviewed studies on the efficacy of your natural cleaning products, I'm sticking with my chemicals to clean up after raw meat. I have a chronic illness that affects my digestive track, and I'm not risking food-borne illness.
I really want to reduce one-use plastics in my life. My husband and I try to use reusable bags at the grocery store, and we even have some new produce bags. I decline straws in restaurants, and sometimes I even remember to bring my glass straws with me.
But WOW one-use plastic is everywhere. My Kroger usually doesn't sell loose Yukon Gold potatoes, so I buy them in a 3-5 lb bag. Some mushrooms are available loose, but the ones I like come packaged in plastic. Even when I order sustainable clothing made from organic cotton, each individual clothing item comes wrapped in plastic.
And honestly?
I sometimes choose to buy products wrapped in one-use plastics, even when more sustainable options exist.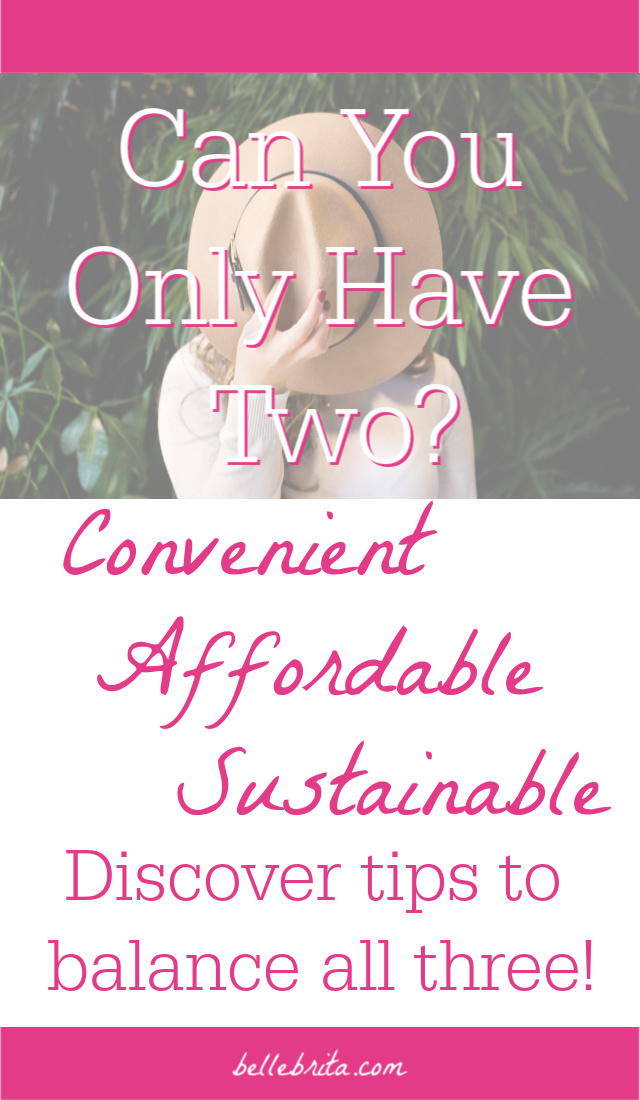 I haven't written extensively about this, but last year, I was diagnosed with depression and anxiety. That means I struggle with tasks that should be easy, like making a pot full of rice in the Instant Pot to use for a week or carving up a cantaloupe.
So I buy microwavable rice in meal-sized portions. I don't have to plan in advance. It's available when I need it.
I also buy pre-cut cantaloupe. Which comes in a plastic container. I do rinse that and put in the recycling bin, but I honestly don't know if the local recycling center can actually process it.
Since I try to avoid most insoluble fiber, I can't eat the majority of "easy" fruits and vegetables, like berries and baby carrots. Bananas are the only fruit I can eat without doing any prep work. I love bananas, and I try to eat them regularly too, but I'm sure y'all know my struggle of perfectly timing ripe bananas!
I haven't even gotten started on budgetary restrictions.
Sustainable clothing is expensive–and there's no guarantee of improved durability. Oh, and if you're the kind of person who likes to try on clothes in actual stores, good luck finding sustainable clothing locally. And good luck finding anything in your size or style, especially if you're petite or plus-sized.
Also… is sustainable clothing ethical? Are employees paid fair wages? Does the company have strong anti-discrimination and anti-harassment policies? Are working conditions safe?
Shopping ethically is hard. Buying sustainable products takes time and money.
Here's the blunt reality of life:
You can't always get what you want.
If I had a magic wand, I would wave it around, and suddenly all people would have access to:
inexpensive products
designed to improve quality of life
made from sustainable materials
with profits providing fair wages
Alas, I don't have a magic wand.
That means I often have to make hard choices about how I spend both my time and my money. I want to think about the environment and about labor conditions, but I also have to consider my own mental and physical health.
Do all these complications mean we should just give up and do whatever?
No, of course not.
I just want to be honest about the reality of attempting a more sustainable lifestyle. It's not easy, and your choices will never be perfect. Let go of any lingering guilt over using straws or shopping at Old Navy.
We all have to find balance in our lives. You have to figure out for yourself how to balance your budget and your health with sustainability.
Easy Ways to be a Half-Assed Hippie
So you want to make sustainable choices, but you have a tight budget, and not a lot of free time. I am here to help with a few easy changes you can make for a more sustainable lifestyle.
Buy less. This is literally the easiest thing to do. Also it's great for your wallet! Challenge yourself to have a "low-buy" or "no-buy" month. No impulse buys. Nothing from Amazon (except for Kindle books and other digital purchases). Create your own rules of what you can't buy for a month, and see what a difference it makes!
Buy secondhand. I realize secondhand opportunities vary wildly by location. Secondhand options can also still be pricey, like if you're shopping antique wood furniture. Quality secondhand products can also be time-consuming to find. Still, if you have the option, buy secondhand instead of new!
Take care of what you own. Use coasters. Clean your furniture consistently and correctly. Polish your shoes. Line-dry delicate clothing.
Repair, don't replace. Get your favorite shoes resoled. Sew a button back on your shorts. Order a new battery for your smart phone. Dan and I still use a hand-me-down couch and matching armchair. The springs are completely shot. At some point we might repair them properly, but for now, the cushions rest on foam on top of a wooden sheet. This is both cheaper and more sustainable than buying a new couch.
Looking for more ideas? Check out my post 6 Simple Sustainable Changes to Try in 2020.
If you're looking for ways to live a healthy lifestyle on a budget, check out The Simple Guide to Healthy Living on a Budget in 2020.
I want to hear from you! How do you find balance in your lifestyle? What are easy sustainable choices you make in your own life? Leave a comment!