Like many of my fellow white Christian Americans, I've been horrified the last few days watching the riots in Charlottesville, Virginia.
There's something quite chilling about modern men carrying the Nazi flag.
But that doesn't compare to the act of domestic terrorism. How else would you describe someone intentionally driving a car into a crowd of people?
Understandably, people of all races, religions, and political affiliations are speaking out against the white supremacists and their message of hate.
But I've also noticed a disturbing trend among my fellow white Christian Americans.
Yes, we should condemn the beliefs of white supremacy.
Yes, we should publicly support racial and religious minorities.
But when we distance ourselves from white supremacists, we need to do so without erasing history.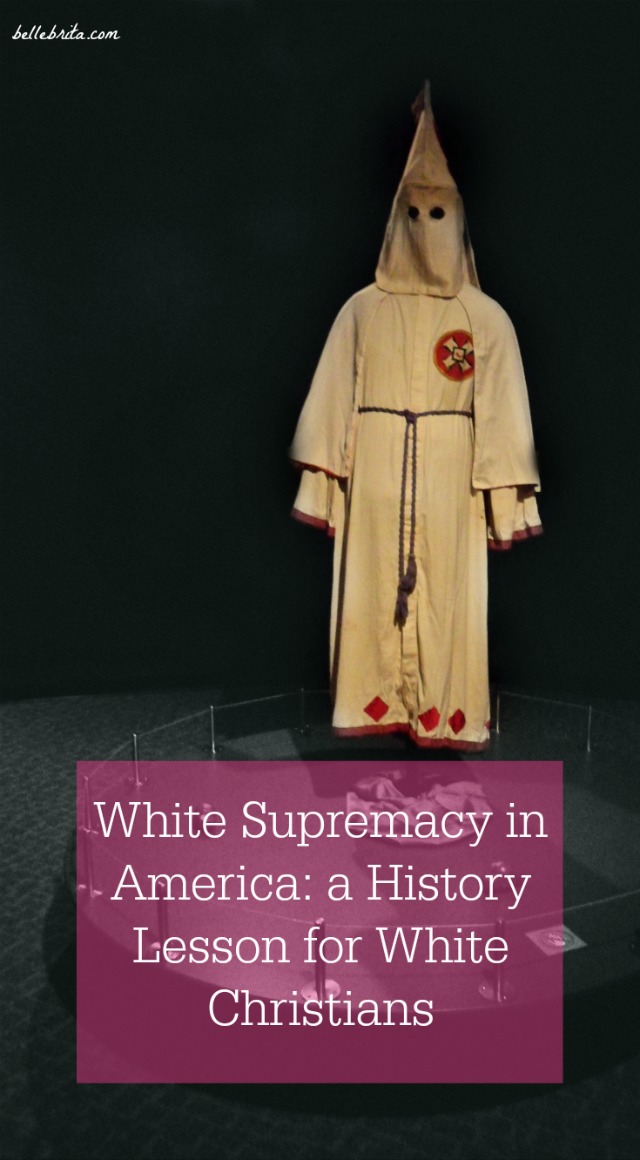 You can't be both a Nazi and a proud American at the same time
I've lost count of how many times I've seen this phrase, or a variation of it, on my Facebook feed in the last few days. Several people mention relatives who fought in World War II against the Nazis.
Except American Nazis are real people.
German American Bund
German immigrants, including members of the Nazi Party, founded the Free Society of Teutonia in 1924. The group dissolved in March 1933 only to reform in May 1933 by merging with another group to start the Friends of New Germany. After press criticisms of being unpatriotic, the group reformed as the German American Bund in 1936 to emphasize its American patriotism.
The German American Bund often held rallies that both praised George Washington while bashing Jewish people. Most notably, the German American Bund held a rally on George Washington's birthday in 1939 at Madison Square Garden. About 20,000 people attended to hear Fritz Kuhn, the group's leader, tear apart President Franklin D. Roosevelt with a series of anti-Semitic epithets.
This is a very brief summary of multiple articles I'll link below.
Let's look at this.
Literal members of the German Nazi Party
Formed a group, and renamed their group to emphasize their American patriotism
And celebrated George Washington as the "first Fascist"
These were quite literally Nazis who were also proud Americans.
But this American Nazi history doesn't end with World War II.
American Nazi Party
In 1959, George Lincoln Rockwell–a US veteran who fought in World War II–founded the American Nazi Party. After Rockwell's assassination in 1967, the American Nazi Party splintered into different groups.
Today, there is still a group called the American Nazi Party, although I haven't found a clear link between the historical group and the modern group.
Regardless of whether or not modern white supremacists call themselves Nazis, they clearly echo Rockwell. A book review of American Fuehrer: George Lincoln Rockwell and the American Nazi Party summarizes Rockwell's racist legacy in three ways.
First, Rockwell established the concept of "White Power," expanding Hitler's vision of the master race to include Slavs, Greeks, Spaniards and others without Aryan roots — a brilliant and successful gambit in a nation largely peopled by immigrants from all over Europe.

Second, he became "the first postwar American neo-Nazi to appreciate the strategic necessity of Holocaust denial," and, in fact, succeeded in popularizing the idea that Jews had pulled off a "monstrous and profitable fraud" long before Willis Carto, commonly seen as the father of American denial.

Third, based on a cynical understanding of Americans' persistent religiosity, Rockwell married the generally atheistic ideology of orthodox Nazism to Christian Identity, a grossly heretical reading of the Bible that describes Jews as biologically satanic and people of color as soulless.
American Nazi Sources
Several of these articles contain descriptions of racism and violence that should be difficult to read. Others also include distressing photos.
German American Bund – United States Holocaust Memorial Museum
American Nazis in the 1930s—The German American Bund – The Atlantic
Nazis Hail George Washington as First Fascist – Life Magazine
Disturbing Pictures From The History Of America's Nazis – Buzzfeed
New-Nazi Groups of the United States – Wikipedia
George Lincoln Rockwell – Wikipedia
American Nazi Party Website (visit at your own risk)
American Nazi Party – FBI Records
No true Christian is a white supremacist
This is less of a direct quote and more of a general sentiment expressed by white Christians all over my Facebook feed.
I hope people know Christians aren't like that
Christians worship the God of love, not hate
Real Christians aren't racist
Just because someone says they're a Christian doesn't mean they are
Again, yes, you should condemn white supremacy. Again, we need to do so without erasing history. Ever since Christopher Columbus accidentally ran into America, white Christian Americans have committed atrocious acts against people of color (POC). That didn't stop with the American Civil War. Nor did the Civil Rights Movement suddenly change the hearts of all white supremacists.
Christians owned slaves
The following Founding Fathers all owned slaves during their lifetime, although some eventually freed their slaves.
Charles Carroll
Samuel Chase
Benjamin Franklin
Button Gwinnett
John Hancock
Patrick Henry
John Jay
Thomas Jefferson
Richard Henry Lee
James Madison
Charles Cotesworth Pinckney
Benjamin Rush
Edward Rutledge
George Washington
While not all of these men were orthodox Christians (many were either non-Christian Deists or Christian Deists), most publicly professed a Christian faith. Certainly anyone who argues America was founded as a "Christian nation" thinks these men were all Christians!
"But they were a product of their time!"
Eh, other Founding Fathers didn't own slaves. Some of the slave owners listed above freed their slaves and joined the abolitionist movement.
Most didn't.
Founding Fathers weren't the only notable Christian slave owners.
Leading up to the American Civil War, Christian abolitionists and slave owners alike used the Bible to support their positions on slavery.
Proponents of slavery pointed to passages in both the Old and the New Testament that tolerate slavery. They argued that slavery itself is not a sin; only the mistreatment of slaves is a sin.
Abolitionists looked at the Bible as a whole, pointing to verses like Matthew 19: 19 and Galatians 3: 28. They argued that the Bible regulated slavery without tolerating it.
After the South lost, many Christian southerners assumed the loss was God's punishment for their sin. However, they still didn't see slavery as their sin–God punished the South for the mistreatment of slaves.
Christians in the Ku Klux Klan
Historically, the KKK has three distinct movements.
1865-1871
1915-1944
1946-present
While the first movement was primarily limited to the South, the second movement quickly spread across the nation, with most members living in urban cities in the Midwest and West. The current movement is a splintered group of individual chapters across the country, with no formal structure or organization.
I'm struggling to summarize just how widespread and horrific the acts of the KKK were. They terrorized black people in every way imaginable.
The KKK burned houses, attacked and killed black people, flogged black and white people for "violating" their "moral" views, and bombed houses, churches, and school buses.
Today most major Christian denominations denounce the KKK, but that doesn't stop the KKK itself from identifying as Protestant. At the height of its popularity, during the second movement, the KKK counted many Protestant ministers among its members.
The second Klan required its members to be not only white and male but also Christian. Religion became the centerpiece of the second Klan's platform, and Klansmen showed their allegiance to their faith through church attendance, speeches and writings and the recruitment of ministers as members. Visiting churches to make monetary donations was another method used by Klan members to show their commitment.
Christian White Supremacy Sources
I consulted many more sources than the ones listed below.
The Founding Fathers, Deism, and Christianity -Encyclopedia Britannica 
The Founding Fathers and Slavery – Encyclopedia Britannica
Religious Affiliation of the Founding Fathers of the United States of America – Adherents
How and Why Did Some Christians Defend Slavery? – The Gospel Coalition
Why Did So Many Christians Support Slavery? – Christianity Today
The South, the War and 'Christian Slavery' – The New York Times
The Ku Klux Klan in the City, 1915-1930
Nice white Christian Americans can still uphold white supremacy
This blog post is getting long, and I'm getting depressed the more I read about white supremacy. So I'm just going to quote a few sources rather than attempt to summarize them all.
The vile hate we saw this weekend is enabled by a far quieter refusal to fight against white supremacy and an accompanying willingness to reap its benefits. You can participate in white supremacy without carrying a tiki torch for racism…

For white people who don't self-identify as disciples of Richard Spencer, David Duke, and/or the ancient demon Beelzebub, there is extreme anxiety around the accusation of racism. We see this fear of blame in Trump's statement. "Not Donald Trump, not Barack Obama" seems to say, 'Hey, there's been a tense racial climate in this country forever. It's not anyone's fault!' Except the opposite is true. American white supremacy has been a problem forever, and it is all of our fault, fellow white people…

To all of the "nice white people," I say this: Stop furrowing your brow over "the partisan divide," and loudly declare your position in this fight against hatred. There is no such thing as bias when it comes to white supremacists. To hell with fairness and respectability. Burn politeness to the ground and get vocal. Talk to your friends and family members. Be willing to make sacrifices and insist on taking a stand for what is right. The president is talking about "many sides," and one of them is white supremacy, so you better make a clear f*cking choice about which side you're on.
In counseling many white Americans who are against racism, one thing stands out: they are afraid to confront their racist family members and friends. They are against racism, but they also love their family and friends. I am often asked, "April, I don't know what to do. How do I confront them without upsetting them?"

Racism is complex in scope because it is both a mental illness and a value. In other words, it is a valued, sheltered, and protected mental illness. One might even say it has been incubated and allowed to fester throughout the course of American history…

Like alcoholism, an alcoholic cannot thrive without their enablers. It is the same white Americans who enable their relatives and friends who are racist. It is important to identify and recognize that racism is a mental illness and recommend that individual to a psychotherapist as needed.
The culpability of white women
White women sometimes act like we get a pass from racism because we experience sexism. Nope. White men have historically used benevolent sexism of white women as justification for violence against black people. When white women don't call out this benevolent sexism–or worse, embrace it–we become culpable in upholding white supremacy.
When white women present their own desirability and sexuality as weapons against white supremacists, they gloss over their own role in racism and demand too little of themselves in fighting it. What's more, control of white women's sexuality has been important to white supremacist movements since their beginnings. White women declaring they're denying white men sex reinforces the racist idea that sex with white women — and only white women — is some kind of prized commodity white men should have access to in the first place…

White women have always allied with white men, sexually and otherwise. They have willingly invested in the power and stature of white supremacist men in our society, including, for example, Donald Trump.

To assume that the hundreds of white supremacist men who gathered in Charlottesville over the weekend are all single, lonely, and undersexed is to equate racism with unattractiveness. At best, that's reductive. If we are intent on dismantling hundreds of years of white supremacy, it's counterproductive.
The framing of white nationalism, and fascism, as expressed by men, as being reactionary orientations—or inevitable backlash—against virginity or sexual frustrations is a destructive yet often heard maxim…

After torch-wielding white nationalists marched on the University of Virginia on Friday, chanting Nazi slogans such as "blood and soil," and later surrounding an outnumbered counter-protest, arguably well-intentioned outsiders watching events unfold began justifiably mocking and satirizing the overwhelmingly male, and all-white march. The most common insults center around virginity, and sex, the latter of which is prescribed as both a threat to and a remedy for their unrestrained white supremacist convictions. But sex will never serve as treatment for racism, and even the most well intentioned jokes reaffirm unsettling patriarchal attitudes which argue that sex, specifically with women, is not only a rite of passage, but has the power to change deep-seated, bigoted views…

Not only are white women having sex with white supremacists, they are actively joining their movements and organising with them…

The weaponization of the construct of virginity, and the wider concept of the attainment of sex as a liberatory, man-making endeavor, has long served as a means to embolden violent masculinity, and foment greater patriarchal control…

Positioning sex as an unmitigated good, and virginity as a direct insult to manhood, is a prevalent attitude that creates a social stratum of sexual power which fosters and even legitimizes violence…
What can white people do?
Stop erasing history, for starters. Let's not forget that:
Educate yourself. Read the following:
Listen to POC. If you had been listening to them, then you wouldn't have been shocked by what happened in Charlottesville.
Talk to other white people. It's our responsibility as white people to dismantle white supremacy and to stop racism.
---
That's about all I've got. I'm tired. I spent the better part of two days working on this. But if reading about racial violence exhausts me so, how much worse must it be to experience racial violence?
My fellow white Christian Americans, we need to do better in condemning the beliefs of white supremacy.