I received a three-month subscription in exchange for a HeyWorkout review. All opinions are my own. 
Edit: Well, this is awkward. About half an hour ago, a contact from HeyWorkout emailed me to explain that they have shut down Hey Workout for the time being due to funding issues. The recorded classes are still available, but they have canceled all live classes. They have also refunded all subscriptions. So… the first part of this blog post is about my own fitness progress. I guess you can skip the HeyWorkout review.
Every month I set goals in several categories, including Health. For September, I set the goal to exercise just twice a week.
As I stated in my Monthly Goals post the other day, I exercised a lot in September. I just didn't consistently do yoga with HeyWorkout. But any progress is still progress, right? I walked so much last month, including a 4-mile hike in Hocking Hills.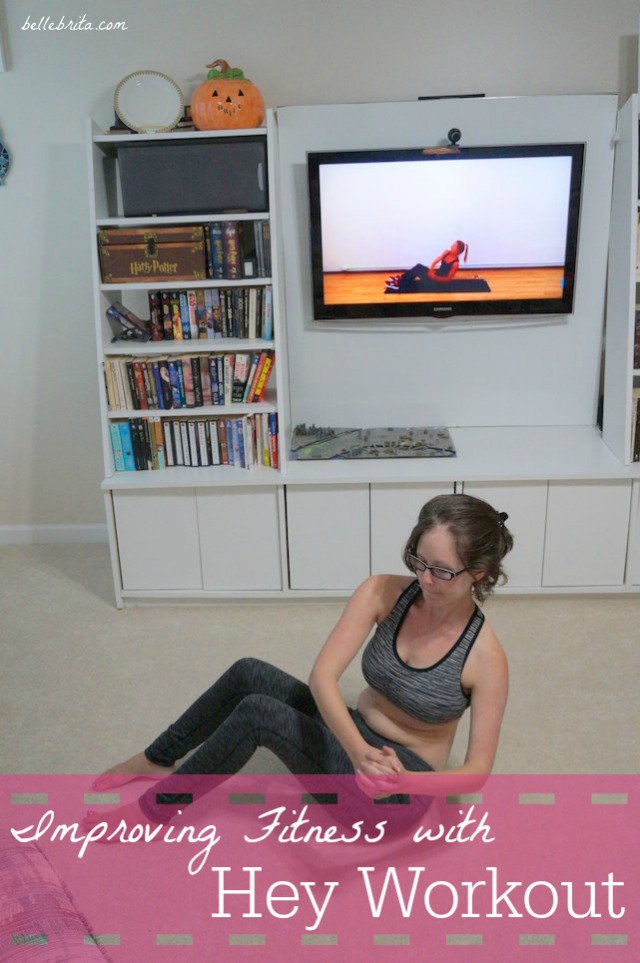 I started off September strong. Just look at my tweets!
Just did 30 minutes of "Easy Yoga" with @Hey_Workout. I feel amazing. Why was I not doing this all of August?!

— Brita Long (@belle_brita) September 1, 2016
Just did half an hour of "Easy Vinyasa Flow" with @Hey_Workout. Two days in a row of exercise. A good start to September.

— Brita Long (@belle_brita) September 2, 2016
6 days into September, and I've already worked out 3x. That's one way to kill my goals! Read my #monthlygoals here! https://t.co/vUjo2l9Ujr

— Brita Long (@belle_brita) September 6, 2016
But then I got sick, and then I was in Ohio for a week and a half.
I did finish out the month with more walking and a valiant attempt at Express Abs & Core. In a 15-minute routine with 3 circuits of exercises, I completed the first and third circuit, pausing to drink water and stretch during the second circuit. My last attempt at a different Express Abs & Core routine lasted all of 4 minutes, so I'm calling this progress.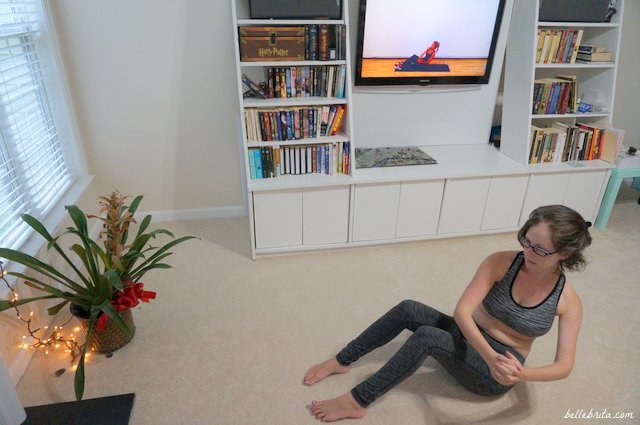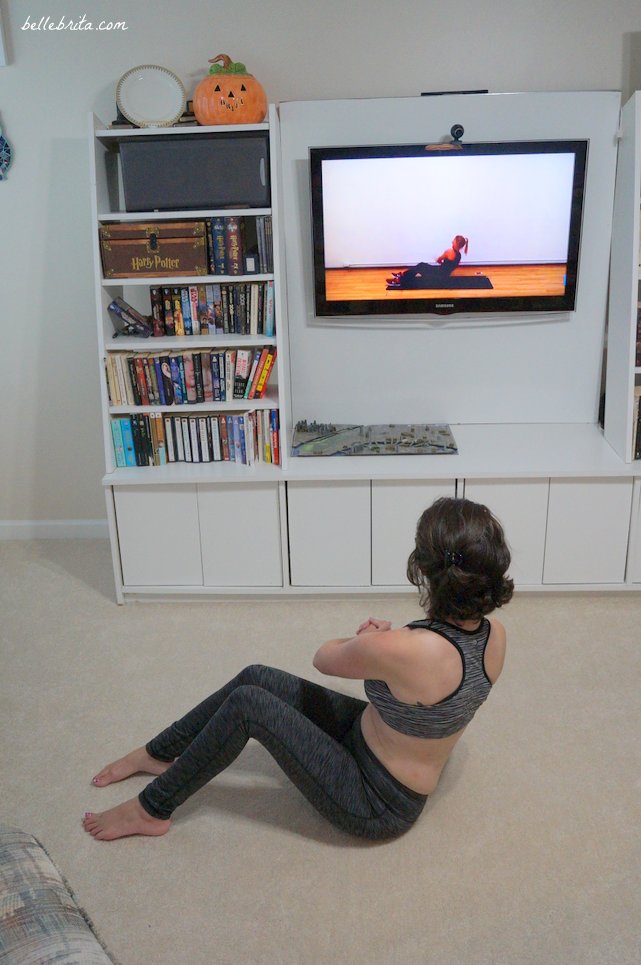 What is HeyWorkout?
HeyWorkout is the world's first interactive webcam yoga and fitness studio. HeyWorkout offers both live and recorded classes. Most classes are either 15 minutes or 30 minutes long. I usually opt for 30-minute yoga sessions, but occasionally I attempt a 15-minute abs class. One of my October goals is to do at least one abs workout AND one yoga workout every week!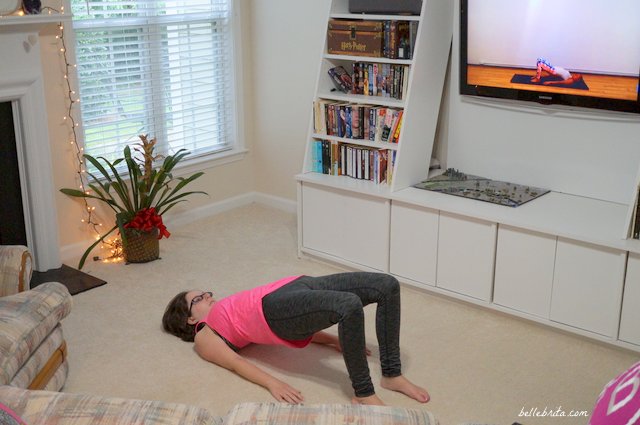 What do I need for HeyWorkout classes?
Attending HeyWorkout classes is easy. You need a computer or laptop with the Chrome browser and an Internet connection. You can also attend live classes or watch recorded classes with Android devices using Chrome. Only recorded classes can be viewed on iPhones and iPads.
The fitness instructor uses a yoga mat, but I just exercise on a beach towel or directly on my carpeted floor. Some routines can be enhanced with weights, but the exercises work without weights too.
What classes does HeyWorkout offer?
Recorded classes are divided into three categories: General, Prenatal & Postnatal Yoga, and Postnatal Fitness. As a non-pregnant person, I just take the regular classes.
Here are just a few of the classes offered. Unless otherwise noted, each class lasts about 30 minutes.
General HeyWorkout Routines:
Full Body Workout
Vinyasa Flow Yoga
Legs, Bums, & Tums
Pure Abs & Core
Stretch Yoga
Power Yoga for Beginners
Full Body Stretch
Glutes & Thighs Workout
Lower Body Stretch
Express Abs & Core (15 minutes)
Back & Arms Tone (15 minutes)
Power Toning
Lower Body Sculpting
High Intensity Training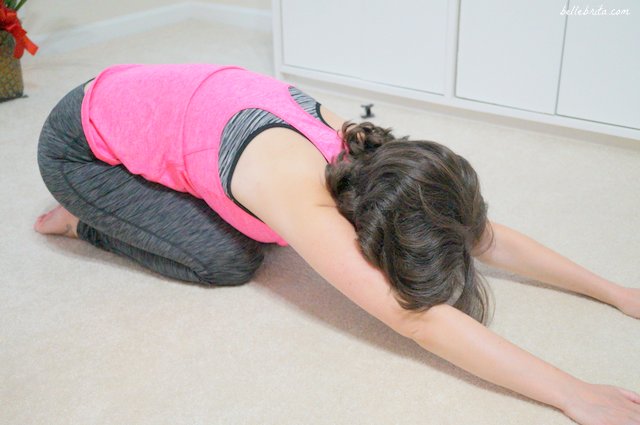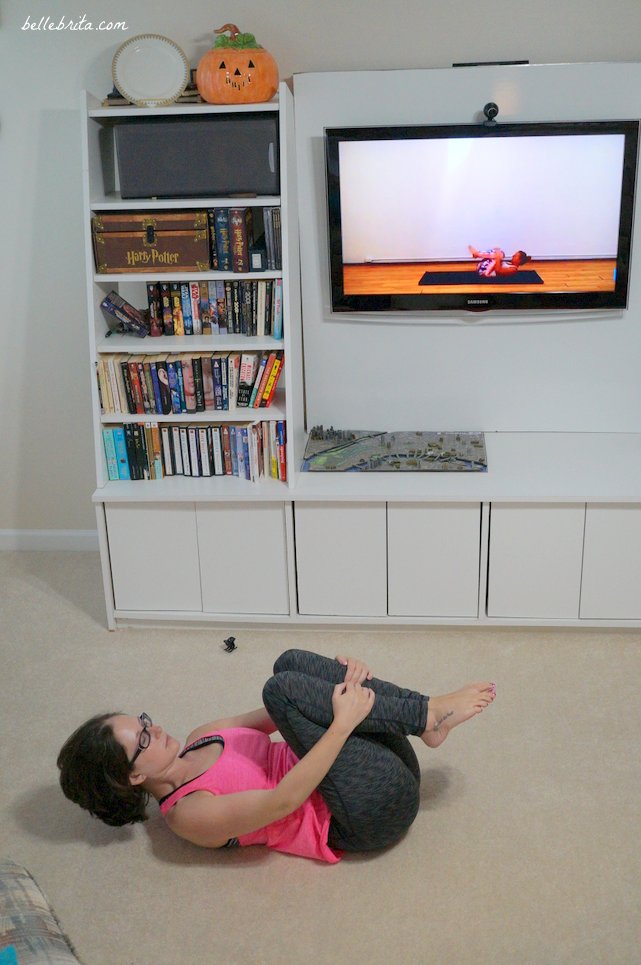 The prenatal and postnatal classes are a little different. For the general routines, each of the options I listed above actually has multiple videos with different routines. For the prenatal and postnatal classes, however, most classes only have one video. These are arranged chronologically so expecting mothers and postpartum mothers can easily find appropriate fitness routines. Videos are 10-30 minutes long, with the exception of the two Intro videos. Those are just 3 minutes each.
Prenatal & Postnatal Yoga:
Introduction

Intro to Sucking in Stomach
Intro to Making Sound

Trimester One

Learning How to Relax
How to Move While Pregnant
A Gentle Breathing Meditation
Practicing Different Breathing Methods
Finding Stability

Trimester Two

Increasing Energy Levels
A Lively Mid-Pregnancy Practice
Loosening the Hips & Pelvis
Creating Space in the Hips
Focusing on Pelvic Stability
Strengthening Dynamic Practice
A Prenatal Class for Regular Yoginis
A Modified Sun Salutation

Trimester Three

A Daily Practice
Lower Body Stretching
Creating Space in the Hips & Back
Releasing Fear
Preparing for Birth
Alleviating Tiredness

Postnatal Yoga

The First Postnatal Class
Connecting with the Pelvic Floor
A Dynamic Postnatal Class
Strengthening the Abdomen
Postnatal Sun Salutation
Postnatal Stretching Class
Connecting with the Pelvic Floor 2
With the exception of the Intro video (3 minutes), all postnatal fitness routines are 10-20 minutes long.
Postnatal Fitness
Intro

How To Engage Your Core Muscles

Weeks 6 to 12

Core Workout
Bum & Thighs Strength Workout
Over All Strength & Pelvic Floor Muscles

Months 3 to 9

Core Toning Workout
Full Body Strength & Tone

Months 9 to 36

Fat Burner
Bum & Endurance Workout
Abs, Thighs & Bum
Bum & Endurance
Core Strength Workout
Full Body Strength Workout
Strength, Power & Endurance
Full Body Strength
What does HeyWorkout cost?
Depending on which subscription you buy, HeyWorkout costs $12.49 to $18.99 per month. The cheapest monthly cost is available if you buy an annual subscription.
HeyWorkout also offers a FREE one-week trial! With this you get access to over 200 recorded classes, plus the latest live classes.
My HeyWorkout Review
I still haven't taken a live class with HeyWorkout. However, I have taken many recorded yoga classes and two recorded abs classes from HeyWorkout. While HeyWorkout has recorded classes by several instructors, I've only taken classes by Tina so far.
I love HeyWorkout. As a relative newbie to yoga, I appreciate the Easy Yoga classes, the Vinyasa Flow Yoga classes, and the Relaxing Yoga classes. Before taking yoga classes with Hey Workout, I had mostly dismissed the breathing recommendations. Now that I'm focused on breathing properly, I honestly better appreciate the yoga moves.
Bonus: my recent MRE was so much easier because I had practiced holding my breath for a long time.
I sometimes feel intimidated watching a fitness instructor do incredible moves. I worry that I'll hurt myself by pushing too far and using incorrect form. Luckily, Tina often demonstrates the proper technique at different fitness levels. I usually can't stretch as far as she can, but she explains the proper form if you can only stretch a little bit.
Having an easy library of fitness videos motivates me to workout more. I can totally do a 15-minute or 30-minute workout. But it's also easy to find excuses. I have wasted so much time on YouTube trying to find just the right class to take as a beginner. I get so overwhelmed, and sometimes I give up.
With HeyWorkout, I have no excuses. I pull up the list of recorded videos. I hit Ctrl + F and search for the class I want. "Easy" pulls up 10 Easy Yoga classes and 1 Easy Vinyasa Flow. "Express" pulls up 14 Express Abs & Core classes and 3 Express Abs. I pick a class, and I start!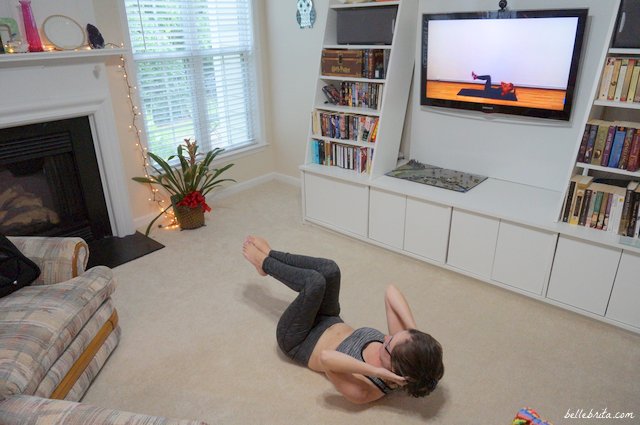 How HeyWorkout Could Improve
I really wish I could save the classes I've taken, or mark them as favorites.
The recorded classes are listed chronologically, but I would like the ability to sort them by type or time duration.
Not every week has a large selection of live classes, which is why I haven't taken one yet. The days/times offered usually don't work for my schedule.
---
Overall, I'm really happy with my HeyWorkout subscription. Just last night, Dan even joined me for some Relaxing Yoga! And we have plans for Easy Yoga tomorrow.
If you're looking for an easy way to exercise at home, try a free trial of HeyWorkout. If it's not for you, you can always cancel.
What are your fitness tips? How do you find motivation to exercise?