This Halloween, is your goal to become a feminist meme of what not to do?
If so, then ignore this blog post on cultural appropriation.
But if not, avoid the following Halloween "costumes" this year.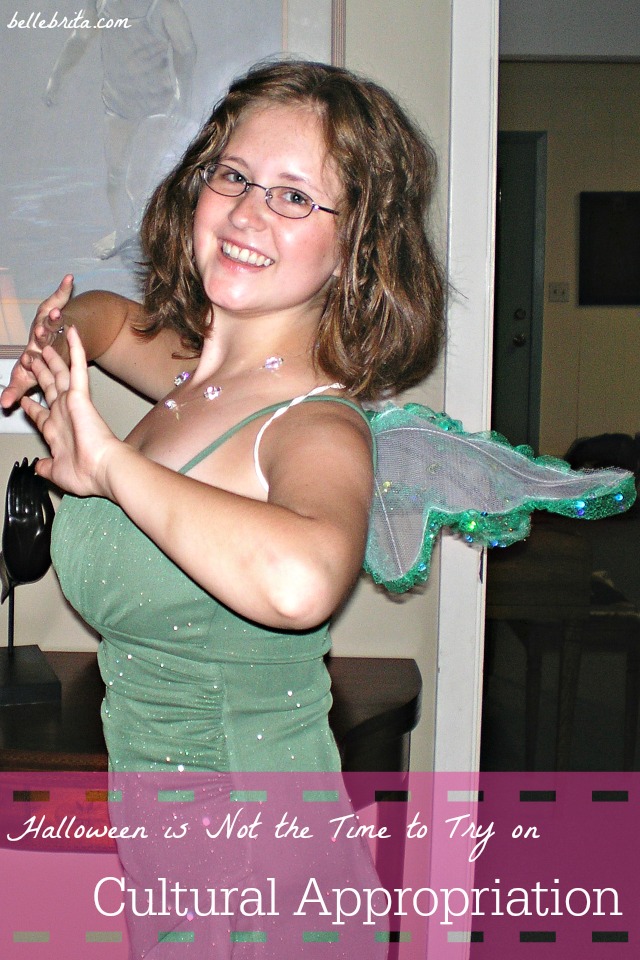 Blackface
Blackface is never okay. I can't believe people still don't know this.
There's a long, racist history associated with blackface. Blair L. M. Kelley, an associate professor at North Carolina State University, summarized this history a few years ago on TheGrio. From her article:
Minstrel shows became hugely popular in the 1840s exposing white audiences in the North with their first exposure to any depiction of black life. They would often feature a broad cast of characters; from Zip Coon, the educated free black man who pronounced everything incorrectly, to Mammy, a fat, black faithful slave who was really just obviously played by a man in a dress. Black children were depicted as unkempt and ill raised pickaninnies. The running joke about pickaninnies was that they were disposable; they were easily killed because of their stupidity and the lack of parental supervision.
Kelley also wrote this article to deride the ignorant costume choices at Halloween.
If you are not black, but you want to dress up as a famous black person for Halloween, you can do that. Just don't wear blackface. Vibe put together a gallery of costume examples without blackface.
During my freshman year of high school, my dance team performed to a Michael Jackson medley. We wore black fedoras with red sequin bands, red sequin tops, black pants, white socks, black shoes… and one white glove each. No blackface required.
By the way, other minorities can't wear blackface either.
Native American
For a current reminder on how the United States still treats native people, see the Dakota Access Pipeline. For a quick lesson in complicated laws about reservations, read 5 Ways The Government Keeps Native Americans In Poverty.
If you don't understand why it's bad to dress up as a "sexy Indian," take it from Adrienne Keene, the blogger at Native Appropriation. In her blog post Open Letter to the Pocahotties, she writes:
You are in a position of power. You might not know it, but you are. Simply because of the color of your skin, you have been afforded opportunities and privilege, because our country was built on a foundation of white supremacy. That's probably a concept that's too much for you to handle right now, when all you wanted to do was dress up as a PocaHottie for Halloween, but it's true.

I am not in a position of power. Native people are not in positions of power. By dressing up as a fake Indian, you are asserting your power over us, and continuing to oppress us. That should worry you.

But don't tell me that you're oppressed too, or don't you dare come back and tell me your "great grandmother was a Cherokee Princess" and that somehow makes it ok. Do you live in a system that is actively taking your children away without just cause? Do you have to look at the TV on weekends and see sports teams with mascots named after racial slurs of your people? I doubt it.
I feel both amazed and not surprised at all how many people responded to Keene's original post with such anger.
Geisha
Let's talk about geishas.
Buzzfeed creatively critiqued geisha costumes in this video.
You might have a fun time being dressed up as a sexy Geisha, but you can take off the costume and continue living undisturbed. Meanwhile, actual Japanese women (well, Asian women in general) are subjected to people fetishizing their looks without any easy way to make it stop.
Geishas are not the only Asian stereotype available in costume form. Avoid all yellowface.
Any Minority Stereotype
Don't dress up in a "Mexican" costume. Avoid wearing traditional Indian dress as a costume. (Yes, there is a time and place when it's appropriate for non-Indians to wear saris. Halloween is not one of them). Skip the "gypsy" costume (yeah, that's actually a slur for Romani).
Racist Disney Characters
I love Disney. So much. I love the movies. I love Disney World. But Disney has some problems with racism and sexism.
Pocahontas, The Hunchback of Notre Dame, and Aladdin are all great movies with incredible music. Their female characters are all pretty badass in their own ways.
But each film features highly problematic, racist depictions of people of color.
The true story of Pocahontas ends in her death at 21.
The Hunchback of Notre Dame overtly sexualizes Esmeralda and uses the word "gypsy," even while attempting a positive portrayal of Romani.
Aladdin features racist portrayals of Arabs, white-washes the "good Arabs" (Aladdin, the Sultan, Jasmine) while portraying Jafar as dark-skinned, and overtly sexualizes Jasmine.
Dressing up as Pocahontas, or Esmeralda, or Jasmine just perpetuates these racist (and sexist) stereotypes.
From Feminist Disney (emphasis original):
Just because it's a "costume," does all the racist, stereotyping, historical oppression baggage that came along with that portrayal suddenly disappear just because the kid can take it off at the end of the night?  I would say it doesn't. Cultural appropriation is tied into the original characters themselves, and so it can't be divorced from this context just because a 2d character is now jumping into a 3d costume form.
---
I love dressing up for Halloween. You can choose from a near-limitless selection of dazzling costumes. So why dress up as a racist caricature? Stand out this Halloween for your ingenuity, not your racial insensitivity.
Full disclosure: I wore a "gypsy costume" in the first grade. My parents and I didn't know any better. Fortunately my history adviser introduced me to cultural appropriation at Furman. Since then, the Internet has taught me more.
Do you regret a costume of your childhood? How do you choose respectful costumes today? Let me know in the comments!