Ryan Held demonstrated ALL THE FEELS the other night after winning his first Olympic gold medal during the men's 4×100 freestyle relay. Up on the podium with his teammates, he unashamedly started crying as the American National Anthem played. Teammate Michael Phelps, the most-decorated Olympic athlete of all time, laughed good-naturedly and pulled in Held for a hug.
Check out this dope artwork! this is awesome for some many reasons and I'm very proud to call the artist my friend pic.twitter.com/3mycacRqyZ

— Ryan Held (@heldilox) August 11, 2016
THIS is the kind of role model American boys need. There is nothing quite like seeing a young athlete showing emotion at the high point of his athletic career.
Why do we idolize athletes?
Athletes have been public celebrities since at least the 19th century, if not longer. (Googling "who was the first world-famous athlete?" did not help me much).
Athletes represent the peak physical condition of the human body. They perform superhuman athletic feats at sporting events. While impressive athletes are certainly blessed with natural talent or ideal body types, they wouldn't be so successful without a lot of hard work, training, and sacrifice.
Today, of course, elite athletes are often world-famous celebrities. Michael Jordan, Roger Federer, Serena Williams, and Michael Phelps are practically household names. Even if peak athleticism isn't your goal, you might still admire the fame and wealth of top athletes.
Regardless of how you personally feel about professional athletes, it's easy to see why the average person might idolize top athletes.
Are athletes good role models?
Former NBA player Charles Barkley once infamously declared, "I am not a role model" in a 1993 Nike commercial. He later defended his position, arguing that athletic prowess does not make a role model.
I agree that athletic prowess alone does not make a role model. However, like it or not, the public tends to idolize athletes, even if their behavior is not truly representative of a good role model. Athletes can then choose to live up to that responsibility… or not.
I actually understand when athletes make very human choices, like using marijuana or having children prior to marriage. Athletes are human, not gods, and it's impossible for them to please all their fans, all the time.
Unfortunately, too many professional athletes perpetuate toxic masculinity.
What is toxic masculinity?
According to Geek Feminism:
[Toxic masculinity] refers to the socially-constructed attitudes that describe the masculine gender role as violent, unemotional, sexually aggressive, and so forth.
Popular ideas associated with toxic masculinity include:
boys don't cry
"man up"
"be a man"
real men don't "insert anything"
Even conservatives are writing about toxic masculinity. From The Federalist:
This is the essence of "toxic masculinity." It is emotionally stunted and obsessed with sex and violence. Toxic males seek the thrill of danger and shun responsibility and commitment. Since they lust after women but don't want to marry or love them, their attitude towards the other sex tends to be offensively objectifying, and can easily turn misogynistic if (as often happens) they experience rejection. When a young man is unable to talk to girls, and vents his frustration by killing them instead, toxic ideals of manhood are clearly in play.
Please note, however, that this writer's criticisms of #YesAllWomen lack any citations, and few of her accusations towards feminism and feminists have any citations.
How do athletes perpetuate toxic masculinity?
Here's my obligatory "Not All Athletes" for my critics.
As I've written before in my open letter to Roger Goodell, too many male athletes have a problem with sexually assaulting and/or physically assaulting women. I'm not going to list all of them, but here are a few resources for further reading.
Athletes and domestic violence – Wikipedia
List of professional sportspeople convicted of crimes – Wikipedia
NFL Player Arrests – USA Today
MLB's record on domestic violence worse than NFL's – SB Nation
What happens when star athletes are accused of rape – Salon
If you read through these articles, you might notice the tendency for even the athletes who plead "no contest" to receive little repercussions for their actions. Many continue to be beloved celebrities today.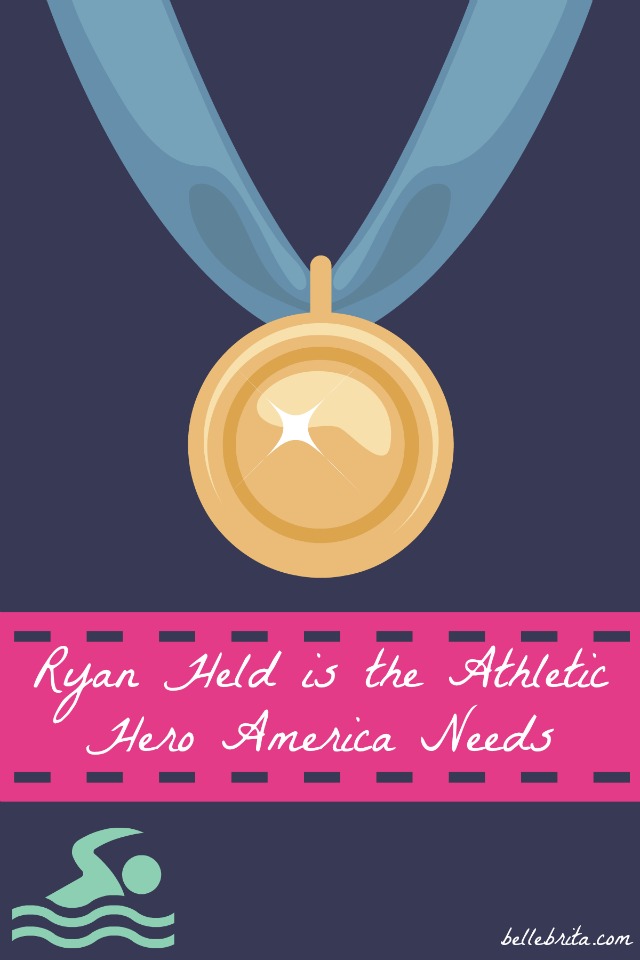 Why America (and the world) need an athletic hero like Ryan Held
Am I totally capitalizing on Held's recent fame for his emotional reaction on the podium?
Yes, absolutely.
Is Held the only Olympic athlete who should be a role model?
Nope!
I have been so swept up in the emotions this past week while watching the Olympics. Just seeing all these strong, undeniably masculine athletes in tears of joys have given me ALL THE FEELS. It's not just Held.
Michael Phelps teared up on the podium for his 21st Olympic gold medal.
I love that @MichaelPhelps still cries on the podium, listening to our national anthem. This is an example of healthy masculinity.

— Brita Long (@belle_brita) August 10, 2016
Both the gold and silver medalists in the men's synchronized 3m springboard event laughed and cried when they discovered their medal standing. And yes, The Daily Mail might have criticized the hug between UK's gold medalists Chris Mears and Jack Laugher, but the Twittersphere shot back in defense of manly emotion.
Chris Mears' and Jack Laugher's Olympic Hug Wasn't 'Unmanly', It Showed How Far Men Have Come https://t.co/PecnvQSDjj

— Anthony Schuerholz (@ASchuerholz) August 11, 2016
Colombian weightlifter Oscar Figueroa burst into tears after winning gold in the 62kg category, his first Olympic gold in his fourth Olympic Games.
I really wish I'd been taking notes while watching the Olympics this week just so I could better provide examples of all the emotions this week.
And of course, the men have not been the only ones to show emotion. Nor are the male athletes the only role models at the Olympics. (Hint hint future blog post!)
But when America still has such a problem with allowing men to express masculinity in every way possible, I feel so inspired by men shedding tears of joy in front of the world.
---
Have you been watching the Olympics? How do you feel about all the emotional moments?