Contains Amazon affiliate links.
When my husband and I planned our honeymoon, I had only one requirement. I insisted on any sort of body of water (ocean, lake—even a pool would have sufficed) where I could lazily nap or read beside it.
We ended up spending a week in Puerto Rico, where I read four novels, two collections of short stories, and a few chapters of my favorite textbook from undergrad. While I was technically reading by the beach, I doubt anyone would classify We Had Stars Once or Women and Gender in Early Modern Europe as "beach reads."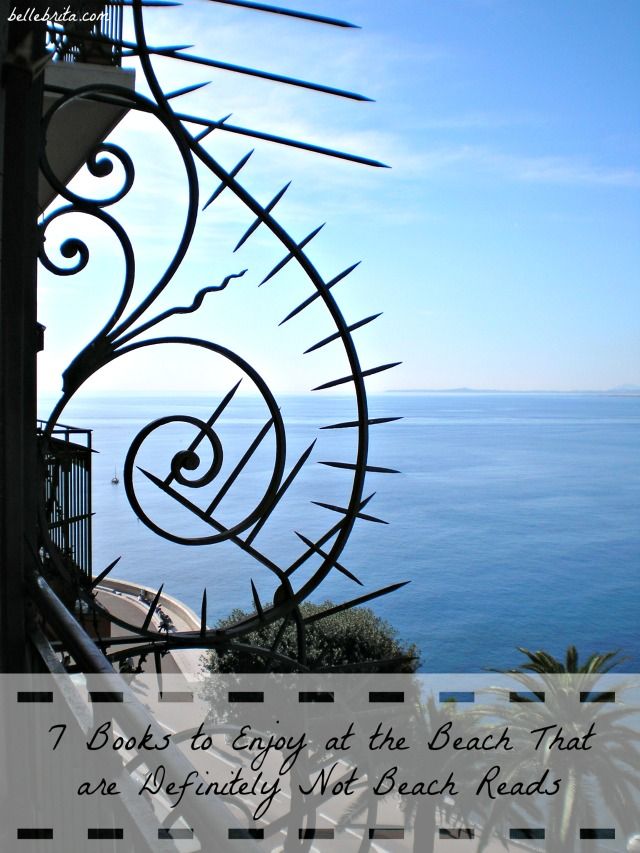 "Beach reads" are a lot like "chick lit." It's a category of books that appeal to women, but without any other defining characteristics, except that we read them on vacation. Oh, and since women like them, clearly they're worthy of ridicule.
I don't believe in shaming people for what they read. I think you should read whatever you want year-round, but especially at the beach. You're on vacation! You deserve to kick back with a gripping novel.
It's time for us to reclaim our "beach reads," starting with the seven books below. Each one features romance, intrigue, or a delightful mix of both.
Jane Eyre by Charlotte Brontë
The first time I read Jane Eyre was on a beach in France. While some works of classic literature are difficult to read, I couldn't put down this one.
Plot: Orphaned by her parents, Jane Eyre lives with abusive relatives. She manages to attend a school for poor girls, but she continues to suffer mistreatment. Eventually she takes on a governess position for the young ward of the handsome and wealthy Edward Rochester.
Read it if: You love gothic literature. You prefer tragic romances to fluffy ones. You only read books with complex female protagonists. You live for witty repartee.
Flat-Out Love by Jessica Park
Flat-Out Love is actually the first of three novels, but it works as a standalone novel. I've spent the last few years recommending it to anyone who would listen.
Plot: Scammed out of an apartment, Julie Seagle gratefully accepts the offer to move in with her mom's old friend. The Watkins family welcomes Julie with open arms, but they're hiding something.
Read it if: You love a good coming-of-age story. You like your books to fit into multiple genres. You don't mind Facebook statuses and Facebook messages intertwining with your prose.
The History of Love by Nicole Krauss
The History of Love is a beautiful book about interesting people in different time periods, all over the world. The narration is a bit difficult to follow at times, which is exactly why you should read it on vacation. This is not a book to spread out over several weeks. Read it in one go, and all the interconnections will make perfectly beautiful sense.
Plot: The History of Love refers to a fictionalized novel within the actual book. This book chronicles the history behind the fictionalized novel, the lives it affected, and how the people are connected to each other.
Read it if: You relish multiple points-of-view. You enjoy narration outside of chronological order. You don't mind crying at the beach.
The Rosie Project by Graeme Simsion
This is one of the novels I read on my honeymoon. It is possibly the quirkiest romance I've ever read.
Plot: Professor Don Tillman wants a wife. A scientist to the core, he designs an experiment to find the perfect wife. Along the way, he meets Rosie Jarman, who is everything he doesn't want in a romantic partner.
Read it if: You are a nerd at heart. You think couples should be friends first. You've ever struggled to fit in. You love good food.
Deerskin by Robin McKinley
Technically, I read this on a houseboat at the lake, not at the beach. Regardless, it's a great book to read on vacation.
Plot: Deerskin retells Charles Perrault's fairy tale "Donkeyskin." Princess Lissla Lissar has become as breathtaking as her late mother, but her beauty only makes her a target for her father's insane lust. After a harrowing escape, Lissla deals with her own madness and memory loss, with only her trusted dog as her companion.
Read it if: You can handle a traumatic plot on vacation. You love dogs. You enjoy retold fairy tales.
The White Queen by Philippa Gregory
I actually recommend all of Gregory's books, but I'm focusing on The White Queen because it is the first in her series "The Cousins' War."
Plot: With beauty, ambition, and a touch of witchcraft, Elizabeth Woodville rises from commoner to Queen of England when she marries reigning king, Edward IV. Set during the Wars of the Roses, the main plot focuses on the historical mystery of the Princes in the Tower.
Read it if: You like fantasy mixed in with your history. You enjoy historical conspiracy theories.
Midnight in the Garden of Good and Evil by John Berendt
I had to include at least one work of nonfiction in my list of books for the beach. Who can resist a colorful examination of a southern city, with a lurid unsolved murder?
Plot: Classified as a "true crime book," Midnight in the Garden of Good and Evil is a novelized account of the killing of Savannah male prostitute Danny Hansford and the subsequent four murder trials of Jim Williams.
Read it if: You want to read about real-life eccentric characters. You relish an unsolved mystery.
---
What are your favorite beach reads? I probably won't end up at the beach again this summer, but I have many plans for the pool and the lake. I need book suggestions!