In honor of World IBD Day, I want to talk about colonoscopy prep.
Before I get started, let me write this huge massive disclaimer in bold font.
I am not a doctor. I am not a nurse. In fact, I am not a medical professional whatsoever. However, I have had Crohn's Disease for over 20 years, during which I've had 3 colonoscopies (my 4th is soon), an endoscopy, and a flexible sigmoidoscopy. These are my experiences, NOT medical advice. If you are concerned about your colonoscopy prep, I encourage you to talk to your doctor.
Now that my disclaimer is out of the way, let's talk about colonoscopies!
I am 28 years old. In the last 5 or 6 years, I've had 3 colonoscopies. My 4th one was supposed to be tomorrow, but I've had to reschedule it. I want to destigmatize colonoscopies and colonoscopy prep. It's a common medical examination. While the prep can be unpleasant, there's no reason to feel shame or embarrassment about getting a colonoscopy.
Related: "How Long Do You Poop After Colonoscopy Prep?" (And Other Questions)
This post contains a few affiliate links. If you click them and buy something, I might earn a small commission, at no cost to you. All opinions regarding colonoscopies are my own.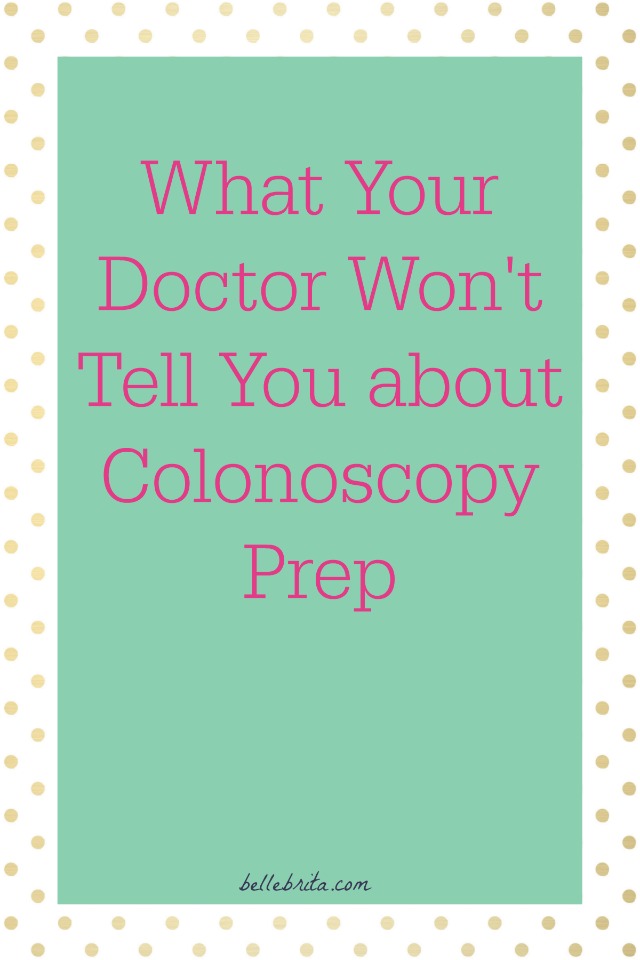 What is a colonoscopy?
According to WebMD, a "colonoscopy is an outpatient procedure in which your large bowel (colon and rectum) is examined."
A gastroenterologist performs a colonoscopy. I see Dr. Quijano at GI North. According to their website, your gastroenterologist
"inserts a long, flexible, lighted tube called a colonoscope, or scope, into the anus and slowly guides it through the rectum and into the colon. The scope inflates the large intestine with carbon dioxide gas to give the doctor a better view. A small camera mounted on the scope transmits a video image from inside the large intestine to a computer screen, allowing the doctors to carefully examine the intestinal lining… Once the scope has reached the opening to the small intestine, it is slowly withdrawn and the lining of the large intestine is carefully examined again."
In other words, a doctor sticks a camera up your butt. This is probably why people don't want to talk about colonoscopies.
But colonoscopies are like the great equalizers! Only half of us get pap smears and pelvic exams. The other half has to "turn your head and cough." But most of us have rectums and colons and intestines! We can bond over this one shared procedure! Everyone in my immediate family has had at least one colonoscopy, and we openly joke about it.
Who needs a colonoscopy?
Me, obviously.
If your primary care provider refers you to a gastroenterologist, definitely see one.
If your gastroenterologist recommends a colonoscopy, definitely get one.
Otherwise, the following people need colonoscopies at some point:
patients of Crohn's Disease and/or Ulcerative Colitis
anyone over the age of 50, when adults become at-risk for colorectal (colon and/or rectal) cancer
adults with a family history of colorectal cancer
You know how you get mammograms at a younger age if you have a close female relative with breast cancer? Recommendations are similar for colonoscopies if colorectal cancer is in your family history. Depending on the details of who had colorectal cancer at what age, your doctor might recommend getting routine colonoscopies before you turn 50.
The American College of Gastroenterology has more FAQ regarding both colonoscopies and colonoscopy prep.
Colonoscopy Checklist
Download this easy checklist so you don't forget anything important during the week leading up to your colonoscopy!
What is colonoscopy prep?
The day before your colonoscopy, you need to go through the colonoscopy prep. You know how hippie-dippie folks gush about "juice cleanses" that "detoxify" and "clean out" your colon? Yeah, those are all pretty much bullshit, but the colonoscopy prep literally cleans out your colon.
You spend a LOT of time on the toilet with increasingly watery diarrhea. Eventually you just shit liquid until you go to bed. It might be uncomfortable, but having a colon free of fecal matter is necessary for careful examination of polyps or abnormalities. You really don't want an inconclusive colonoscopy–you might have to do the procedure all over again!
In addition to the colonoscopy prep, you also switch to a clear liquid diet 1-3 days before your procedure. In my experience, the diarrhea from the prep is not as bad if you start the clear liquid diet 2-3 days before the procedure.
Common colonoscopy prep options
Remember how I said that I've had 3 colonoscopies already? Yeah, for each of those, my gastroenterologist prescribed me a different colonoscopy prep.
This is the first dirty little secret your gastroenterologist might not tell you about colonoscopy prep.
You have options. There are multiple forms of colonoscopy prep, most of which work reasonably well. Yes, you will deal with watery diarrhea regardless of which option, but some forms might be easier for you to drink.
4 liters of a solution of polyethylene glycol (PEG): This is the first colonoscopy prep I ever tried. It is also the worst. The day before your colonoscopy, you drink 8 ounces of this solution every 10 minutes until you finish it off. Sometimes you might split this dose, drinking half of it the night before and half of it about 5 hours before your procedure. I forget what I used, but GoLYTELY Prep is one option.
2 liters of PEG solution: This is the colonoscopy prep I did last year, my first time trying a split dose. The evening before your colonoscopy, you drink the first liter of solution spread out over an hour, drinking about 8 ounces every 15 minutes. You then drink 16 ounces of any clear liquid.  You repeat this in the morning, finishing at least 1 hour prior to your procedure. I used MoviPrep.
Dulcolax and Miralax: This is my favorite colonoscopy prep so far. It's the only one available with over-the-counter medications. The day before your colonoscopy, around 1pm, you take 4 Dulcolax (or store brand) tablets. Around 4pm, you start drinking 64 ounces of Gatorade mixed with a large container (8.3 ounces) of Miralax (or store brand). You drink about 8 ounces every 15 minutes until you finish the solution. This is the schedule that I followed, but there are variations using these products, including a split-dose schedule. There are risks associated with using Miralax as your colonoscopy prep, but your doctor might decide the benefits outweigh the risks.
Sodium Picosulfate, Magnesium Oxide, and Anhydrous Citric Acid: This is what I'm taking for my next colonoscopy. The day before your colonoscopy, you drink 5 ounces of this solution. Then you drink 5 8-ounce servings of clear liquids. The morning of your procedure, you drink 5 ounces of the solution again 5 hours prior to the colonoscopy. You also drink at least 3 8-ounce servings of clear liquids, finishing at least 2 hours before the procedure. My prescription is for Prepopik.
Other colonoscopy prep options that I have not tried include phosphate solutions or phosphate tablets.
If you've had a colonoscopy before, and you greatly struggled with the prep, talk to your gastroenterologist. You might have other options depending upon your age and medical condition(s). Not all options are suitable for all patients, but apparently I'm fine using at least 4 different preps. With some medical conditions, only one form of prep is safe to use, so again, talk to your gastroenterologist.
Update: The Prepopik was relatively easy to drink. I didn't like waking up early for the split dose, but otherwise, this is a fairly easy form of colonoscopy prep. The split dose has become more popular to improve colon-cleansing before a colonoscopy.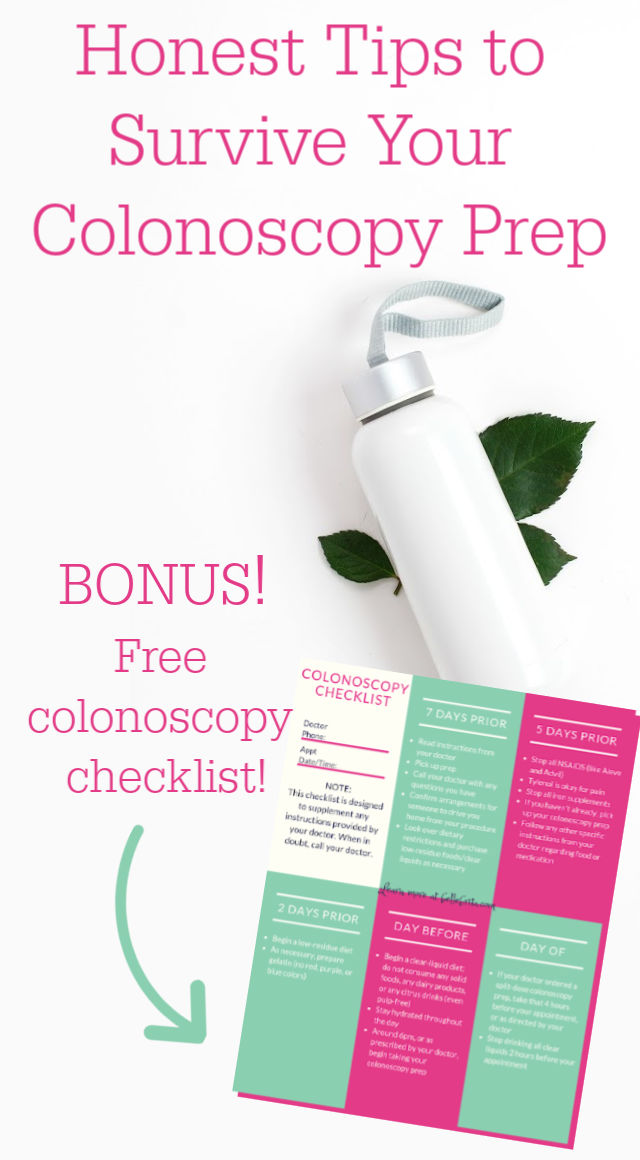 Colonoscopy prep tips
Want to hear the second dirty little secret about colonoscopy prep?
You don't necessarily have to finish the entire colonoscopy prep. This goes against doctor-prescribed orders, so do your best to finish the entire colonoscopy prep.
But if you're starting to feel nauseated from the colonoscopy prep, you have alternatives. Still drink as much of the prep as possible, on the recommended schedule.
But you can also take a break up to an hour from drinking the prep, and then resume on schedule.
Assuming you're not on the Miralax/Dulcolax prep, you can also substitute a solution of Miralax in Gatorade for the remaining prep that you can't tolerate. I only drank about 3/4 of the PEG solution. I just couldn't stand finishing the rest. Then I added Miralax to my 16 ounces of clear liquids (Gatorade) to complete my prep. This is also an option to consider if you've thrown up during your colonoscopy prep.
Your colon is sufficiently cleared when your diarrhea is clear yellow. In my experience, this happens before finishing the entire prep. Still drink as much of the prep as possible, but you're fairly safe once your diarrhea is clear yellow. If your diarrhea is cloudy or brown, your colon is not clean yet.
Final advice: drink plenty of clear fluids. Any form of colonoscopy prep can easily dehydrate you. Avoid red, blue, or purple fluids. No alcohol.
Best clear-liquid snacks before your colonoscopy
You will get really bored of clear liquids. However, a little bit of creativity goes a long way.
Instead of buying pre-flavored JELLO, buy plain gelatin and make your own flavors. When you eliminate red, blue, and purple colors from your flavor choices, JELLO doesn't have many flavors left.
I buy different clear juices at the store to make my own delicious gelatin. Try apple juice or white cranberry peach juice. For extra pizzazz, use sparkling white grape juice!
You can find the directions on your plain gelatin bag or packets to create your own easy, delicious snack. Because it needs to set for a few hours, prepare this before your clear-liquid diet begins.
Another common treat on a clear-liquid diet is light-colored hard candies. However, I'm not a big fan of hard candy. Imagine my delight when I realized gummy candy is a clear "liquid" too! Again, stick with the light colors. I treat myself to a bag of Haribo gummy bears and split it with Dan. During my colonoscopy prep is the only time Dan gets to eat the red ones–my favorite. I eat the clear gummy bears, yellow gummy bears (my least-favorite), and the orange ones.
---
I know this is a slight deviation from my typical blog posts, but colonoscopies are important. No one should feel ashamed or embarrassed to discuss gastroenterological health.
Do you have any questions regarding colonoscopies or colonoscopy prep? Check out my colonoscopy prep FAQs!
Do you have a colonoscopy scheduled in the next few days or weeks? Download my colonoscopy checklist! I've put together handy reminders for the week leading up to your colonoscopy, all of which will help your colonoscopy prep be as tolerable as possible.