I inadvertently messed up my editorial calendar for November. I had the wrong date for The Guys Behind the Blog, and I missed it. Oops.
And then I forgot to ask Dan these questions in time for the link-up yesterday, so this is a day late.
Luckily, Dan and I are BACK to share all things Christmasy. As a special holiday treat, I've included my answers to the questions too! Extra bonus: I've also added the questions for Blogger Men Tell All!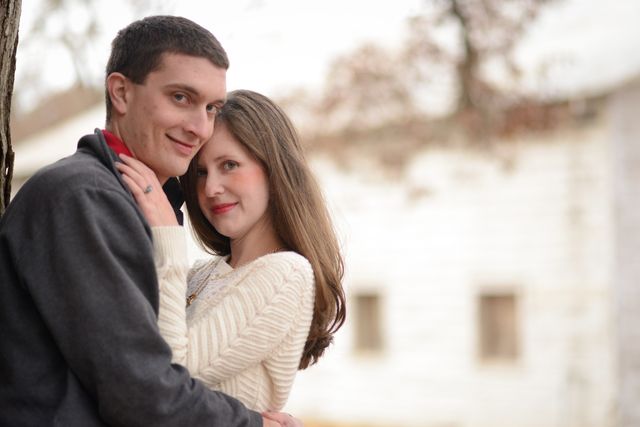 The Guys Behind the Blog
What is on your Christmas list?
Dan: Well, when you're an adult, you don't really have a Christmas list… I mean, you request things of other people when you're an adult. What I want, I buy for myself, which really upsets people who get gifts for me.
In a perfect world, Santa would bring me car parts and tools.
Brita: My awesome Kappa Little has a fairy tale published in the anthology Frozen Fairy Tales (affiliate link). I really want it for Christmas. Other than that… I can't really think of anything else I want for Christmas. I always welcome knee socks. Experiences are cool, like tickets to something.
Did you believe in Santa as a child? Do you have any funny Santa stories?
Dan: I probably did believe in Santa, but I don't recall believing in an actual Santa, which probably results from being being the youngest of the children.
I got in trouble for spilling the beans to one of my cousins because I assumed he already knew Santa didn't exist.
Brita: I believed in Santa until I was almost 10. Don't judge me. I actually still believe in Santa. I have no idea how else my stocking gets filled every Christmas morning.
What is a Christmas tradition you hope to pass on someday?
Dan: I don't really have any Christmas traditions from my family that I feel the need to pass on.
The Christmas tradition that is important to me is being with family.
I'm not really big on traditions in general, but I know Brita has many traditions, which I enjoy celebrating with her, and which we'll probably pass on to our future children.
Brita: SO MANY TRADITIONS! And this will be Dan's first Christmas really getting to discover some of them, since it will be his first Christmas in Greenwood. My family traditions are actually all for Christmas Eve and not Christmas Day, probably because Christmas Day is often coordinated with extended family.
We eat appetizers at home as we get ready for church. It's the one time of year when we eat the really unhealthy fatty little sausages in a sweet sauce! Usually we have a hot dip too, like crab dip or artichoke dip.
We all go to church for the Christmas Eve candlelight service.
After church, Mom would make us a late dinner, which Jeremy and I will probably do this year. We always have Parmesan chicken, fancy rolls, and a beet-carrot puree. Christmas Eve dinner was probably the first time my parents let me drink wine! Not much, just half a wine glass with dinner.
After dinner, Daddy sometimes builds a fire, and we all gather in the family room for presents. We open all family gifts.
Do you open presents on Christmas morning or a different time?
Dan: I open Christmas presents with family whenever that may be when we can get together. Frequently that has been on Christmas Eve because my brother and my sister-in-law usually have Christmas with my sister-in-law's extended family on Christmas Day.
Brita: Our family tradition is to open presents on Christmas Eve. Now it depends on when Dan and I celebrate Christmas. Santa always brings presents for Christmas morning, though!
What is your favorite Christmas song? Movie?
Dan: Favorite Christmas movie is probably Elf. It's very entertaining, and I love comedy. But Scrooged is a close second because I love Bill Murray.
I like all Christmas songs. I don't think I have a particular favorite. If forced to choose, I guess I would say "Jingle Bells." I do wish there was more of a variety in Christmas music.
Brita: I love Ami Grant's "Breath of Heaven." But anytime four women sing "O Holy Night" in perfect harmony is also pretty spectacular. Favorite Christmas movie would probably be The Santa Clause because I never grew up.
Blogger Men Tell All
Did you accomplish your goal for 2015?
Dan: I don't recall setting specific goals for 2015. But at the end of 2014, I was looking for a new job, and Kinder Morgan was my first choice. It took awhile for them to get back to me, but I ended up getting a job with Kinder Morgan, and I really like it!
Brita: I think my only overreaching goal this year was to get healthy. My Crohn's is better. My sleep habits are better. I've cut way back on caffeine, on sugar, and on soda. I might not be totally healthy, but I am healthier!
What is your favorite holiday tradition?
See above.
What did you gift your blogger for the holidays?
Dan: That is confidential information that cannot be revealed until after Christmas. It's so confidential, I won't even put it in a personal email.
Brita: Dan is not a blogger, so this question doesn't apply to me…
What is your favorite holiday movie?
Dan: I love Trading Places, which is more of a New Year's movie.
Brita: I love Miracle on 34th Street, which is both a Thanksgiving and a Christmas movie.
---
It's been challenging this month for me to write, even for me to get out of bed in the morning. I definitely planned to write more this week, and last week, neither of which happened. So I'm also using this post for Kiki's The Circle, with the prompt of Christmas Tours & Traditions.
Tell me about your Christmas traditions! If you're in a relationship, how do you and your SO blend family traditions? Share all of your holiday thoughts in the comments below!