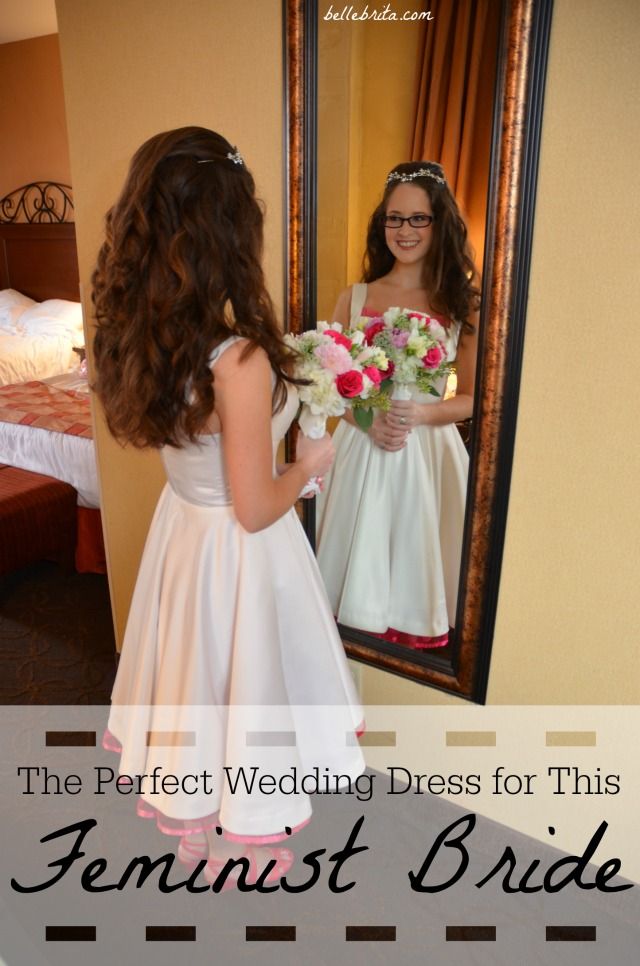 Last week I admitted that as a kid, I didn't understand why brides wore white dresses instead of their favorite color. My younger self vowed to wear a wedding dress of rainbows one day.
At 16, I competed in my local Junior Miss pageant, wearing a beautiful pink gown. I decided then to wear my dress again on my wedding day.
At 19, I made my formal debut into Greenwood society at the annual Danse de Noel. I absolutely loved my white debutante dress, and I assumed I would wear it again as a wedding dress.
---
One of the most obvious ways feminism benefits me in my day-to-day life is the freedom I (usually) feel when facing societal expectations about female beauty standards. This freedom allows me to choose or to reject feminine characteristics according to my own comfort and desires. I also feel free to change my mind. After all, I can stay true to who I am in many different ways.
While I didn't get married in a dress of rainbows, a pink pageant dress, or my debutante gown, my wedding dress reflects who I am. All the decisions Dan and I made about our wedding reflect who we are, both as individuals and as a couple.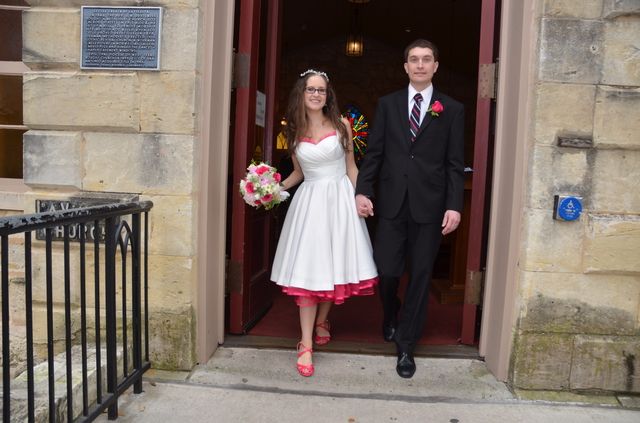 How I Found My Wedding Dress
I did opt for a white wedding dress, a fairly modern tradition in the grand scheme of things. For our morning wedding, however, I thought a long formal dress would feel out-of-place. Thus I knew I wanted a short white dress.
Dan and I had a short engagement of about five months. We were living in Ohio and planning a wedding in San Antonio, a wedding reception in Greenwood, and two wedding receptions in Findlay. The short engagement and the long-distance planning definitely affected how I went wedding dress shopping.
The practical woman that I am, I looked online for my wedding dress. My mom and I sent each other links back and forth of short dresses we liked, but none of them felt right.
Until I had an epiphany.
In the third season of Glee, the girls wear black and gold dresses with red petticoats for a competition.
I have always loved that black dress. I found it online at Unique Vintage and bookmarked it, just in case I ever had a special occasion that warranted buying a new LBD. (I have a closet full of LBDs). The same style showed up on Glee several more times, just in different colors.
While my wedding is definitely special enough to buy a new LBD, I was searching for a little white wedding dress. If the dress came in black, and in purple, and in red, could it be available in white?
I lucked out! Unique Vintage did carry my perfect satin dress in white. I also ordered a hot pink petticoat to wear under my wedding dress. The combined cost of my dress and petticoat was less than $200.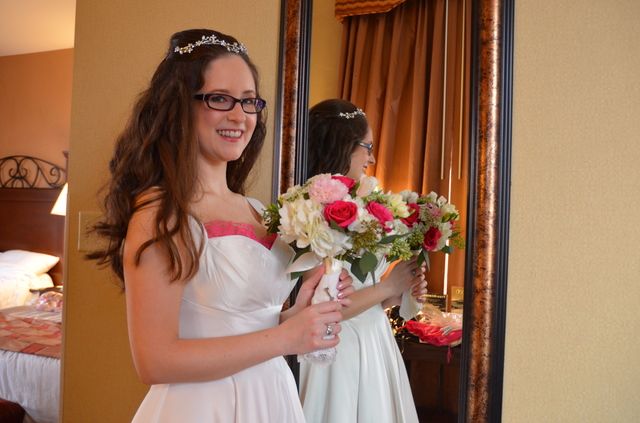 From White Dress to Wedding Dress
Most wedding dresses need alterations. Mine was no exception. Luckily the changes were fairly simple. As a petite woman, I just needed my dress and petticoat hemmed, plus the straps shortened. My mom has always been a talented seamstress. She volunteered to alter my dress.
I wanted more pink on my dress than just the petticoat. My mom and I discussed my options. She thought a pink sash around my waist would be too much. We agreed on pink lace at the bodice.
My mom struggled to find pink lace of the right width and color. In fact, when we showed up in San Antonio, the bodice of my wedding dress was still unadorned. My mom suggested white lace and showed me three options, but I adamantly wanted pink lace. She drove to several stores in San Antonio and found the perfect pink lace. She hand-sewed it onto my bodice the night before my wedding.
With pink wedges, a pink petticoat, and pink lace, my short wedding dress was perfect!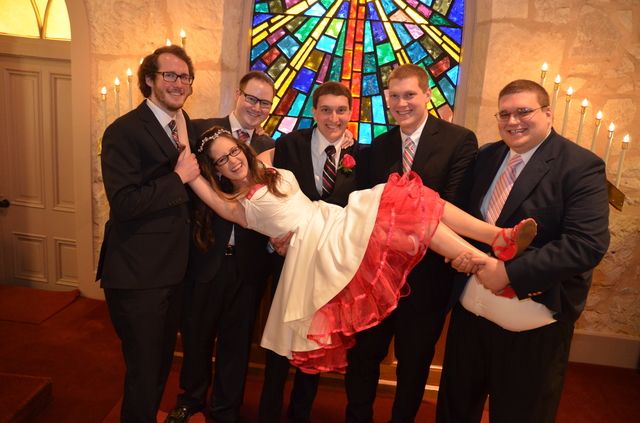 Thus ends the story of my wedding dress… But the comment section below is the beginning of YOUR stories! What's your dream wedding dress? Would you ever buy your dress online? Any other wedding dress thoughts to share?