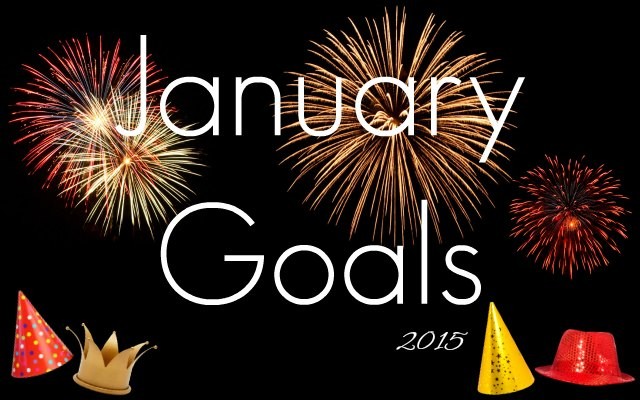 Happy New Year! I don't know about y'all, but I started off 2015 in the best way possible: celebrating the new marriage of my best friends Libbi and Henry. I can't wait to share all the details of their NYE wedding with you in a future blog post.
For now, I'm reflecting back on last month to see how much progress I made on my December goals!
December Recap
For my blog:
Based on how often I obsessively checked my stats on December 31st from my phone, I'm not sure if I was "content" with comparable page views. But I gained a few more page views in December than I did in November, which was great!
I kept my editorial calendar to a low-stress minimum.
I STILL have not reorganized my blog categories or created a permanent page of link-ups. BUT I applied to be part of an online blogging course that would help me really focus and organize my blog. I find out soon whether or not I was accepted.
For my health:
It is possible I gained a few pounds. At my doctor's visit December 1st, the nurse weighed me using a scale with weights and counterweights. I was 98 lbs then. Dan bought me a digital scale for Christmas, and I spent the last week weighing myself 2-3 times a day to find out my typical daily fluctuation. The lowest I weighed was 99 lbs, and prior to yesterday, the most I weighed was 101 lbs. Last night, the scale read 103 lbs. So while I won't compare my digital scale output to the weight/counterweight scale, it's definitely possible I'm up 2-3 lbs. I credit the last few days of bridal party eating!
Considering it was Christmas, and then I was in a NYE wedding, I'm impressed how much I still minimized my stress this month. Dan has been a huge help with that. Luckily I've only had to decline a few social invitations, including sadly the annual RISK party tonight. But I knew my body needed some time to recover after a few nonstop days celebrating with my besties!
Dan has also been great with reminding me to take my Pentasa every day, which is the maintenance drug I've been taking for 17 years now. And yes, sometimes I still need a reminder to take it.
For my marriage:
Success! Dan had an interview a few weeks ago that went really well, so we shall see… I did my part by driving into Columbus and dropping him off at the airport, hanging out with Libbi and Henry that night and the next day, and then picking Dan up super-late the next night from the airport. Shoutout to my besties for letting me stay with them one night, and letting both of us stay the next night.
Dan has received lots of back scratches this month, and Santa spoiled him just a little this year. I think he knows how much I love him, even though he's had to take care of me more than I take care of him.
For our household:
Our ornament wreath is darling.
The laundry is not that bad.
I didn't make any Crock-Pot recipes this month, but I did cook several delicious, butter-laden meals. I've also collected quite a few Crock-Pot recipes to try out!
For the Winter 2014 Book Challenge:
November, I didn't read much for the book challenge, but December was much better! Also, I decided to recategorize one of my books from last month, which I've noted* in my list below.
*10 points: Read a book written by an author who has published at least 10 books. Star Wars: Scoundrels, by Timothy Zahn, (393 pages, 5 stars) Note: I listened to this on audiobook. This category originally had a different book in it.
10 points: Read a book with a food (not a drink!) in the title. Cress, Marissa Meyer, (550 pages, 5 stars).
15 points: Read the first book in a series that is new to you (so no rereads for this one!) Cinder, Marissa Meyer, (390 pages, 5 stars).
*20 points: Read a "bookish book" (in which books play an important role, e.g. the setting involves a bookstore or library, a major character is an author, or a book that celebrates reading and books). Curse of the Thirteenth Fey: The True Tale of Sleeping Beauty, Jane Yolen, (256 pages, 3 stars) Note: This book was originally in a different category.
25 points: Read a book from a genre you don't usually read. Scarlet, Marissa Meyer, (452 pages, 5 stars)
PREVIOUS POINTS: 15
TOTAL POINTS: 85
January Goals
For my blog:
Plan out my editorial calendar for three months, instead of my usual month at a time.
Focus on quality over quantity. December was a great month for page views, even though I published less blog posts, because the ones I wrote were popular. With that in mind, only plan out 2-3 posts per week, like I did in December.
Will I finally redo my categories?
Will I finally create a permanent post of blog link-ups?
For my health:
See an eye doctor. Buy new glasses.
See a gastroenterologist.
Gain weight.

Continue to minimize stress.
Continue to enrich my diet with healthy fats.

Be in bed, lights out, by 11pm each nigh. Stretch goal: by 10:30pm each night.
For my marriage:
Continue to support Dan in his job hunt.
On each day when my body is happy and healthy, find at least one way to serve Dan.
For our household:
Clean our bedroom top to bottom. It gets neglected all the times we clean the downstairs for company.
Organize and clean out my home office.
Start preparing to move?
For the Winter 2014 Book Challenge:
FINALLY read Hemingway's A Moveable Feast.
Also read The Dinner by Herman Koch so I will get points for the meal category at the next check-in.
Find of a book of short stories that are fairy tales so I can read them for both the challenge and my book review column.
Read at least one more book for the challenge. I have 7 left to read, but February is a short month, so I only want to read 3 next month.
I think monthly goals are much better for me than New Year's resolutions. I feel more driven to complete my goals, since I have less time to do it, but I'm also not overwhelmed by my goals because they're small.
What are your January goals or New Year's resolutions? Chat with me in the comments!