I'm celebrating an entire week of Thanksgiving with a new post every day detailing some of the blessings in my life. Check out my post thanking God for everything She has done for me, or read my post appreciating all the loved ones in my life.
Ironically enough, some of my most memorable Thanksgivings weren't even in America–they were in France.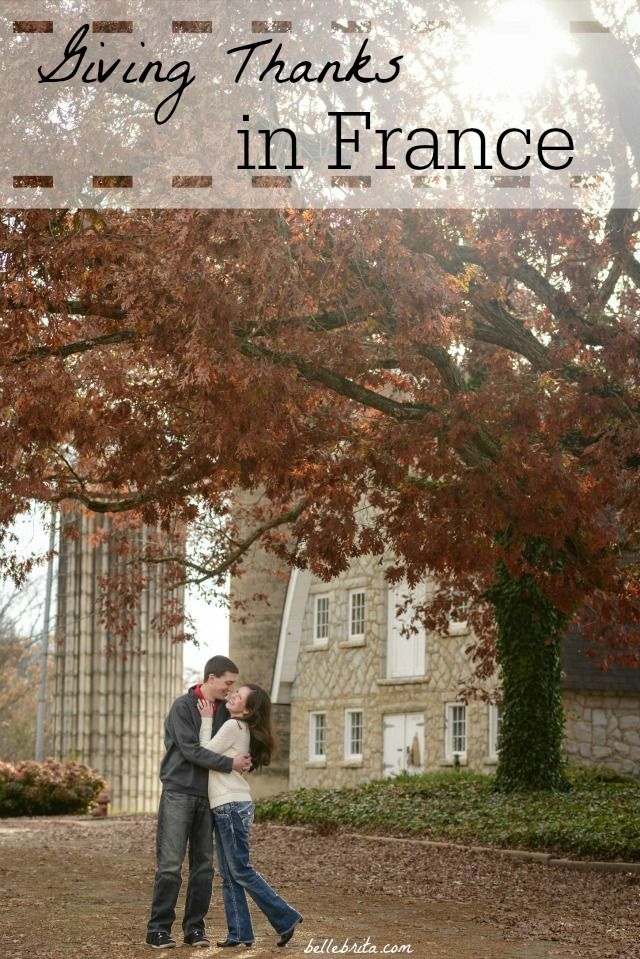 I worked in France for the better part of two years. I was an au pair in Le Vésinet, a suburb of Paris, in 2009-2010. I worked as an English Teaching Assistant in Niort in 2010-2011. Both years, I had the opportunity to celebrate Thanksgiving twice, once with my friends, and once with my ex-pat cousins, Stu and Beccy.
If you've never tried Stu and Beccy's cooking, you're missing out. As much as I enjoyed all the times I invited myself over for dinner, the best celebrations with them were for the holidays. Both years, Thanksgiving was the perfect melange of American and French traditions. Only with Stu and Beccy do you start a Thanksgiving meal with a kir royale and raw oysters on the half shell and finish the feast with homemade pumpkin pie and real whipped cream.
As delicious as their food always is, their guests and the bilingual flow of conversation are the true highlight of Thanksgiving in France. Both years featured a wonderful mix of French locals, American ex-pats, and even ex-pats from other countries. Everyone spoke at least conversational French and English, and we all switched back and forth quite frequently throughout the night.
---
The two "Friendsgivings" I attended were also wonderfully international. When I was an au pair, my best friend Jessica's bosses/host family allowed her to throw a Thanksgiving for the au pairs at their house. It doubled as a birthday party for her. While most of the au pairs were American or Canadian, the group also included women from Germany, Sweden, and Australia.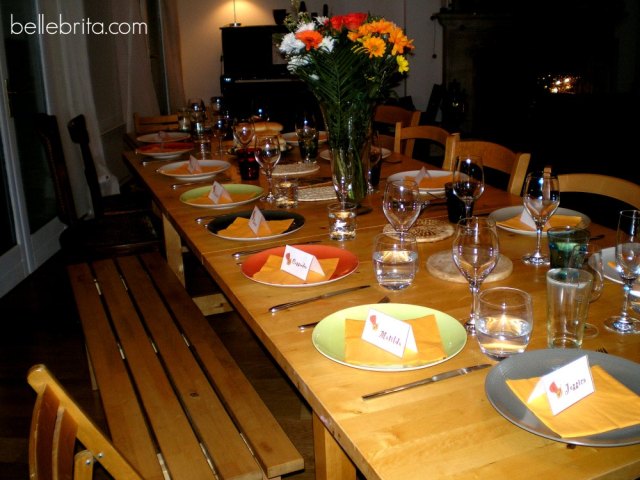 Not knowing the French words for all the different potatoes at the grocery store, I bought the wrong potatoes and made oddly-sweet white mashed potatoes for the Thanksgiving potluck. All the au pairs brought side dishes, including a few international specialties from their respective countries. In truly French fashion, the wine flowed freely, and we had no shortage of baguettes.
In Niort, I befriended a group of French and international English speakers through the local Couchsurfing group. Once a month or so, we would get together so the French could practice their English and vice versa. A fellow teaching assistant from Canada suggested we do a Thanksgiving, one of the locals offered up his home to host, and a delicious Thanksgiving in France was born. For most of the guests, it was their very first Thanksgiving.
Teams volunteered to get together to cook different dishes. I hosted a few people for the first stage of making the squash pies since we couldn't find pumpkin. It was quite the harrowing process cooking the squash, getting all the innards scooped out, and then blending it. Keep in mind, my kitchen was outfitted with old, secondhand supplies. A day or two later, a friend picked me and the squash up, and we went to someone else's house to actually cook the pies. They didn't follow the recipe I suggested, so they weren't the best squash pies, but they were pretty good under the circumstances.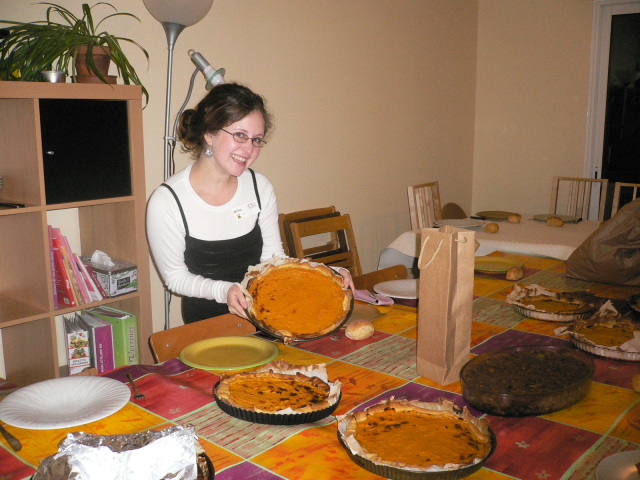 This French Thanksgiving celebration ended in a dance party, so it was definitely one-of-a-kind.
---
While nothing can replace having Thanksgiving in Greenwood with my parents, there is something oddly patriotic about celebrating Thanksgiving in France. Even with the bilingual conversation and the international guests, the feeling of American camaraderie is so strong. I think the unique feelings I have about Thanksgiving in France stem from two reasons.
1) It's an example of Americans coming together to celebrate our country and our culture, even as we add our own French touches to the holiday.
2) It's a chance to share our country and our culture with international friends who want to learn more about us.
In America, Thanksgiving is practically overshadowed by Black Friday and Christmas. In France, it's not formally recognized at all, and yet, we make it happen. It's almost a purer celebration of family togetherness and gratitude because of how intentional we must be.
Now that I live once again in the States, I try to remember how I felt celebrating Thanksgiving in France.
Because it's not about jumping straight to Christmas, or snagging great deals on electronics, or even eating pumpkin pie.
It's about spending time with the people you love, and being thankful for the things you already have.
Have you ever celebrated an unusual Thanksgiving? What made it special? Leave me a comment!