Dan and I attended our first wedding together as a couple in December 2011. My sorority sister Lauren was getting married to Hudson, a Pi Kapp who was also a friend of mine. After having lived in France for two years–and having missed several weddings–I was not going to miss Lauren and Hudson's wedding.
I flew in from New York, and Dan flew in from Ohio. We spent an awesome weekend exploring my college town of Greenville, SC, celebrating the new union of my good friends, and catching up with Kappas, Tridelts, and Pi Kapps.
Since then, we've had the privilege and the honor of celebrating many new marriages among our friends.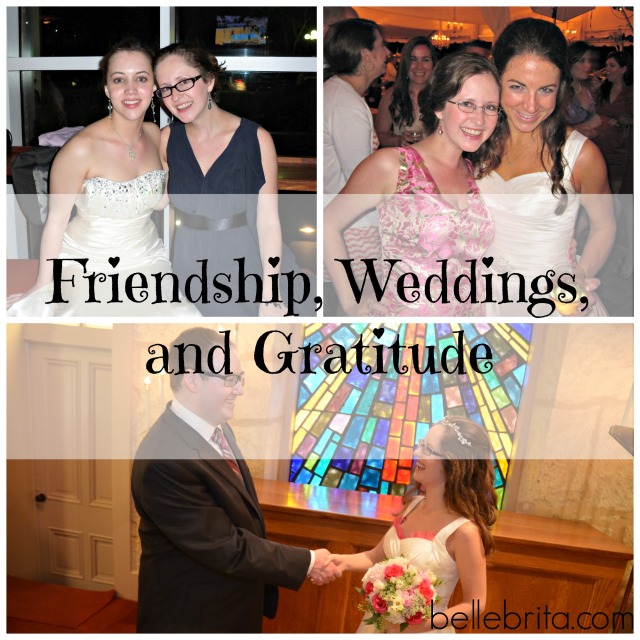 Allison and David, May 2012
Sam and Katie, November 2012
Rachel and Luke, March 2013 (bridesmaid!)
Corey and Sara, July 2013
Lee and Ashleigh, May 2014
Eddie and Krystal, September 2014
Harry and Celia, October 2014 (soon!)
Libbi and Henry, December 2014 (bridesmaid!)
And of course, Dan and I got married in March 2014, with celebrations in April.
I'm so incredibly grateful that Dan and I have been blessed with a wide circle of friends and family who we could celebrate with their own weddings and who celebrated with us at our receptions.
There is something unique about weddings, that no other accomplishment or celebration is quite like. Long-lost friends who still hang around on Facebook suddenly pop up to offer their sincere congratulations. Your best friends move mountains to attend your celebration–and if too many mountains stand in the way, they send a heartfelt, genuine email about how much they love you anyway.
We open our purses and shower new couples with gifts. I developed a new understanding of humility and gratitude while opening wedding presents with Dan and our parents. I also cried a few times reading some of the beautiful cards with their handwritten notes of congratulations and relationship advice.
While a marriage is primarily a bond between two people, the last year has shown me how much our friends and family positively influence our marriage. Dan and I are both blessed to come from happily-married parents who have inspired us in our own marital path. I'm grateful that my parents have modeled a loving, respectful marriage to me in my 27+ years of existence.
My friends have taught me a few things about love and marriage themselves. I've watched and I've learned as my married friends have figured out career changes, international moves, higher education, family problems, and children together. I've seen how couples support each other and rely on each other during the good and the bad, just like they once vowed to do before God, family, and friends.
This is a thank-you to the couples who so graciously invited us to their own wedding celebrations.
This is a thank-you to the friends and family who so graciously attended one of our wedding receptions, who respected our desire to have an intimate ceremony followed by large celebrations.
This is my public expression of gratitude to my friends and family who have supported Dan and me as we start our lives together. You have inspired me to become the woman I am today.
Linking up for Wedding Wednesday.