I had the best of intentions to post my review of the March Allure Beauty Box shortly after I received it in the mail… But y'all remember the middle of March, when the world started falling apart? So here is my March Allure Beauty Box review, very late. The April review will be up much sooner, I hope!
If you want to see everything, check out my unboxing video on Instagram.
Here's a quick look at all the products I received in my March 2020 Allure Beauty Box. Plus I break down the numbers to see what the value of this subscription box really is.
Note: This post does contain affiliate links. If you click on one and make a purchase, I might earn a commission at no additional cost to you. That said, this post also contains multiple product links that aren't affiliate links. You're still welcome to make a purchase, even if I don't benefit!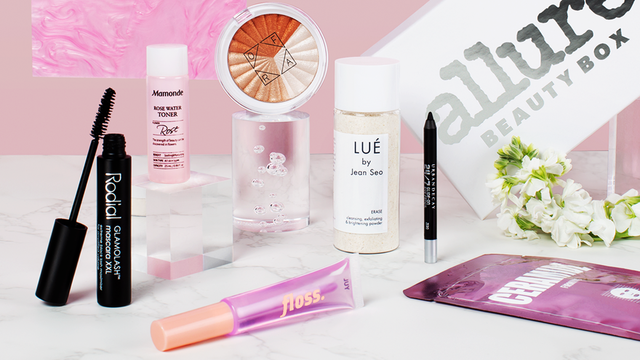 March 2020 Allure Beauty Box Products
March's Allure Beauty Box includes 6 different products, a nice mix of full-size products and deluxe samples. Different subscribers will get different products, like one of three Mamonde products. This can definitely affect the overall value of your beauty box. For the March 2020 Allure Beauty Box, everyone gets a full-size mascara, a full-size lip gloss, and a sheet mask. Even with the variation from the other products, this month is a good value! Full breakdown of the value of my beauty box is at the end of this post.
I haven't actually tried any of these yet for a few reasons. The makeup is pretty obvious–I don't wear makeup often under normal circumstances, and we are not currently living in normal circumstances! I haven't tried the skincare yet because I finally finished patch-testing my favorite products from the January and February Allure Beauty Boxes. They're now in a nice rotation in my skincare routine, and I'm not ready to mix things up again.
Related: Allure Beauty Box February 2020 Review
Rodial Glamolash Mascara XXL
To be honest, I'm not excited about getting my second full-size mascara in 3 months. (I also received one in January's box). Because I don't wear mascara often, and it's one of the few beauty products that goes bad quickly, I don't try out different mascaras. I'm starting to accumulate a collection of unopened mascaras in my makeup drawers!
The Rodial Glamolash mascara is a full-size product, with a current retail value of $29. The website only has 17 reviews for this mascara, but at least they're all 5-star reviews.
Urban Decay 24/7 Glide-On Eye Pencil in Zero
This is a really nice deluxe sample. The full-size eye pencil is 0.04 oz, and this sample is 0.03 oz. The retail value is $22, making this sample worth about $16.50.
Urban Decay's website has over 6,500 reviews for this style of eye pencil (not separated out by color, though), with an average 4.7 star rating. I'm excited to try this the next time I wear eye makeup, and I'll be sure to update this post with my thoughts!
Mamonde Rose Water Toner
I already use two toners in my skincare routine. The first is an acidic toner to exfoliate my skin, which I don't use over my rosacea or my eczema, but I do use on the rest of my face and my neck. The second is a hydrating toner, which I use all over my face and my neck. The Mamonde Rose Water Toner is for hydration, so I'm excited to try it out when I use up my current hydrating toner.
The full-size product is 250 ml, while the sample is just 25 ml. You can buy the full-size toner for $23, making the sample's value $2.30.
Lapcos Ceramide Firming Mask
I love sheet masks, but I rarely buy them for myself because they're pricey for a one-use product. I haven't used this sheet mask yet, but I'm sure I'll love it. Retail value is $3, but you can save a tiny bit of money by purchasing a 5-pack of sheet masks on Amazon. Neither Amazon nor the Lapcos website have many reviews.
LUÉ by Jean Seo Erase Cleansing, Exfoliating & Brightening Powder
I rarely use physical exfoliants because I have sensitive skin. However, this powder is so soft that I'm excited to try it! This is a full-size product with a $15 retail value.
No reviews on the Evolue website, but the product on Amazon has 35 reviews with an average of 4 stars.
Floss My New Favourite Gloss in YUL
This lip gloss is another full-size product, with a $16 retail value. I personally wouldn't spend that much on lip gloss, but I'm not opposed to having a nice lip gloss that costs that much.
14 5-star reviews on the Floss website.
Is the Allure Beauty Box a Good Deal?
If you pay for a monthly Allure Beauty Box subscription, then you pay $15/month. I bought the annual subscription, so my cost is $13.75/month. Allure claims that each beauty box is worth at least $70.
The March 2020 Allure Beauty Box is worth approximately $81.80. Like I mentioned before, though, the exact value varies depending on which products you get. It's still a good value with all the full-size products this month!
If you're interested in trying the Allure Beauty Box for yourself, I encourage you to use my referral link!
Get a FREE Mega Bundle (27 products valued over $255) with purchase of an annual subscription, AND save on the monthly cost of your beauty box! This is what I did, and so far I'm really enjoying it.
I will try and review April's Beauty Box a lot sooner. I just received the shipping notification, so it should arrive any day now!
Do you get any subscription boxes? Which ones?