In 2016, I finally bought an Instant Pot. Now, it's finally time to share my Instant Pot review.
I've waited over a year to review my Instant Pot. I wanted to use it as a normal customer, not as a blogger–and yes, I did pay for it myself. After cooking with my Instant Pot anywhere from 1-5 times per week for the last year or so, I feel comfortable sharing my candid thoughts!
Edit 2019: Another year after I wrote my additional review, my husband and I still use our Instant Pot at least once a week, if not multiple times per week.
Note: This post contains Amazon affiliate links. If you buy something via a link, I might earn a small commission on it at no cost to you. My Instant Pot review is 100% my own honest opinion. 
After reading much praise of the Instant Pot from my blogging friend Emily, I started talking to Dan about getting one. We were both hesitant at first. We own two slow cookers that I love. At the time, we also used a rice cooker fairly often. Did we really need a new kitchen gadget? Especially an expensive one?
Almost every Instant Pot review on Amazon was positive, with an average of 4 1/2 stars, and over 25,000 reviewers weighing in. Still, Dan and I weren't sure if we needed our own.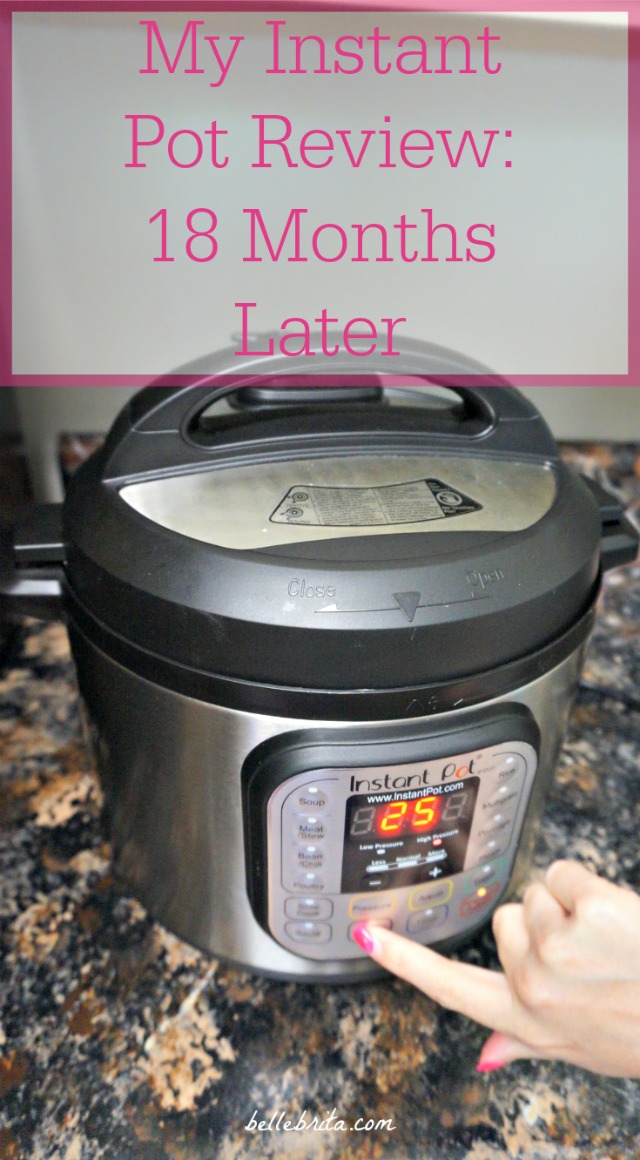 Then Prime Day happened. And the Instant Pot was marked down significantly. We decided to buy it.
I am so glad we did. Since then, we've given my dad our rice cooker (which he pretty much just uses when we visit him). We still use our two slow cookers–the small one is perfect for cooking and serving hot dips for parties, and the large one is ideal for mulled wine. But I use my Instant Pot more than any other kitchen appliance except for the toaster oven and microwave. It's really that good.
In case there's any question as to whether or not I love my Instant Pot, my review is over 2,000 words, which I've been writing while making yogurt.

— Brita Long (@belle_brita) March 18, 2018
6 Ways I Use My Instant Pot
While there are possibly an unlimited number of uses for the Instant Pot, I tend to cook the same things over and over again. These are my favorite ways to use my Instant Pot.
Cook a whole chicken
Before the Instant Pot, I was nervous about cooking an entire chicken. It seemed like such an advanced thing to do. But the Instant Pot makes cooking a whole chicken so easy! I can't find the recipe I used last time to cook a whole chicken, but this recipe is similar.
I've always been pretty lazy cooking mine, tossing in a bit of olive oil, garlic, poultry seasonings, and white wine. First I use the Instant Pot's Saute function to brown the chicken breast. Then I flip it over and use the Poultry setting. The recipe linked above mentions a trivet, which I sometimes use, but often forget. My whole chicken turns out delicious every time.
Slow-cook bone broth
Rarely do I use my Instant Pot as a slow cooker, since I would just rather use one of my actual slow cookers. However, the exception to that is when I make bone broth after cooking a whole chicken.
After I cook the chicken and carve it up, I then add all the bones back in the Instant Pot. I throw in some vegetables, some herbs, and a splash of apple cider vinegar before filling up the pot with water. Finally I use the slow cooker setting to cook for 20 hours. Then I have delicious bone broth which I strain through a mesh colander.
Hard-boil eggs
My Instant Pot is also great for cooking "hard-boiled" eggs. I'm a pretty good cook, but I have struggled to make good hard-boiled eggs consistently. Even when they turn out well, I hate peeling them. Cooking eggs in the Instant Pot is so easy, and then peeling them is a breeze.
Make perfect rice
Dan and I frequently use the Instant Pot as a rice maker. Recently I've started making a big pot of rice on Sunday that lasts for the whole week. It's so easy, and the rice always turns out perfectly. I just follow the guidelines that come in the Instant Pot's manual.
Cook meat from frozen
The Instant Pot helps me when I forget to defrost meat in advance. You're not supposed to cook from frozen in the slow cooker (which I didn't know, and I've done before) because the meat temperature stays in the "danger zone" for too long. But the Instant Pot cooks so quickly that the temperature zaps through the unsafe range! It's still not as ideal as defrosting meat properly in advance, but I've cooked partially-thawed meat multiple times in the Instant Pot. Just take the recommended time for your cut of meat and add an additional 50% of time.
Obligatory warning about how I'm not a doctor or a scientist or a health professional so do this at your own risk.
Prepare homemade yogurt
My most recent Instant Pot adventure was making my own yogurt. My first yogurt-making experiment was a success, and I've already bought another half gallon of milk to make more yogurt. Homemade yogurt is supposedly good for people with Crohn's Disease, but only time will tell if it helps me. At least it's yummy!
Instant Pot Features
Dan and I bought the 6-quart, 7-in-1 Instant Pot. We paid $119.95 for it, but the price has dropped in the last 3 years. (And I'd been watching the price on it for months, so what we paid was a deal in 2016). You can also buy the 3-quart version or the 8-quart version.
I have used all of the features since buying my Instant Pot, although I use some features more than others.
Pressure cooker
More than anything else, the Instant Pot is a pressure cooker. Apparently old pressure cookers could be dangerous–I never encountered an old version. The Instant Pot is safe as long as you don't vent the steam in your face! I use the pressure cooker feature when I cook meat or eggs.
Slow cooker
Some people have gotten rid of their slow cookers after buying the Instant Pot! However, like I mentioned above, I still use my two slow cookers and my Instant Pot. Especially since I like to use my Instant Pot for lengthy processes like making bone broth or yogurt, it's good to still have another slow cooker on hand for simultaneous cooking. Whether or not you need both is really based on your lifestyle.
Related: Easy Crock-Pot Beef Stew Recipe
Rice cooker
I liked my old rice cooker, which is now at my dad's house. But I can cook rice in a fraction of the time using my Instant Pot. Just the other night I had forgotten that I needed to make rice for dinner. I already had chili going in my slow cooker. I quickly measured the end of my bag of jasmine rice and tossed in an equal amount of liquid (about half water, half beef broth). The rice finished before the chili did! Just remember to turn off the Warmer setting if you aren't serving the rice right away. I've scorched the bottom layer of rice before by letting it sit on the Warmer setting for too long.
Steamer
So far I've only used the steamer to clean my Instant Pot. After using my Instant Pot so often, especially to make rice, it started to smell like rice. I always wash the stainless steel cooking pot in the dishwasher, so it rarely smells after it's washed. However, the silicone sealing ring just soaks up all those cooking odors and ends up smelling like rice. To clean it, I put roughly two cups of white vinegar in my Instant Pot and then used the steamer function for five minutes. Although all the Internet suggestions say to then remove the silicone sealing ring and let it air dry, I've also towel-dried it before, and it's been fine.
Sauté
This function is amazing if you want to brown or sear your meat before using the slow cooker function or the pressure cooker function. I frequently want to cook something in garlic and oil for several minutes before using the slow cooker or pressure cooker. This means it's all one pot! Less mess!
Yogurt maker
I'm actually making yogurt right now as I write this, and the yogurt is incubating as you read this. This is only my second time making yogurt, and it's so easy! I made delicious yogurt for cheaper than the cost in stores. Plus it's full of all that good healthy bacteria. Or that's what everyone says. I'm not a scientist, just a woman with Crohn's Disease trying to fix her gut.
Warmer
This function is perfect when dinner finishes just a little early. It keeps your food warm while you finish the dishes or your spouse takes a quick shower!
14 smart programs
With the Instant Pot's smart programs, you can cook so easily! I still refer to the manual and recipe booklet I received for anything fancy, but I use the smart programs most of the time. They are:
Soup
Meat/Stew
Bean/Chili
Poultry
Sauté/Simmer
Rice
Multigrain
Porridge
Steam
Slow Cook
Keep Warm
Yogurt
Manual
Pressure Cook
Quite a few recipes call for the Manual setting, which allows you to choose the time and low/high pressure to cook your dish. The Keep Warm setting is great for keeping your food warm if it finishes cooking before you're ready to eat.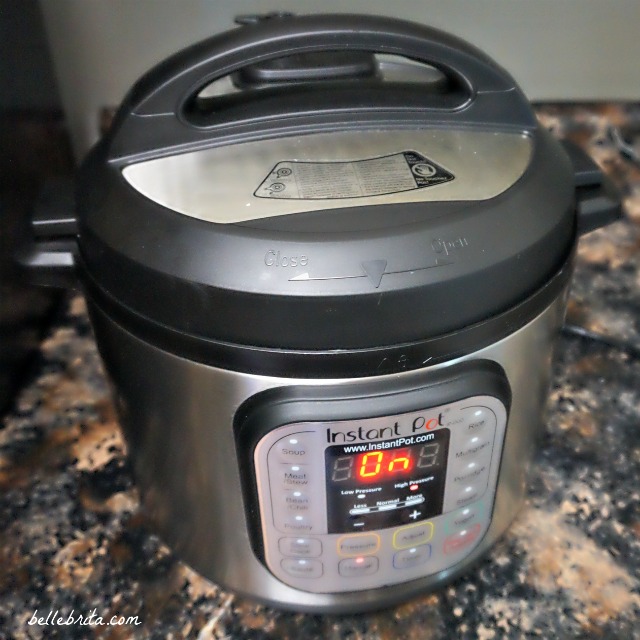 Instant Pot Review: Should You Buy One?
So far my Instant Pot review has been about my own experiences and preferences. In case you hadn't guessed already, I love my Instant Pot! But that doesn't mean an Instant Pot is right for everyone.
Instant Pot Cons
While the following facts about the Instant Pot don't bother me, they might dissuade you from purchasing your own Instant Pot.
Fast cooking times are misleading
The cooking times listed on recipes don't include the time for the pressure to change. First you have to wait for the pot to pressurize. This takes about 10 minutes. When the cooking is done, some recipes work with the "fast release" method of depressurizing, but others require the natural depressurizing. This takes about 5-10 minutes.
However, just like with a slow cooker, all of this is hands-off time. You don't need to do anything except wait. Add 20 minutes to all recipes, and then you'll have an idea of how much time you need to wait for your Instant Pot to cook your food.
You can't adjust the recipe once it's started
If you like to add spices and taste your dish every few minutes, the Instant Pot might not be for you. Once you seal the lid, you can't open the Instant Pot until it's done depressurizing. If you want to experiment with different soups and sauces, then cooking on a traditional stove-top might be more suitable for you.
Related: Instant Pot Recipes Finder
You have to learn a new way of cooking
Cooking with an Instant Pot does require some trial and error. Even the recipes don't make total sense until you've actually tried them a few times. Instant Pot cooking involves new vocabulary, new recipes, and a new understanding of cooking. I had a few fails in my first six months of using my Instant Pot, but overall, most of my cooking experiments have been successful.
It's expensive
A 6-quart Crock-Pot is currently about $30-50. Definitely cheaper than the Instant Pot.
Rice cookers start around $16. Some of the rice cookers double as a steamer, and a few even include a slow cooking function.
You could buy both of these for less than the price of an Instant Pot.
You might not need all the functions
One kitchen appliance with tons of features is awesome–if you're going to use most of the features. Otherwise it's just another expensive appliance taking up space in your kitchen. If you're already happy with your cooking life, then you might not need an Instant Pot.
It can be dangerous
Then again, boiling water or using knives can be dangerous. I just feel obligated to mention this so y'all don't sue me. Be careful when using the quick release option to depressurize. That steam could burn you. Also pay attention to removing the lid off the Instant Pot.
Buy an Instant Pot IF:
You have a small kitchen and need an appliance that has multiple functions.
The Instant Pot will be your first kitchen appliance, AND you're interested in at least three of its functions.
You frequently forget to defrost meat in advance of dinner.
Either you currently eat a lot of legumes, or you want to eat a lot of legumes. I haven't made beans in my Instant Pot, but it's supposed to be easier and faster than the traditional method.
---
If you actually made it all the way to the end of my Instant Pot review, congrats! I'm a big fan of mine, so I wanted to give a detailed review of my own uses for it, while also acknowledging that the Instant Pot isn't for everyone.
Do you have Instant Pot? If so, what do you like/dislike about it? If not, has my Instant Pot review swayed you one way or the other? Leave a comment!