Post contains affiliate links. 
Meet the Flongs is back! At the request of three blogging friends, I've added a link-up to the bottom of this post. It will stay open for a week if you want to join in the fun. Feel free to answer the questions yourself, or interview your best friend, or beg your parents to share their thoughts. This blog link-up is for everyone, not just couples! If you're not a blogger, you can share your answers in the comments.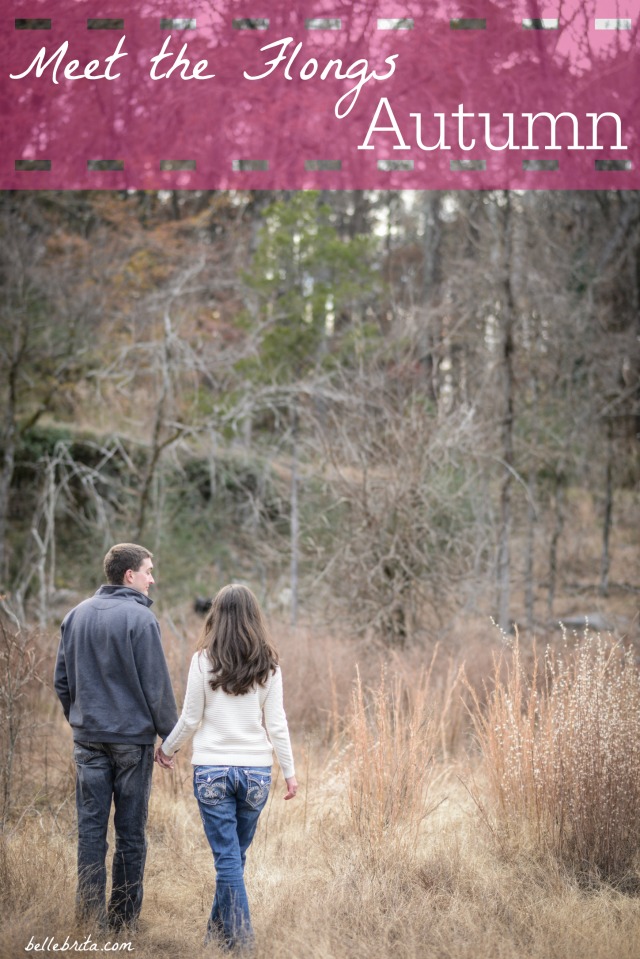 What are your favorite scents of autumn?
Dan: If I had to choose an autumn-specific scent, I would say apple, since I do love the smell of apples. As far as this specific autumn, I got new tires, and who doesn't love the smell of fresh rubber in the garage?
Brita: I've been burning a Spiced Pumpkin candle all month. Like Dan, I love the smell of apples too, especially cinnamon apples.
How did your family celebrate Halloween when you were growing up?
Dan: My brothers and I would go trick-or-treating and fill pillowcases with sugary treats. We would come home, dump them in piles, and start sorting. Dad would come in and take "taxes," and then the trading would begin. We had a very exciting candy marketplace that worked really well for me because I was able to have a favorable exchange rate for the nutty and peanutty candies that I did not like.
Brita: My mom made most of our Halloween costumes. Not to brag, but our costumes were almost always better than anyone else's. Sometimes my mom would pick out outfits from the thrift store and convert them into costumes. Other times, she would get patterns and material from the fabric store and make our costumes that way. Usually my dad took us trick-or-treating around our neighborhood. Only a handful of families had kids, so usually our neighbors let us take big handfuls of candy instead of just one or two pieces each. Then we would drive to a few houses around town: my grandmother's house, my great-aunt's house, and houses with good Halloween decorations.
Ignoring the calendar, when does it actually feel like autumn where you live?
Dan: I'll let you know when we get there. It will probably be when we get back from France this year. In Georgia, it's probably late November. Though as I acclimate to the South, my definition of "autumn" will probably get warmer.
Brita: This past weekend in Savannah actually felt like autumn with temperatures in the 60s and 70s. But we've only had a few autumn days in Duluth. It mostly just feels like an Ohio summer right now.
What foods do you associate with autumn? Bonus: share a recipe!
Dan: I guess turkey would really be the only one for me since I don't particularly like apple dishes or pumpkin dishes. I guess hot chocolate could kinda be in there because I don't really drink it much in the summer, so the fall is when I start drinking it again.
Brita: Pumpkin-squash soup! Or just pumpkin soup. Or just butternut squash soup. Basically Panera's seasonal Vegetarian Autumn Squash Soup. Also I made homemade, slow cooker applesauce the other day for the first time in my life. I loosely followed this recipe from The Kitchn, but I left on the apple peels. Also I sprinkled in a bit of ground cinnamon and a bit of pumpkin pie spice mix. Yes, I realize the latter includes cinnamon, but I wanted a larger proportion of cinnamon. Our townhouse smelled AMAZING all day.
---
November's theme will be Gratitude. If you'd like to join Dan and me, the questions will be:
What are you thankful for this month?
How do you practice gratitude all year, and not just for Thanksgiving?
Who models gratitude in your life?
Why is gratitude important to you?
Next month's link-up will be after Thanksgiving, on November 29th. This is the last Tuesday of the month.
---
An InLinkz Link-up
---
What is autumn like where you live? Tell me your fallish thoughts, or share your own answers to the questions above!