May the 4th be with you…
Yes, I'm a Star Wars nerd and proud of it.
Note: I wrote this post in collaboration with shopDisney. This Star Wars apparel post includes affiliate links. All opinions are my own, but it's a FACT that Baby Yoda aka The Child aka Grogu is the cutest Star Wars character of all time. 
Last week, Dan and I enjoyed a long-overdue trip to Disney World. In fact, as soon as I got my first vaccination appointment, we did the math on when I'd have full immunity, and then we booked the first week Dan could take off work. After this past year, Dan and I very much needed our 3 busy days at Disney World.
I'm excited to blog extensively about our first Disney vacation since 2018, but in honor of Star Wars Day, I have to geek out a little about Galaxy's Edge, Baby Yoda, and the amazing new Star Wars apparel for women.
Galaxy's Edge at Disney World
Long-time Disney park fans are already familiar with Star Tours, a 3D simulation ride that takes passengers across the galaxy. I've always admired the immersive outdoor attraction, but that pales in comparison to Galaxy's Edge, affectionately nicknamed Star Wars Land. This is one of the big updates to Hollywood Studios, which Dan and I last visited in 2015.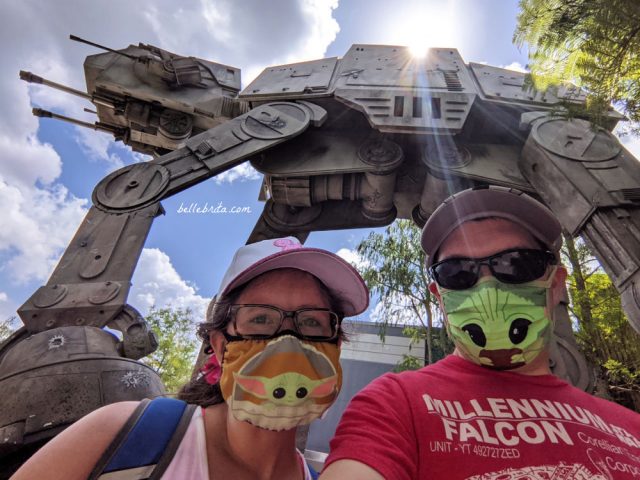 I honestly wish Dan had filmed my entrance into Galaxy's Edge. My jaw literally dropped. I kept exclaiming happy noises and gasping with delight over every detail. Everything is so incredibly immersive!
Even the shops filled with Star Wars merch felt less like Disney stores and more like merchant stands in a galaxy far far away.
I also loved seeing the other Disney guests. So many Star Wars fans of all ages! While a handful of die-hard fans wore minimal Star Wars cosplay, most Star Wars fans wore Baby Yoda apparel.
Baby Yoda aka The Child aka Grogu
Have I mentioned how much I love The Mandalorian? Dan and I started watching it (again) this weekend.
Last year, we even built our own Grogu at Build-a-Bear. We snuggle with him every night.
Based on the amazing selection of Baby Yoda merch for sale in the parks, Disney knows exactly what the fans want. Dan and I already had one Baby Yoda face mask prior to our visit, but we bought another at Disney Springs so we could both wear Mandalorian face masks.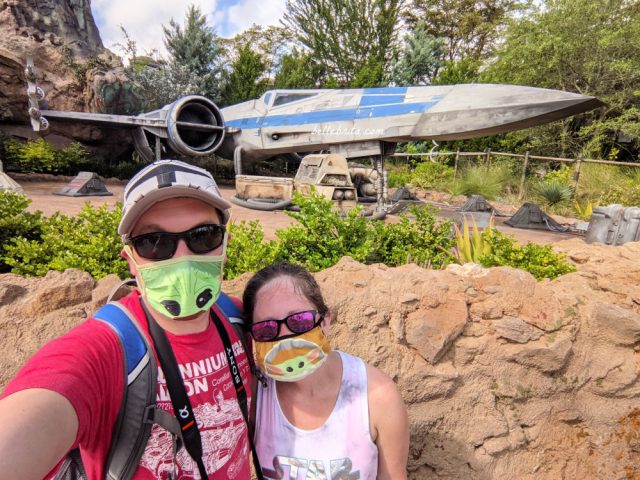 But don't worry! You don't need to visit the Disney parks to buy The Child merch. Here are just a few of my favorites available on shopDisney!
Galactic Snackin' Grogu – Star Wars: The Mandalorian
With a galaxy of features, including adorable sounds, fun animated motions, and interactive accessories, this Galactic Snackin' Grogu animatronic toy is ready for action and adventure!
If anyone is shopping for my birthday, I would like this animatronic Grogu please.
The Child Plush – Star Wars: The Mandalorian – Small – 11"
Embrace the creature known as "the Child," affectionately known as Baby Yoda, with this soft, cuddly plush toy featuring faux suede coat and fuzzy trims.
Confession: This version of The Child is not as cute as the one from Build-a-Bear. BUT this small Baby Yoda plush is an affordable option you can easily buy online!
The Child Loungefly Mini Backpack – Star Wars: The Mandalorian
A detailed figural appliqué of the Child and an enamel frog zipper pull make [this mini backpack] an out-of-this-world accessory.
I was SO tempted to buy this mini backpack featuring The Child, but I honestly already own so many purses. Maybe another birthday present?
The Child Faux Leather Flair Bag Charm – Star Wars: The Mandalorian
Customize your bags and fashion accessories with a Force-ful flair and this simulated leather Grogu bag charm.
If you're looking for a subtle way to declare your Star Wars pride, this adorable Grogu bag charm is perfect.
Not interested in The Child plushes or accessories? shopDisney JUST released tons of cute Star Wars apparel for all ages and genders.
Star Wars Apparel for Women
You don't need to have the wardrobe of Queen Amidala to dress in Star Wars style! shopDisney has great new options for women. I particularly love the new line from Her Universe. Here are just a few of my favorite Star Wars shirts available on shopDisney!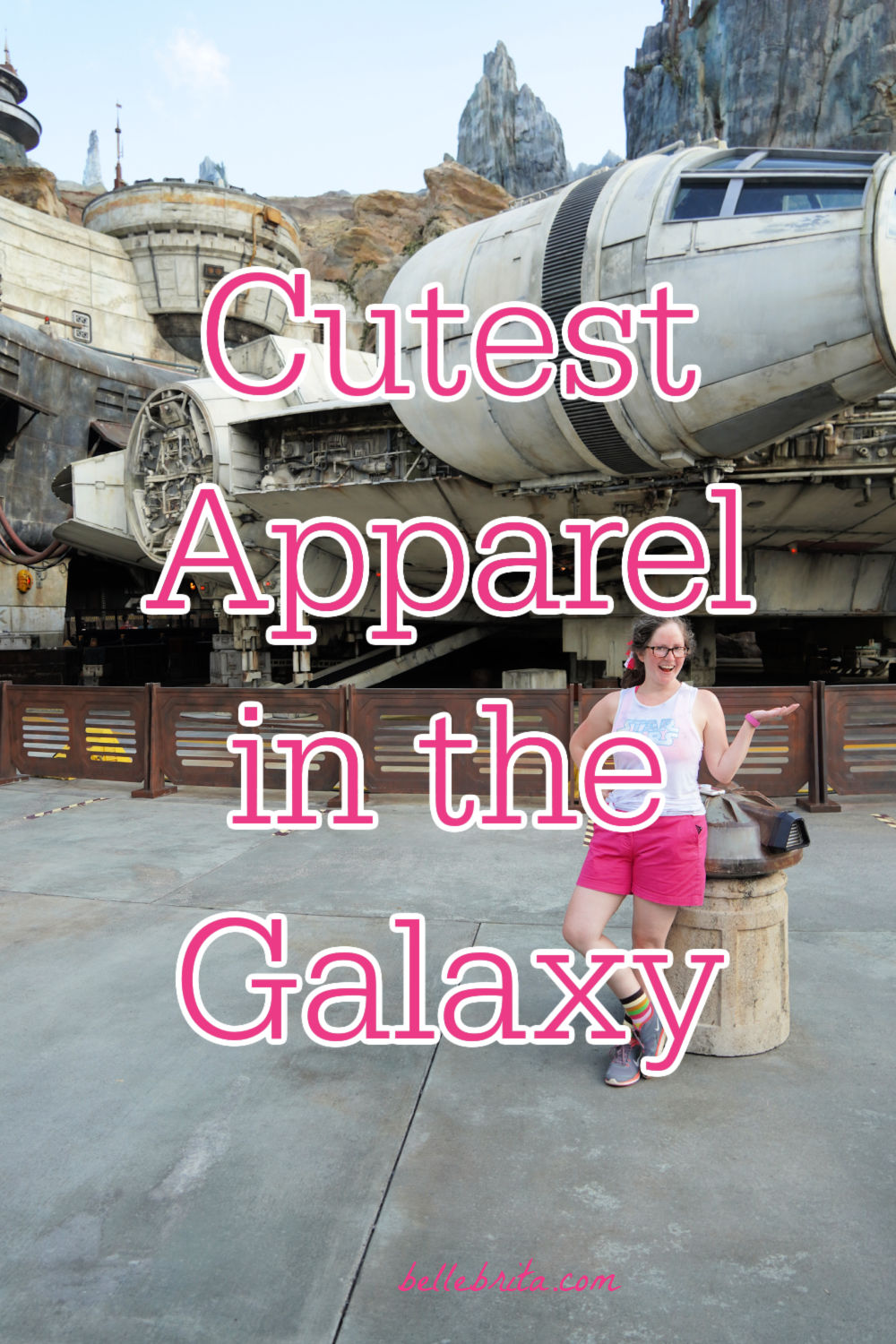 The Child Flower T-Shirt for Women – Star Wars: The Mandalorian Season 2
Hang out with a true flower Child in this soft jersey tee inspired by Star Wars: The Mandalorian Season 2.
I love the vintage look of this Mandalorian t-shirt.
The Child T-Shirt for Women – Star Wars: The Mandalorian
Journey to a galaxy far, far away in this v-neck Grogu tee with textured Star Wars logo and splatter art starfield background.
Y'all know how much I love the color pink. This women's Star Wars shirt is britastic perfection!
Resistance Tunic for Women – Star Wars: Galaxy's Edge
This simple, sleeveless tunic from Black Spire on Batuu at Star Wars: Galaxy's Edge in Disneyland and Walt Disney World is a fine fit for any Resistance leader. The wrap-front top featuring a high neck and catch stitch accents hits at the hip.
One of the reviews for this Resistance Tunic says it's simple enough to wear to work. I love subtle nerdy apparel. Also, while adults can't wear full costumes to the Disney parks, we ARE allowed to wear some Star Wars apparel. This tunic is approved to wear in the parks.
Star Wars Logo Cloud Wash Tank Top for Women by Her Universe
The Star Wars logo gleams against a "cloud wash" tie-dye pattern on this fitted silhouette tank top by Her Universe with deep scoop neckline and flared high-low hem.
My new Star Wars tank top is actually the child's version of the shirt, but the adult version is very similar. I love the sparkle! This was comfortable to wear around Hollywood Studios all day, in the hot hot sun. I paired it with a sports bra for comfort, but you could also wear it with a bandeau top. (The women's style has a lower underarm hole).
Star Wars Spirit Jersey for Adults – Black
Impressive you will be in this pullover Spirit Jersey with puffy ink Star Wars character logo on back and split Rebel Alliance Starbird/Imperial Crest icon on chest.
I'm all about some comfy, oversized geek-chic clothing. These Spirit Jersey shirts might be too hot to wear to Orlando, but I would lounge in these all fall and winter.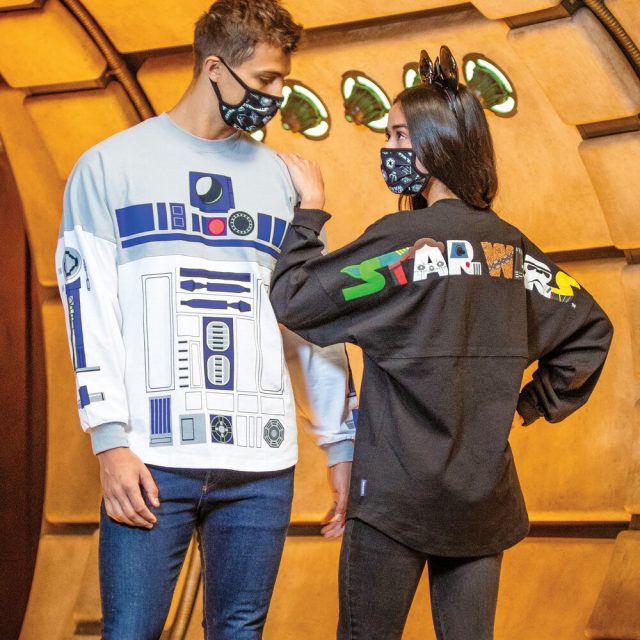 Final Thoughts on Star Wars Day
Honestly, this is one of the easiest blog collaborations I've ever done. Dan and I were already going to the Disney parks, where we already intended to buy Star Wars merch and take tons of pictures. Plus, this is just the first of many Disney blog posts inspired by our trip!
shopDisney is the perfect destination to get your Star Wars merch if you can't visit the Disney parks anytime soon.
Do you own any Baby Yoda plush toys or other merch yet? What Star Wars apparel is in your wardrobe? Drop me a comment!