No Buy Style Challenge is back! In case you missed the inaugural blog collaboration, here's how it works. Each month, one blogger shares an outfit for inspiration. The other bloggers each create her own outfit from clothes she already owns. No new clothes or accessories!
I started No Buy Style Challenge with my blogging friends as a small way to encourage sustainability.
Think about the 3 Rs of caring for the environment: Reduce. Reuse. Recycle. That last one is so easy to do, but reducing what we buy is such an important component of sustainability. I hope No Buy Style Challenge inspires you to shop your closet and enjoy what you already own!
For this month, Liz of Palmettos and Pineapples provided the outfit inspiration. She's wearing a cute colorful sundress with simple gold accessories.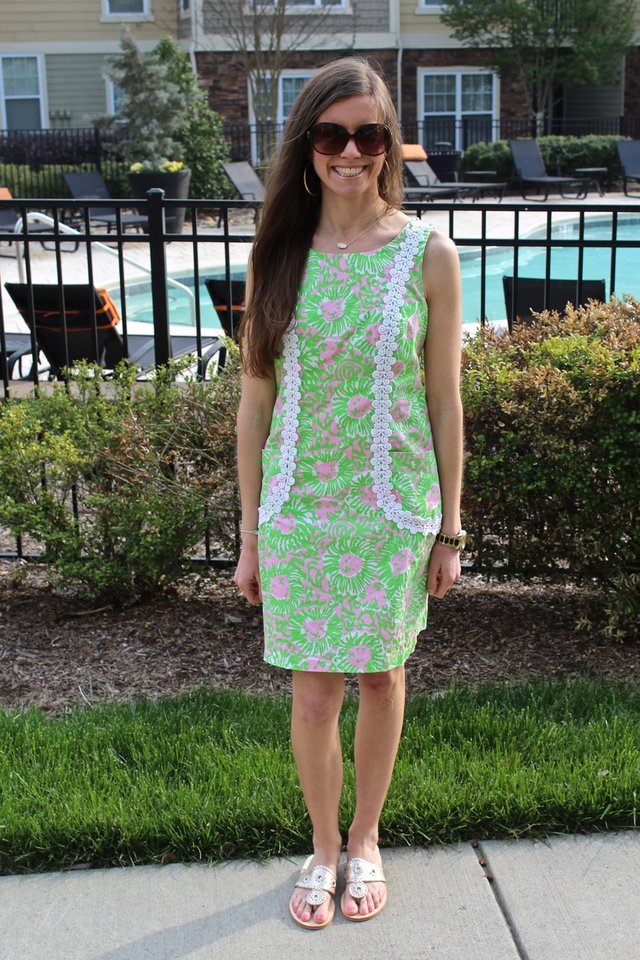 Liz's style is a mix of classic and preppy. She invests in quality pieces like this Lilly Pulitzer sundress. And I'm pretty sure those are Jack Rogers sandals, but don't quote me on that!
Lilly Pulitzer for Spring
To recreate this outfit, I knew I wanted to wear one of my own sundresses with simple accessories. Lilly Pulitzer dresses tend to be bold and colorful, so you don't want to over-accessorize! When looking through my closet, I suddenly remembered that I had bought two new Lilly Pulitzer sundresses during the big After Party sale last summer. Since I purchased them near the end of sundress season, I haven't had a chance to wear them yet. One of them is perfect for recreating this colorful spring outfit!
Dan and I took these pictures during our usual daily walk around the neighborhood. Don't worry, we're still practicing social distancing! Look carefully, and you'll see his shadow in some of these pictures.
It was funny being on video calls with different friends and family later as I had to explain why I was dressed up. The things we do for the blog! Although it was nice to wear actual accessories other than my plain wedding band for the first time in ages. While I still wear dresses all the time, this Lilly Pulitzer is more fitted and not as comfy as my quarantine dresses.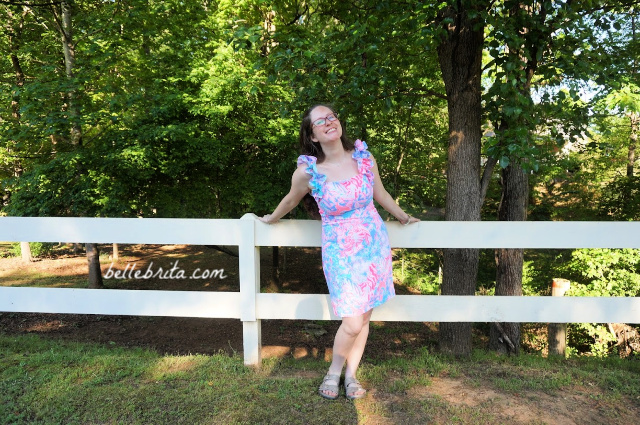 How to Accessorize a Lilly Pulitzer Sundress
For accessories, I wore my usual selection of rings, including one gifted by Ana Luisa jewelry. I don't wear watches, so I paired a vintage silver bangle with a delicate silver ID bracelet. I finished out my jewelry with a delicate silver necklace, also gifted by Ana Luisa jewelry.
Related: Ana Luisa Jewelry Review
My sparkly sandals are honestly one of the best impulse buys of my life. I've had them for more than 3 years because I know I bought them when Dan and I still lived in Duluth. We were at the shoe store for something else, and these caught my eye on the clearance rack. They fit like a dream and only cost $10. The brand is White Mountain, and their sandals usually run $60-80. I wear my sparkly sandals all the time, and I receive so many compliments. Best of all, they're incredibly comfortable!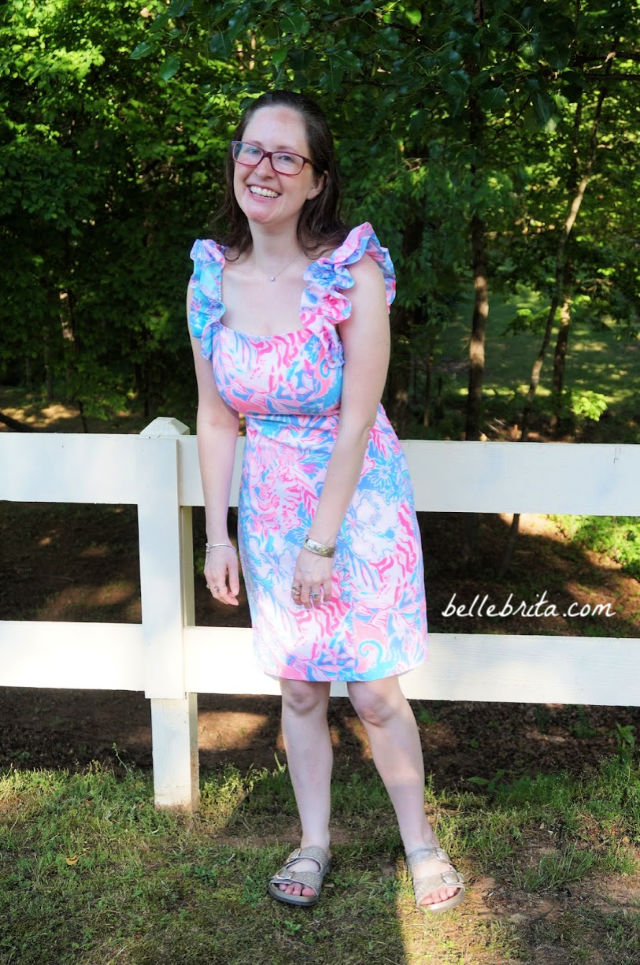 To be honest, I'm not entirely sure I'm going to keep this Lilly Pulitzer sundress. It looks cute in these photos, but it's quite fitted, especially around my soft middle. I like to wear clothes loosely around my stomach, both for comfort and to accommodate any Crohn's bloating. The downside to shopping during the After Party Sale is that all sales are final, so you can't return or exchange things unless there's an error with your order or flawed merchandise. The savings are really nice, though, and particularly helpful if you can't quite afford (or justify) paying full-price for a Lilly Pulitzer dress.
There's no rush on making a decision. I'll probably keep this cute sundress in my wardrobe for another year to see how I wear it in a normal spring. I certainly hope next spring will be normal!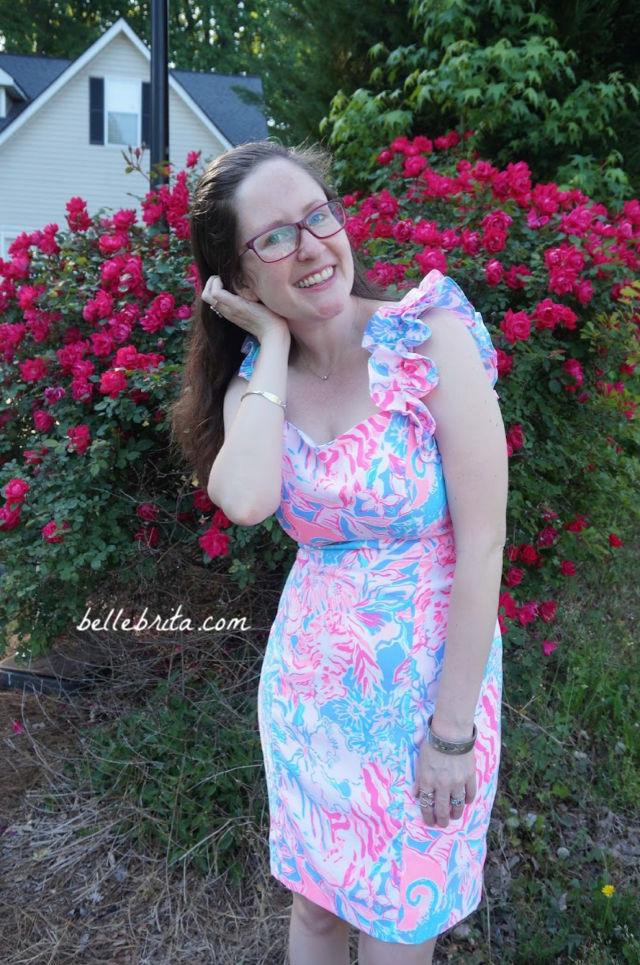 No Buy Style Challenge
To see the results from the second No Buy Style Challenge, visit my fellow bloggers! Liz provided today's outfit inspiration, but check out her post for more cute photos.
Charlene at Enduring All Things
Callie at Hot Pink and Glitter
Look for our posts on Instagram with the hashtag #NoBuyStyleChallenge. If you decide to try the challenge for yourself, please post your outfits on Instagram so we can see!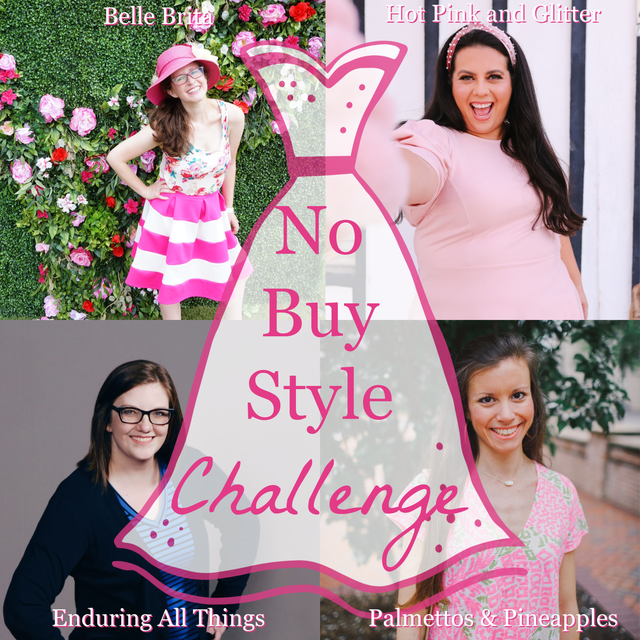 No Buy Style Challenge Rules
Putting together rules for the No Buy Style Challenge seems silly because it's so simple. But if you want guidelines to do your own No Buy Style Challenge, here they are!
Find an outfit online for inspiration. You can use Liz's outfit this month if you really want to join the fun, but any outfit is fine.
Shop your closet to put together your own outfit based on the outfit inspiration. Interpret however you like. Have fun with it!
Don't buy anything new for this outfit.
Post a photo of your outfit online! You can also post the outfit inspiration. (Tag the original person model/stylist for credit). If it's on Instagram, tag me @bellebrita and use the hashtag #NoBuyStyleChallenge
Literally that's it. Easiest style challenge ever. No new clothes or accessories. That's the only real rule.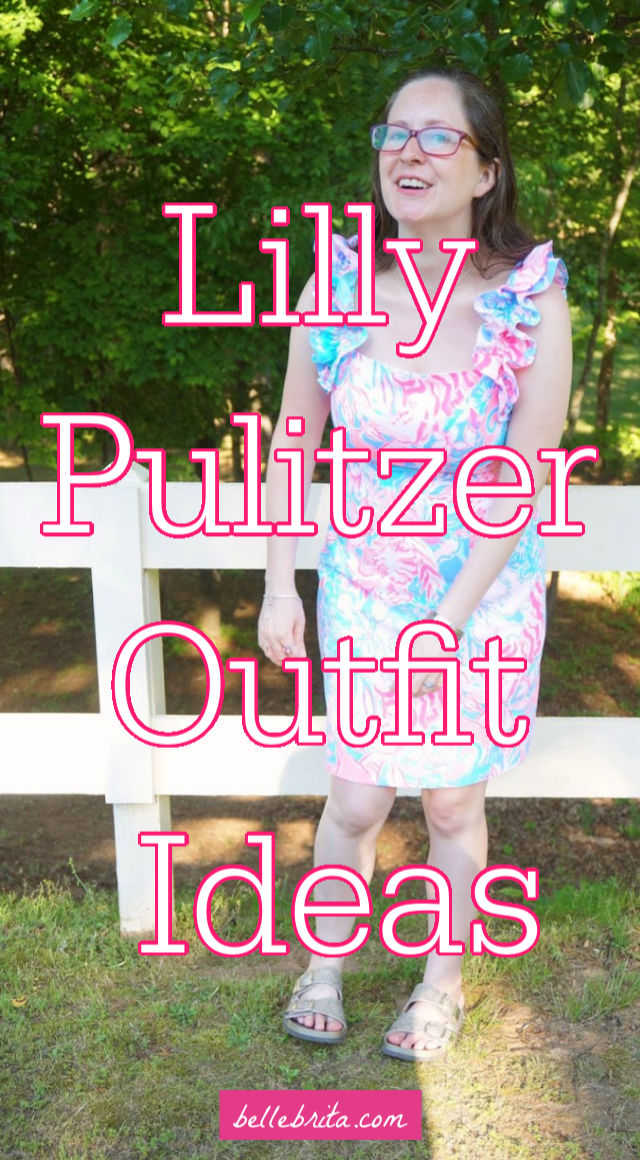 What are your creative styling tips to enjoy the clothes you already own? How do you accessorize a colorful sundress? Share your advice in the comments!