I ended up not reviewing April's Allure Beauty Box because life got in the way. I actually opened it at the same time as May's Allure Beauty Box! Now I'm back to review the May 2020 Allure Beauty Box. Plus I thought y'all might appreciate a brief update on skincare products from previous Allure Beauty Boxes, now that I've had time to patch test my favorites! I'm saving that for the end of this post.
I did a very brief unboxing on Instagram. I covered both April and May Beauty Boxes, plus two PR packages from DERMA E.
I'm currently patch-testing the DERMA E skincare products I received. I'm even more excited about the shampoo and conditioner, since DERMA E sent me products I purchased last year, products I use on a regular basis. I hope to publish a full review of my favorite shampoo and conditioner soon.
DERMA E interlude over…
Here's a quick look at all the products I received in my May 2020 Allure Beauty Box. Plus I break down the numbers to see what the value of this subscription box really is. Who knew I would do so much math as a writer?!
Note: This post does contain affiliate links. If you click on one and make a purchase, I might earn a commission at no additional cost to you. That said, this post also contains multiple product links that aren't affiliate links. You're still welcome to make a purchase, even if I don't benefit!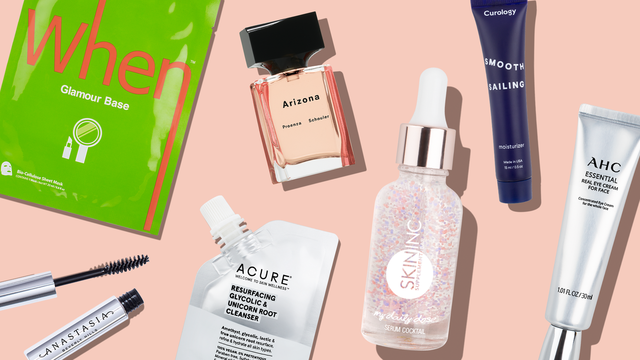 May 2020 Allure Beauty Box Products
May's Allure Beauty Box includes 6 different products, another solid mix of full-size products and deluxe samples. Different subscribers will get slightly different products, but everyone gets the full-size products, which are high-value this month. This month is a really good value, with one of the full-size products retailing at $65 alone! Full breakdown of the value of my beauty box is at the end of this post.
I haven't actually tried any of these yet for the same reasons as before. I haven't tried the skincare yet because I finally finished patch-testing my favorite products from the January and February Allure Beauty Boxes. They're now in a nice rotation in my skincare routine. (More details at the end of this post). I'm also currently patch-testing DERMA E products, so I'm not ready to start patch-testing more skincare products.
Related: Allure Beauty Box February 2020 Review
AHC Essential Real Eye Cream for Face
This eye cream/face cream comes from the Korean skincare brand, Aesthetic Hydration Cosmetics (AHC). South Korea is known for its innovative and effective skincare products, so I'm excited to try this! Apparently AHC is relatively new in the United States.
The standard retail price of the AHC Essential Real Eye Cream for Face is $28.99, but it's currently marked down on Amazon for less than $20. I am frequently skeptical of beauty products on Amazon, but the official AHC website links to the same Amazon link that I shared. You can also find this moisturizer at Walmart and Target.
The official website boasts almost 600 reviews with an average 4.5 star rating.
Skin Inc. My Daily Dose of Glow
This product is SO PRETTY. I'm very excited to try this serum. Supposedly it helps brighten and hydrate skin.
As a brand, Skin Inc. sounds amazing. Here's some information from their website:
All of our signature serums boast our proprietary encapsulation technology from Japan. These caviar-inspired capsules protect pure ingredients from exposure to light and oxidation, keeping them fresh and potent till the very moment they kiss your skin for maximum results.

0% paraben, 0% scent, and 0 ingredients that your skin doesn't need. That's what makes our serums suitable for all skin types, including sensitive skin.
I couldn't find a ton of reviews for this serum. 45 reviews on Influenster, with an average of 4.5 stars. 33 reviews on Sephora Australia, with an average of 4 stars.
My Daily Dose of Glow retails for $65. Which is a lot. This alone makes the May 2020 Allure Beauty Box a good deal!
Acure Resurfacing Glycolic & Unicorn Root Cleanser
This is an exfoliating cleanser with mild alpha hydroxy acid (glycolic and lactic). Supposedly it's mild enough for sensitive skin.
The retail price is $12.99, but it's available for slightly less on Amazon. The Amazon listing has over 1600 reviews with an average 4.5 star rating… HOWEVER many reviews mention a change in formula, so the positive reviews could be from the previous formula.
The full-size product is 4 oz, while the sample size is just 0.67 oz. This makes the deluxe sample size worth about $2.01 to $2.18. (Calculated with the currently lowered Amazon price and the usual retail price).
Curology The Moisturizer
To be honest, I know very little about the brand Curology. However, I've heard great things! It's a brand that helps customers get customized skincare formulas to target their specific needs. The moisturizer is not a custom blend–it's just the standard Curology moisturizer.
Overall, reviews for Curology the brand are overwhelmingly positive. However, I couldn't find reviews specifically for the generic moisturizer. Also, you can't buy the moisturizer on its own. You have to subscribe to Curology, and then you receive the moisturizer as part of the skincare set.
This also means I can't really estimate a value for the deluxe sample.
When Glamour Base Bio-Cellulose Sheet Mask
I absolutely love sheet masks, and apparently Allure Beauty Box loves them too since I've received many sheet masks so far.
This particular mask is supposed to work well as a makeup primer. I usually wear sheet masks in the evening, but I'll try to remember to use this on a day I plan to wear makeup.
On the official website, a single mask retails for $7, which is a lot for a sheet mask. If you buy a variety pack on Amazon, however, you can get 8 sheet masks for less than $40, making each mask cost less than $5.
VDL Lumilayer Primer
I received a sample of VDL Lumilayer Primer in my May Allure Beauty Box. Others received a sample of Anastasia Beverly Hills Brow Gel instead.
Supposedly this primer really illuminates the skin. I love having sparkly skin, so I'm looking forward to trying it.
On the official website, VDL Lumilayer Primer has over 350 reviews with an average rating of 4.6 stars. The retail price for a full-size bottle (30 ml) is $32. The sample size is 5 ml, making the value about $5.33.
Is the Allure Beauty Box a Good Deal?
If you pay for a monthly Allure Beauty Box subscription, then you pay $15/month. I bought the annual subscription, so my cost is $13.75/month. Allure claims that each beauty box is worth at least $70.
The May 2020 Allure Beauty Box is worth at least $96.35, which isn't counting the Curology moisturizer. And that's using the lower prices currently available on Amazon (which could go up at any time).
If you're interested in trying the Allure Beauty Box for yourself, I encourage you to use my referral link!
Get a FREE Mega Bundle (27 products valued over $255) with purchase of an annual subscription, AND save on the monthly cost of your beauty box! This is what I did, and so far I'm really enjoying it.
Favorite Allure Beauty Box Products
As promised, I want to share the current skincare products I'm using from past Allure Beauty Boxes!
From the February 2020 Allure Beauty Box, I used the Honey Jarret Super Beau'Tea Mask a few weeks ago and loved it. I also use the Belif Peat Miracle Revital Eye Cream several times per week, but I haven't noticed any huge difference.
From the January 2020 Allure Beauty Box, I really like the Vitabrid C¹² Skin Facial Serum – Dual Drop Serum. This is intensely moisturizing! I only wish it weren't so expensive. I also use the Akar Skin Pure Lip Restoration when my lips need extra moisture.
Two of my absolute favorite products both arrived in the November 2019 Allure Beauty Box. That was the first month of my subscription! I've added the Peter Thomas Roth Water Drench Hyaluronic Cloud Cream Hydrating Moisturizer to my daily skincare routine. It's so ridiculously moisturizing. A little goes a long way! I would love to replace this when I finish the sample, but it's a pricey moisturizer, and I have so many other moisturizers to use up first. I'm also using the Belif Hungarian Water Essence regularly. Again, so moisturizing! My skin has been glowing lately.
For now, I've been using the Belif Hungarian Water Essence OR the Vitabrid C¹² Skin Facial Serum – Dual Drop Serum since they're both so lightweight. I wonder if I could use both on my face during one skincare routine…
Allure Beauty Box Customer Service
I opened my April 2020 Allure Beauty Box really really late, which is why I decided not to review it. Unfortunately, one of the products had leaked everywhere, to the point that almost none of the product remained in the bottle. I posted about it to Twitter, and a customer service rep responded quickly with the number I should call. It took me a few days to call, but the customer service rep on the phone was immensely helpful. Not only is she sending me a replacement for the product that leaked, but she's actually resending the entire box out of concern that the sticky serum ruined any other products. Truly amazing customer service!
Now that I'm done gushing about my Allure Beauty Box subscription, I want to hear from you! Do you get any subscription boxes? Which ones?